Munich Gunman Planned Attack For Over A Year, Police Say
Authorities said the 18-year-old German-Iranian gunman who killed nine people and later himself had no links to ISIS, appeared to have acted alone, and was "obsessed" with mass shootings.
The teenager who opened fire at a shopping center in Munich killing nine people Friday had planned the attack for over a year, German authorities said Sunday.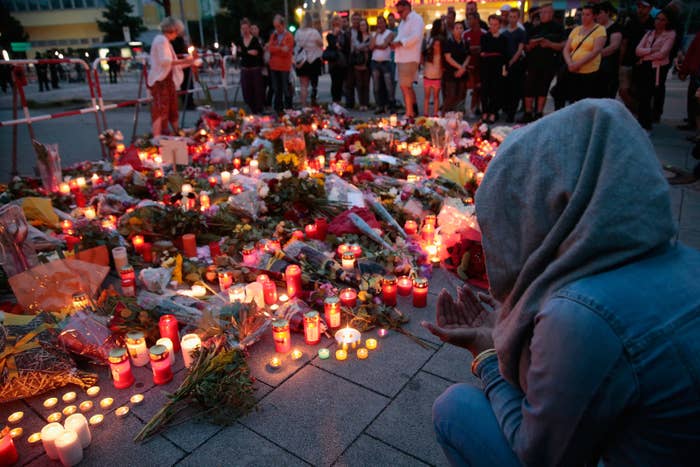 The 18-year-old German-Iranian gunman, not officially identified but named by local media as David Ali Sonboly, killed himself after the attack Friday, which also left 35 people injured, including 10 seriously and four critically.
At a press conference Sunday, the Bavarian state crime office provided an update on the investigation, saying a "manifesto" had been recovered from Sonboly's room, which indicated he had been planning the attack for over a year.
Robert Heimberger of the state crime office said Sonboly had illegally bought the Glock pistol he used to kill off the internet, and confirmed previous reports that he had been suffered from depression and had taken medication in the past.
Heimberger also confirmed that Sonboly had used a fake Facebook account to lure people to a McDonald's restaurant where the shooting began with the offer of free food. But Sonboly had not specifically targeted people and none of the victims – most of whom were teenagers – were not his classmates.
Sonboly's parents continue to be interviewed by detectives.
Authorities found Sonboly's body two and a half hours after the shooting began.
The teenager had no links to ISIS but was "obsessed" with mass shootings, Munich Police Chief Hubertus Andrae said Saturday.
The Facebook status urged people to visit the mall at 4 p.m. Friday.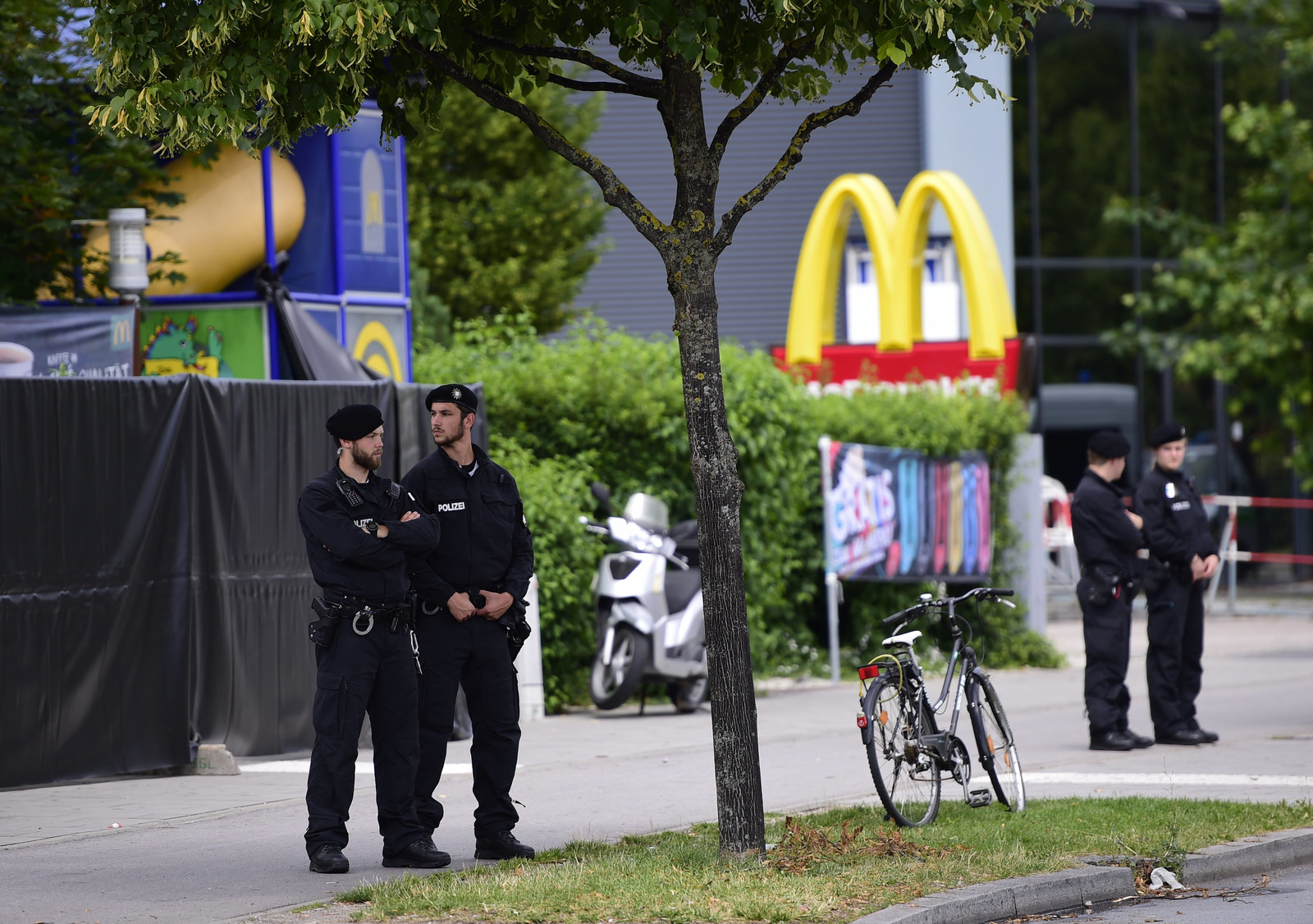 The account from which the post was sent has been taken down by Facebook.
A16-year-old friend of Sonboly's was arrested in connection with the attacks Sunday.
The Afghan teenager is suspected of knowing of the attack and failing to report it, Munich police said in a statement.
"The 16-year-old came forward on Friday immediately after the shooting rampage," the police, who did not name the teenager, wrote. "He was questioned in terms of his relationship with the perpetrator."
Police said that an investigation found contradictions in his initial statements, and suspect he may he may have played a role in the Facebook post inviting people to the scene of the shooting, though nothing has yet been proven.
They added that German authorities are taking measures against "copycat crimes," and warned drivers of increased security throughout Munich.
Speaking to BuzzFeed News via direct message, a German woman claimed her photos were being used with the account under the name Selina Akim.
She said the photos of her were old and had been taken down from Facebook a year ago, suggesting the fake account had been set up well in advance.
The woman, who tweeted about her photos being used but was reluctant to give her full name for fear of any reprisals from anyone else involved in the shooting, said she had passed all this information on to police already.
At a press conference at noon Saturday local time, Andrae said there were "no indications whatsoever" the gunman had links to ISIS, and that the authorities were treating the attack as a "classic shooting rampage".
After searches of the gunman's room and computer records, material relating to mass shootings was recovered, including a book translated as Rampage in Head: Why Students Kill.
Citing unnamed security officials, German news agency DPA reported the gunman had idolized the teenager who killed 16 at the Winnenden school in southwestern Germany in 2009.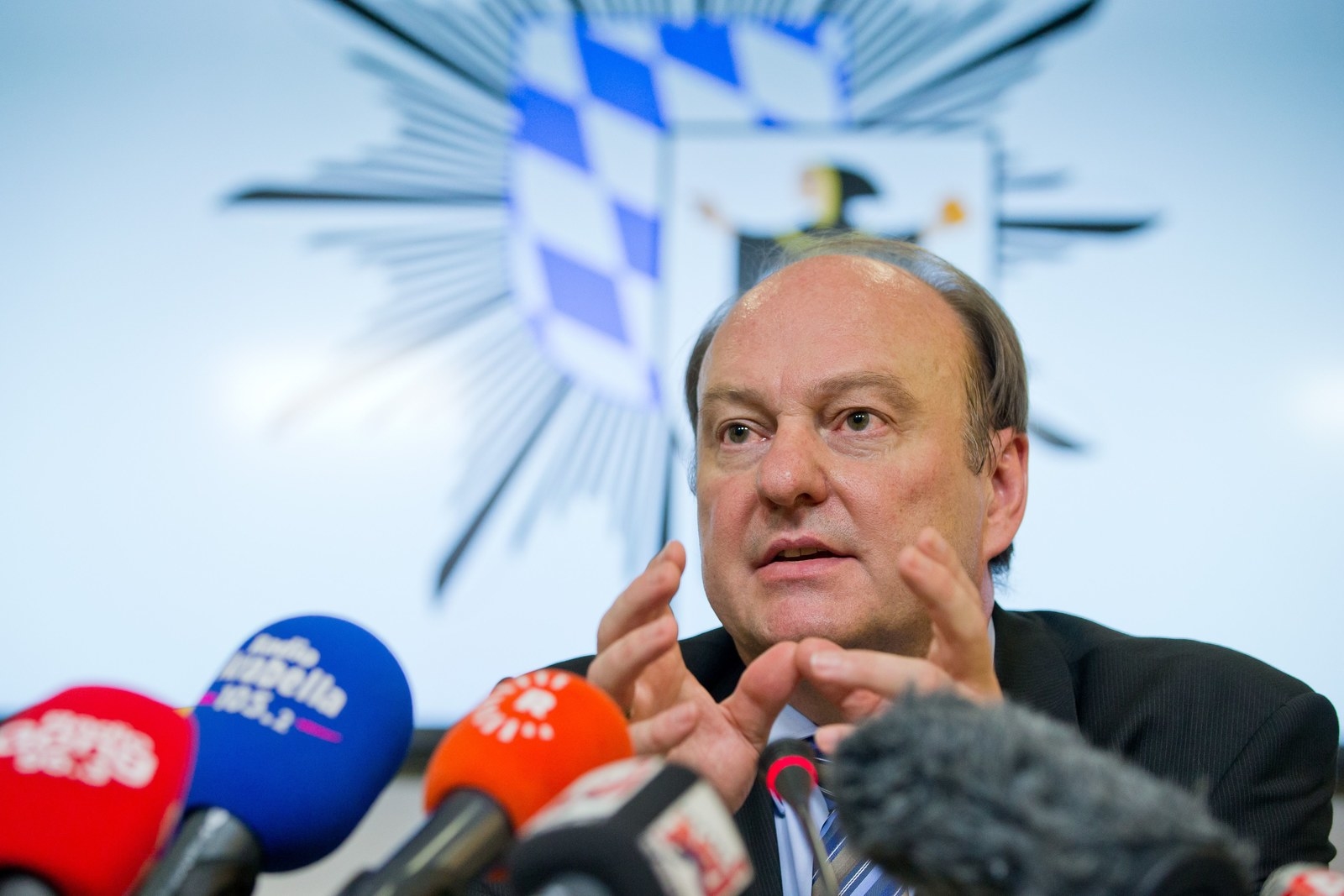 Police acknowledged that Friday's attack took place on the fifth anniversary of the bomb and gun massacre committed by Anders Behring Breivik in Norway, in which 77 people died.
Far-right terrorist Breivik is serving a 21-year prison sentence.
Andrae said there was an "obvious link" between Friday's killing's and Breivik's attack.
The attacker was not previously known to police.
Police reiterated the belief the gunman acted alone. On Saturday, Andrae said two other people who were seen fleeing the area were investigated but had "nothing to do with the incident".
The attacker died from a single gunshot wound to the head, which police said they believed was self-inflicted. He had used an unlicensed Glock pistol to kill his victims, and around 300 rounds of ammunition were discovered in his backpack.
Police said that the nine victims killed were aged between 15 and 45, and included three women and six men.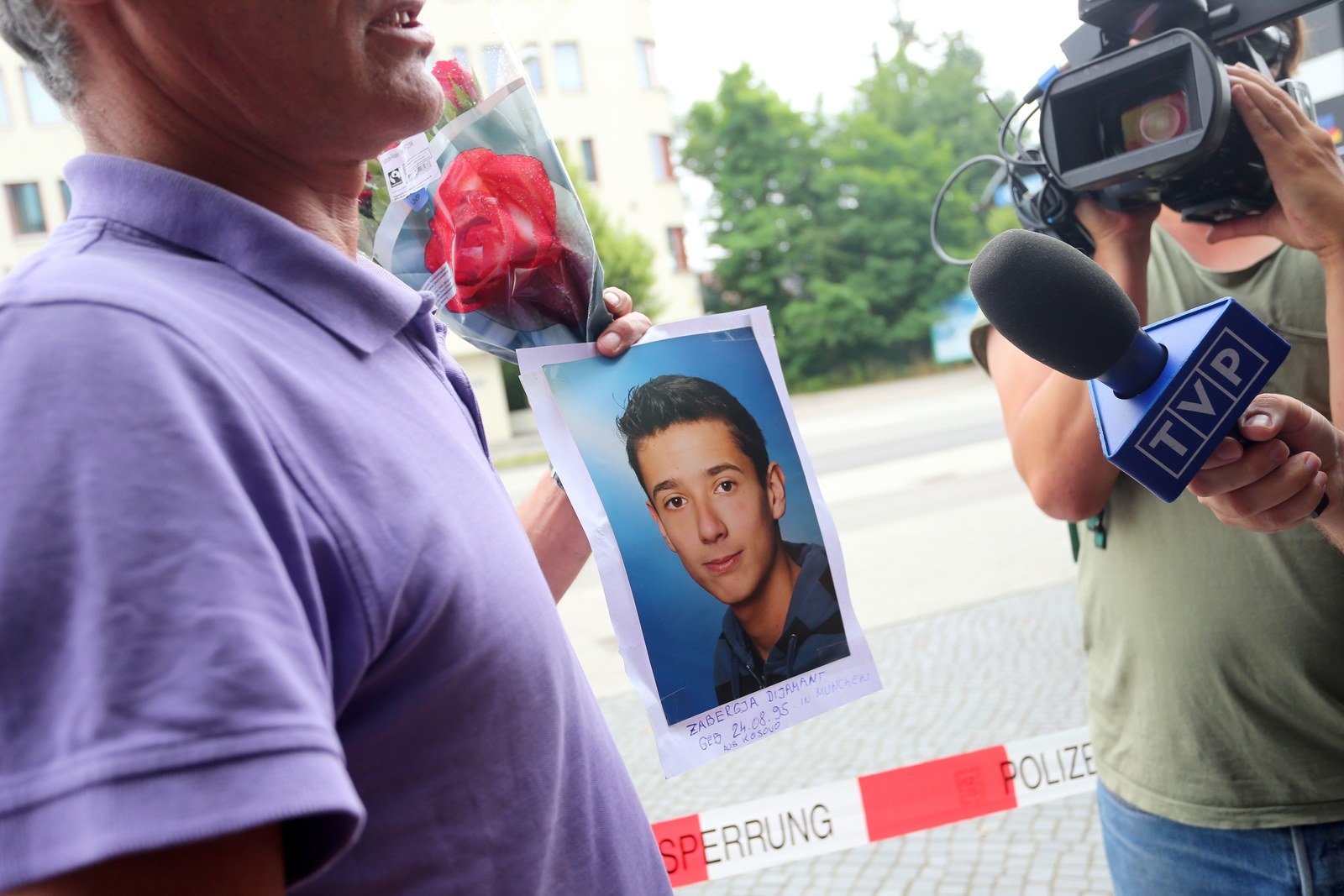 Seven of those killed were teenagers, police said, adding that all of those killed and injured lived locally and that no tourists had been harmed.
Some 4,310 emergency calls were received by police between 6pm and midnight on Friday, four times as many as normal.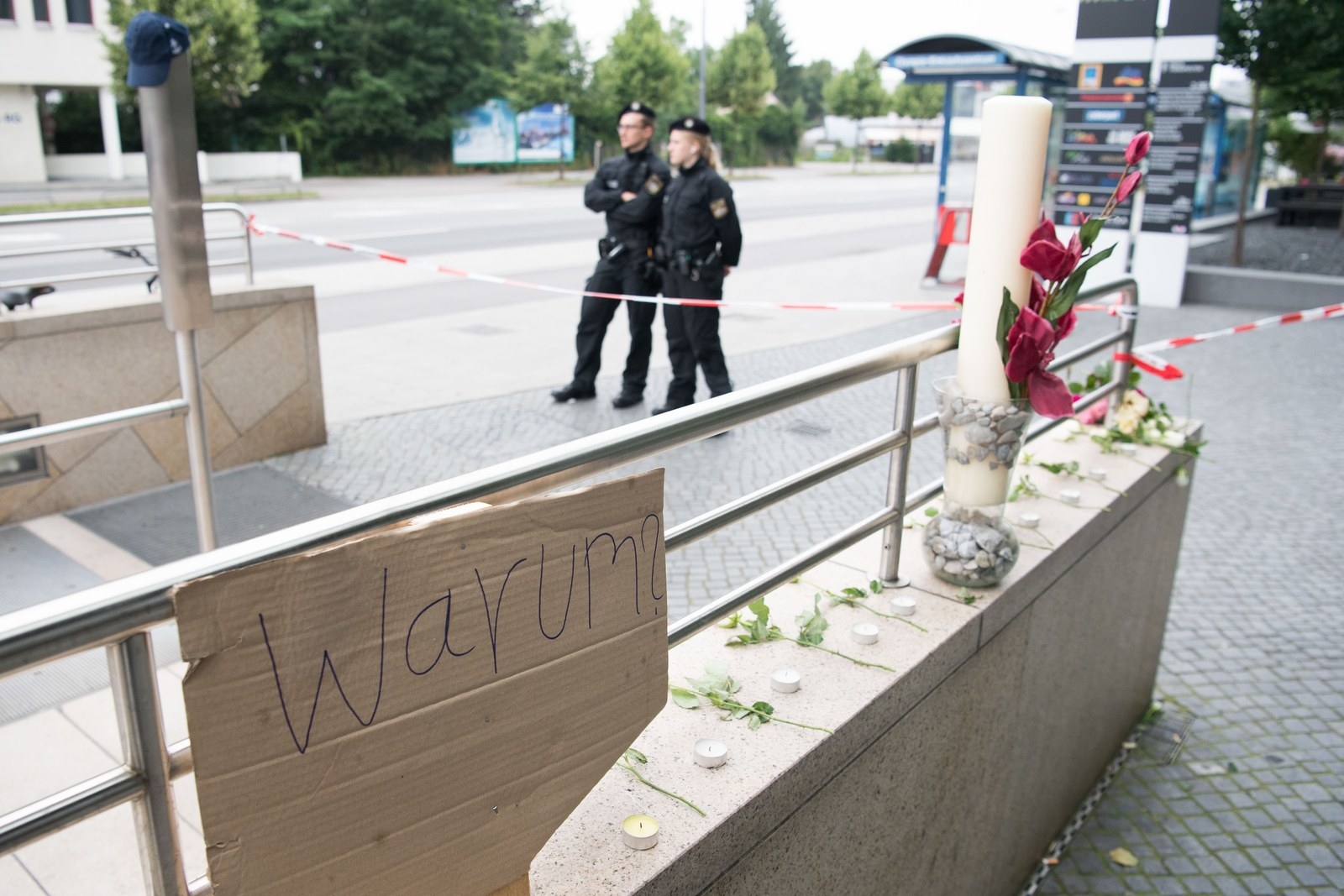 Authorities are appealing for anyone who took any photos or videos of the shooting in Munich to share them on a special website set up to help with their investigation.
The shooting at the Olympia Einkaufszentrum mall prompted authorities to take the extraordinary step of shutting down public transportation in the city of 1.3 million residents and advising the public to shelter in place.
Shortly after police received the first reports of the shooting, the city sent out a text alert to residents telling them to stay indoors, effectively shutting down the major German city.
Witnesses initially reported seeing three people with firearms during the rampage at the mall. Officials said they could not confirm shootings at any other location. But the initial reports prompted authorities to canvass the city for several hours for multiple gunmen and asking residents to stay off the streets.
Public transportation was reestablished after 1 a.m. when police said the area had been cleared of threats.
Andrae said video from the attack and interviews with witnesses confirmed there was only one gunman involved. Other reports of nearby shootings and hostages being taken were also unfounded, he said.
The attack came as Germany remains on edge about terror attacks on European soil.
Last Monday an Afghan teenager attacked tourists on a train in Wursburg before being shot by police. Prior to the assault, the 17-year-old recorded a video pledging allegiance to ISIS.
A week earlier, 84 people were killed when a French-Tunisian man drove a truck through a crowd celebrating Bastille Day in Nice, France. Authorities said attacker Mohamed Lahouaiej Bouhlel had been "very quickly radicalised", and ISIS later described him as a "soldier" who acted with inspiration by the group.
On Friday, Andrae said there was "no indication" that the incident was inspired by Islamic extremism.
"We can't question the suspect so this is all a little more difficult," he said.
A video widely shared on social media purported to show the shooting outside a McDonald's restaurant at the mall. Warning: The video is graphic.
BuzzFeed News could not independently verify the authenticity of the video or locate the original source.
One witness, Luan Zequiri, told a German news broadcaster that the gunman had yelled an anti-foreigner slur during the shooting, the Associated Press reported.
"I looked in his direction and he shot two people on the stairs," Zequiri said.
Video posted on Twitter showed people running away from the shopping mall after the shooting.
Special operation forces, as well as local and federal police from the region, responded to Munich to assist authorities.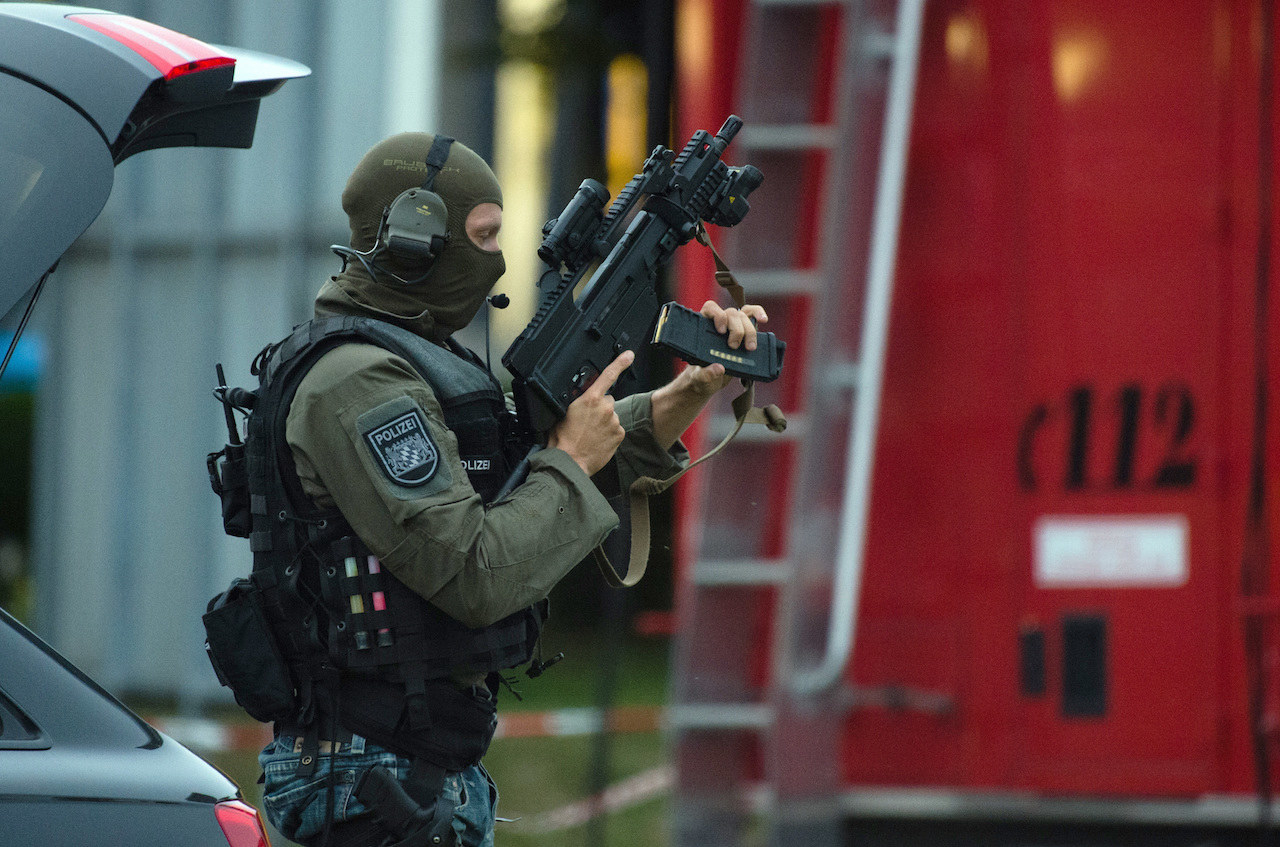 Speaking in Berlin Saturday, Chancellor Angela Merkel said Germany is in "deep and profound mourning".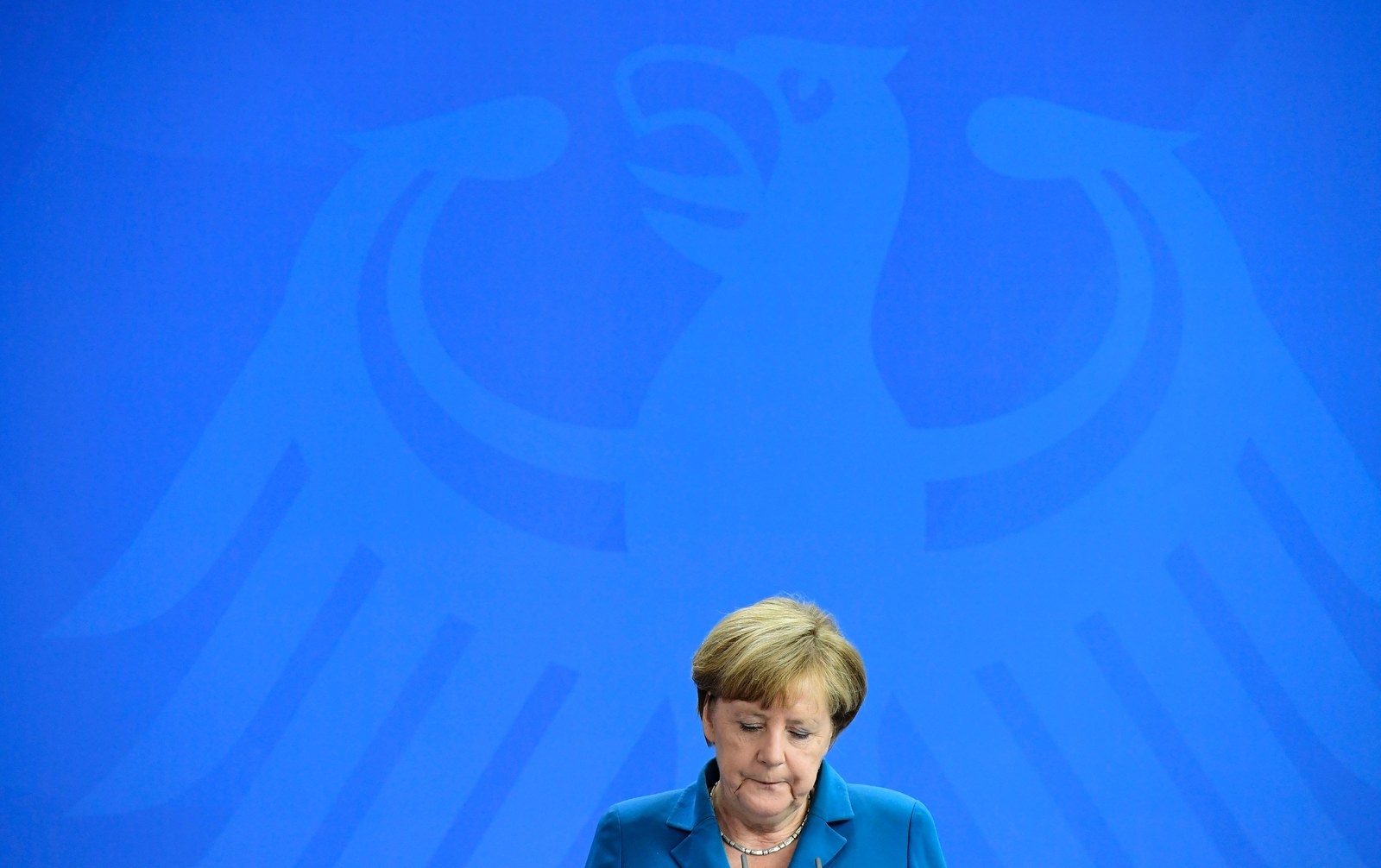 To the families of victims Merkel said: "We share in your grief – we think of you and are suffering with you."
The German chancellor looked to reassure citizens who might now be scared of public places, praising the "phenomenal" efforts of police who attended the scene of Friday's attack.
The mayor of Munich, Dieter Reiter expressed his condolences to the victims, and declared a day of mourning.
Before it became clear whether the gunman was acting alone or on behalf of a wider organization, Britain's Foreign Secretary Boris Johnson said it was "very likely" that "this is another terrorist incident".
"I think it proves once again that we have a global phenomenon now and a global sickness that we have to tackle both at source – in the areas where the cancer is being incubated in the Middle East – and also of course around the world," Johnson added.
The White House condemned the shooting in a statement, calling it an "apparent terrorist attack."
"We still do not know all of the facts, but we do know that this heinous act has killed and injured multiple individuals in the heart of one of Europe's most vibrant cities," the statement read. "The United States condemns in the strongest terms the apparent terrorist attack that has claimed innocent lives in Munich, Germany."
It was not immediately clear who might be responsible for the attack.
The State Department released a statement offering condolences to the victims of the attack, and stating they were ready to provide, "any and all assistance requested by our close friend and ally Germany in this time of crisis."
Presumptive Democratic presidential nominee Hillary Clinton said she was monitoring news of the attack.
Republican presidential nominee Donald Trump also issued a statement, saying attacks like those in Munich "cannot continue."
"The rise of terrorism threatens the way of life for all civilized people, and we must do everything in our power to keep it from our shores," it read.
On Saturday morning candles were lit near the Olympia shopping mall in memory of the nine victims killed during the attack.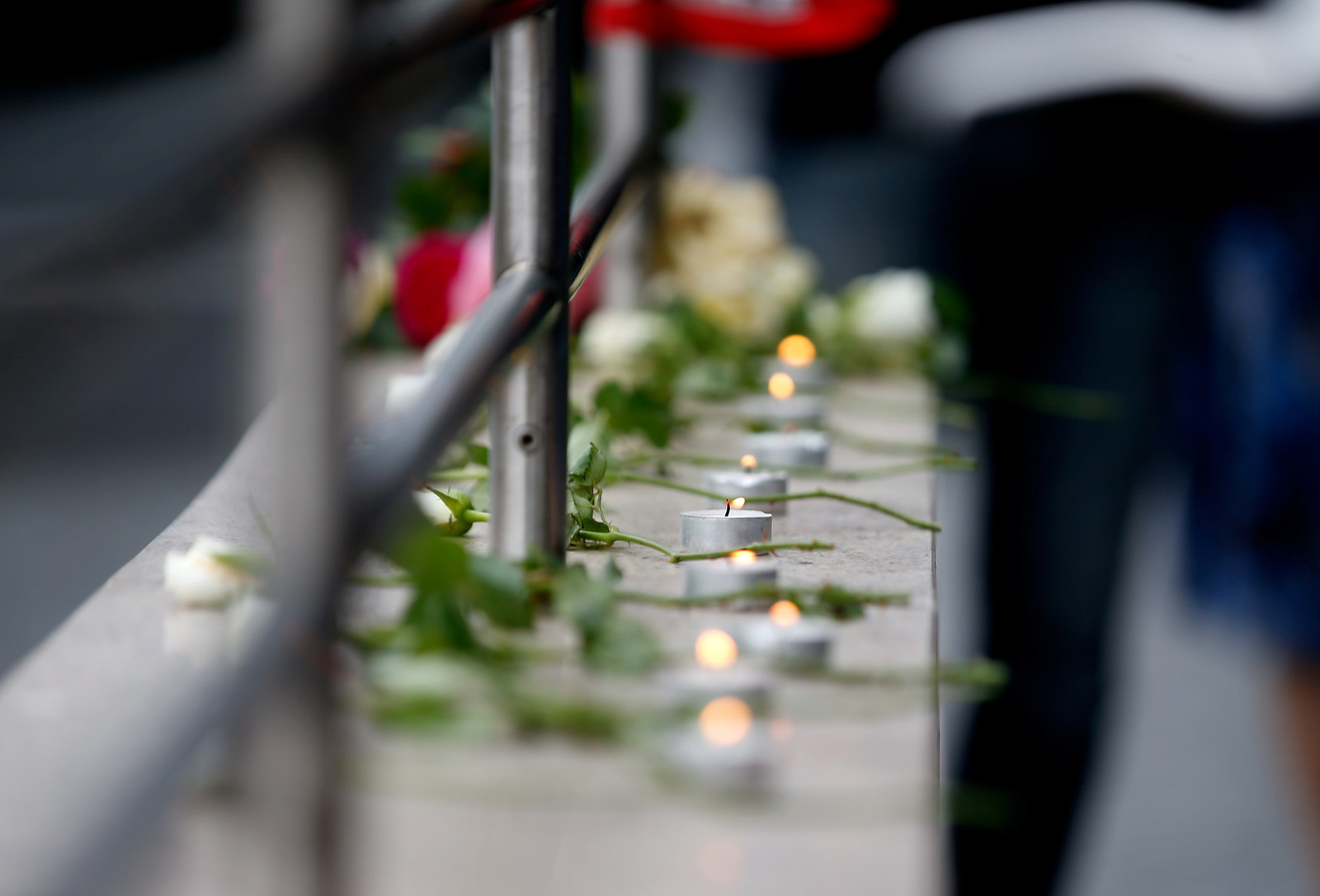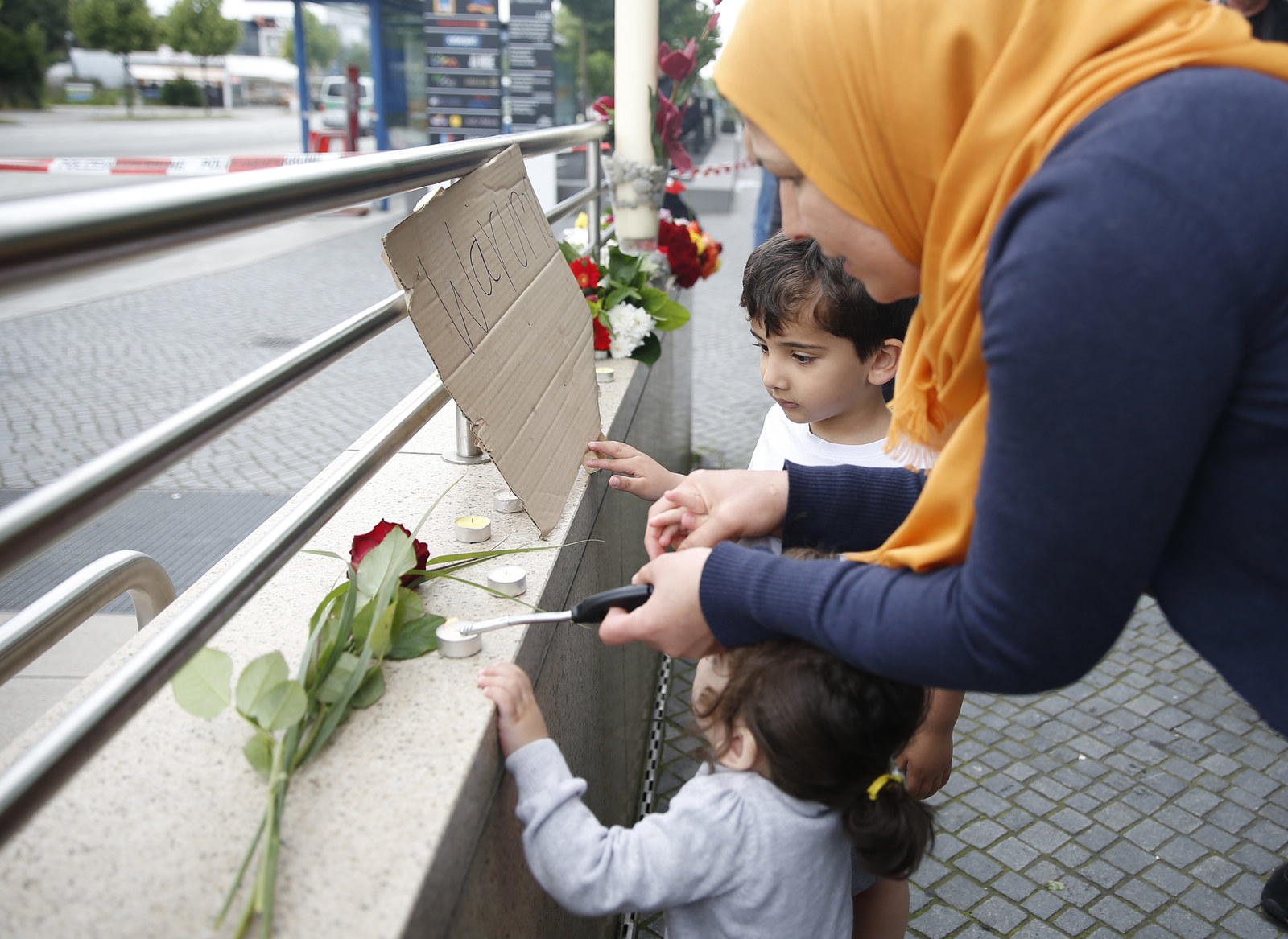 People have continued to gather at the memorial to pay their respects.