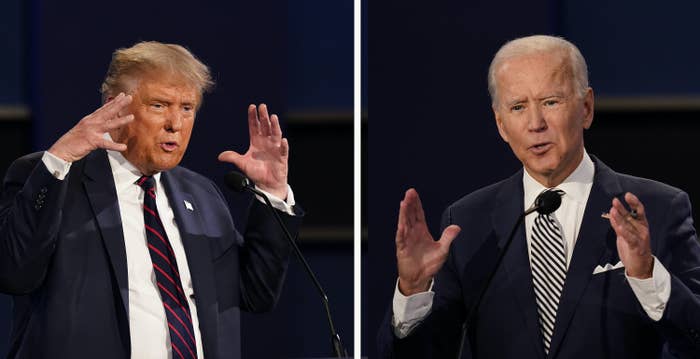 The Commission on Presidential Debates announced Thursday that the second debate will be "virtual" amid concerns about the president's recent COVID-19 diagnosis — but Trump immediately said he won't participate.
Minutes after the announcement, Trump told Fox Business, "I'm not going to waste my time on a virtual debate."
"That's not what debating is all about — you sit behind a computer and do a debate. It's ridiculous," Trump said. He also said accused the CPD of "trying to protect Biden."
The Oct. 15 debate will be virtual "to protect the health and safety" of those involved, the commission said in a statement. The candidates would participate from separate remote locations while the moderator will be located at the Adrienne Arsht Center for the Performing Arts of Miami-Dade County in Miami.
The Biden campaign said that they had agreed to the debate's new format, but after Trump's refusal to participate, Biden would "find an appropriate place to take questions from voters directly on October 15th."
"Joe Biden was prepared to accept the CPD's proposal for a virtual Town Hall, but the President has refused, as Donald Trump clearly does not want to face questions from the voters about his failures on COVID and the economy," deputy campaign manager Kate Bedingfield said in a statement.
The Biden campaign urged the debate commission to move the Biden-Trump town hall to Oct. 22 "so that the president is not able to evade accountability."
"Every Presidential candidate since 1992 has participated in such an event, and it would be a shame if Donald Trump was the first to refuse," Bedingfield's statement said.
Speaking to Fox Business's Maria Bartiromo on Thursday, Trump said he didn't like the idea of virtual debates because "they cut you off whenever they want."
During the first chaotic debate, Trump repeatedly interrupted Biden and launched personal attacks against his opponent while disregarding the moderator's directions against interrupting and limiting his responses to two minutes.

The Trump campaign said Thursday that instead of doing a virtual debate, the president would "do a rally instead."
"President Trump will have posted multiple negative tests prior to the debate, so there is no need for this unilateral decision," Bill Stepien, Trump's campaign manager, said in a statement.
Stepien, who is also infected with COVID-19, referred to the debate commission as "swamp monsters."

"The safety of all involved can easily be achieved without canceling a chance for voters to see both candidates go head to head," Stepien said. "We'll pass on this sad excuse to bail out Joe Biden and do a rally instead."
In a follow-up statement hours later, Stepien said the Trump campaign agreed that a town hall debate should now happen on Oct. 22, but insisted that a third debate be held on Oct. 29, just days before the election. "Americans deserve to hear directly from both presidential candidates on these dates, October 22 and 29," he said.
Biden's campaign quickly rejected the idea of an Oct. 29 debate.
"We look forward to participating in the final debate, scheduled for October 22, which already is tied for the latest debate date in 40 years," Bedingfield said. "Donald Trump can show up, or he can decline again. That's his choice."
Speaking to reporters Thursday morning, Biden said, "I don't know what I'll do" if Trump "goes off and has a rally."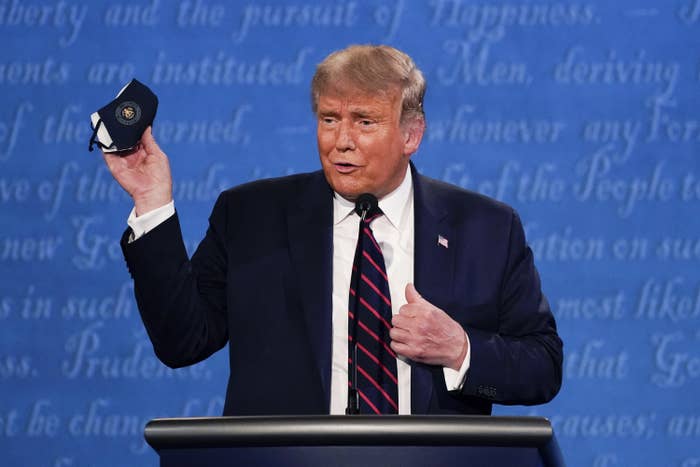 Trump's doctors have consistently dodged pertinent questions about the president's health and have provided muddled and contradictory statements about his condition and treatment over the past week. Trump returned to the White House after spending only three days at Walter Reed Medical Center where he was given a powerful steroid typically used for treating those "with severe and critical COVID-19."
Trump's behavior and tweets since his diagnosis have raised concerns about his cavalier attitude to the deadly disease, and he prompted outrage when he sat in an enclosed SUV with two other people so he could greet his supporters during his hospital stay.
Trump and his allies suggested throughout the summer that Biden would ultimately refuse to debate Trump. It was a frequent topic on Fox News in July, including with an appearance from the president's son Eric Trump, who suggested Biden might pull out of the scheduled debates because he wasn't mentally ready for them.

The president has frequently complained about the debate commission in the past, accusing the nonpartisan organization last year of being "Trump Haters & Never Trumpers." The New York Times reported early this year that Trump and his campaign were considering not agreeing to debates hosted by the commission to begin with.
A remote presidential debate was last conducted in 1960 when John F. Kennedy and Richard Nixon debated from two separate locations while the moderator was located in a third studio, the New York Times reported.