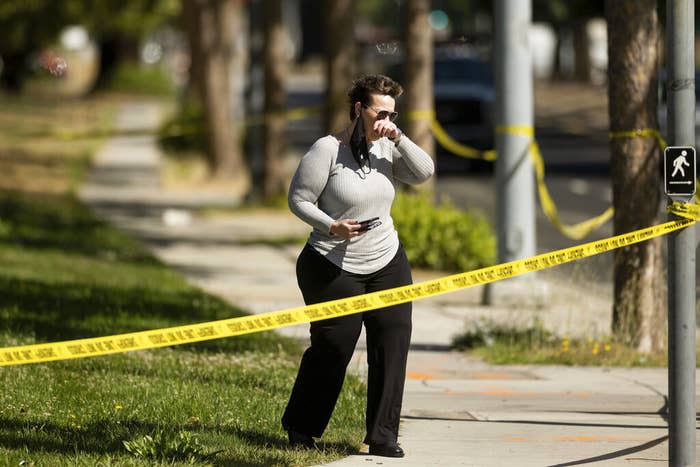 At least nine people were killed in a shooting at a rail yard in San Jose, California, early Wednesday.
The alleged shooter who attacked the Santa Clara Valley Transportation Authority (VTA) facility was a male employee and is also dead, authorities said. A spokesperson for the Santa Clara County District Attorney's Office told BuzzFeed News the shooter died of an apparent suicide.
The victims included VTA employees, authorities added.
Later in the evening, the Santa Clara County medical examiner's office identified the victims who were killed as Paul Delacruz Megia, 42; Taptejdeep Singh, 36; Adrian Balleza, 29; Jose Dejesus Hernandez III, 35; Timothy Michael Romo, 49; Michael Joseph Rudometkin, 40; and Abdolvahab Alaghmandan and Lars Kepler Lane, both 63. On Wednesday night, a ninth victim, who was in critical condition at a local hospital, died of his injuries. Officials identified him as Alex Ward Fritch, 49.
Russell Davis, a spokesperson for the Santa Clara County Sheriff's Office, said the agency's bomb squad team was called to the scene after an explosives dog detected "some type of explosives material." Officials were continuing to search the facility to ensure the area was safe.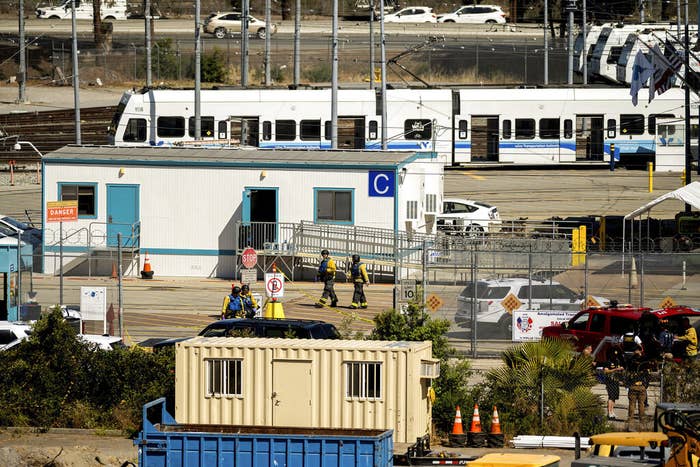 Authorities received several 911 calls regarding shots fired at the VTA light rail yard at around 6:34 a.m. Multiple agencies responded to the scene for an active shooter investigation, Davis said.
Santa Clara Sheriff Laurie Smith said that a team of deputies and officers from the sheriff's department and the San Jose Police Department were the first to enter the facility and that when they arrived "there was active shooting going on."

Police did not exchange gunfire with the suspect, Davis said, leading officials to believe that he killed himself.
Smith said she believed that the quick response by law enforcement saved lives.
"They took their life in their hands and I know for sure that when the suspect knew that law enforcement was there he took his own life," she said. "Our deputies were right there at that time."
VTA employees were evacuated from the facility that Davis described as a control center and a hub that stores multiple trains as well as a maintenance yard. Smith said victims were located in two separate buildings. Investigators have located three semi-automatic handguns from the scene and 32 loaded high capacity magazines as of Thursday afternoon, the sheriff's office said.
The medical examiner's office later identified the shooter as Samuel Cassidy, a 57-year-old substation maintainer for the VTA. On Thursday, the sheriff's office said it appeared that the suspect "has been a highly disgruntled VTA employee for many years" and that may have "contributed to why he targeted VTA employees."

However, the investigation into his motive is still ongoing, the office said. The FBI is assisting local agencies in the investigation.
According to court records first reported by the San Francisco Chronicle, an ex-girlfriend of Cassidy's accused him of rape and emotional abuse and said that he threatened to break up with her unless she had anal sex with him.
Online court records show Cassidy filed for a domestic violence restraining order in March 2009 in Santa Clara County Superior Court. According to the newspaper, the ex-girlfriend denied Cassidy's allegations against her in a declaration she filed in response and alleged that he had major "mood swings" that worsened when he drank a lot of alcohol.
The woman, who BuzzFeed News is not naming at her attorney's request, filed for a domestic violence restraining order against Cassidy a few weeks later in San Mateo County, according to online court records. Her attorney Robert Cummings said the two met online and that Cassidy proposed to her after only a couple months of dating.
"I don't know if that deflated [his] ego or what it did, but he wasn't a happy camper," Cummings told BuzzFeed News by phone. "She felt it was pretty manipulative a lot of the things that he was doing."
In a 2009 response to his restraining order, the woman said that several times during their relationship Cassidy "became intoxicated, enraged, and forced himself on [her] sexually," by sometimes restraining her arms.
San Jose Fire Chief Robert Sapien, Jr. said officials were also investigating a fire at a house, which multiple outlets reported belonged to the suspect, that broke out around the same time as the shooting. Sapien said he was not aware of any fatalities linked to the fire. He did not provide any other information about the incident.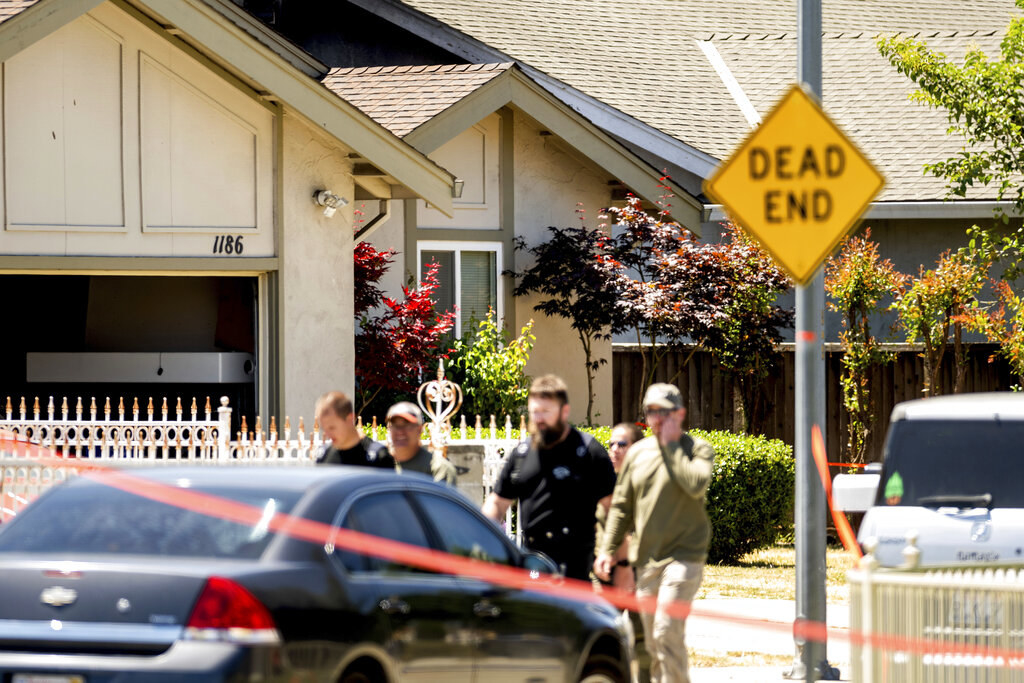 "It appears that the suspect's house is on fire but that there was nobody inside," San Jose Mayor Sam Liccardo, who also serves on the VTA board, told the New York Times. "There's a strange connection here between arson and the shooting."

Hundreds of rounds of ammunition were reported to have been found in the burned home, Liccardo said.
The shooting occurred at the transportation agency's light rail yard, which is a maintenance area where vehicles are dispatched, the VTA board's chair, Glenn Hendricks, told reporters Wednesday.
"This is horrific day for our city and it's a tragic day for the VTA family," Liccardo said. "Our heart pains for the families and coworkers because we know that so many are feeling deeply this loss of their loved ones and their friends."
The mayor said the VTA employees were "essential workers" who had risked their lives to operate the light rail and buses to help people get through the pandemic.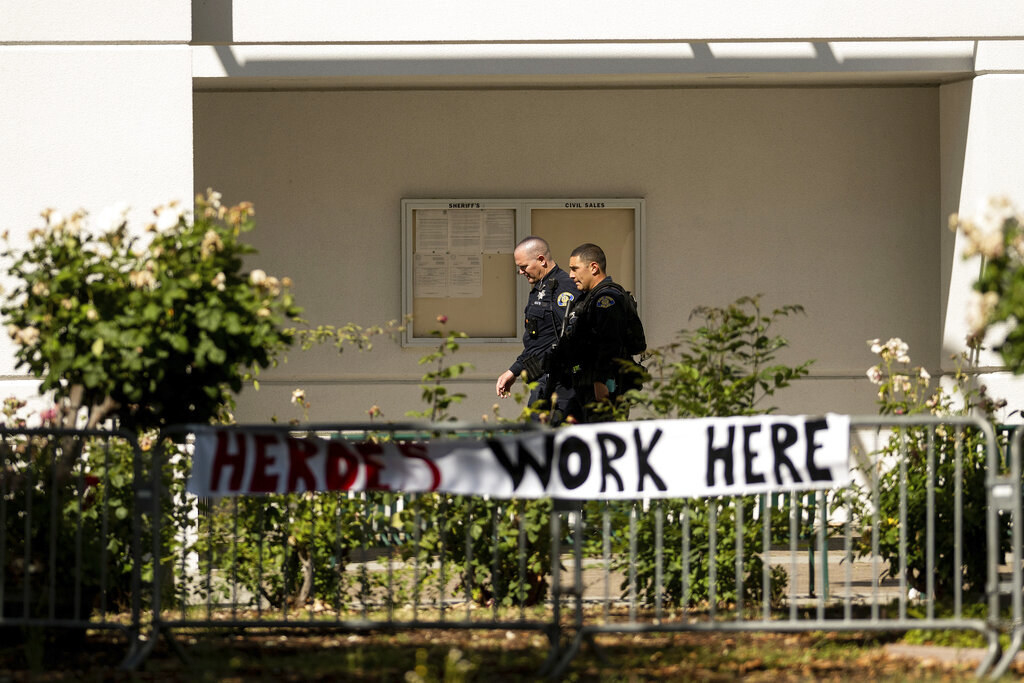 He also said he would later discuss the city's plans "to ensure we never see a horrific tragedy like this again in San Jose."
Rep. Ro Khanna, who represents the district, called the shooting "horrific" and said the victims were "our frontline heroes, who kept the South Bay moving through the worst of the pandemic."
"While much still remains to be confirmed at this time, one thing is abundantly clear: the gun violence epidemic will continue to rage unless we take concrete action to protect our country. It was our community today, but it will be someone else's tomorrow," Khanna said in a statement.
He added that he would continue to push for commonsense gun control legislation in Washington.
In a statement, President Joe Biden urged Congress "to take immediate action" to end what he again described as an "epidemic of gun violence."
"Every life that is taken by a bullet pierces the soul of our nation," Biden said. "We can, and we must, do more."
Gun violence is a public health crisis in the US, killing more than 38,000 people each year.
This year alone, dozens of people have been killed in a spate of high-profile mass shootings. In March, eight people, six of whom were Asian, were fatally shot at Atlanta-area spas and 10 people were killed in a Colorado grocery store. Last month, a former employee shot and killed eight people at a FedEx facility in Indianapolis; a former NFL player killed six people, including himself, at the home of his doctor; three members of a family in Brooklyn and four members of a family in a Dallas suburb were killed by relatives who then killed themselves; and one died and five were injured at a custom cabinet business in Bryan, Texas.
Almost two years ago, three people, including a 6-year-old boy and 13-year-old girl, were killed and more than a dozen others were wounded in a mass shooting at the Gilroy Garlic Festival, about 30 miles away from the site of Wednesday's shooting in San Jose.
During the press conference with local officials, Gov. Gavin Newsom referenced the Gilroy shooting, saying that it wasn't that long ago when he stood in front of reporters in a similar setting talking about the loss of those two children.
"There's a numbness I imagine some of us are feeling about this because there's a sameness to this. Anywhere, USA," Newsom said. "It begs the damn question, what the hell is going on in the United States of America? What the hell is wrong with us?"

The US National Suicide Prevention Lifeline is 1-800-273-8255. The Trevor Project, which provides help and suicide-prevention resources for LGBTQ youth, is 1-866-488-7386. Find other international suicide helplines at Befrienders Worldwide (befrienders.org).