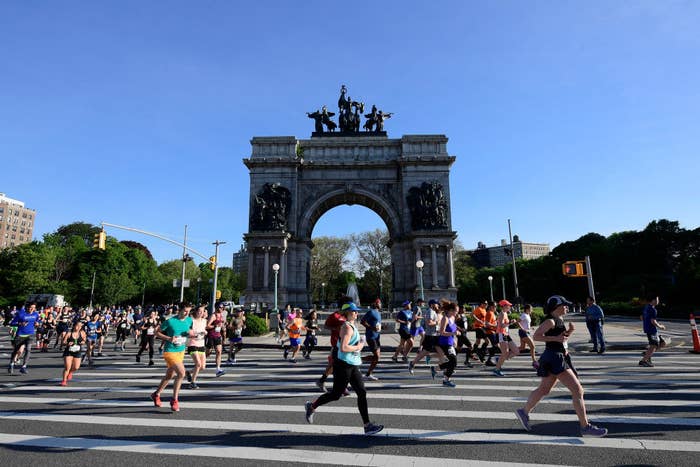 A runner died after collapsing near the finish line of the Brooklyn Half Marathon in New York City on Saturday, authorities said.
The victim, 32-year-old David Reichman, collapsed shortly before 9 a.m. local time close to the finish line of the 13.1-mile race at Brighton Beach Avenue, an NYPD spokesperson told BuzzFeed News.
A spokesperson for the organizer, New York Road Runners (NYRR), told BuzzFeed News that the runner "collapsed after finishing the race" and was immediately attended to by on-site medical staff.
He was found unresponsive and unconscious by EMS officials, police said, and was transported to Coney Island Hospital, where he was pronounced dead. The NYC Office of Chief Medical Examiner will determine a cause of death, the NYPD said. The police spokesperson said he believed Reichman's death to be cardiac-related.
At least 16 other runners were also transported to the hospital, including five with serious injuries, according to the New York City Fire Department.

"We are deeply saddened by the passing of a participant following the 2022 RBC Brooklyn Half," the NYRR said in a statement to BuzzFeed News. "Our thoughts and sympathies are with the runner's family and those close to them."

The statement said that the organizers were closely monitoring weather conditions and that throughout the race, temperatures ranged from the low 60s to high 70s.
Organizers had urged runners to stay hydrated amid high levels of heat and humidity on Saturday. New York City also issued a heat advisory between noon and 8 p.m., and officials warned that temperatures would be reaching up to the 90s.
Many cities across the Northeast witnessed high heat and humidity levels on Saturday, and an unseasonal heat wave is expected to set record highs during the weekend.
This is the second time a runner has died at the Brooklyn Half Marathon since 2014, when a 31-year-old man died after collapsing at the finish line on the Coney Island boardwalk.
UPDATE
The runner who died was 32. His age was misstated based on information from the NYPD in a previous version of this post.