Another woman on Monday came forward to accuse Alabama US Senate candidate Roy Moore of sexual misconduct, alleging that when she was 16 years old, he groped her, choked her, and forced her head near his crotch.
At a news conference with her lawyer, Gloria Allred, Beverly Young Nelson said Moore offered to drive her home from her job as a server at a restaurant in Gadsden, Alabama, when the assault occurred in his car a week or two after Dec. 22, 1977. The age of consent in Alabama is 16.

She said that after her shift ended at 10 p.m. she waited outside the restaurant for her boyfriend to pick her up and drive her home. However, he was late, she said, and Moore — who frequented the restaurant — offered her a ride.

"I trusted Mr. Moore," Nelson said. "He was the district attorney. I thought he was simply doing something nice by offering to drive me home."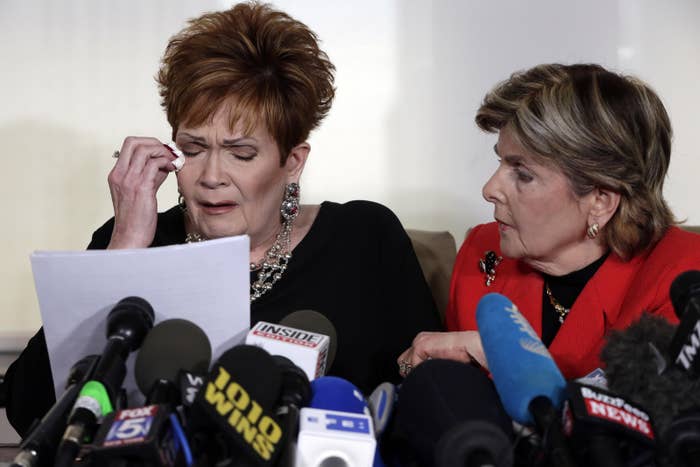 Instead, Moore parked his car in a "dark and deserted area" at the back of the restaurant between the wall and a dumpster, Nelson said.
"I was alarmed," she said, adding that Moore began "putting his hands on my breasts" and locked her side of the car so she couldn't get out.
When she tried fighting him off, Nelson said, yelling at him to stop, Moore "began squeezing my neck attempting to force my head onto his crotch."
"I thought that he was going to rape me," Nelson said at the conference. She said that he also tried to "pull my shirt off," adding that she was terrified and had tears running down her face.

She recalled that Moore "gave up" at some point.

"He then looked at me and said, 'You are a child. I am the district attorney of Etowah County. If you tell anyone about this, no one will believe you,'" Nelson said. He then allowed her to open the car door and she "either fell out or he pushed me out," Nelson said.
The next day, "my neck was black and blue and purple," Nelson said, adding she "covered the bruising on my neck with makeup. I did not tell anyone what had happened, I was scared." Nelson said that she felt Moore would "do something to me or my family," if she told anyone what had happened.

The day after the alleged assault, Nelson quit her job at the restaurant and never returned. She said she told her younger sister about the incident two years later, and her mother four years ago. She also told her husband about the alleged assault before she married him.
Nelson said she and her husband supported Donald Trump in the election and that this has "nothing to do" with politics.
"It has everything to do with Mr. Moore's sexual assault when I was a teenager," Nelson said.

"I thought I was Mr. Moore's only victim," she said. "He no longer has any power over me and I no longer live in fear of him."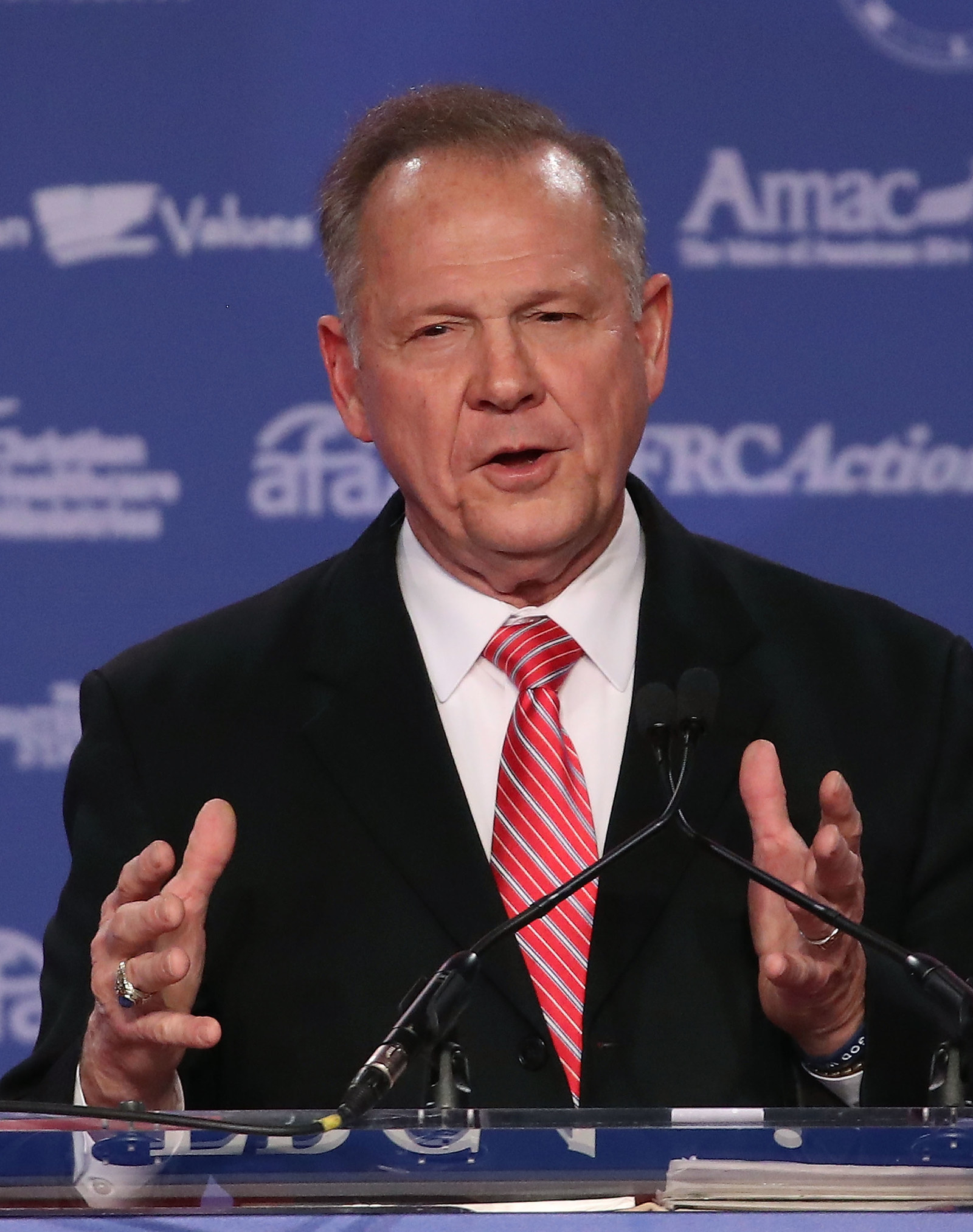 In a statement, Moore's campaign chairman, Bill Armistead, called Allred a "sensationalist leading a witch hunt."

"We've said this before and we'll say it again: Judge Moore is an innocent man and has never had any sexual misconduct with anyone," the statement said. "This is a witch hunt against a man who has had an impeccable career for over 30 years and has always been known as a man of high character."

Armistead said that the campaign will "pursue all legal options against these false claims."
Moore also personally denied the latest allegations in a brief press conference Monday night.
"I can tell you without hesitation this is absolutely false," he said. "I never did what she said I did. I don't even know the woman. I don't know anything about her. I don't even know where the restaurant is or was."
Moore's wife of 32 years, Kayla, also spoke, dismissing the allegations as ugly politics. She defended her husband's character and commitment to God.
"He has never one time lifted a finger to me," she said. "He is the most gentle, kind man I have known in my life."
Nelson is not considering civil or criminal actions against Moore, Allred said. Moore's representatives didn't return a request for comment. Moore has denied similar allegations made by four other women featured in a Washington Post article on Nov. 9.
Nelson, who began working at the restaurant when she was 15, said Moore was a regular customer there and would complement her and "pull the ends of my long hair." She said that while she was accustomed to men flirting with her, she did "nothing to encourage [Moore's] flirtatious behavior" and was not interested in dating a man "twice my age."

On Dec. 22, 1977, a week or two before the alleged assault, Moore wrote in Nelson's yearbook: "To a sweeter more beautiful girl I could not say 'Merry Christmas.' Christmas 1977. Love, Roy Moore, D.A." Moore was the local district attorney at the time.
Allred urged the Senate Judiciary Committee to hold a public hearing and subpoena Moore to testify about the allegations against him.

Shortly after the news conference, Republicans escalated their opposition to Moore. Colorado Sen. Cory Gardner, who runs the Senate Republicans' campaign arm, said in a statement that if Moore chooses to stay in the race and wins his seat, the Senate "should vote to expel him, because he does not meet the ethical and moral requirements of the United States Senate."

Under the Constitution, the Senate is able to "punish its members for disorderly behavior, and, with the concurrence of two-thirds, expel a member." Fifteen senators have been expelled since 1789, including 14 during the Civil War.

Senate Majority Leader Mitch McConnell also said he now believes the women who accused Moore of sexual misconduct while they were teenagers — and that Moore should "step aside" in the race.

McConnell, the most powerful member of the US Senate, said last week Moore should step aside "if" the allegations from the women — one, Leigh Corfman, was 14 at the time — were true. He's now changed his position.
Three other women told the Washington Post that Moore "pursued them" while he was in his early thirties — they say they were between 16 and 18. Those three women didn't allege sexual contact. Moore has also denied those allegations.
Moore responded on Twitter shortly after, saying, "The person who should step aside is @SenateMajLdr Mitch McConnell. He has failed conservatives and must be replaced. #DrainTheSwamp."
And when asked about supporting a write-in campaign in lieu of Moore, McConnell said, "that's an option we're looking at, whether or not there is someone who could mount a write-in campaign successfully."
There was already pressure on Moore from some Republicans to step back from the race, and McConnell's comments are attracting new calls as well.

Sen. Susan Collins, a Republican from Maine, also previously said Moore should drop out if there was "any truth" to the allegations. On Monday, she dropped that hedge, saying in a tweet, "I have now read Mr. Moore's statement and listened to his radio interview in which he denies the charges. I did not find his denials to be convincing and believe that he should withdraw from the Senate race in Alabama."
But Gov. Kay Ivey, who has the power to delay the primary vote, voiced her support for Moore.
"Based on what I know now, yes, I will vote for him," she said, according to AL.com. "But we don't have the facts. There may be some more facts to come out. But he is the party's nominee."