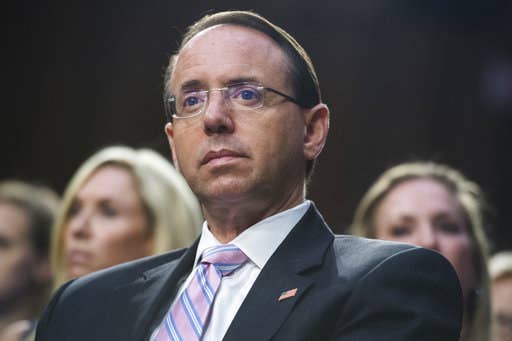 Deputy US Attorney General Rod Rosenstein — who is overseeing the Russia investigation — plotted to oust Donald Trump from office and suggested that he or other top law enforcement officials wear a "wire" when talking with the president, the New York Times reported Friday.
Rosenstein reportedly made the remarks in 2017 during meetings with other Justice Department and FBI officials after Trump fired former FBI director James Comey, sparking weeks of chaos and turmoil inside the administration.
Rosenstein proposed wearing a "wire" while visiting Trump in the White House, or secretly recording the president on his phone, the Times reported. He apparently said that White House officials never checked his phone when he visited, making it easy to record Trump.
Rosenstein, who wrote a memo about how Comey botched handling the investigation into Hillary Clinton's emails, was also reportedly unhappy with how Trump used the memo to fire the FBI director. He was also reportedly upset about the hiring process for replacing Comey and suggested that other FBI officials who were being interviewed for the role could secretly record Trump.
Sources familiar with memos drafted by former FBI deputy director Andrew McCabe told ABC News that in 2017, Rosenstein suggested to McCabe that he might be able to convince Attorney General Jeff Sessions and then-secretary of Homeland Security John Kelly to invoke the 25th Amendment, which allows for replacing the president in the event of death, removal, resignation, or incapacitation.
Rosenstein, however, disputed the Times's report.

"The New York Times's story is inaccurate and factually incorrect," Rosenstein said in a statement to BuzzFeed News. "I will not further comment on a story based on anonymous sources who are obviously biased against the department and are advancing their own personal agenda. But let me be clear about this: Based on my personal dealings with the president, there is no basis to invoke the 25th Amendment."

In an additional statement Friday night, he more plainly denied the reports.
"I have never pursued or authorized recording the President and any suggestion that I have ever advocated for the removal of the President is absolutely false," Rosenstein said.
A DOJ spokesperson provided BuzzFeed News with a statement from a source who was in the meeting when Rosenstein suggested wearing a wire to record Trump.
The source said that Rosenstein's suggestion was "sarcastic and was never discussed with any intention of recording a conversation with the president."
A source present at that meeting told the Washington Post that Rosenstein's comment was a response to McCabe's own suggestion that the Department of Justice should investigate the president.
In response to McCabe's suggestion, Rosenstein made the sarcastic comment along the lines of, "What do you want to do, Andy, wire the president?" the source told the Post.
Another person who was familiar with the discussions between McCabe and Rosenstein told the Post that McCabe had asserted in private that Rosenstein had made the suggestions.
McCabe's spokesperson, Melissa Schwartz, said in a tweet that no one associated with McCabe had shared any part of his memos with the media.
Michael R. Bromwich, McCabe's lawyer, told BuzzFeed News in a statement that he had handed over all his memos to special counsel Robert Mueller, who is investigating collusion between the Trump campaign and officials from Russia.
"Andrew McCabe drafted memos to memorialize significant discussions he had with high level officials and preserved them so he would have an accurate, contemporaneous record of those discussions," Bromwich said. "When he was interviewed by the Special Counsel more than a year ago, he gave all of his memos — classified and unclassified — to the Special Counsel's office. A set of those memos remained at the FBI at the time of his departure in late January 2018. He has no knowledge of how any member of the media obtained those memos."
This is a breaking news post. Please check back for updates and follow BuzzFeed News on Twitter.