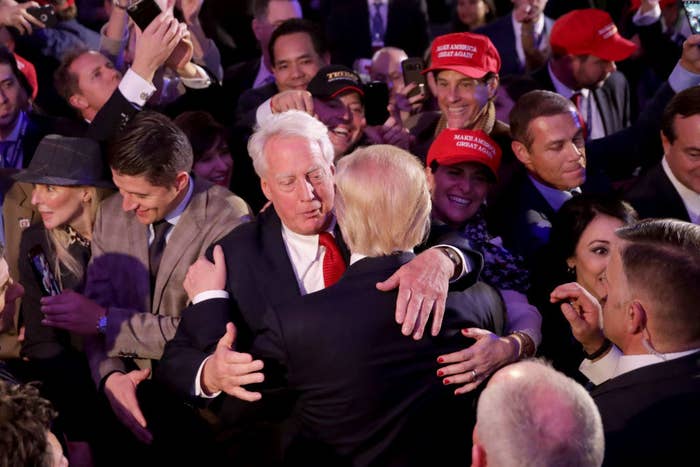 Robert Trump died Saturday night, a day after his older brother, President Donald Trump, visited him at a New York City hospital. He was 71.
In a statement Saturday, the president said, "It is with heavy heart I share that my wonderful brother, Robert, peacefully passed away tonight. He was not just my brother, he was my best friend. He will be greatly missed, but we will meet again. His memory will live on in my heart forever. Robert, I love you. Rest in peace."

The White House did not release the cause of death for Robert Trump who died at the New York–Presbyterian Hospital.
The president had visited his brother in the hospital on Friday before his scheduled trip to his private golf club in New Jersey. White House officials had said Robert Trump was seriously ill but did not provide details.
"I hope he's okay," President Trump told reporters before the visit. "He's having a tough time."
The New York Times reported that Robert Trump was suffering from brain bleeds and had been on blood thinners after a recent fall.
The president, who was photographed playing golf on Saturday, called into the hospital when it was expected that his younger brother would not survive, the Times reported. During a press conference later that day, Trump did not discuss his brother.
Former vice president Joe Biden, the presumptive Democratic presidential nominee, sent the president his condolences on Sunday.
Kamala Harris, the presumptive vice presidential nominee, also sent the president's family condolences on Twitter.
"Doug and I join the Biden family in sending our deepest condolences and prayers to the entire Trump family during this difficult time," Harris tweeted. "Losing a loved one is never easy but know that we are thinking of you."

The president's children paid tribute to their uncle on Twitter.
"Uncle Rob, we love you and we will miss you. R.I.P," Donald Trump Jr. said in a tweet.
"Robert Trump was an incredible man - strong, kind and loyal to the core," Eric Trump tweeted. "Anyone who encountered him felt his warmth immediately. He will be deeply missed by our entire family."
Robert Trump, the youngest of the five Trump siblings, shared a complicated relationship with the president over the years, veering from estrangement over business to public support of his politics.
Robert Trump, who worked as an executive vice president of the Trump Organization, was considered the "quietest of the Trumps" and someone who shunned the spotlight, Michael D'Antonio, a Trump biographer, told the Times.
The two brothers became estranged for several years following an argument in 1989, during which Donald Trump blamed his younger brother for problems with the opening of a casino, the Times reported.

They reportedly reconciled when Trump announced his intention to run for president.
"I support Donald one thousand percent," Robert Trump told Page Six in 2016. "I think he's doing a great job. I think he's got a great message."
Robert Trump also led the president's unsuccessful effort to block the publishing of their niece Mary Trump's tell-all memoir about the Trump family by filing a restraining order in court.
Apart from the president, Robert Trump is survived by his second wife, Ann Marie Pallan, his adopted son from his first marriage, and his two sisters, Maryanne Trump Barry and Elizabeth Trump Grau.