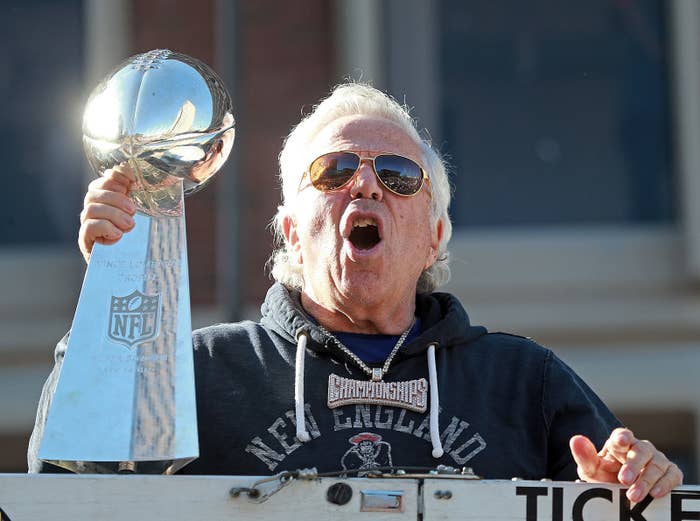 Robert Kraft, the billionaire owner of the New England Patriots, allegedly paid a spa worker in Florida to perform a sex act on him on the morning of the AFC Championship Game between his team and the Kansas City Chiefs, according to authorities.
The Patriots later won.
Kraft, 77, has been charged with two counts of soliciting another to commit prostitution. The first-degree misdemeanor is punishable by up to a year in prison, a $5,000 fine, a mandatory 100 hours of community service, and a class on the dangers of prostitution and human trafficking.
Kraft is one of more than 300 people facing charges of soliciting prostitutes as part of a months-long prostitution sting on spas in various Florida counties, including Palm Beach County, where Kraft has a home. In addition to the dozens of men arrested for soliciting sexual acts, several parlor owners have also been arrested.

Kraft has been issued a summons to appear in court, but does not need to make a public appearance himself, the Palm Beach County state attorney said Monday.
On Jan. 19 and 20, Kraft allegedly paid women to perform sex acts on him at the Orchids of Asia Day Spa in Jupiter, Florida, according to a probable cause affidavit released Monday.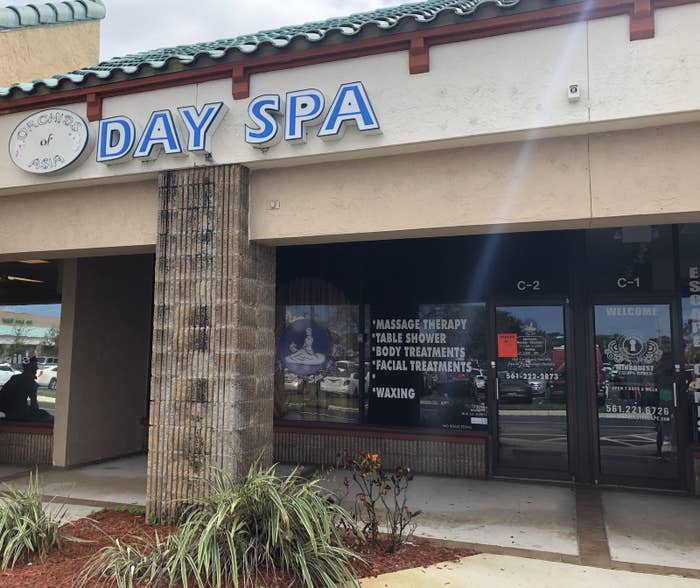 Hours before the Patriots were set to play the Kansas City Chiefs in Missouri, Kraft was seen entering the spa at 10:59 a.m. on Jan. 20, according to surveillance video that had been covertly installed by police in the spa on Jan. 17.
Kraft — dressed in a dark long-sleeved shirt, blue shorts, and a blue baseball cap — was seen on video paying cash to a woman at the front desk.
He was allegedly escorted to a massage room where and he and a woman spa employee hugged each other. After Kraft took off all his clothes and laid face up on the massage table, the woman hugged him again, according to the affidavit.
At around 11:02 a.m., the woman "began manipulating Kraft's penis and testicles and then put her head down by his penis" for several minutes, the affidavit said.
She then wiped his genitals with a towel, helped him get dressed, and hugged him again, the affidavit said.
Kraft was seen giving her a $100 bill along with another bill, and he left the room at around 11:13 a.m. He then left the establishment in his blue Bentley, according to surveillance video.
He paid spa workers for a similar illicit act the previous evening and left the establishment in a white Bentley, according to the affidavit.
Kraft's spokesperson on Friday "categorically" denied that Kraft had "engaged in any illegal activity."
The NFL on Monday said that its personal conduct policy "applies equally to everyone in the NFL."
The statement said: "We will handle this allegation in the same way we would handle any issue under the Policy. We are seeking a full understanding of the facts, while ensuring that we do not interfere with an ongoing law enforcement investigation. We will take appropriate action as warranted based on the facts."
Patriots quarterback Tom Brady was reportedly seen hugging Kraft on Monday morning after they flew from Los Angeles to Boston together in a private jet, TMZ reported. Representatives for Brady did not respond to BuzzFeed News' request for comment.
"These cases aren't about any one defendant or any group of defendants," Palm Beach County State Attorney Dave Aronberg said Monday. "The larger picture, which we must all confront, is the cold reality that many prostitutes in cases like this are victims, often lured into this country with promises of a better life, only to be forced to live and work in a sweatshop or a brothel, subject to force, fraud or coercion."

Martin County Sheriff William Snyder told BuzzFeed News on Friday that the "true monsters are the men" who frequent these establishments.

"We do not treat these women as suspects," Snyder said. "The true monsters are the men. The men who go in there have the key to their freedom. If they stop frequenting these places, the sex trafficking would stop."