The Ringling Brothers and Barnum & Bailey Circus, one of the biggest circus companies in the United States, announced that it would retire all its elephants in May — two years earlier than it had planned.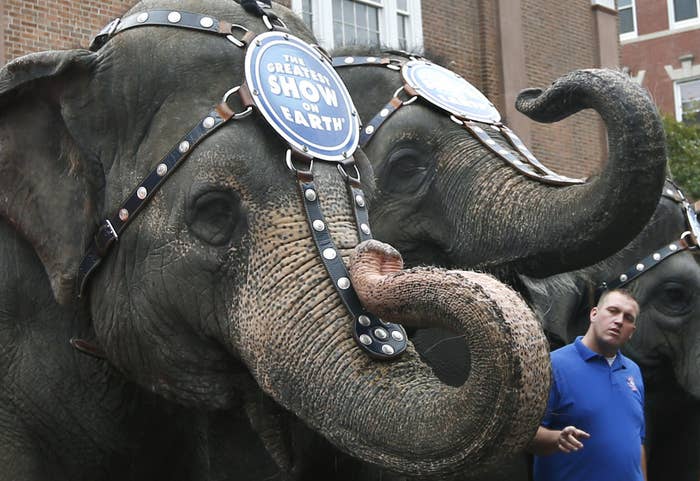 Feld Entertainment, Ringling's corporate parent, announced that all of its Asian elephants from their traveling circus units will be moved to the Ringling Bros. Center for Elephant Conservation in Florida in May 2016.
In March 2015, the company had stated that its elephants would be relocated to the center by 2018. "Since then, the company's dedicated staff has made the necessary plans and preparations to move the elephants to the Center for Elephant Conservation much sooner than anticipated," Feld Entertainment said in a statement.
The 11 elephants currently on tour will join the rest of their herd, totaling 42 elephants, at the Conservation Center.
Amidst growing public concern of the treatment of its famous Asian elephants, the company said the decision was made in the "best interest" of their animals and customers.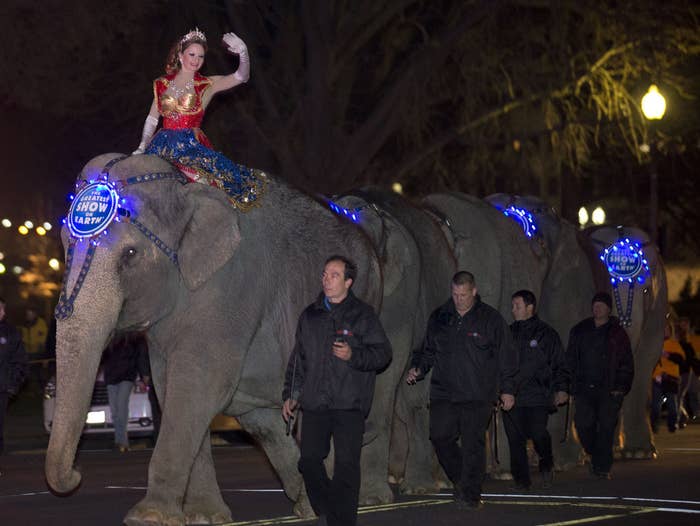 Animal rights activists have long protested the circus's alleged mistreatment of elephants and have been frustrated with the lack of action taken by the US. Department of Agriculture (USDA) against the company.
A 2011 Mother Jones story detailed the horrific abuses allegedly suffered by around 50 Asian elephants used by the company.
From Mother Jones:
But a yearlong Mother Jones investigation shows that Ringling elephants spend most of their long lives either in chains or on trains, under constant threat of the bullhook, or ankus—the menacing tool used to control elephants.

They are lame from balancing their 8,000-pound frames on tiny tubs and from being confined in cramped spaces, sometimes for days at a time. They are afflicted with tuberculosis and herpes, potentially deadly diseases rare in the wild and linked to captivity.

Barack, a calf born on the eve of the president's inauguration, had to leave the tour in February for emergency treatment of herpes—the second time in a year.

Since Kenny's death, 3 more of the 23 baby elephants born in Ringling's vaunted breeding program have died, all under disturbing circumstances that weren't fully revealed to the public.
Steven Payne,VP of Corporate Communications at Feld Entertainment told BuzzFeed News he "categorically denied" all the allegations to date.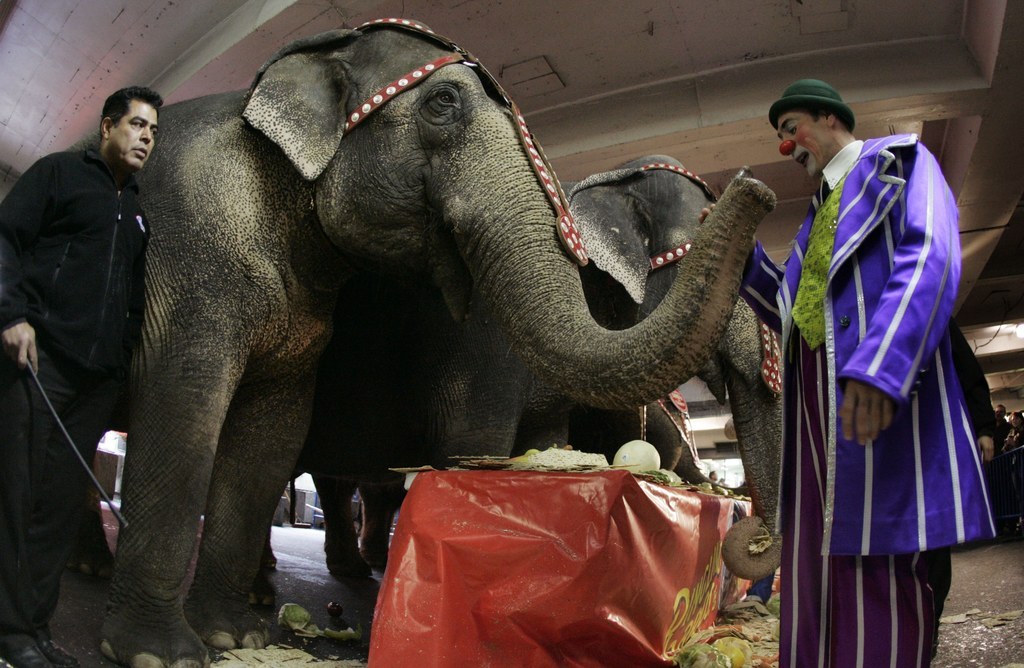 Payne said that 13 elephants will tour with them at least through this year and that the company wanted to proceed with the transition slowly and correctly.
He denied that the decision had been made under pressure from claims of mistreatment by animal rights activists and said that it was done to free up the company's time and resources that would have otherwise been spent in fighting anti-circus legislation around the country.
However, Payne admitted that they received some feedback from customers concerned with the transportation of animals from one city to another. "Some will feel more comfortable coming to our show," he said.
He also spoke about the circus employees enduring "harassment and nuisances" from animal rights activists whose tactics he said were "disgusting and offensive."
Payne said that by the end of this transition he hoped the activists "would find something better to do, and by that I mean, get another hobby."
The company said it would focus on its Asian elephant conservation programs in the U.S. and in Sri Lanka and would work to "preserve this magnificent species for future generations."
However, the company said it would continue to feature other animal performers, including tigers, lions, horses, dogs and camels.
A former Ringling Bros employee told PETA that she had witnessed several elephant beatings and urged people to "never take your children to a Ringling Bros. Circus."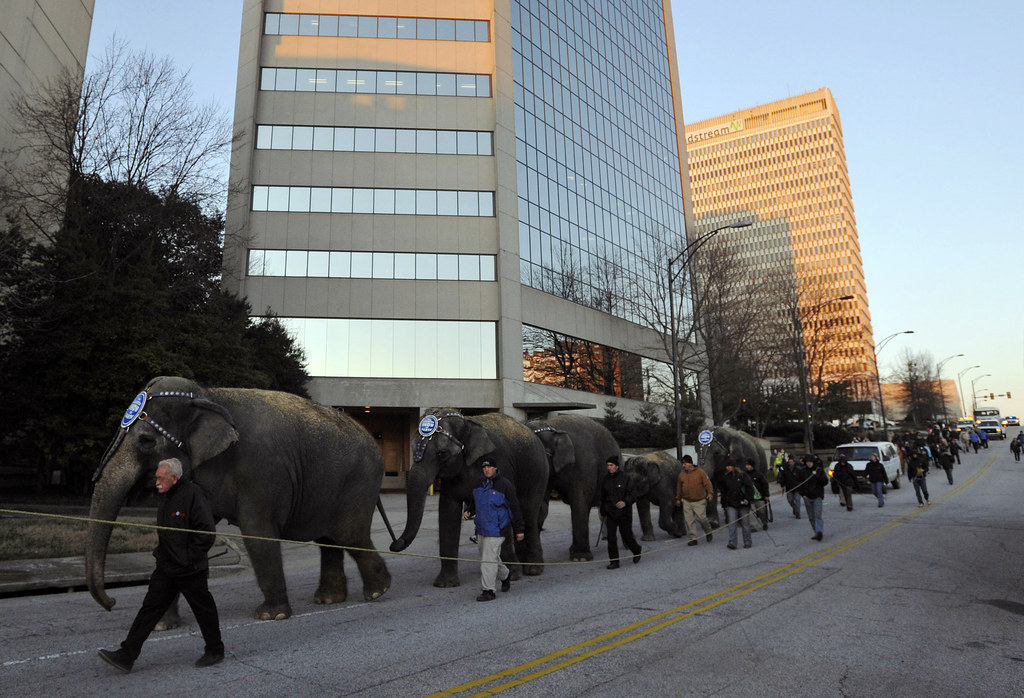 Archele Hundley, who worked on Ringling's animal crew for two months, said she witnesses daily animal abuse at the company.
She said that an elephant in Oklahoma was so severely beaten by bullhooks that she bled profusely.
"I saw handlers deliver a beating … for 30 minutes. She was covered with bloody wounds. I'll never forget her agonizing screams," Hundley told PETA.
An elephant with arthritis was forced to stay on the road, she said.
In 1998, Kenny, a three-year-old Asian elephant, bled to death after he was forced to perform despite being sick.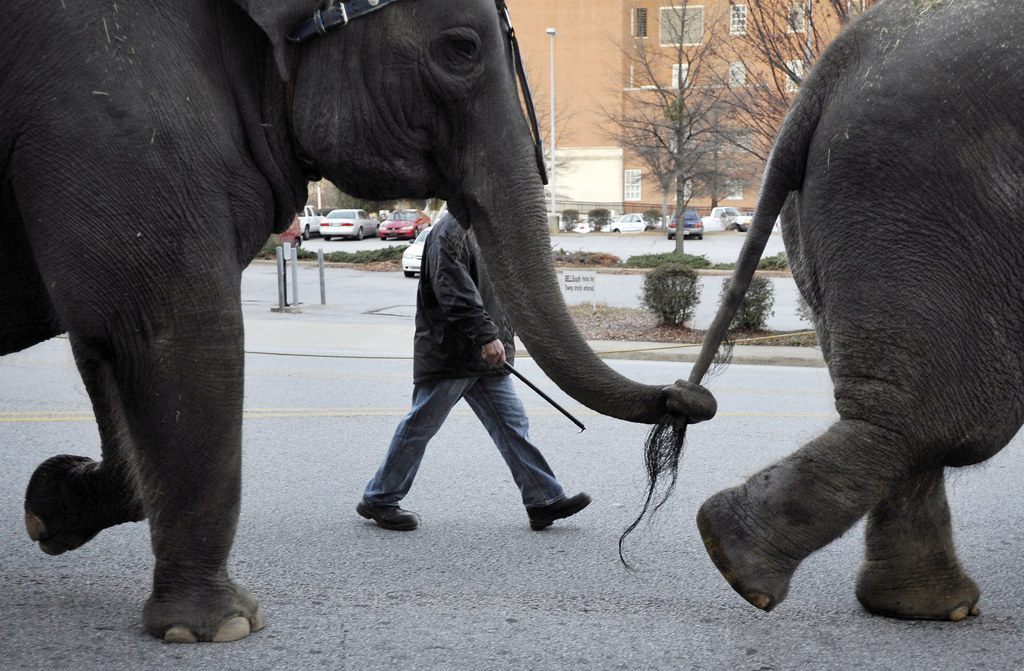 After a public outcry, the USDA charged Feld Entertainment, Ringling's corporate parent, with two violations for forcing Kenny to perform without adequate veterinary care, according to the Mother Jones report.
However, within a few months the USDA settled with Feld Entertainment after the company said it would donate $20,000 to elephant causes and in return not be blamed for Kenny's death.
In 2011, the USDA and Feld Entertainment reached a settlement agreement in which Feld paid a civil penalty of $270,000 for alleged violations of the Animal Welfare Act (AWA) from June 2007 to August 2011. This was largest civil fine ever against an exhibitor of animals under the act.
As per the settlement, Feld agreed to implement AWA training for all its animal handlers, trainers and veterinarians.
Most recently, animal rights activists alleged that the company violated the Animal Welfare Act by confining three elephants in their boxcars for four days at a stretch without any access to the outdoors, The Dodo reported.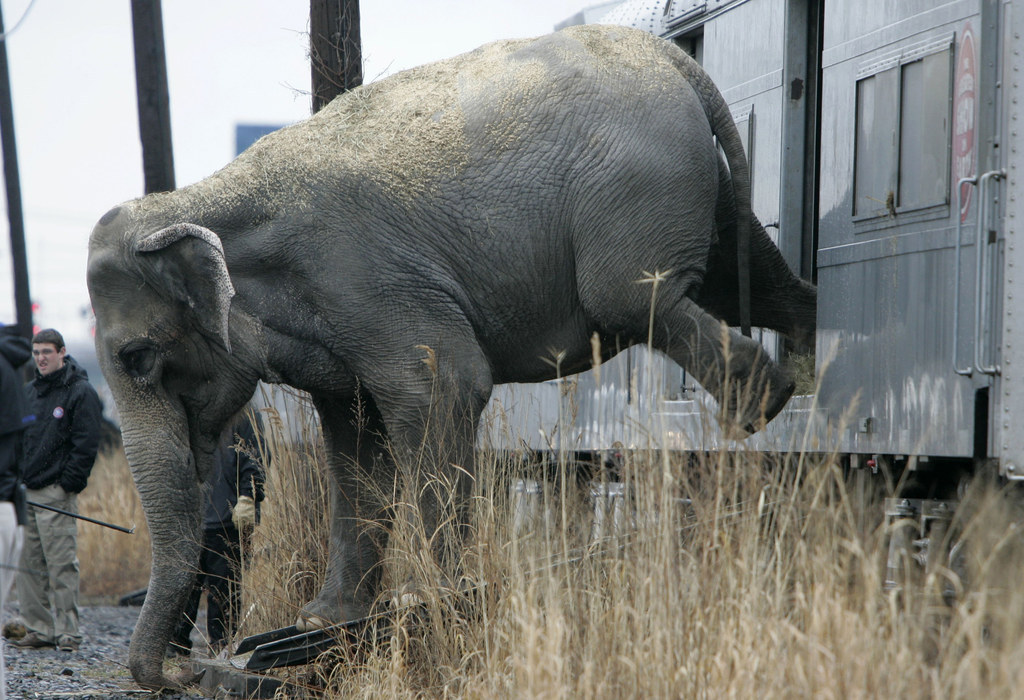 Last December, Payne responded to allegations of animal abuse by PETA in a strongly-worded letter that attacked the group's claims as "radical animal rights agenda."
Payne said Ringling Bros. was "very proud of our animal care and conservation efforts" and that every portion of every ticket sold at the performance went to conservation programs to save the endangered Asian elephant and other species.
"We have more than 145 years of experience working with animals and are a strong proponent of animal welfare, not the radical animal rights agenda supported by PETA and like-minded groups," Payne said.