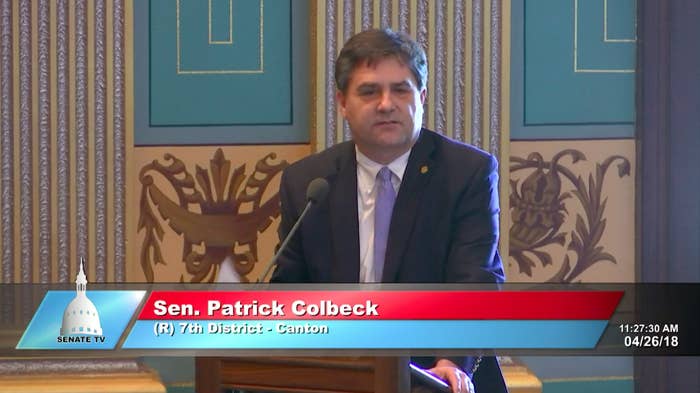 State senators in Michigan slammed their colleague Patrick Colbeck, who is running for governor in Michigan, after he continued to peddle an unfounded anti-Muslim conspiracy theory to attack his Muslim American Democratic rival, Dr. Abdul El-Sayed.

BuzzFeed News on Tuesday reported exclusively that during an April 2018 presentation for an anti-Muslim group called United West, Colbeck suggested that El-Sayed was part of an unfounded Muslim plot to engage in "civilization jihad" to destroy the American system of government and take over the country.
He accused El-Sayed's family of having ties to the Muslim Brotherhood in Egypt, described his candidacy as "scary stuff," and questioned his loyalty to the country.
"They're already advertising him as the first Muslim governor. So this is a big deal," Colbeck said during his presentation, as seen in videos.
Colbeck then repeated those claims to BuzzFeed News on Wednesday, saying that it was "beyond question" that El-Sayed "has strong connections to individuals and groups that are not loyal to the United States."
In a speech on the Michigan Senate floor Thursday, Colbeck once again propagated the unfounded claims without naming El-Sayed.
Colbeck referenced a nearly 30-year-old document uncovered during the 2007 trial of the Holy Land Foundation, which, as BuzzFeed News reported in 2016, is often used by anti-Muslim groups to stoke fear and suspicion about American Muslims.
The document, titled "Explanatory Memorandum on the General Strategic Goal for the Group in North America," purports to show that the Muslim Brotherhood's goal is to "implement Islamic law in America in furtherance of reestablishing the Global Caliphate," Colbeck told the state Senate.
Colbeck's Democratic colleagues slammed his remarks. Sen. David Knezek called him a "coward" and a "bully" and said that his behavior was "a cheap rip-off of Joseph McCarthy."

Senate Minority Leader Jim Ananich said Colbeck's remarks continued "to prove that he's an ass," the Associated Press reported.
Responding to the backlash against him, Colbeck released a statement Friday, saying that Democrats and media outlets were guilty of "willful ignorance or deliberate deception."
He stood by his allegations that El-Sayed was associated with the Muslim Brotherhood because of his past membership with the Muslim Students' Association (MSA).
"The Pledge of Allegiance recited before MSA gatherings features 'jihad is my spirit' and 'I will die to establish Islam,'" his statement said. "Quite a departure from the Scout Oath, I would submit."
In an earlier statement to BuzzFeed News, El-Sayed said, "I knew that in choosing to run for Governor as an unapologetic, proud Muslim and American, I was going to contend with the ugly face of white supremacy that Donald Trump and his friends have sanctioned."

The Michigan GOP has sought to distance the party from Colbeck, calling his remarks "conspiracy theories" and "hate speech."
Colbeck said Thursday that he would not be deterred by those who believed he was peddling conspiracy theories. He said that his concerns with the Muslim Brotherhood should "not be interpreted as an indictment of all Muslims."
"There are those among us who prefer that the general public be denied the awareness of this information about the Muslim Brotherhood and its 'friendly organizations,'" Colbeck said in his speech. "They target anyone who seeks to share this information with incendiary terms like racist or xenophobe. There is no refutations of validity of the information I shared. They simply lob inflammatory, derogatory remarks my way in an attempt to silence the truth."
He continued: "My duty is to expose those who would wish to eliminate and destroy our system of governance. They can call me whatever names they want. It's a small price to be paid in defense of freedom."
Responding to his speech, Knezek said that many of his colleagues were embarrassed by Colbeck's "behavior and rhetoric."
Knezek called Colbeck's comments "ignorant and close-minded," and said that he was attempting to discredit his Muslim neighbors, friends, and constituents.
"What I think is so sad and so disappointing is that my colleague will only say these things behind closed doors," Knezek said. "He will only say them within an echo chamber to people who agree with the way he thinks. He will not say it in public. He will not say it to anyone's face and that makes him a coward."
Knezek then directly addressed Colbeck, saying, "I hope you're looking at me, Senator, as I call you a coward."
Referring to his attack against El-Sayed, Knezek said, "These comments are nothing more than that of a bully," adding that Colbeck didn't have "the guts" to confront El-Sayed in person.
"This type of behavior is a cheap rip-off of Joseph McCarthy, spreading hatred and pseudo-intellectualism," Knezek said.
In his statement Friday, Colbeck accused his critics of "protecting the Muslim Brotherhood."
"In recent days, I have been called pathetic, a bigot, a racist, an ass, anti-Muslim, thin-skinned, ignorant, closed-minded, and a coward by Democrats and their allies in the media," Colbeck said in the statement. "Why is it appropriate to attack someone who is pointing out that a candidate to be the next Governor of Michigan has ties to an organization that seeks to eliminate and destroy Western Civilization from within?"
Michigan's only Muslim legislator, Democratic Rep. Abdullah Hammoud, called on Colbeck to resign immediately over his "shameful and disappointing" statements about Muslims.

Brandon Dillon, the chair of the Michigan Democratic Party, called Colbeck "a pathetic, bigoted fool," in a tweet Tuesday.
A spokesperson for the Republican frontrunner for governor, Attorney General Bill Schuette, said in a statement to media outlets that, "Bill took an oath to defend the Constitution and enforce the laws of the State of Michigan and he believes that all people must be treated with dignity and respect."
Michigan Lt. Gov. Brian Calley, who is also running for governor, did not immediately respond to BuzzFeed News' request for comment.

BuzzFeed News has reached out to Colbeck for comment.