US Rep. Richard Hanna, a three-term Republican, declared Tuesday, that he would be voting for Hillary Clinton because his own party's nominee, Donald Trump, was "unfit to serve our party and cannot lead this country."

Hanna, who represents New York's 22nd Congressional District, became the first congressional Republican to publicly say he was voting for Clinton.

In an op-ed for Syracuse.com, Hanna said, "If I compare the life stories of both candidates I find Trump deeply flawed in endless ways."

Hanna, who had previously said he could never support Trump, wrote that he decided to vote for Clinton after Trump attacked Khizr and Ghazala Khan, the Muslim parents of a slain American soldier. Khizr Khan gave a moving speech at the Democratic National Convention where he said Trump had "sacrificed nothing and no one." Trump said he felt "viciously attacked" by Khan and told ABC News that he had "made a lot of sacrifices" by creating "thousands and thousands of jobs."

Trump also said that Ghazala Khan, who stood by her husband during his DNC speech, "had nothing to say," adding, "Maybe she wasn't allowed to have anything to say, you tell me."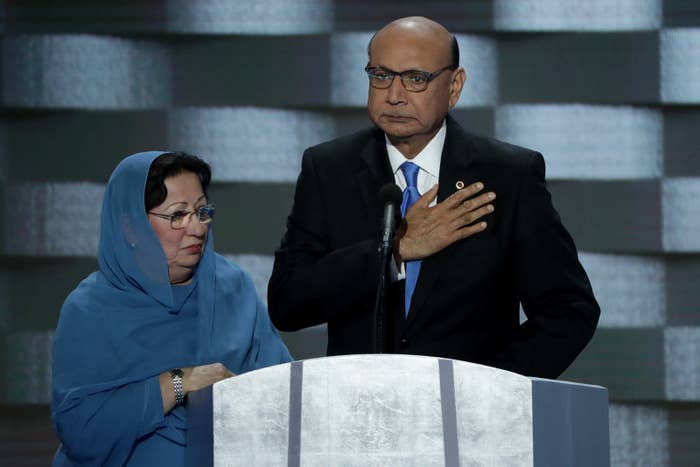 Hanna told Syracuse.com that he was "stunned by the callousness" of Trump's comments. "I think Trump is a national embarrassment," he said. "Is he really the guy you want to have the nuclear codes?"
While several GOP leaders, including Paul Ryan and John McCain, criticized Trump's comments about the Khans, none of them withdrew their endorsement for him.


"For me, it is not enough to simply denounce his comments: He is unfit to serve our party and cannot lead this country," Hanna wrote in his op-ed.

The congressman, who is set to retire at the end of the year, said the Republican Party is "becoming increasingly less capable of nominating a person who is electable as president." He said the party had ignored the fact that "we have largely alienated women, Hispanics, the LGBT community, young voters and many others in general."

Hanna said that he found Trump "profoundly offensive and narcissistic but as much as anything, a world-class panderer, anything but a leader." He also called him "unrepentant" and "self-involved."

"I do not expect perfection, but I do require more than the embodiment of at least a short list of the seven deadly sins," he wrote.

Hanna said that while Clinton had "issues," she stood for "causes bigger than herself for a lifetime."

"While I disagree with her on many issues, I will vote for Mrs. Clinton," Hanna wrote. "I will be hopeful and resolute in my belief that being a good American who loves his country is far more important than parties or winning and losing. I trust she can lead. All Republicans may not like the direction, but they can live to win or lose another day with a real candidate. Our response to the public's anger and the need to rebuild requires complex solutions, experience, knowledge, and balance. Not bumper sticker slogans that pander to our disappointment, fear, and hate."

A representative for Hanna told BuzzFeed News the congressman was not available for comment Tuesday.

Several people supported Hanna's decision, praising his "integrity" in comments on his Facebook page.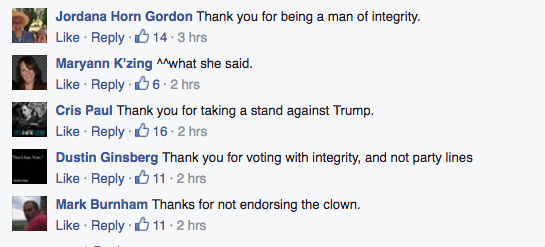 Some hoped that other GOP members would follow Hanna's lead in taking a stand against Trump.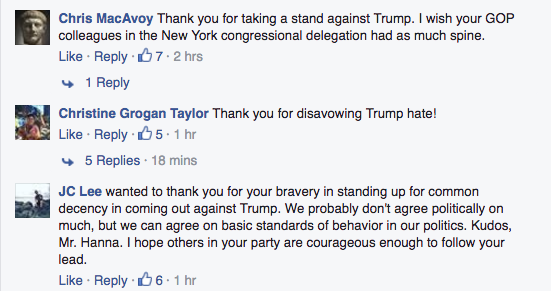 Many also criticized Hanna's decision.