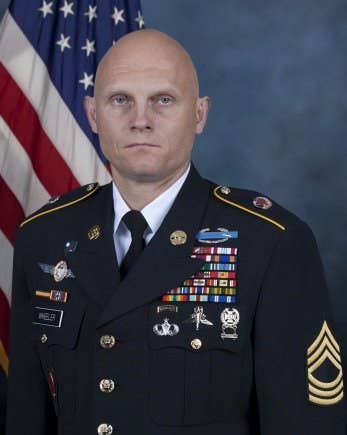 The Department of Defense released the name of the U.S. soldier killed during a rescue operation in Kirkuk province, Iraq on Thursday.
Master Sgt. Joshua L. Wheeler, 39, of Roland, Oklahoma died after he was hit by enemy fire while supporting Operation Inherent Resolve -- a joint rescue operation that saved 70 ISIS hostages from "imminent execution."
Wheeler was assigned to the U.S. Army Special Operations Command based in Fort Bragg, North Carolina, according to the Department of Defense. He deployed three times to Afghanistan and Iraq.
The Pentagon on Thursday defended sending U.S. troops into an Iraq prison overnight — leading to Wheeler's death.
The soldier died of injuries incurred during the firefight at the compound near Hawija in the northern province of Kirkuk, officials said. Kurdistan Regional Government security officials announced that 20 ISIS fighters were also killed.
In addition to the hostages — a mix of civilians and at least 20 Iraqi security force members — six militants and information gathered at the scene were expected to provide valuable intelligence moving forward, officials said.
But the first American combat death in Iraq since November 2011 raised questions about whether the U.S. military's "train and advise" role in Iraq was changing on the ground.
Pentagon Press Secretary Peter Cook insisted at a briefing Thursday that the joint overnight rescue was a "unique circumstance" and "not something that has played out across Iraq previously."
"U.S. forces are not in a combat role in Iraq," Cook told reporters. "This was a support mission…and U.S. forces are not in and active in Iraq."
As of Thursday, there have been nine military casualties associated with Operation Inherent Resolve — the U.S.-led coalition fighting ISIS in Iraq and Syria, according to the Department of Defense.
However, the death that occurred during the rescue — first reported by CNN and NBC News — appears to be the first direct combat-related fatality of a U.S. service member since the campaign began.
Four Peshmerga soldiers from Kurdistan, which took the lead in the rescue mission, were also injured.
Cook said the hostage rescue should not be viewed as a shift in U.S. military strategy in Iraq. Instead, he said, Defense Secretary Ash Carter authorized the combat mission after a "very close partner of the U.S. made a request for our assistance."
Cook declined to elaborate on the scale or scope the mission, saying only that American helicopters were used as air support alongside U.S. special forces that helped Peshmerga soldiers storm the compound.
Hawija, a Sunni Arab town on the outskirts of Kirkuk has been an insurgent stronghold since the 2003 U.S. invasion, a source of IEDs, suicide bombers and ambushes of coalition and Iraqi troops.

While initial media reports claimed that the rescued hostages included Kurdish fighters, the Kurdistan Region Security Council said in a statement that "an initial examination showed there are no Kurds among the rescued hostages."