The Feminists United on Campus group at the University of Mary Washington filed a federal Title IX complaint Thursday against the school for allegedly ignoring rape and murder threats directed at its members on the anonymous messaging app Yik Yak.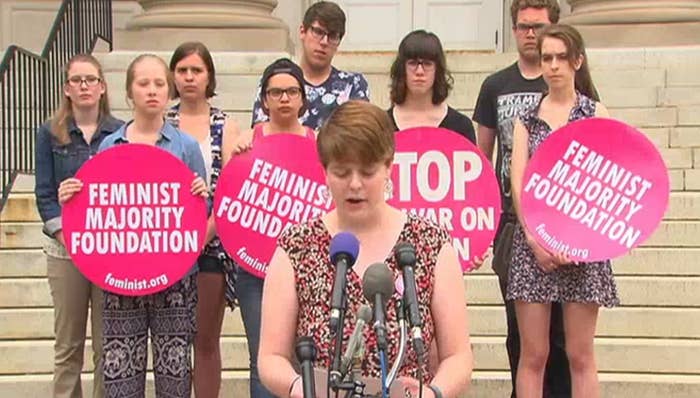 The complaint, filed to the Office of Civil Rights within the United States Department of Education, accuses the Virginia university of failing to protect students from threats of sexual violence and harassment posted through Yik Yak. Members of Feminists United, along with their attorneys, held a news conference at the university on Thursday detailing the allegations in the complaint.
According to the complaint, provided to BuzzFeed News, the university condoned a "sexually hostile environment" by allowing Feminists United members to be repeatedly verbally assaulted and cyber-bullied through Yik Yak after they spoke out about increased incidences of reported sexual assaults involving fraternity members in November 2014.
This is one of the first Title IX cases to address the role of Yik Yak in creating hostile environments on campus, Lisa Banks, a civil rights attorney who filed the complaint on behalf of FUC, told BuzzFeed News. Yik Yak is an anonymous messaging app that allows users to create and view posts – called Yaks – that can be seen by users in a 10 mile radius. Banks said several schools have grappled with the use of Yik Yak in spreading misogynistic and vitriolic messages on campus, and some universities have blocked the use of the app.
The complaint also alleged that FUC members were attacked online by anonymous posters who wrongly believed that the group called for the university to suspend the rugby team, which was allegedly involved in chanting a song about raping a dead woman.
The university's administration did not take any action despite repeated requests from FUC members saying they feared for their safety and were unable to focus on their academic life, the complaint said. The school's president "ignored" their direct requests to protect them and other students from threats "citing misguided concerns about the First Amendment rights of the cyber-bullies as a reason to do nothing," the complaint said.
Banks said the alleged death threats and rape threats are not protected by the First Amendment and the university violated federal law and its own cyber-bullying policy by ignoring them.
According the university's policy, sexual harassment may involve acts that create a "hostile, offensive, or intimidating" environment for students.
FUC alleged that university did not report threats of violence to law enforcement and did not attempt to identify the anonymous posters on Yik Yak in violation on Title IX requirements.
In a statement to BuzzFeed News, the university said they disagreed with "many of the details and content" of the news conference but said that they will "cooperate fully" with the Office of Civil Rights on the concerns in the Title IX complaint.
The statement also said that the university had been actively engaged with FUC members to address the safety issues on campus and that it "takes any allegation of gender-based violence very seriously."
The Title IX complaint comes in the wake of the murder of Grace Mann, an FUC member who was publicly identified and targeted on Yik Yak.
Mann, who was one of the FUC members publicly identified in threatening posts on Yik Yak, was found dead in her room on April 17 after she led a Day of Silence event to raise awareness about the bullying of sexual minorities.
Mann's roommate, Steven Vander Briel, was arrested and charged with her murder. Mann, 20, was actively involved in complaints against the rugby team's alleged lewd chant and was one of the members who met with the university's president to discuss it.
While FUC members and their attorneys said there is no evidence that Mann's murder was linked to the threats she received on Yik Yak for her activism, an FUC member at the news conference said that many of their immediate thoughts after the murder was "oh god does this have something to do with the threats."
FUC members at the press conference said they were living in "deep fear" of their lives after Mann's murder. Authorities have not yet provided a motive for Mann's murder.
Yik Yak users began posting derogatory messages about FUC last November when its then-president Paige McKinsey spoke out against fraternities on campus and their reported relationship to increasing incidents of sexual assaults.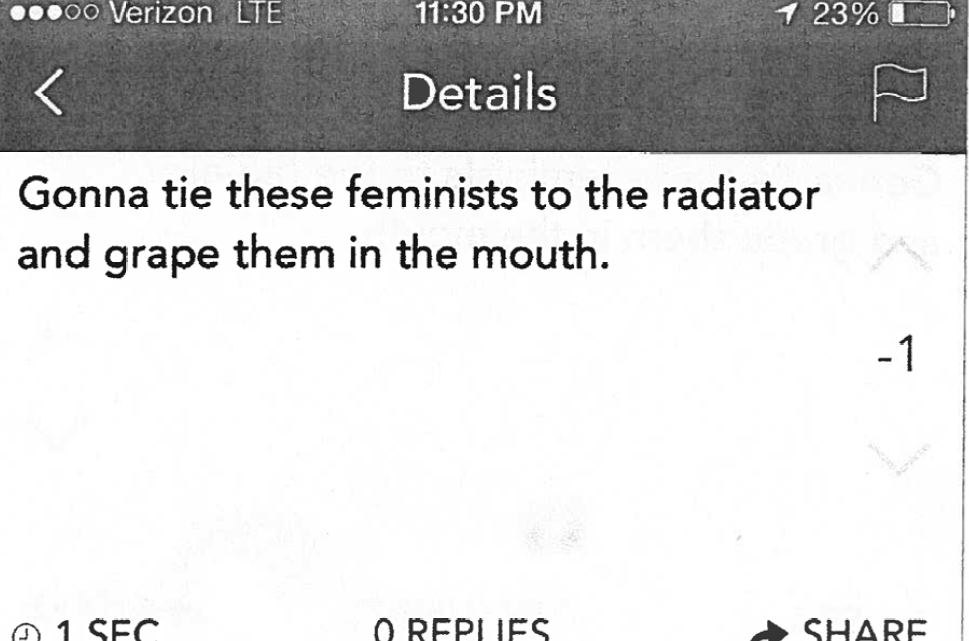 In November 2014, while FUC members were walking home, students driving by them yelled out "fuck the feminists," the complaint said.
However, it was this March, when President Richard Hurley announced that the rugby team was suspended indefinitely following their chanting of a lewd song advocating rape, that FUC members said they received more than 700 Yaks, many of which were overtly sexist and threatening.
The chant, which was recorded at a UMW party last year, included the lyrics: "Finally found a whore. She was right and dead. Well god damn son of a bitch we're gonna get it in!"
The chant was not recorded by an FUC member, but the group was vocal in voicing their protest against the rugby team's use of a chant advocating rape and necrophilia.
Banks said that FUC was blamed for the rugby team's suspension because they were "an easy target" and that Hurley did not clarify that FUC was not responsible for the sanctions against the team.
The Yaks publicly identified some FUC members, including Paige Mckinsey, whose whereabouts were also posted anonymously on the app.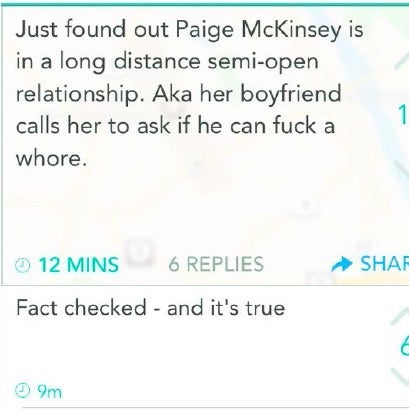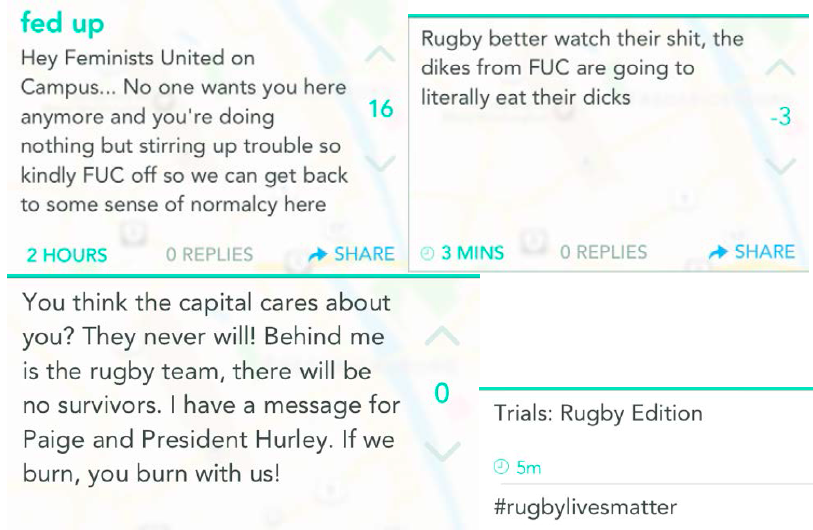 A campus police officer was dispatched to attend events that McKinsey was scheduled to speak at after her location was posted on Yik Yak, according to the complaint.
FUC members also sent an email to university officials detailing the threats of physical and sexual violence on Yik Yak. The email said that members felt relentlessly attacked and that "many of us feel immensely unsafe at UMW," according to the complaint.
The email asked the university to disable Yik Yak for their location and to ban the app's access from the university's wi-fi.
The complaint said that the university failed to take any actions listed by FUC members and said that it had "no recourse for such cyber bulling" asking them to report their complaints to the administration instead.
In response to their repeated demands to ban Yik Yak from campus, Hurley, according to the complaint, said the UMW was a public school and bound by the First Amendment, and unlike private colleges could not remove Yik Yak. "I would have to careful in taking an action that stifles free speech," Hurley said in an email to FUC.
Yik Yak did not respond to BuzzFeed News' request for comment.