Northwestern University is looking into whether one of its students called a woman of Indian descent a "fucking sand nigger" on Tinder, a university spokesperson told BuzzFeed News.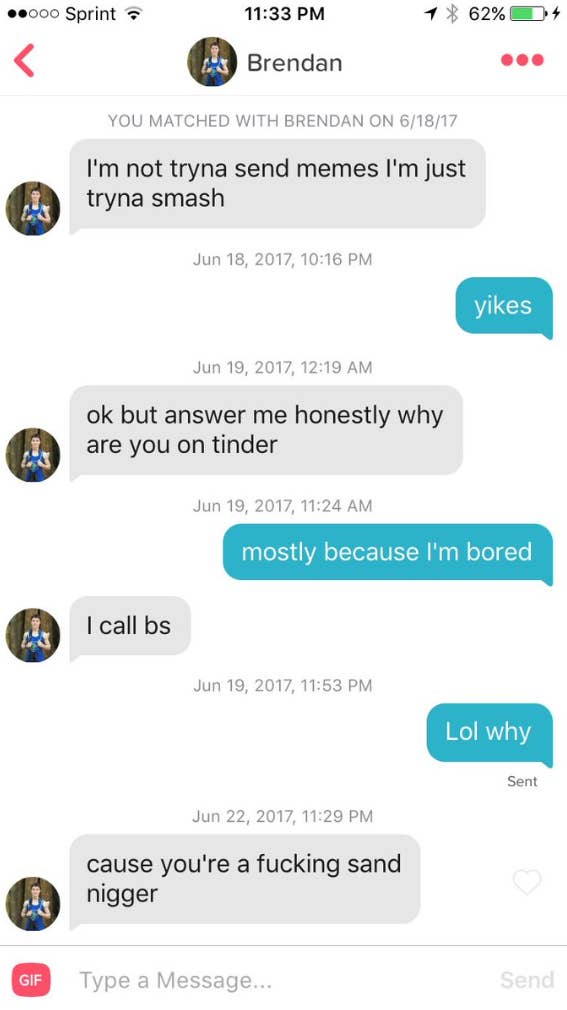 The student was first identified by The Daily Northwestern as Brendan Amos — a sophomore at Northwestern's Weinberg College of Arts and Sciences.

Alan Cubbage, the vice president of university relations at Northwestern, confirmed Amos' identity and said they were "looking into" the incident.

He refused to provide further details, and did not say whether the university was considering disciplinary action.

On June 18, Amos matched on Tinder with Anjali, a freshman at Dartmouth College who wanted to be identified only by her first name, as she didn't want to be "permanently tied to this one encounter."
Anjali told BuzzFeed News on Friday that the two matched because they were both in Hanover, New Hampshire, and had some common friends.

She said she did not use Tinder to meet many people, and only used it with her friends when she was bored.

Anjali's Tinder bio reads "Send memes" which is why Amos' first message to her was "I'm not tryna send memes I'm just tryna smash," suggesting that he only wanted to have sex with her.
She replied "yikes," to which Amos responded, "ok but answer me honestly why are you on tinder."

When she replied "mostly because I'm bored," Amos said, "I call bs."

She responded, "Lol why."

After two days, she received a response from Amos that said, "cause you're a fucking sand nigger."

Anjali told BuzzFeed News that at first she just laughed at "the stupidity" of the response.

"My initial reaction was, 'This is just a stupid thing to say to anyone and this guy is an idiot,'" she said. "But the more I thought about it, I started blaming myself for a while and asked myself, 'Did I do anything to provoke this kind of response?' I then realized that this guy's words had a greater impact on me than I originally expected."
Anjali said the Hanover area is "very racially divided."
"Six- and seven-year-olds have called me and my other Indian friends the n-word," she said. "That's the kind of environment we're in. But one would have expected a lot more from a kid who goes to Northwestern. You would expect them to be more educated and tolerant."

Amos refused to talk to BuzzFeed News, but in a statement to the Daily Northwestern, he denied sending the message in question.
"I am not a racist person," he said. "I am sorry for anyone who has been affected by this incident, and I do not condone the language used."

The incident came to light after Anjali's friend, Devon Kurtz, posted the entire exchange on Twitter on June 23, calling it "disgusting."


Anjali told BuzzFeed News that after she deleted Amos from Tinder, he reached out to her on Facebook and apologized. He told her that the racial slur was sent to her by his "extremely inebriated friend."

"I feel awful, I really didn't mean for this to happen and I don't support discrimination in any way. I just wanted to say sorry to you because I know that this hurt you badly," Amos told Anjali in a series of Facebook messages.

He said that people had been "witch hunting" him after Kurtz posted the tweet of their Tinder conversation.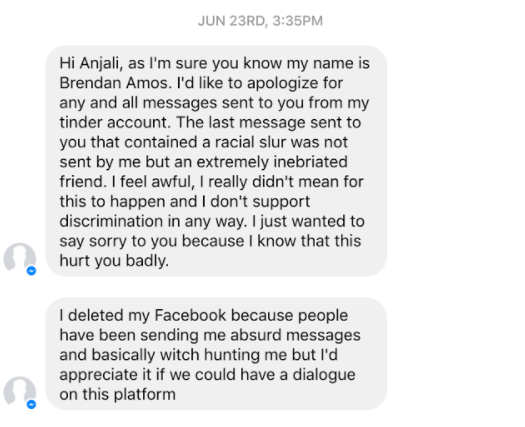 Anjali told him that the racial slur "was pretty shocking to me and uncalled for."

"I was really confused by it (given the lack of provocation and that I'm not of Middle Eastern origin) and just kind of shaken by it," she told Amos on Facebook. "I have a pretty thick skin and have faced a decent amount of discrimination in Hanover, West Leb & back home, but I did expect more from a NU student."

Anjali said she "appreciated" his apology and told him that she would vouch for him if he got into trouble with the university.

"As of rn it looks like I'll be expelled so that's not ideal," Amos told her, adding that his case was being reviewed by the university. "Like I'm freaking out I worked so hard to get to this point and now I might lost it all because of some dumb tinder line my blacked out friend wrote."
He also asked her to send an email to the university to help his case.

Anjali did send an email to Northwestern, saying that while she did not "completely believe" Amos' explanation for sending the racial slur, she believed his apology to be sincere and requested the university not take "severe actions" against him.

"To say I was not affected by his message would be a lie, but I was not expecting my friend to escalate it to this level," she wrote in the email that was provided to BuzzFeed News.
She added:
Though I do believe these kinds of remarks and attitudes should be exposed, I have since spoken with Brendan, who has apologized to me, and was made aware that his heavily inebriated friend sent the message.

Though personally, I cannot say I completely believe that explanation, I would not be surprised if that was the case. There is no way to confirm he, himself, sent the message, nor that he didn't.

Thus, I ask that no severe actions be taken against him as I believe he (and his friend) have learned from this experience.
Anjali said the university did not respond to her email.
While Anjali did not file anything against Amos, she said many of her friends, both at Dartmouth and Northwestern, filed a discrimination report against him after seeing Kurtz's tweet.

She said she was "skeptical" of Amos' explanation, but wanted to give him the benefit of the doubt.

"I don't want his life ruined by it," she said.