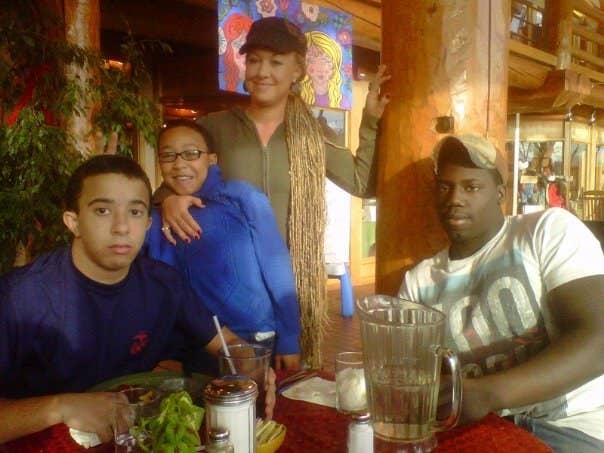 It was 2012, and Rachel Dolezal had a warning for her adopted brother as she prepared for a new life in Spokane, Washington.
"She just told me, 'Over here, I'm going to be considered black, and I have a black father. Don't blow my cover,'" Ezra Dolezal, 22, told BuzzFeed News in an interview.
Rachel also told him to tell people that he and her other adopted brother were her "blood brothers," he said.
His sister did not offer "any logical explanation" for why she was changing her identity, and Ezra never confronted her about it. But it was the next stage after growing apart from her parents, Ruthanne and Larry Dolezal, and leaving their home in Montana.
"She wanted to make a new life for herself but she took it to the ultimate extreme," Ezra said. "Not only did she move out to Spokane, but she created a whole new identity for herself."
That life as the president of the Spokane chapter of the NAACP and a city police oversight commissioner erupted in controversy this week after her parents told local media she is actually white, and passing off her younger adopted black brother as her own son.
Ezra first began noticing a change in his sister around six years ago, including a lot of hair products when he visited her in Spokane.
"My younger sister Esther is fully African-American and Rachel used to do her hair a lot. She really enjoyed it, so she already knew a lot about hair products and started applying them to herself," Ezra said.
Then, starting in 2011, Rachel began applying makeup to her face to appear "darker and darker" and perming her naturally straight, blonde hair, Ezra said.
While the change in her physical appearance was gradual, her decision to officially identify as black was sudden, he added.
Ezra believes the only reason his sister would change her identity was due to the racism she claimed to have encountered at Howard University, where she graduated with her master's degree in fine art in 2002.
Rachel, he added, would often complain that she was treated poorly as one of only a few white students on a mostly black campus.
"She used to tell us that teachers treated her differently than other people and a lot of them acted like they didn't want her there," Ezra said. "Because of her work in African-American art, they thought she was a black student during her application, but they ended up with a white person."
He said that the experience made her angry, and it was then that Rachel started being "hateful to white people."
"It's like what psychologists call self-hating," Ezra said. "She had no reason not to like herself being white. She was an awesome artist and she could have accomplished everything she did, if she had stayed exactly the same."
Ezra said Rachel also brainwashed their other adopted brother, Izaiah, into hating white people and told him that their parents were racist. Rachel obtained legal custody of Izaiah in 2010, and calls the now-21-year-old her birth son.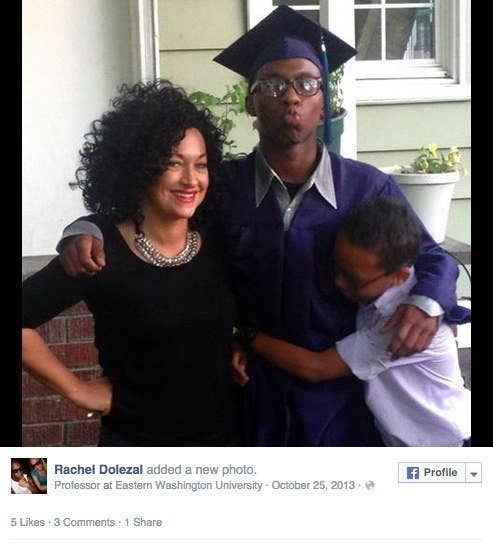 While acknowledging that their parents were strict and sometimes used corporal punishment, Ezra denied Rachel's claims that she and the other siblings were abused.
"She was treated really well as a child," he said, adding, "I think I would know if I was abused growing up, and I definitely wasn't."
He also contradicted Rachel's account that she had lived in South Africa and hunted with bows and arrows. Ezra said he lived there with his parents, and other adopted siblings, from 2002 to 2006. Rachel was living in Virginia at the time and never visited the family abroad, he added.
"She's never been to Africa in her entire life," Ezra said.
Ezra's relationship with his sister wasn't always so toxic.
"I would talk to her all the time before all this fell apart and she became angry towards everybody," he said.
But now, Ezra said he doesn't believe anything Rachel has said or done over the past few years, including her claims of being diagnosed with cervical cancer in 2006.
"I wasn't in touch with her regularly during that time, but she didn't mention anything about having cancer until very recently," he said.
He also doesn't buy her claims of receiving hate mail or being the target of racist attacks.
"She made herself into a martyr on purpose for people to feel sorry for her and to help her," Ezra said.
For her part, Rachel has rejected the implication that she lied about being targeted or receiving threats. And the NAACP issued a statement Friday backing her record of advocacy and service, particularly as president of the local Spokane chapter.
"President Rachel Dolezal is enduring a legal issue with her family, and we respect her privacy in this matter," the NAACP said. "One's racial identity is not a qualifying criteria or disqualifying standard for NAACP leadership. The NAACP Alaska-Oregon-Washington State Conference stands behind Ms. Dolezal's advocacy record."
But Ezra said he felt it was a "slap in the face" to African-Americans for his sister to co-opt their struggles when she grew up white, in a nice house, with a good education.
"She puts dark makeup on her face and says she black," he said. "It's basically blackface," he said.