President Donald Trump and his Russian counterpart, Vladimir Putin, held a joint press conference after their private two-hour meeting in Finland and as you can imagine, it was wild. (Yes, that is Trump tossing a soccer ball in the direction of the first lady.)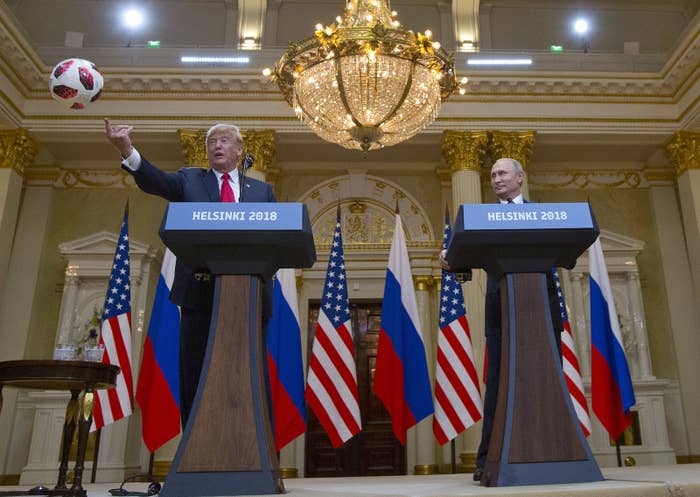 1. First off, Putin kept Trump waiting for nearly an hour and then Trump made Putin wait for him before their meeting at the Presidential Palace in Helsinki.
Putin has often shown up late for meetings, including those with the Queen of England, Pope Francis, and German Chancellor Angela Merkel.
This time, Putin landed at around the same time he was scheduled to meet Trump at the palace. In turn, Trump kept Putin waiting at the palace before heading over for their meeting.
Wow, power. Much tardiness.
2. Before the press conference began, a protester — holding a sign that read "Nuclear Weapon Ban Treaty" — was forcibly removed from the press area.
The man was identified as Sam Husseini, the communications director for the Institute for Public Accuracy, a Washington, DC–based nonprofit media outreach organization.
The Nation magazine told BuzzFeed News that they accredited Husseini to cover the summit for their outlet.
"At a time when this administration consistently denigrates the media, we're troubled by reports that he was forcibly removed from the press conference before the two leaders began to take questions," the magazine said in a statement. "This is a developing situation that we will be following closely."
3. Putin gifted Trump a soccer ball, which he abruptly threw to first lady Melania Trump.
Acknowledging that the US will host the World Cup in 2026, and Trump's lavish praise of Russia for hosting the World Cup, Putin gifted the soccer ball, saying, "The ball is now in your court."
"We hope we do as good a job," Trump responded.
He added that the ball would go to his son, Barron, ignoring protocol that stately gifts by world leaders are generally intended for the entire country.
"In fact, Melania, here you go," Trump said, tossing the ball to his wife seated in the front row. She did not catch it, but Secretary of State Mike Pompeo did.
4. The first lady then sat with the ball in her lap — which some speculated was bugged because, y'know, Russia.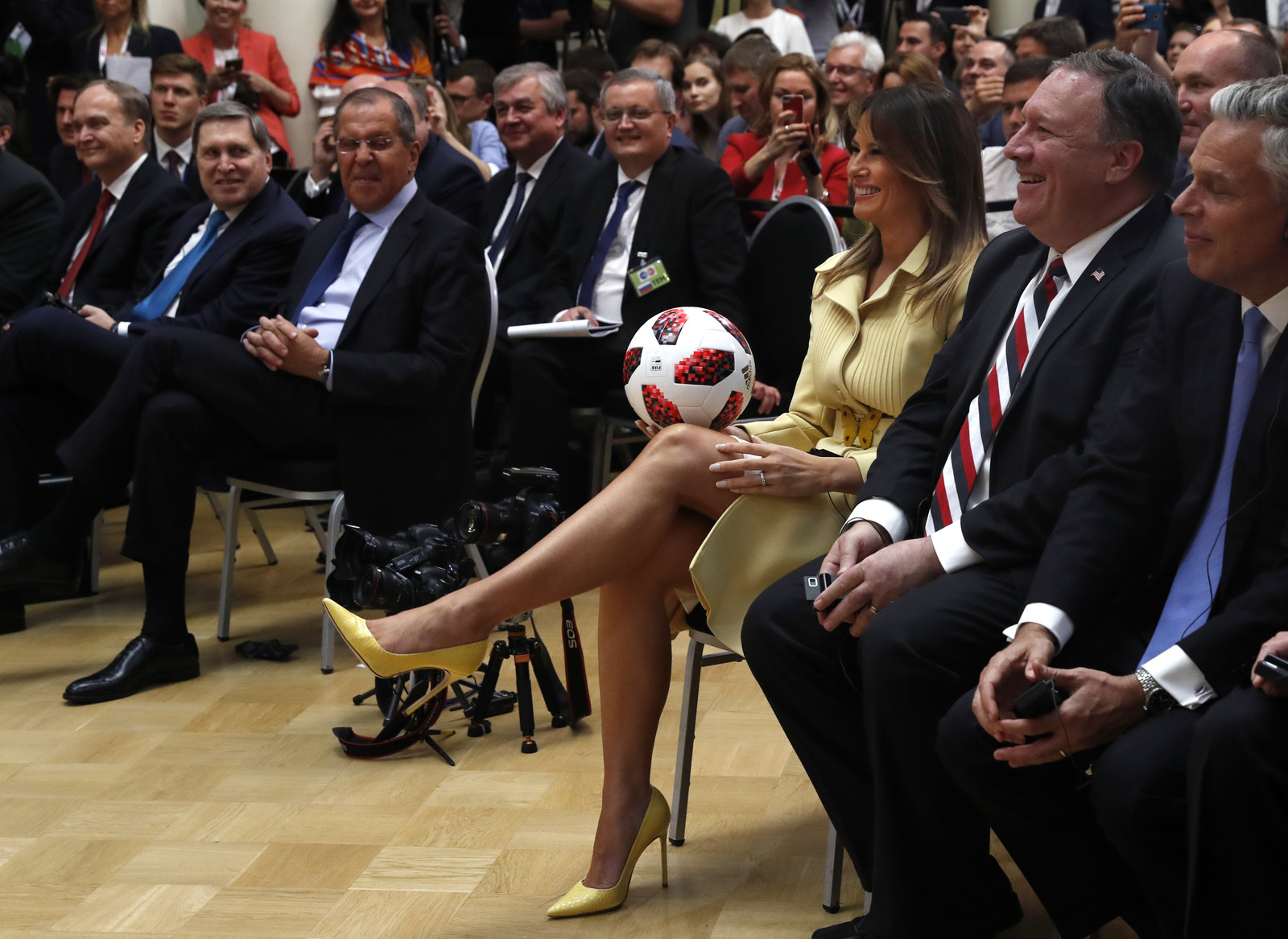 5. When Putin was asked if he wanted Trump to win the 2016 election, and if he had directed any of his officials to help him win, he said, "Yes, I did."
This was after Putin repeatedly denied that Russia interfered in the US election in 2016.
A reporter asked: "Did you want President Trump to win the election and did you direct any of your officials to help him do that?"
Putin responded: "Yes, I did. Yes, I did. Because he talked about bringing the US–Russia relationship back to normal."
Okkkkk.
6. When Trump was asked whether he believes Putin or US intelligence agencies on assertions that Russia interfered in the US election, Trump said, "I don't see any reason why it would be [Russia]."
Trump then attacked the FBI for not going after the Democratic National Committee's server and said it was a "disgrace" that US intelligence agencies couldn't get Hillary Clinton's missing emails.
"I have President Putin; he just said it's not Russia," he said. "I will say this. I don't see any reason why it would be, but I really do want to see the server."
He added that he had confidence "in both parties."
Trump later said he had "great confidence in my people, but I will tell you that President Putin was extremely strong and powerful in his denial today."
7. According to Trump, Putin has an "interesting idea" about the "issue of Russian interference in our elections."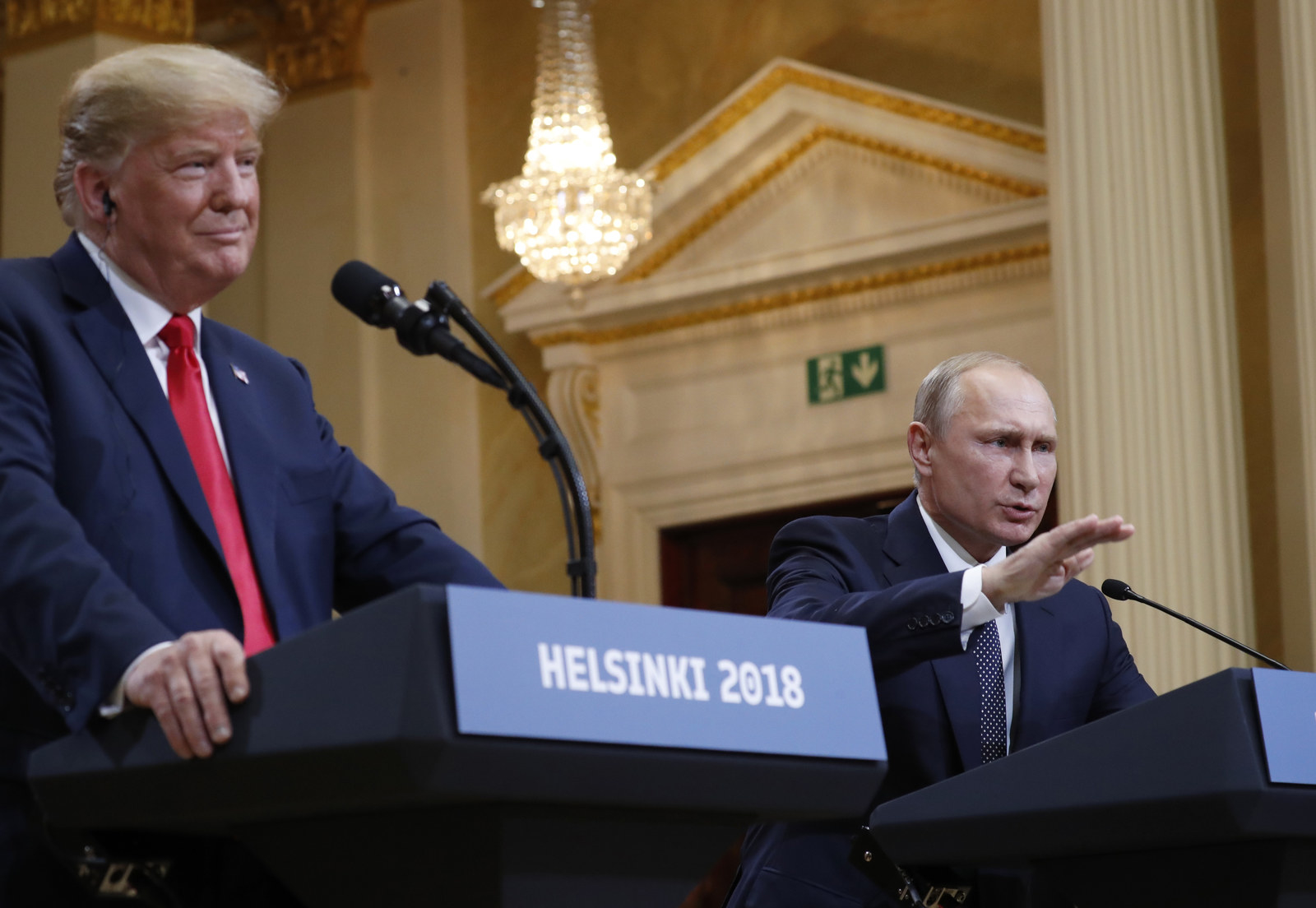 After congratulating Putin for doing "an excellent job" in hosting the World Cup, Trump said that he directly addressed the issue of Russian interference in the US election during their two-hour private meeting.
"I felt this was a message best delivered in person," said Trump, who has been criticized for frequently praising Putin rather than condemning Russia's attacks on American democracy.
Trump continued: "[We] spent a great deal of time talking about it. President Putin may very well want to address it and very strongly, because he feels strongly about it and he has an interesting idea."
8. When asked if he holds Russia accountable for the decline in the US–Russia relationship, Trump said, "I hold both countries responsible," but then went on to blame previous US administrations and special counsel Robert Mueller's probe for keeping the two countries apart.
"I think the United States has been foolish," Trump said. "I think we have all been foolish. We should have had this dialogue a long time ago — a long time, frankly before I got to office. I think we're all to blame."
He then called Mueller's probe into Russian interference a "disaster for our country."
"I think it's kept us apart. It's kept us separated. There was no collusion at all," Trump said.
He then said he ran a "clean campaign" and that he beat Hillary Clinton "easily."
9. When asked why Americans should believe Putin's denials about Russian interference in the elections, Putin gave the most Putin response of all time: "As to who is to be believed, who is not to be believed, you can trust no one." ¯\_(ツ)_/¯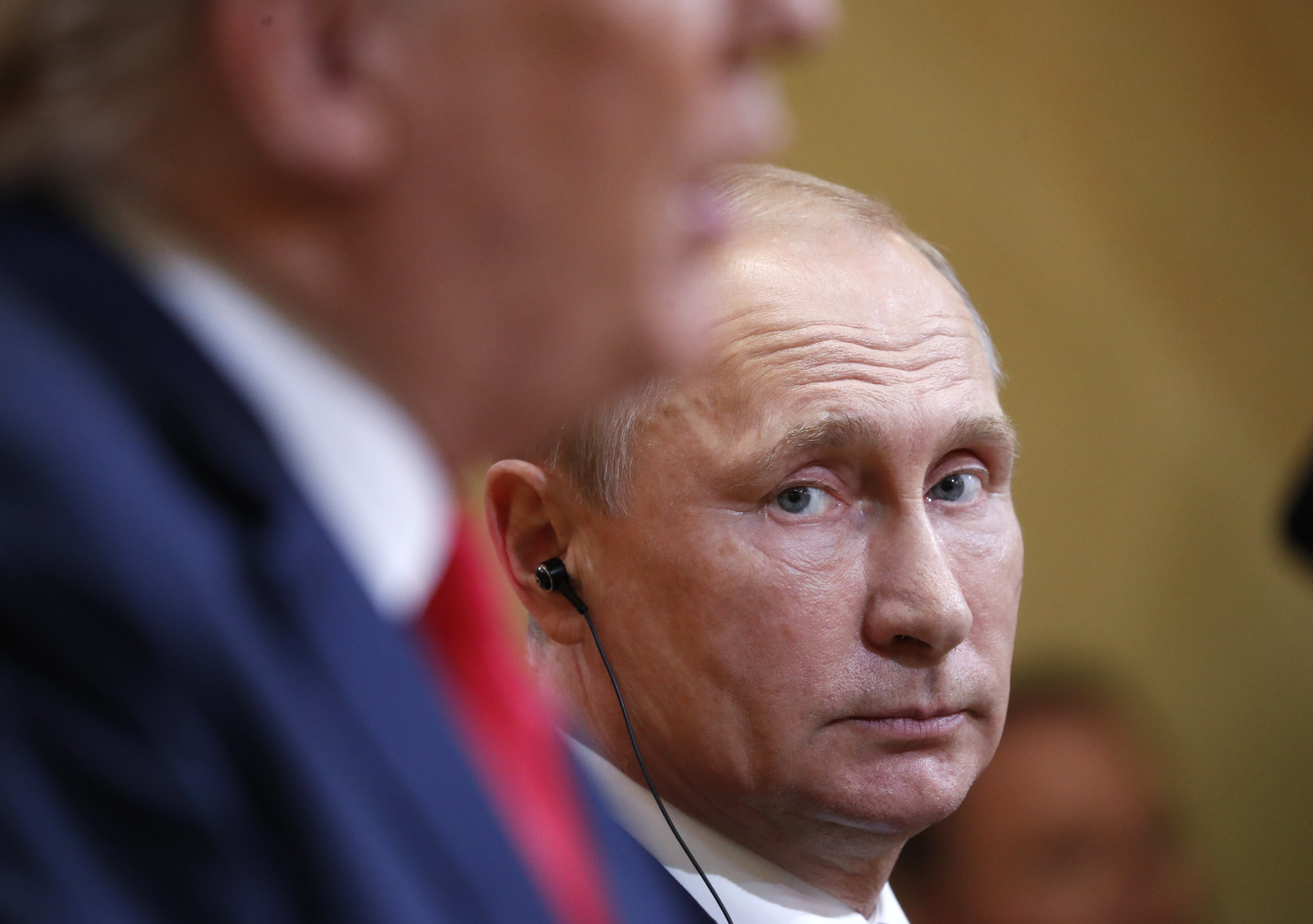 10. Putin suggested that Mueller should ask Russia to interrogate the 12 Russian intelligence officials indicted for allegedly hacking Hillary Clinton's presidential campaign emails, and Trump called it an "incredible offer."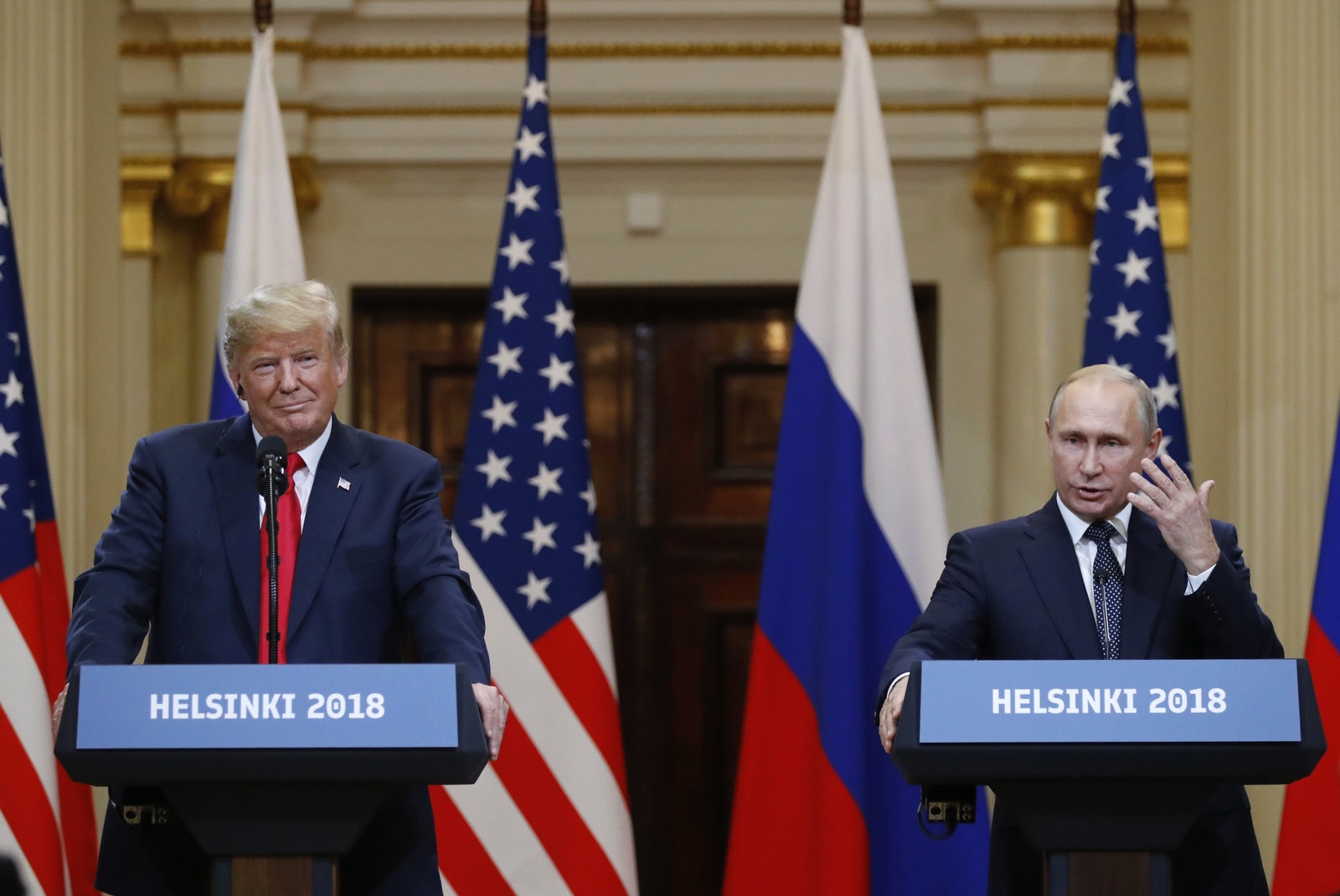 Putin also said allegations of collusion between the Trump campaign and Russia were "utter nonsense."
On Mueller's indictment of the Russian intelligence officers, Putin said he didn't know the "full extent of the situation" and offered to "look into it."
He suggested that Russian law enforcement was "perfectly" capable of questioning the indicted officials themselves, adding Mueller should send an official request to Russia to interrogate the officers.
Responding to Putin's suggestion, Trump said, "He offered to have the people working on the case come and work with their investigators with respect to the 12 people. I think that's an incredible offer."
11. The two leaders laughed off a question on whether the Russian government had any compromising material on Trump and his family.
Putin said he had heard "the rumors" that his government was collecting compromising material on Trump during his visit to Moscow, but said he didn't even know that Trump was in Moscow at the time.
"When President Trump was in Moscow back then, I didn't even know that he was in Moscow," Putin said. "I treat President Trump with utmost respect, but back then when he was a private individual, a businessman. Nobody informed me that he was in Moscow.
"Please disregard these issues and don't think about this anymore again."
Ellie Hall contributed reporting to this story.