Princeton Officials Attended Events Where "Urban Congo" Performed Allegedly Racist Acts
Update: Princeton's president said that while the controversy may be "genuinely painful," stage performances are "fundamental to the life of any great university." "Athletics Department officials were present at two Urban Congo performances — where the group allegedly mocked African cultures — in 2013 and 2014, though the university was only informed of the controversial shows by students this past Sunday, a Princeton spokesperson told BuzzFeed News.
In an email to students, obtained by BuzzFeed News, Princeton President Chris Eisgruber addressed the "moral culpability" of the now-defunct student group, "Urban Congo."
Eisgruber wrote, "Comedy, satire, and stage performances inevitably transgress boundaries. The controversies they provoke may be genuinely painful, but they are also fundamental to the life of any great University."
He referred to the freedom of expression statement adopted by the university on April 6.
Eisgruber said students should be mindful that these "impassioned debates" were played out at time when there is "discriminatory and sometimes deadly use of force against African-Americans."
While referring to the attacks some students faced on social media for criticizing Urban Congo, Eisgruber said, "In venomous slurs uttered online by anonymous neighbors or classmates, our students see distressing and painful expression within our community of the prejudices and motives that underlie the violence disturbing our nation."
He urged Princeton students to "recognize the pain felt by some members of our community."
"We must treat individuals, groups, and cultures with the dignity they deserve; we must not traffic in stereotypes," he said.
Eisgruber invited students to a campus community gathering on April 12 that would provide an opportunity for students to "affirm the ties that bind us together" and to "lay the groundwork for further constructive engagement."
Princeton officials were present at two events where the now-disbanded Urban Congo group performed acts that several black students considered racially and culturally insensitive, the school's spokesperson told BuzzFeed News.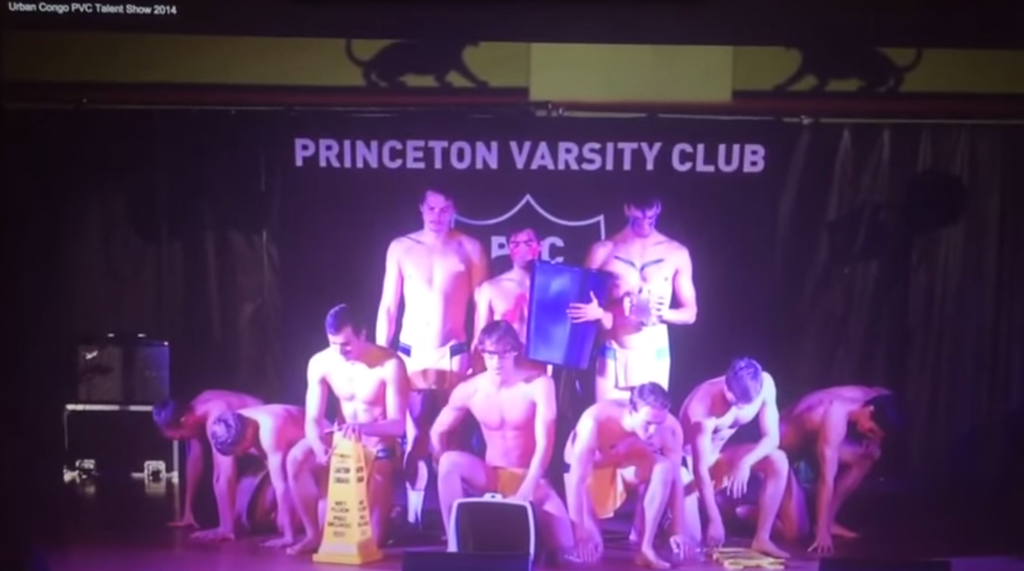 Officials from the Department of Athletics attended the Varsity Club talent shows in 2013 and 2014, which featured Urban Congo performances, spokesperson Daniel Day confirmed.
Videos of the group's performances surfaced over the weekend, causing several black students to express their outrage on social media.
One of the videos, recorded at the annual Princeton Varsity Club "Tigers Got Talent" show last November, shows Urban Congo's members — most, if not all, of whom appear to be white males — with painted streaks on their faces and bodies, wearing loincloths, and banging on objects while chanting.
The video was taken down by the group but recorded and reposted to YouTube by offended students. Some of the students were sharply criticized on anonymous app Yik Yak.
Day said that the group had performed at both talent shows — "but not under the name Urban Congo. They appeared as the men's swimming and diving team."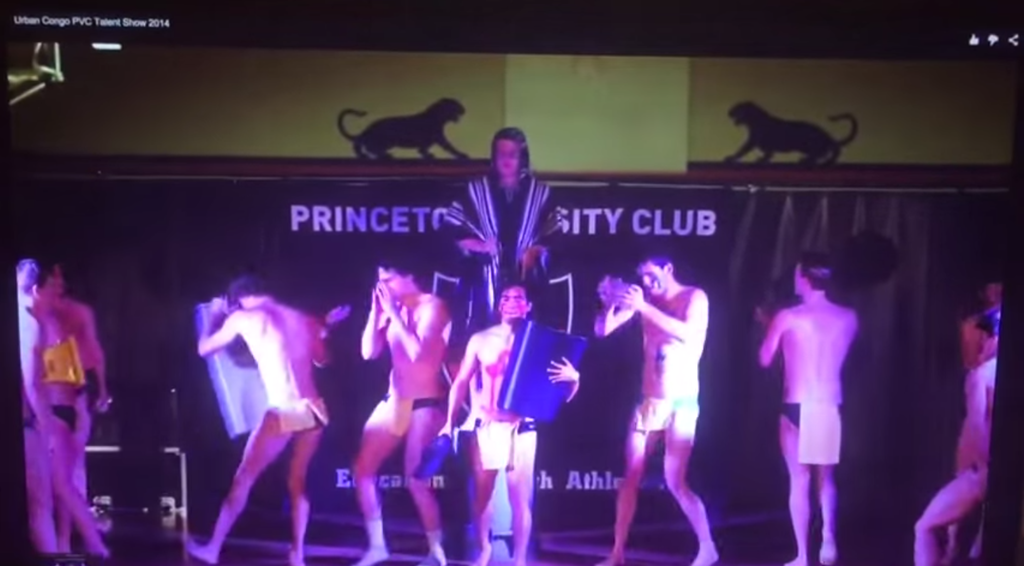 Day said that the university heard no objections about the group's performances until Sunday, when individual students emailed one of the deans in the Office of Undergraduate Students.
The annual talent show brings together "the entire athletics community for a night of exciting performances," according to the Princeton Varsity Club website. It includes shows by Princeton's varsity student-athletes, including men's and women's swimming and diving teams, baseball, wrestling, and others.
When asked which officials from the school's Athletics Department attended the event, Day said, "I have no viable way of tracking down who was there to solicit comment."
The group performed as the men's swimming and diving team group at the 2013 and 2014 events, though it not officially affiliated with Princeton athletics and was not funded by any university body, Day said.
The members performed under the name Urban Congo — a student group recognized by the Office of the Dean of Undergraduate Students — this weekend. Afterward, students posted video to social media and found video from past performances.
Even as several black students expressed frustration at the university's lack of response to the issue, Princeton faculty adopted a statement on Monday saying the university would not shield students from "deeply offensive" ideas and opinions.
The statement, proposed by Princeton faculty last month and signed by 60 faculty members, was approved on April 6. It affirmed Princeton's "commitment to the principles of academic freedom and freedom of expression as essential to the University's educational mission."
Part of the statement reads:
"Of course, the ideas of different members of the University community will often and quite naturally conflict. But it is not the proper role of the University to attempt to shield individuals from ideas and opinions they find unwelcome, disagreeable, or even deeply offensive.

"Although the University greatly values civility, and although all members of the University community share in the responsibility for maintaining a climate of mutual respect, concerns about civility and mutual respect can never be used as a justification for closing off discussion of ideas, however offensive or disagreeable those ideas may be to some members of our community."
Day said that the university had no further overall position on Urban Congo or the officials who were present for the performances, and referred back to the guidelines.
Princeton officials said the students who participated will not be disciplined. Amid the controversy, the group's president apologized on Facebook on Sunday and disbanded the group on Monday.
Day added that "many initiatives" were underway addressing black students' concerns about racial insensitivity on campus and referred to the Special Task Force on Diversity, Equity and Inclusion formed last fall as part of "a campus-wide discussion on creating a more conducive environment for students of color and other minorities."