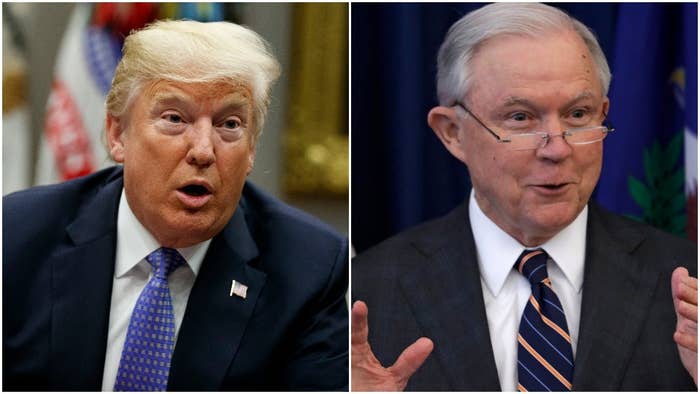 President Trump continued to attack his attorney general a day after Jeff Sessions hit back following Trump's criticism that Sessions had no control over the Justice Department.
Sessions released a statement on Thursday saying he was in control of the Justice Department, hours after Trump disparaged him in an interview with Fox & Friends for recusing himself from the special counsel's probe into Russian interference in 2016 election.

In his statement, Session said he would not be influenced by politics.

"While I am Attorney General, the actions of the Department of Justice will not be improperly influenced by political considerations," he wrote. "I demand the highest standards, and when they are not met, I take action."

In response, Trump took to Twitter Friday morning to taunt Sessions about his statement.
Referring to Sessions' line about the Justice Department not being influenced by politics, Trump said, "Jeff, this is GREAT, what everyone wants, so look into all of the corruption on the 'other side'..."
He then urged Sessions to investigate several high-profile people who the president frequently targets, including Hillary Clinton, special counsel Robert Mueller, former FBI director James Comey, former FBI deputy director Andrew McCabe, former FBI agent Peter Strzok, former FBI attorney Lisa Page, and former Justice Department prosecutor Bruce Ohr.
He also urged Sessions to investigate "Christopher Steele & his phony and corrupt Dossier, the Clinton Foundation, illegal surveillance of Trump Campaign, Russian collusion by Dems."
"Come on Jeff, you can do it, the country is waiting!" Trump said.
The president also commented on Reality Winner, the former National Security Agency contractor who was sentenced on Thursday to 63 months for leaking evidence of Russian election hacking.

Trump called her crime "small potatoes compared to what Hillary Clinton did."

He then slammed Sessions, saying, "So unfair Jeff, Double Standard."
Responding to the president's tweet about Winner's sentence being "unfair," her mother, Billie J. Winner-Davis, urged the president to pardon her daughter, tweeting, "You have the power to undo this."
The president has berated and disparaged his attorney general repeatedly over two years ever since Sessions recused himself from the Russia investigation.

On Thursday, in an interview with Fox News' Ainsley Earhardt, Trump questioned the "kind of man" Sessions was for recusing himself after he took the job of attorney general.
"Even my enemies say that Jeff Sessions should have told you that he was going to recuse himself and then you wouldn't have put him in," Trump said. "He took the job and then he said, 'I'm going to recuse myself.' I said, 'What kind of a man is this?'"

The only reason Trump said he gave Sessions the job was his loyalty and because he was an "original supporter."
In his statement, Sessions said, "I took control of the Department of Justice the day I was sworn in, which is why we have had unprecedented success at effectuating the president's agenda — one that protects the safety and security and rights of the American people, reduces violent crime, enforces our immigration laws, promotes economic growth, and advances religious liberty."
This appears to be the second time this year that Sessions hit back against the president's attack. In February, Sessions released a statement saying the Justice Department would act in a "fair and impartial manner" for "[a]s long as [he is] the Attorney General," after Trump criticized his decision to have the inspector general look into allegations of abuse by the Justice Department in obtaining a Foreign Intelligence Surveillance Court warrant.