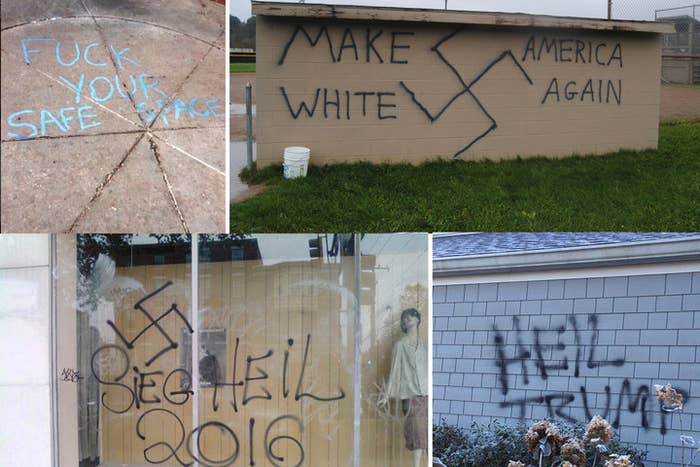 In the days after Donald Trump won the US election, advocacy groups and media outlets, including BuzzFeed News, tracked racist and anti-Muslim incidents amid warnings of a rising tide of racial violence across the country.
We had reason to expect them: Trump had just been elected after stomping on norms about public speech on race and religion, threatening to ban Muslims from the US, and calling Mexican immigrants "rapists."
But the story of 2016 is in part the story of people believing what they expect to be true, regardless of the evidence. And there has not been any official data to suggest that hate crimes have surged nationally since the election. ProPublica described the data collection of hate crimes since the election as "deeply flawed." The Southern Poverty Law Center — which published a report titled Ten Days After: Harassment and Intimidation in the Aftermath of the Election — noted that "it was not possible to confirm the veracity" of all the 867 "hate incidents" it documented, which were based off submissions to its website and media accounts. Two of the highest-profile incidents were exposed as fabrications: a Muslim woman in New York who claimed she was attacked on the subway, and a student at the University of Michigan who said a man threatened to set her on fire if she did not remove her hijab.
Conservative and right-wing media outlets seized on a post-Trump "hate hoax epidemic" and decried the mainstream media's role in spreading "hate crime hoaxes."
Since BuzzFeed News was among the outlets cataloging alleged hate crimes after the election — we reported on 28 alleged incidents between Nov. 10 to Nov. 15 — we thought it would be useful to review this nonscientific sample of high-profile reports.
We revisited those stories over the last two weeks and found that most occurred as they were reported — disturbing incidents with an explicitly racial, religious, or political edge — though some also clearly involved a haze of confusion and disputes over motive.
* Eleven cases are publicly documented — photographs of graffiti, for instance, or a witness aside from the alleged victim — but unsolved. In eight of those, authorities are still investigating.
* In 11 cases, a person was identified, charged, disciplined, apologized, resigned, or faced some other consequence — though in eight of those, their motives remain in dispute.
* Three of the remaining cases rely on a claim from a single source, without any clear resolution or specific reason to doubt the claim.
* Two were revealed as hoaxes. And in a third case, police said that part of the alleged victim's story didn't check out, and she later told authorities she no longer wanted to pursue the case.
In all, 19 of the incidents referenced Trump or the election.
Some of the incidents had an evident racial or anti-Muslim bias, though in many cases the perpetrators were not charged with hate crimes. (States have different statutes and in some the bar to prosecute an incident as a hate crime is high.)
Other incidents happened as described — and were reasonably initially perceived as political — but the stories are a bit more complicated. A Southern Illinois University student who appeared in front of a Confederate flag in what appeared to be blackface later said it was a cosmetic mask, and the university said "we sometimes find that reports of incidents made via social media and elsewhere are not fully supported by the facts." The man arrested for scrawling "Black Bitch" on a Philadelphia woman's car is black.
Meanwhile the hoaxes, which were at the center of the conversation in late December, didn't surprise academics and journalists who study extremism and hate crimes.
"People will do things when there's a lot of attention paid to it, and hate crimes aren't any different. What I find interesting is how that is being politicized now," Brian Levin, a criminology professor and director of the Center for the Study of Hate and Extremism at California State University, San Bernardino, told BuzzFeed News. Hate crimes, he said, spike after a catalytic event, and in that "cycle of publicity and retaliatory violence" there will be false reports.
As our catalog shows, there's little evidence of a wave of hoaxes. There has also not been the wave of violent assaults that some anticipated. (The FBI did disrupt one murderous terror plot just before the election, in which Kansas militia members sought to bomb Somali refugees.)
"Unfortunately, the relatively small handful of made-up events threaten to undermine belief in the far many more verified reports of hate and intolerance," Jere Hester, director of news at the City University of New York Graduate School of Journalism, told BuzzFeed News. Hester and J-School Interactive Program Director Sandeep Junnarkar spearheaded the development of CUNY's Hate Index — a site that chronicles hate crimes and other acts of intolerance since Trump's win. "The small number of people who concoct incidents stand to gain a disproportionate amount of attention at the expense of the many more real victims," he said.
Both experts said that hoaxes further victimize genuine victims of hate and induce mistrust of the media.
And while some conservatives tied the hoaxes into the debate over "fake news" — media concoctions built from scratch to go viral on Facebook — there is no evidence journalists reporting the false stories believed they were false. Rather, the hoaxes reveal a longstanding blind spot in crime reporting: It has long been driven — certainly in initial reports — by the legal process, beginning with a police report and an investigation.
1.
A man allegedly punched a woman in the face at a restaurant in New York after she expressed disappointment over Trump's victory.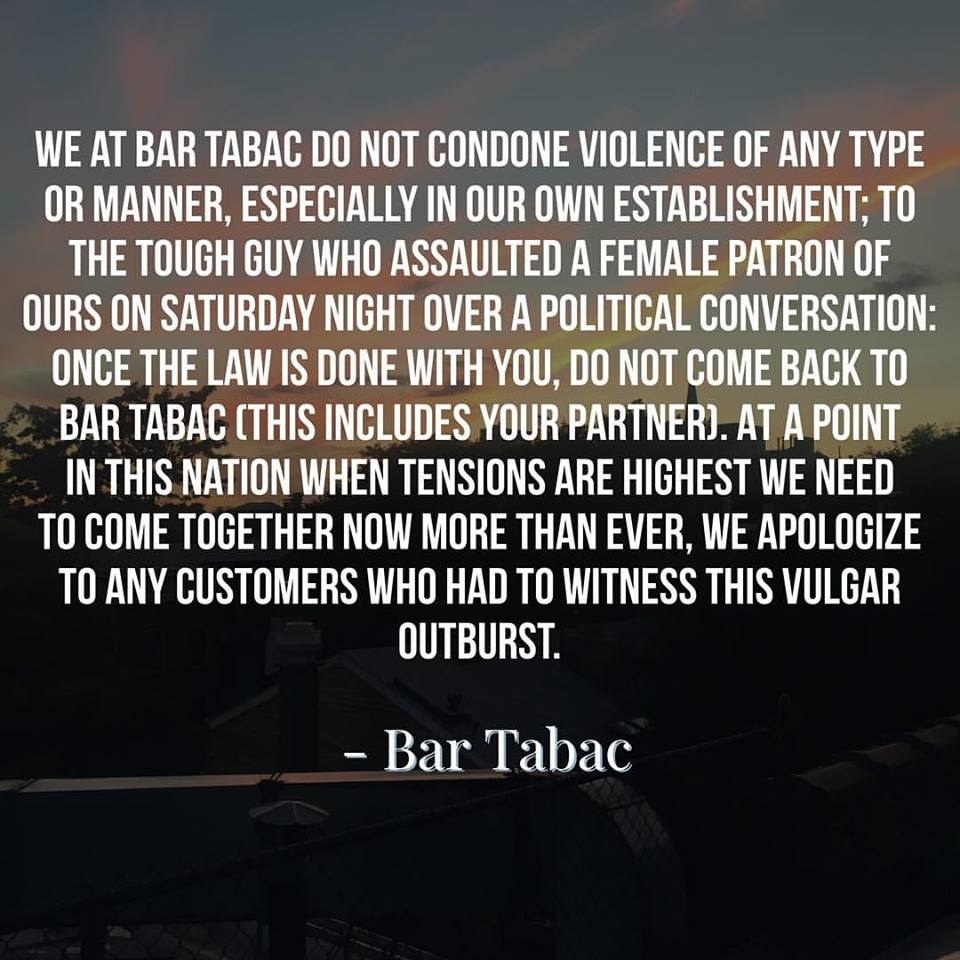 2.
An Ohio State University student was arrested and charged with assault after tackling an anti-Trump protester during a demonstration on campus.
3.
Threatening "vigilante" flyers calling for the torture of "university leaders spouting off all this diversity garbage" were posted in bathrooms across Texas State University.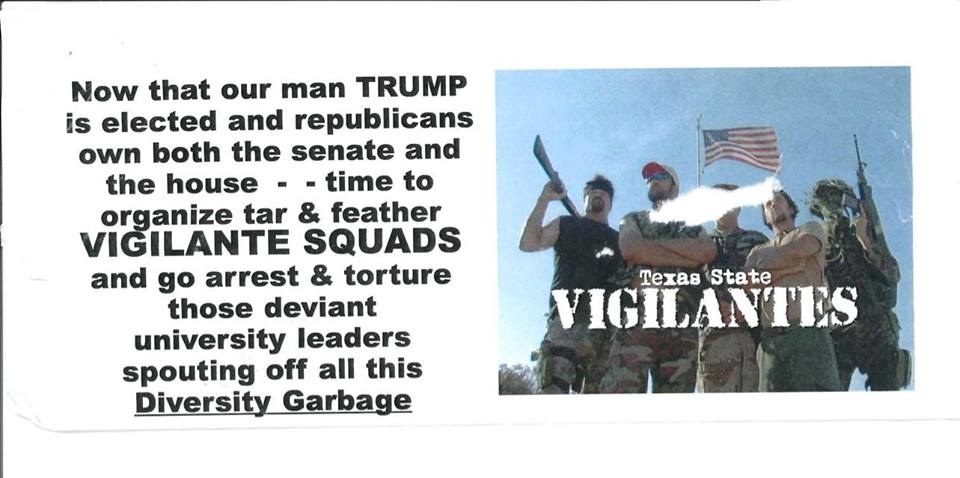 4.
Racial slurs and threats, including the n-word, "Go back to Africa," and "Whites only," along with pro-Trump slogans were found scrawled in a high school bathroom in Minnesota on Nov. 9.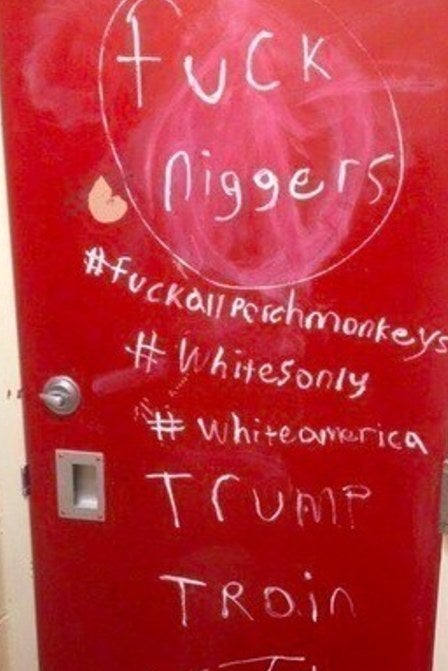 Original report: Local police and Maple Grove Senior High School launched investigations after graffiti, including #FuckAllPorchMonkeys, #WhitesOnly, Trump Train, #GoBackToAfrica and "Make America Great Again," were found in the boys' bathroom on Nov. 9.
Current status: The student responsible for writing the graffiti was identified and received "appropriate disciplinary action, according to school board policy," said a Nov. 21 letter from Osseo School District Superintendent Kate Maguire. The case is still an open active investigation for the Maple Grove Police Department, a spokesperson told BuzzFeed News.
The student's attorney, Andrea L. Jepsen, later said that the school was using the "sensitive and vulnerable" student as a scapegoat.
"The district chose a sensitive and vulnerable young person who was among the students who entered the restroom on November 9, and scapegoated him," Jepsen said in a statement provided to media outlets. "The district violated [the student's] rights under the law, and inflicted terrible emotional damage on him, while missing the opportunity to find the real culprit. We believe that the district did so because it was very difficult to isolate the actual wrongdoer with any certainty, and bringing this matter to what the district believed would be a quick end was its highest priority."
5.
Mehreen Kasana, an editor in New York City who was wearing a scarf around her head the day after the election, said that a man told her, "Your time's up, girlie."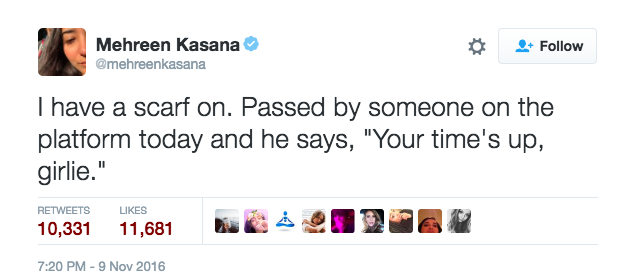 6.
Middle schoolers in Michigan chanted "Build the wall" in their lunchroom.
7.
A "Make America White Again" sign with a swastika was graffitied on a softball dugout wall in a park in Wellsville, New York, on Nov. 9.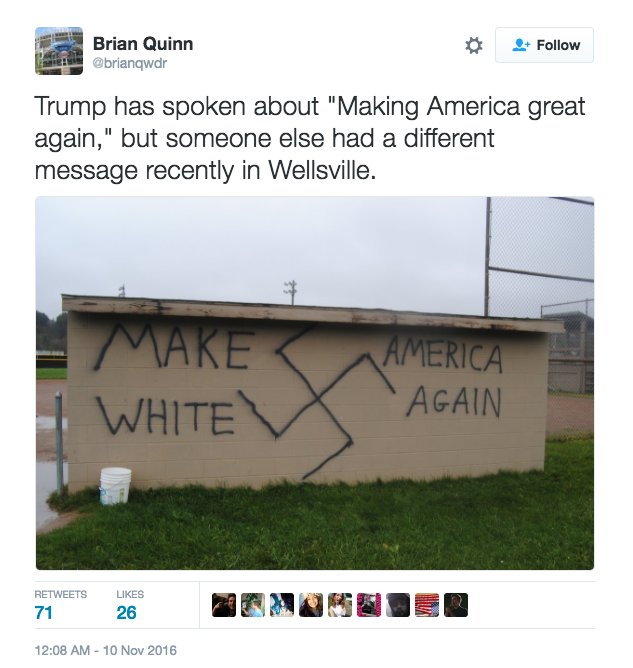 8.
Photos of a black baby doll that appeared to have been hung in an elevator in Canisius College in New York surfaced on social media.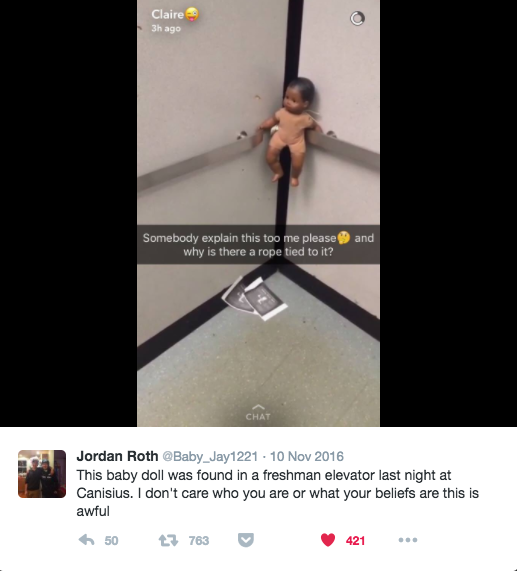 9.
A "fair-skinned male" allegedly pulled at a woman's hijab on Nov. 9, choking her and causing her to fall, San Jose State University police said in an alert to students.
Original report: The university said the case was under investigation, though it wasn't clear if the woman, identified as 19-year-old Esra Altun, was attacked because of her hijab. Doaa Abdelrahman, the president of the Muslim Student Association at San Jose State, told the Mercury News that she knew the victim and believed the attack was related to Trump's campaign. University police reportedly told Altun that they could not treat it as a hate crime, Mercury News reported.
Current status: Patricia Harris, a spokesperson for SJSU, told BuzzFeed News on Dec. 29 that there were no arrests, no new leads, or any other developments in the case. "My understanding is there is no surveillance video of the incident, and the suspect approached Esra from behind, so she did not have the opportunity to see him face-to-face," Harris said. "Nonetheless, we continue to press our community to report any leads."
Abdelrahman told BuzzFeed News that police did not "count it as a hate crime since he didn't 'say' anything," adding, "I think pulling off someone's scarf is saying it, actions speak louder than words."
10.
"Trump" was scrawled on the door of a Muslim prayer room at New York University on Nov. 9.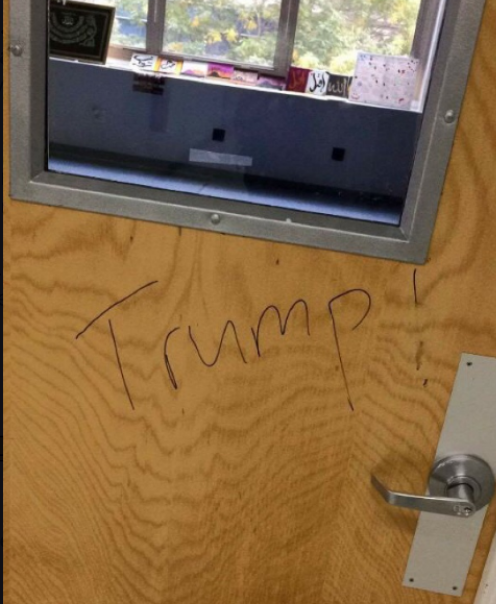 11.
"Fuck your safe space," "Build wall," and "Trump" were scrawled in chalk at the University of Louisiana at Lafayette on Nov. 8.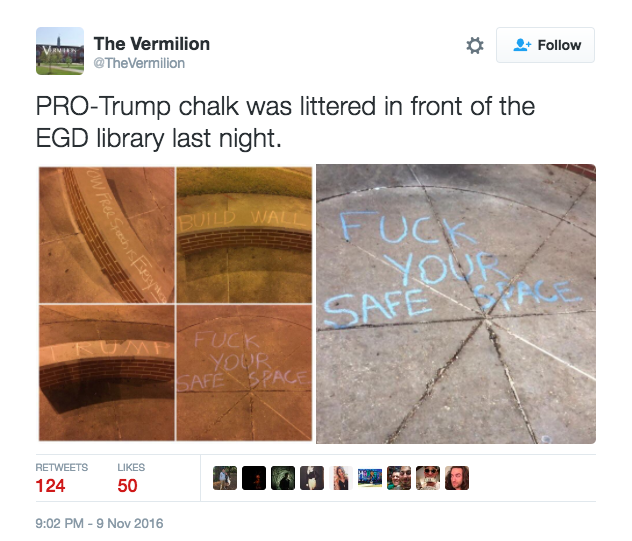 12.
"Blacks lives don't matter and neither does your votes," was spray-painted across a wall in Durham, North Carolina, on Nov. 9.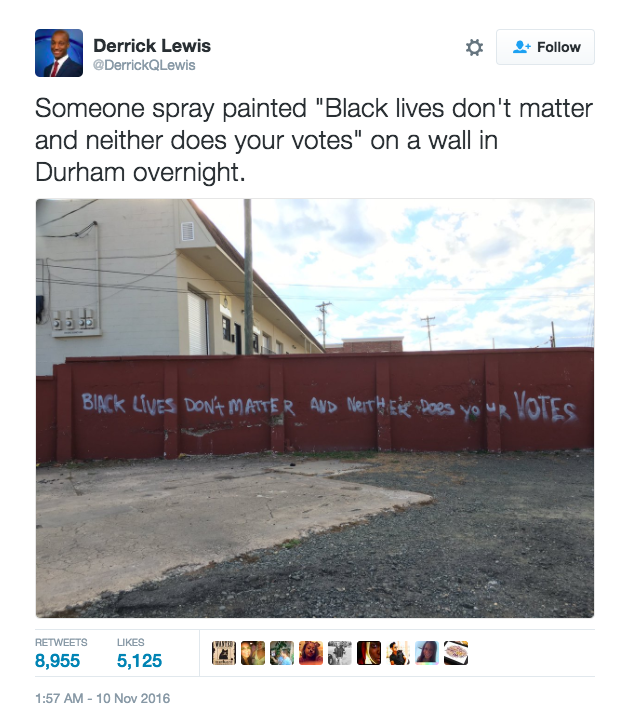 13.
After a photo that appeared to show two students wearing blackface masks in front of a Confederate flag went viral, Southern Illinois University issued a statement saying it was aware of offensive social media posts and was reviewing the incidents.
Original report: A viral social media post showing two students wearing blackface and standing in front of a Confederate flag prompted the university to review the incident. One of the students in the photo later wrote on Facebook that the picture had been taken out of context. She said she had been wearing a "boscia face mask" in front of a Confederate flag she had ripped because she does not support it.
Current status: Rae Goldsmith, a spokesperson for the university, told BuzzFeed News that they had "fulfilled the chancellor's commitment to review reports of offensive behavior and comments, recognizing that some statements may be protected as free speech." While she did not elaborate on specific incidents or disciplinary actions, citing privacy restrictions, she did say that "we sometimes find that reports of incidents made via social media and elsewhere are not fully supported by the facts."
14.
A Muslim student at San Diego State University (SDSU) was attacked and robbed by two men "who made comments about President-elect Trump and the Muslim community" on Nov. 9, the SDSU police said in a safety alert.
Original report: According to a safety alert issued by campus police, a white male and a Hispanic male confronted the student in a stairwell in what police described as a "hate crime, robbery, and vehicle theft."
The two men "made comments about President-elect Trump and the Muslim community, confronted her and grabbed her purse and backpack," police said in the alert. They also took her car keys and stole her vehicle, the alert said.
"Comments made to the student indicate she was targeted because of her Muslim faith, including her wearing of a traditional garment and hijab," SDSU police said in a statement provided to BuzzFeed News.
Current status: The Muslim student told police on Dec. 20 that she no longer wanted to pursue the matter criminally, Greg Knoll, a spokesperson for SDSU police, told BuzzFeed News. He said she did not give a reason for her decision.
Knoll said that the initial report of her car being stolen was unfounded as she "forgot where she parked her vehicle." He said that only her car keys were still reported missing.
Knoll said that the police, with the help of the FBI and the District Attorney, worked on the case for six weeks, "looking at surveillance video, re-contacting the victim on several occasions and attempting to verify statements related to the entire case."
"The victim made the decision to no longer pursue the matter and with no other leads we suspended the case," Knoll said. He said they would consider reopening the case if they found new leads.
15.
Two men in a pickup truck with a Trump flag drove to Wellesley College, a women's liberal arts school in Massachusetts and Hillary Clinton's alma mater, stopped in front of a house for students of African descent, and "antagonized" students and screamed "Trump" and "Make America Great Again" on Nov. 9, according to accounts from students and college officials.
Original report: Wellesley police confirmed the incident and said the two "disruptive individuals" were asked to leave the property. The two men, who were students at Babson College, were expelled from their fraternity, Sigma Phi Epsilon. Babson College was investigating both men's actions, which the college president described as "highly offensive, incredibly insensitive, and simply not acceptable."
Additional reports: TThe men were later identified as Edward Tomasso and Parker Rand-Ricciardi. Wellesley College Police investigated additional allegations on social media that the men deliberately parked in front of Harambee House and used racial and homophobic slurs, and that one of them spit at a Wellesley College student, according to a Babson College report of the investigation's findings provided to BuzzFeed News. In a Nov. 14 Facebook post, Rand-Ricciardi apologized for his "insensitive celebration of the Trump victory" but denied all other allegations, including spitting at a student and using racial epithets.
Current status: On Dec. 19, Babson College cleared both students of the two charges of disorderly conduct and harassment that were levied against them, both men's lawyers confirmed to BuzzFeed News.
Babson College said that it was "uncontested" that the two men drove in a pickup truck with a Trump flag and yelled "Trump 2016" and "Make America Great Again" out of the windows, according to Babson's investigative summary of the findings that were issued to both men's lawyers before the board's final decision. A copy of this was provided to BuzzFeed News.
However, the findings indicated that the other allegations, including the spitting, using racial and homophobic slurs, and targeting Harambee House, were "contested."
Brad Bailey, Tomasso's lawyer, said in a statement: "We are very pleased with the Honor Board's decision of finding him not responsible for any of the student conduct violations at Babson College and moreover after a thorough and complete investigation, for determining that none of the original allegations were true, specifically the findings that he did not spit at anyone, he did not make any racial or homophobic comments towards anyone, he did not make any derogatory statements towards anyone, and all of those allegations had no basis in fact."
"You can't repair the reputational damage, and frankly the emotional damage that is done when you have labeled somebody a harasser," Rand-Ricciardi's lawyer, Jeffrey Robbins, told BuzzFeed News. He said it was "really a shame" that neither Babson College nor Wellesley College has issued a statement of apology or regret to the two men.
"People were very happy to blacken these kids' reputations without even knowing what the facts were," Robbins said.
A spokesperson for Babson College told BuzzFeed News, "As a matter of policy, and in accordance with federal law, Babson College does not comment on specific student conduct matters."
16.
A Facebook post on Nov. 9 appeared to show a Trump supporter in a car that had Trump flags and anti-Muslim stickers on it, including one that read "All Muslims are terrorists, deport them all."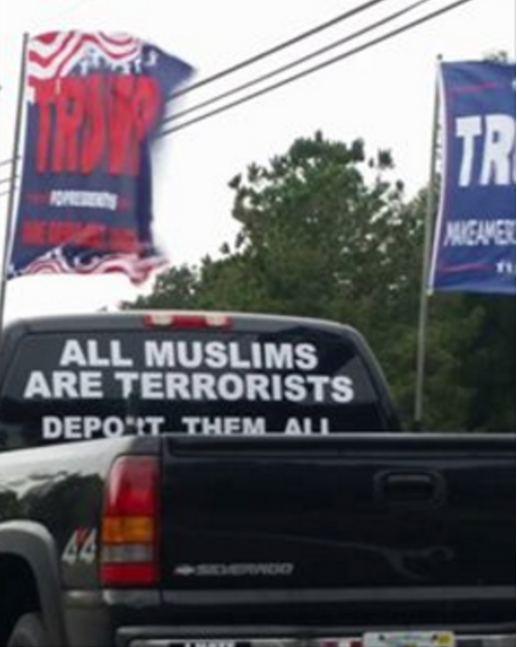 17.
Yarden Katz, a fellow at Harvard Medical School, said that he witnessed a US postal worker telling a man who appeared to be of "Hispanic" descent, "Go back to your country. This is Trump land" at a gas station in Massachusetts on Nov. 9.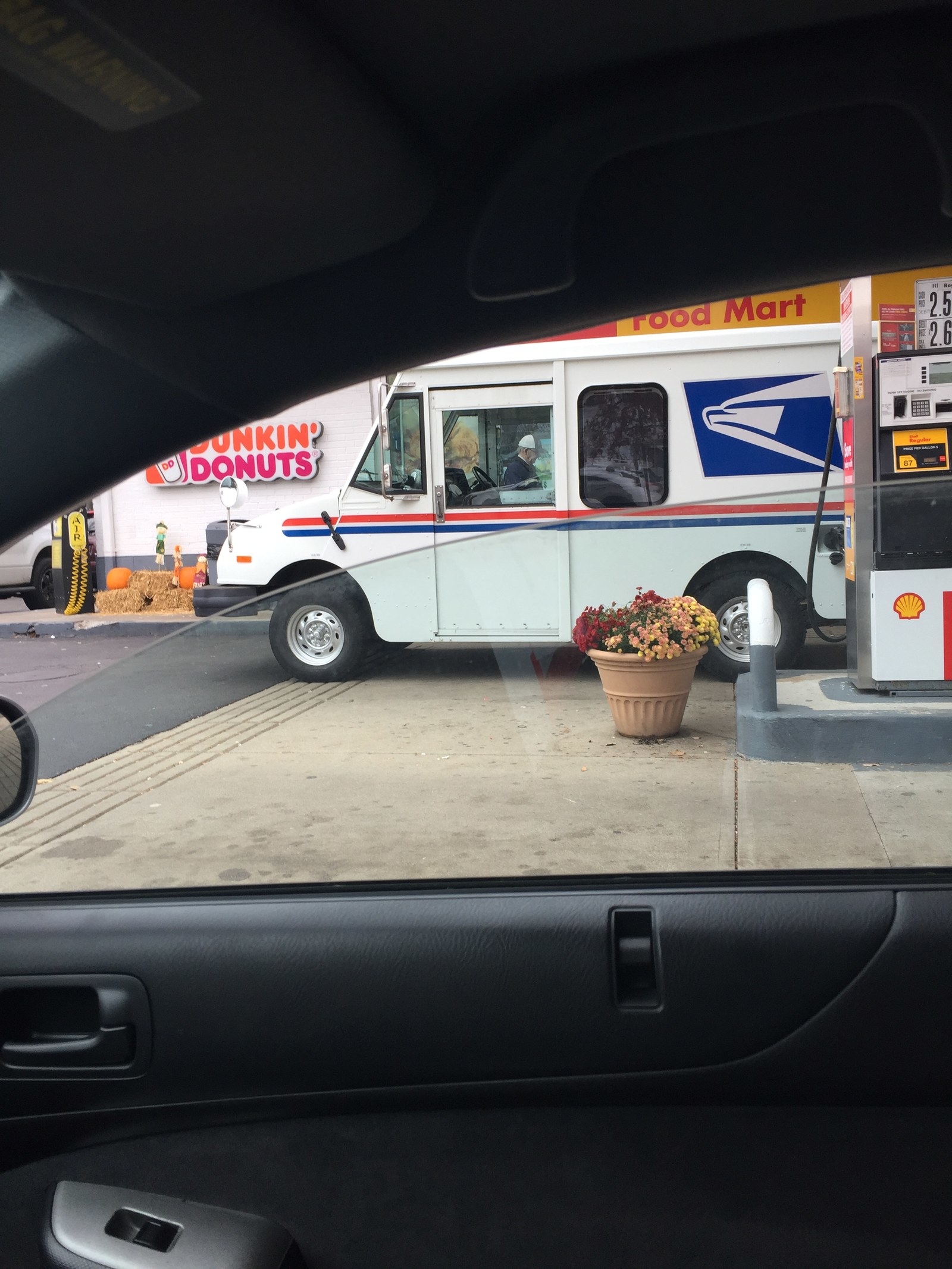 18.
A swastika, "Sieg Heil 2016," and the word "Trump" with the T replaced with a swastika were graffitied on the windows of an empty store in South Philly on Nov. 9.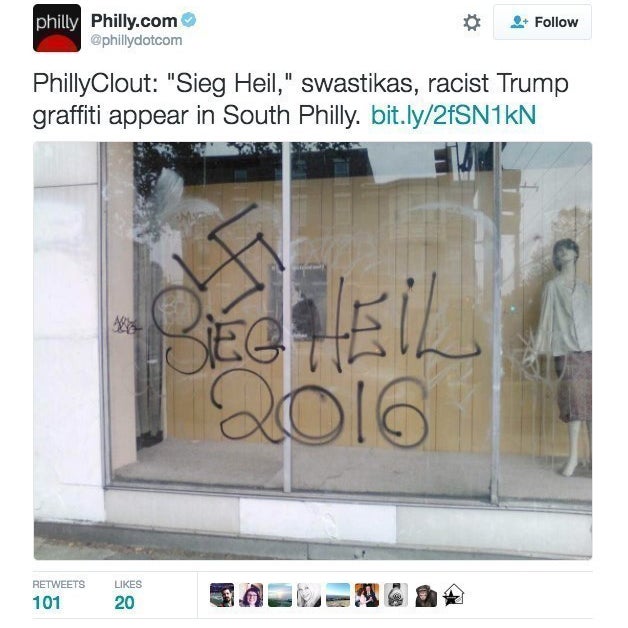 Original report: The graffiti was spray-painted on Nov. 9, which was the 78th anniversary of Kristallnacht or "Night of the Broken Glass" — an anti-Jewish pogrom in Nazi Germany in 1938. Police also investigated several other incidents of pro-Trump racist graffiti, including the words "Trump Rules" and "Black Bitch," spray-painted across a car belonging to a 62-year-old black woman, Philly.com reported.
Current status: The "Sieg Heil 2016" and swastika spray-painted on the storefront windows are still under investigation, Philadelphia Police Department spokesperson Jeff Chrusch told BuzzFeed News on Dec. 22.
Philadelphia police released a statement on Dec. 1 saying that they had arrested a 58-year-old black man, William Tucker, for spray-painting "Trump Rules" and "Black Bitch" on a black woman's car and for vandalizing several other cars and homes in the area. He was charged with vandalism and related offenses.
19.
Chris Weatherd, a former University of Tennessee linebacker, posted a video that appeared to show his car vandalized with the n-word and "Trump" on Nov. 9 in Knoxville.
20.
Rochelle Abraham posted a picture on Facebook of a car with a Confederate flag and "Kill Kill Kill" signs on it in Needham, Massachusetts, the morning after Trump's victory.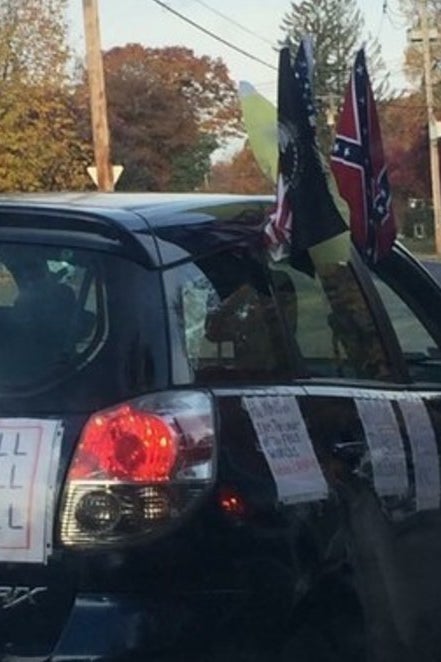 Original report: Abraham told BuzzFeed News that she spotted the car, which had a POW flag, a US flag, and a Confederate flag on it, on the morning on Nov. 9. "I was already feeling off center with respect to what a Trump presidency would mean for myself and those that I love," Abraham said.
While she did not see any Trump signs on the car, "just the fact that I saw this the day after the election kind of speaks for itself," she said.
Current status: The woman driving the car was arrested, Needham Police Department spokesperson Chris Baker told BuzzFeed News on Dec. 28.
Needham police said they began looking for Kathleen Urban, 50, after receiving a call reporting a "suspicious person" driving a truck and possibly waving a "wooden stick or rifle." She then pulled up outside the police station. "She got out of the car waving a wooden sword, and she wouldn't put it down," Baker said. "She did not say anything threatening but she was putting on a demonstration. She caused a bit of a scene. The radio was blaring with some type of music." Baker confirmed that she had a Confederate flag on her car. She was arrested on charges of disorderly conduct and assault with a dangerous weapon. Officials believe the woman has mental health issues, a person briefed on the matter said.
Abraham said that she did not report the signs to the police, but that someone who viewed her Facebook post took it to the Needham police.
"I was inundated with rude and racist comments on my post so eventually I had to make it private!" Abraham said to BuzzFeed News on Dec. 22.
21.
A student at the New School in New York City on Nov. 12 tweeted a photo of what appears to be a swastika that was drawn on the door of her dorm where she lived with other Jewish women.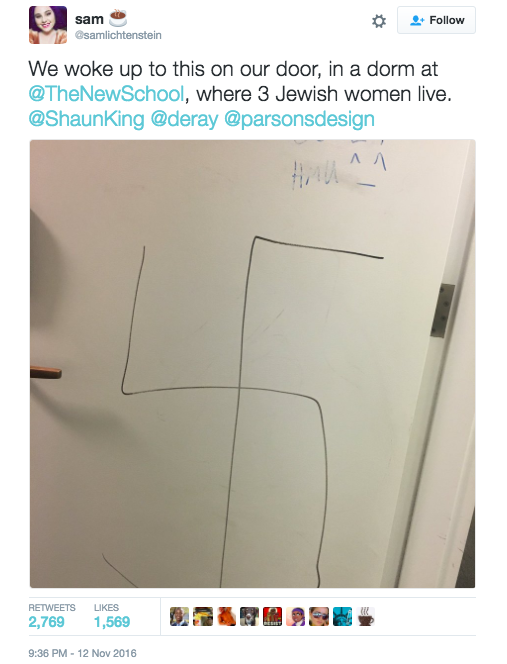 22.
A woman was forced to remove her hijab on Nov. 11 by a man who threatened to set her on fire with a lighter. The incident took place at the University of Michigan campus in Ann Arbor. (FULL REPORT HERE )
Original report: A student, whom police did not identify, said a man approached her and demanded she remove her hijab or he would set her on fire with a lighter.
"She complied and left the area. The Ann Arbor Police are actively investigating," a crime report posted on the university's website said.
The suspect was described as a "white male, 20-30 years old, average height, athletic build, bad body odor, unkempt appearance, intoxicated with slurred speech," according to the school's site.
Current status: The Ann Arbor Police Department said in a statement released Dec. 21 that the student lied about the incident and that they came to that conclusion after reviewing multiple surveillance videos and interviewing witnesses.
The Ann Arbor Police Department, along with the University of Michigan police and the FBI, had investigated the incident as ethnic intimidation. A report of the findings was sent to the Washtenaw County Prosecutor's Office, which could decide to file charges against the student.
Read more.
23.
Several black University of Pennsylvania students received racist and threatening messages on Nov. 11, including invites to a "daily lynching."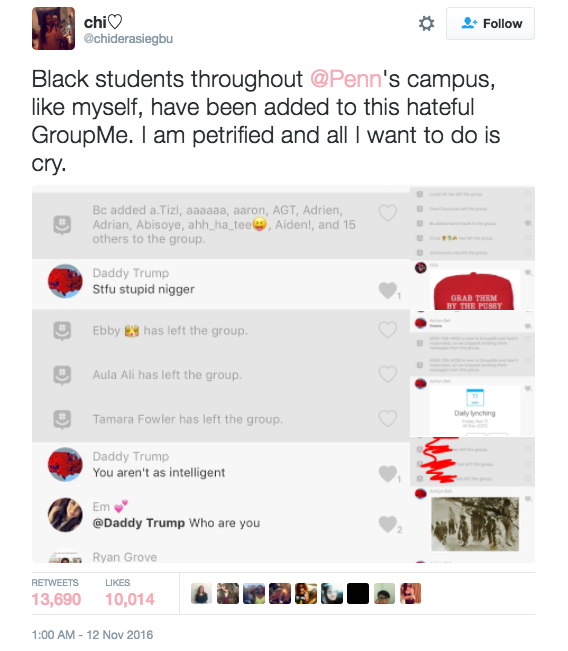 24.
A student at Bowling Green State University in Ohio reported being assaulted by three white men and called a racial slur, the university said.
Original report: ""We immediately reached out to the student," Thomas J. Gibson, the university's vice president for student affairs, said in a statement. "Today, she filed a report with the Bowling Green Police Department. They are investigating."
Current status: School officials said in a statement on Nov. 18 that the incident did not occur as reported, nor did another incident filed by a different student a week later.
"Filing a false report is a serious offense. In addition to any charges by police, students may be held accountable under the student code of conduct," the statement said.
Eleesha Long, the Bowling Green student who originally reported the assault, was charged with one count of falsification and one count of obstructing official business on Nov. 17, the Bowling Green Police Department told BuzzFeed News on Dec. 27. They added that she has not been incarcerated and the case is pending.
When BuzzFeed News asked a school spokesperson on Dec. 29 if Long had been disciplined for the false report, they said, "Bowling Green State University does not release the outcomes of student disciplinary processes in accordance with the Family Educational Rights to Privacy Act (FERPA)."
25.
A swastika was spray-painted on a sidewalk in Crown Heights, a traditionally Jewish neighborhood in Brooklyn.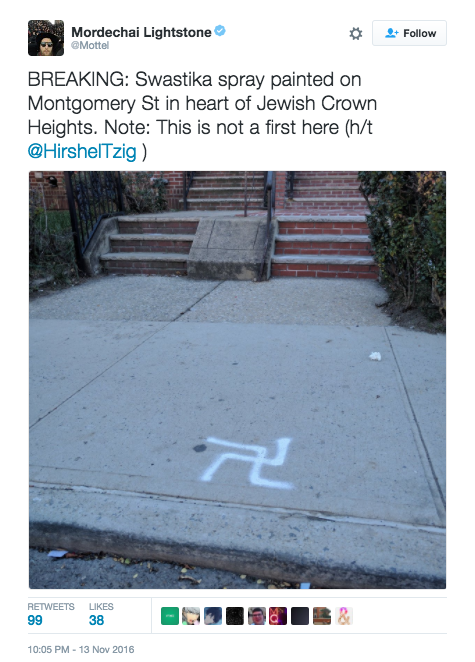 26.
A Spanish-language sign at an Episcopal church in Silver Spring, Maryland — a heavily Latino neighborhood just outside Washington, DC — was vandalized on Saturday night with the words "TRUMP NATION" and "WHITES ONLY."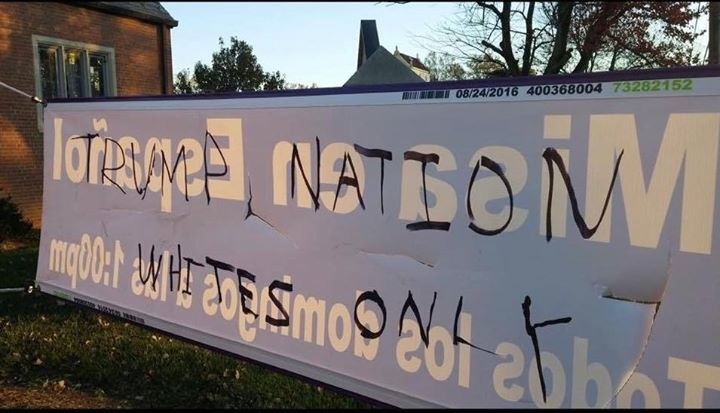 27.
A Michigan police officer was suspended after flying a Confederate flag at an anti-Trump rally on Nov. 11.
28.
A church in Indiana was discovered vandalized with slurs on Nov. 13.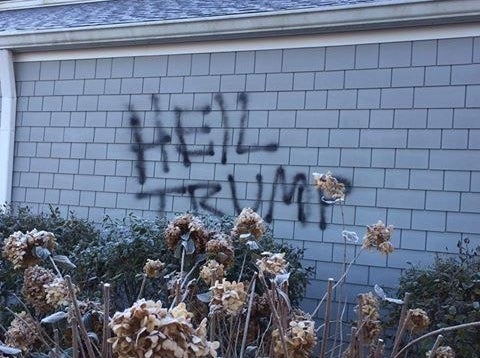 Original report: St. David's Episcopal Church in Bean Blossom, Indiana was spray painted with a swastika, an anti-gay slur, and "Heil Trump."
Rev. Kelsey Hutto, a priest at the St. David's Episcopal Church, told BuzzFeed News that she was disappointed after the graffiti was discovered on the walls Sunday, but that they wouldn't "let the actions of a few damper our love of Christ and the world."
Hutto said that they needed to respond to hateful acts with love. "Anyone is welcome on the sacred ground of the church," Hutto added.
Current status: The Brown County Sheriff's Office told BuzzFeed News on Jan. 4 that no arrests had been made and there was an ongoing investigation.
Hutto told BuzzFeed News that the church held a community concert on Dec. 18 that "focused on healing and love." She said she had not heard from the Sheriff's Office. "I do know that an anonymous source offered a $2,000 reward for any information leading to an arrest," Hutto said.