Police should not have been called to an elementary school after a third-grade student reportedly made a inappropriate remark about "brownies," the mayor of a New Jersey town told BuzzFeed News Friday.
On June 16, police were called to a third-grade end-of-year class party at the William P. Tatem Elementary School in Collingswood after a student complained that another student made a "racist" remark about brownies, Philly.com first reported.

The incident and subsequent media coverage prompted many on social media to criticize increased policing in the community's public schools. Several news outlets also picked up the story as it trended on Facebook Friday.
The mother of the third-grader told Philly.com that her son was "traumatized" after being questioned by the police and that the school overreacted to his comment, which was about snacks, not skin color.
Mayor James Maley told BuzzFeed News Friday that the school should not have called police, but added that the student did make a remark about "brownies" that "as an adult I went, 'Oh my gosh.'"
Maley said he could not say exactly what the student said, as it was a "juvenile matter," but confirmed that the word "brownie" was used.
"Certainly there was a comment made that as an adult I went, 'Oh my gosh.' It takes you back a little bit," Maley said. "It's not what everybody was laughing about or upset about, but it also did not rise to a level where police were needed."
Maley said that the police officer who responded to the school asked the student about it, "but did not question or interrogate him as though they would for a criminal matter."
The parent of the child to whom the remark was made also did not want to take any action, which the officer relayed to school adminstrators, Maley added.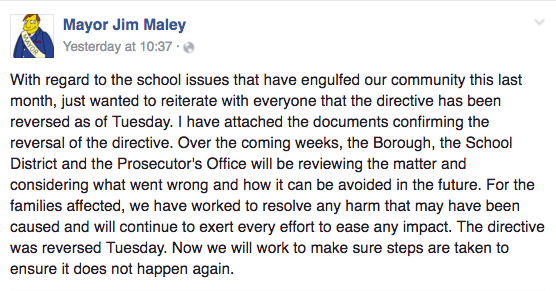 Maley said there have been two to three incidents at schools in the district where police were called when they were not required because of a "miscommunication between the county prosecutors and our schools."
"The schools understood that there was a more restrictive policy in terms of what calls were to be made to the police, which went on for a few weeks," Maley said. "That policy has now been reversed and the situation has ended."
In another Facebook post, Maley said "the reversal of the directive means police will no longer intervene unless an issue was potentially criminal. School officials will again handle most infractions internally. The policy in effect prior to May is in force."

The miscommunication arose out of a meeting in May between Collingswood Public School officials, the Camden County Prosecutor's Office, and the Collingswood Police Department, Maley said. According to him, the meeting was in response to "missteps" taken by another high school during an incident where police were called.
Collingswood Police Chief Kevin Carey told Philly.com that at the meeting, the prosecutor's office directed schools to report any incidents that could be considered criminal, including something "as minor as a simple name-calling incident that the school would typically handle internally."
"It was a pretty clear directive that we questioned vehemently," Collingswood School District Superintendent Scott Oswald told Philly.com.

However, Maley said the prosecutor's office maintained that school officials misunderstood the directive.

The Camden County Prosecutor's Office, Oswald, and Carey did not immediately respond to BuzzFeed News' request for comment.
Police told Philly.com that the "brownie" incident had been referred to the New Jersey Division of Child Protection and Permanency. However, Maley said he was not aware of the referral, and a spokesperson for the New Jersey Department of Children and Families told BuzzFeed News that "state and federal confidentiality laws prohibit us from commenting on or even confirming whether or not we are involved with a child or conducting an investigation."

Maley said that the prosecutors, police, and school officials were set to meet next week to "make sure this never happens again."