For some time now, police departments in the US and across the world have tried to be funny and relatable on social media, using everything from gentle sarcasm and hashtags...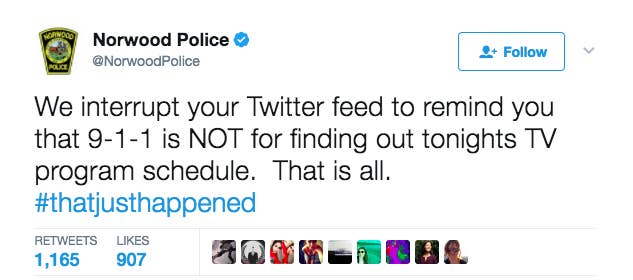 To cool meme-type things...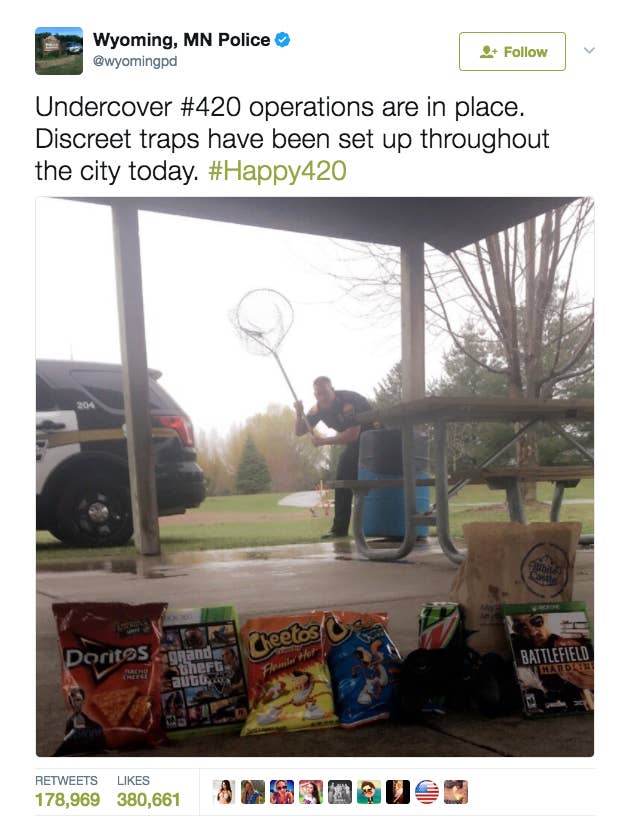 And some noteworthy puns.
Many employ mild and harmless humor while describing some of the weird calls police are forced to respond to.
Now, one sheriff's office in Florida is getting flack for their Facebook post that people say mocked and embarrassed a woman who called them for help.
In a Facebook post on Thursday night, the Pasco Sheriff's Office in Florida, described, in detail, a recent incident where a 26-year-old woman who was trying to get pregnant through artificial insemination called police when she was concerned about a possible explosion after mishandling the storage of sperm at her house.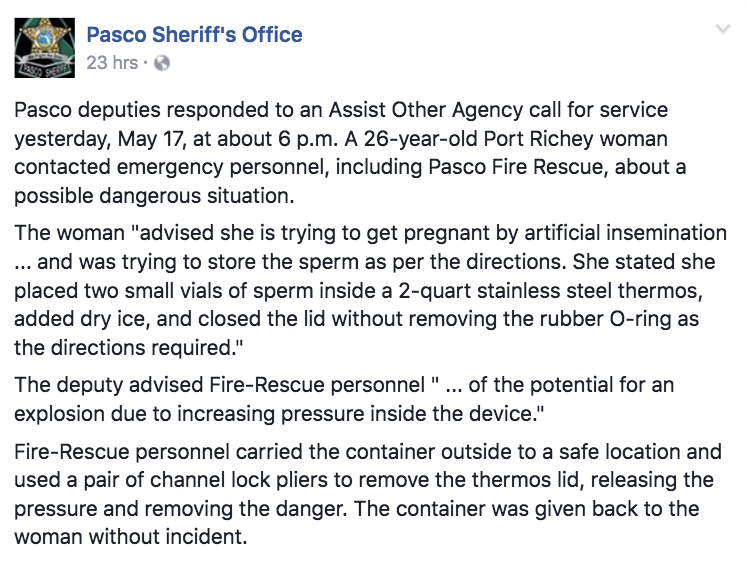 The sheriff's office also used this stock image of a disgusted woman in the Facebook post.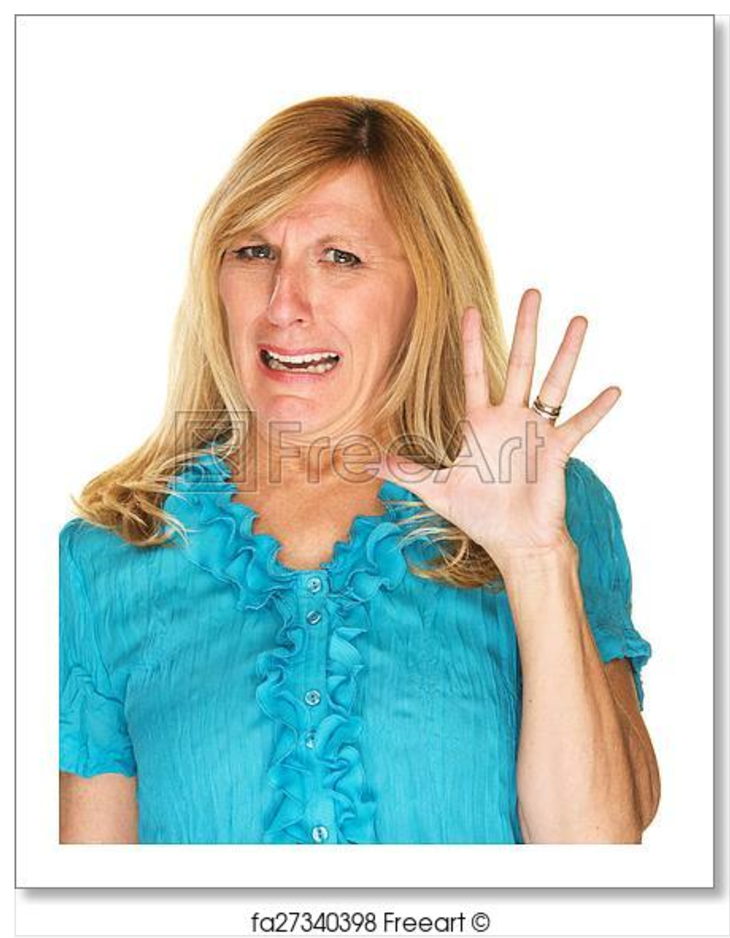 After the post, the unidentified woman spoke out, saying she regretted calling the sheriff's office for help. "I made an innocent mistake — I feel like I contacted the right people and I feel like I'm being mocked for it now," the woman told ABC Action News.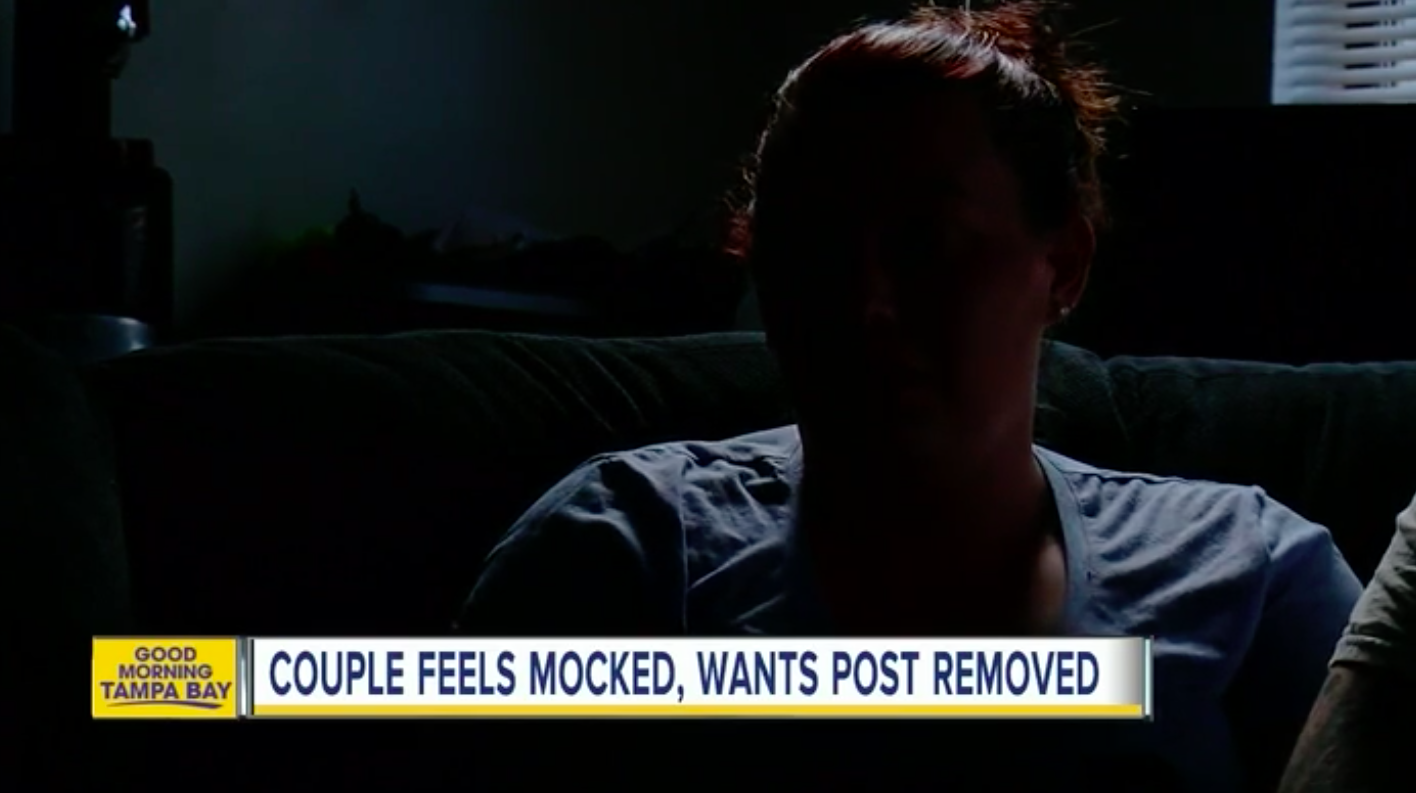 However, Sheriff Chris Nocco defended the post, describing it as a "unique call faced by our officers."
"We attempt to show every day what our officers see in calls and we are a very open agency about the types of calls we see each day," Nocco said in a statement provided to BuzzFeed News. "We do this through a variety of means including our Tweet Alongs, body camera video releases, and details on calls such as this. This was a very unique call faced by our officers as well as Pasco fire fighters.
"Make no mistake, this was a potentially dangerous situation as the dry ice combined with pressure could have produced devastating effects and we are grateful that no damage was done," he added.
Chase Daniels, an assistant executive director who runs the office's social media team, told BuzzFeed News that the post was "very carefully worded" to remove all identifying information about the woman.
"We want to make it very clear that we did not identify the individual," he said.
Daniels said that the sheriff's office likes to show their social media followers what a day looks like in the life of a police officer and to share some of the "unique" calls they get.
Responding to the use of the stock image, Chase said, "This was just trying to add a light-hearted nature to an incident that thankfully wasn't dangerous. No one ended up hurt and no damage was done."
The post generated a furious debate in the comment section with people arguing over whether it crossed a line.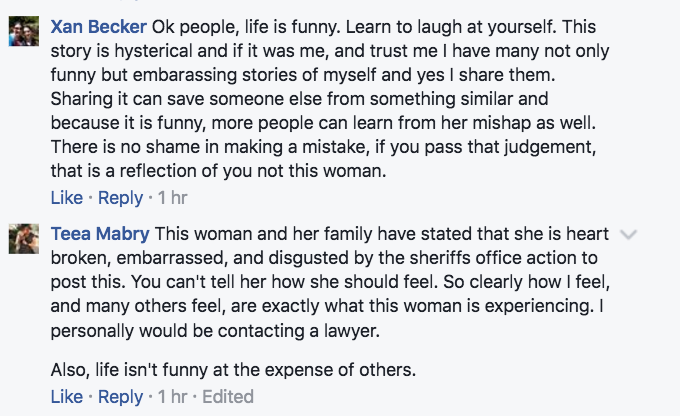 Many people took issue with using the photo "aiming to make fun of this person."

People thought it was a "shame" to "laugh at a young couple trying to get pregnant."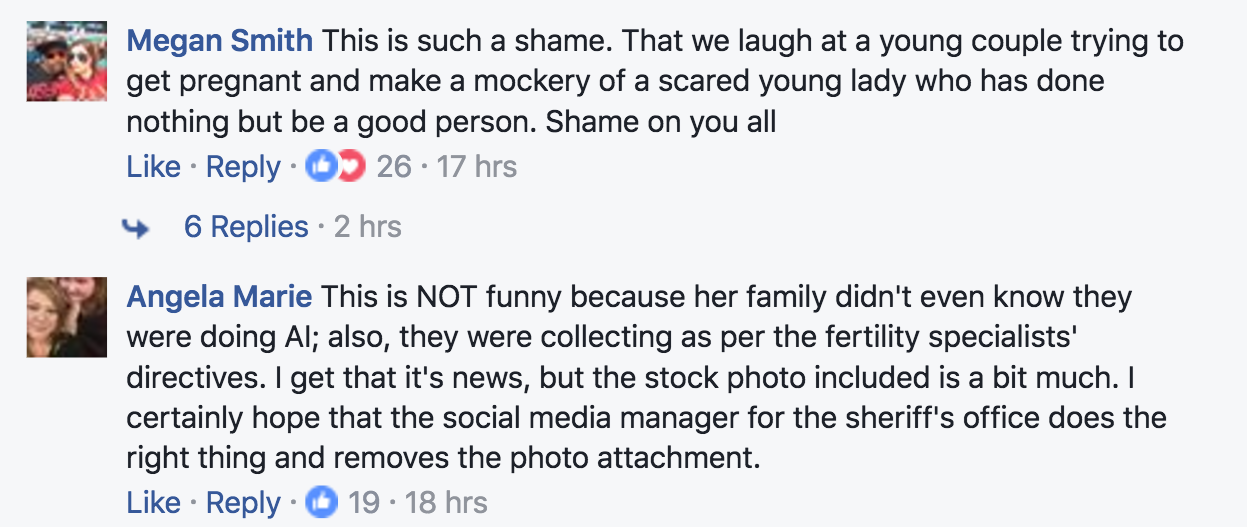 Some said the sheriff's office was being "highly unprofessional" in its efforts to "entertain the public at this family's expense."

However, some thought that people should "lighten up" since the post did not identify the woman.

This woman said she dealt with infertility for years and that it's "good to laugh at situations."

Others blamed the woman for wanting "her 10 seconds of fame" by speaking out publicly about the post.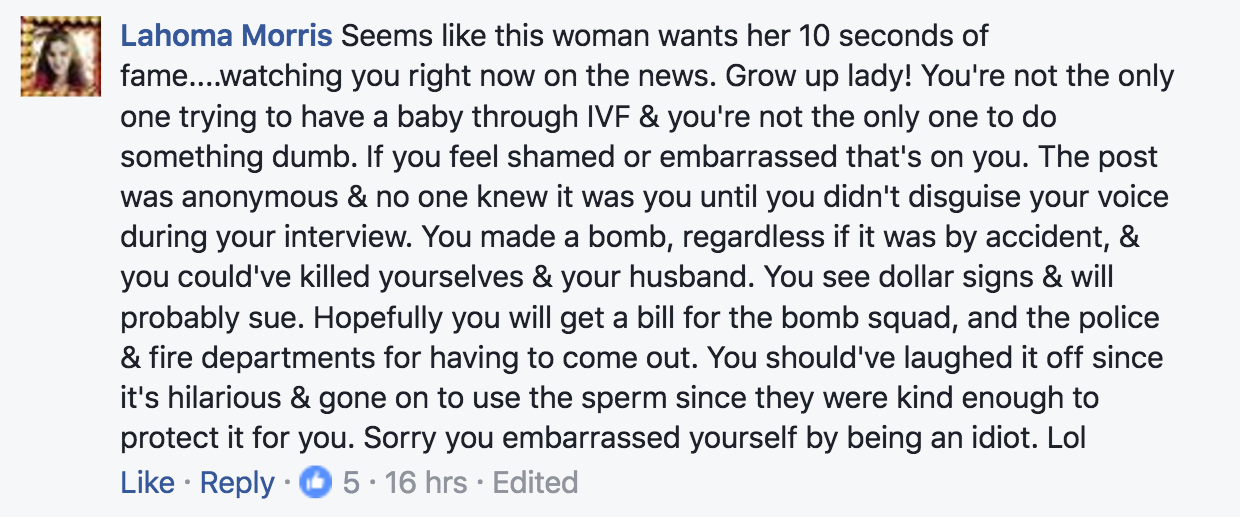 But many felt that the sheriff's office had crossed a line with the post and the photo with some demanding the department to delete the post and apologize to the couple.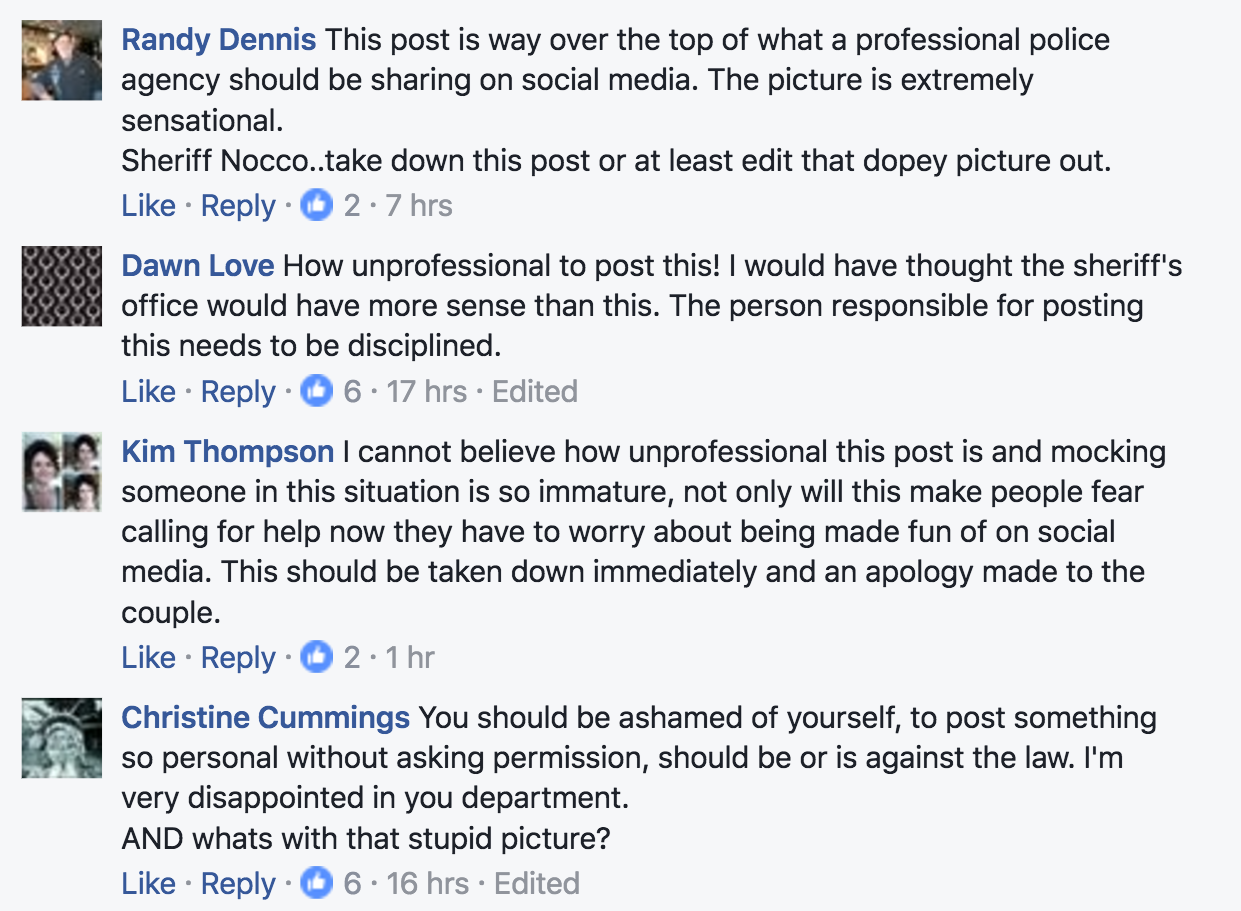 CORRECTION
The woman was interviewed by ABC Action News. A previous version of this post misidentified the news channel.