A man went on a racist rant against employees and customers at a New York lunch spot for speaking Spanish — and threatened to call ICE to get them "kicked out of my country," in an incident captured on video Tuesday.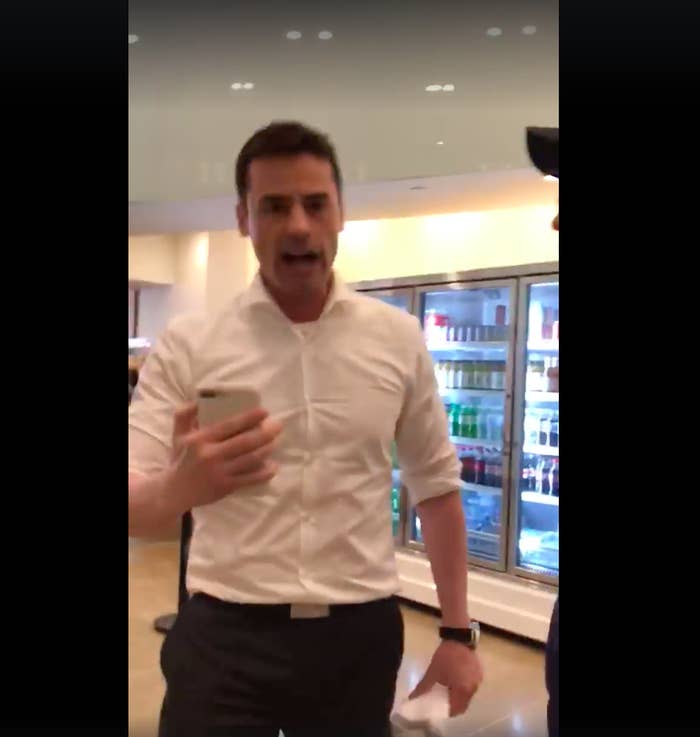 Emily Serrano — one of the customers the man confronted for speaking Spanish — was at the restaurant with her best friend Deena Suazo. She recorded the incident that was shared in a now-viral Facebook post by Suazo's husband.
Serrano, 35, told BuzzFeed News that she and Suazo have been meeting for lunch every day at Fresh Kitchen in Midtown Manhattan. She said that while all the employees there also speak English, nearly all of them are Spanish speakers.
On Tuesday, she and Suazo ordered their food in Spanish with one of the servers, as did another male customer.
After hearing the servers and customers speak in Spanish, the man in the white shirt in the video "went into a frenzy," Serrano said.
She began recording the video midway through his rant, after a manager at the restaurant tried speaking with the man.
The man told the manager, "Your staff is speaking Spanish to the customers. They should be speaking in English."
He then pointed his finger at the staff who were speaking in Spanish as well as at Serrano and Suazo and threatened to call the CEO of the restaurant.
"Every person I listen to — he's speaking it, she's speaking it," the man yelled. "This is America!"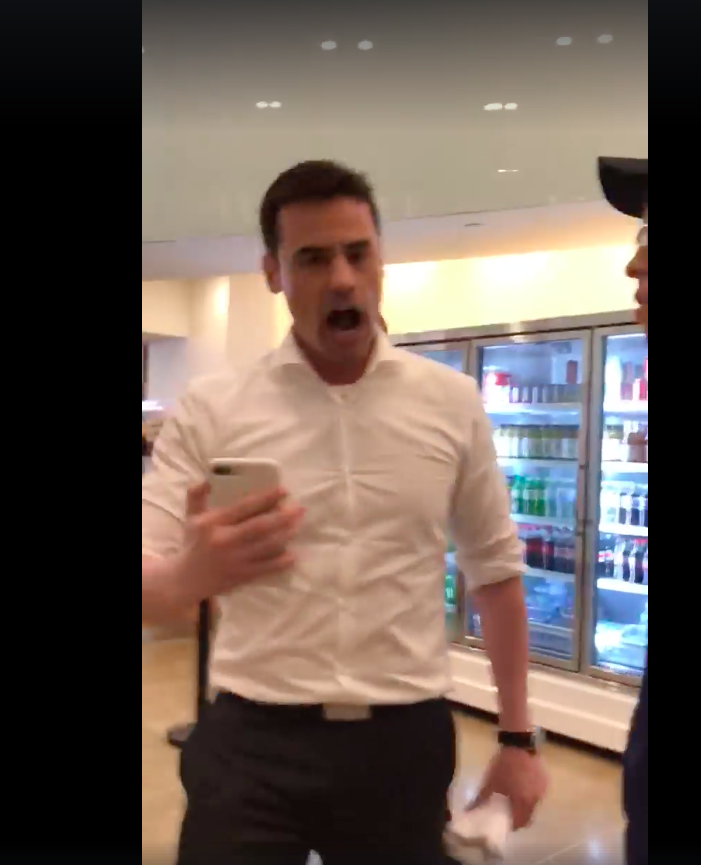 "My guess is they're not documented, so my next call is to ICE to have each of them kicked out of my country," he told the manager.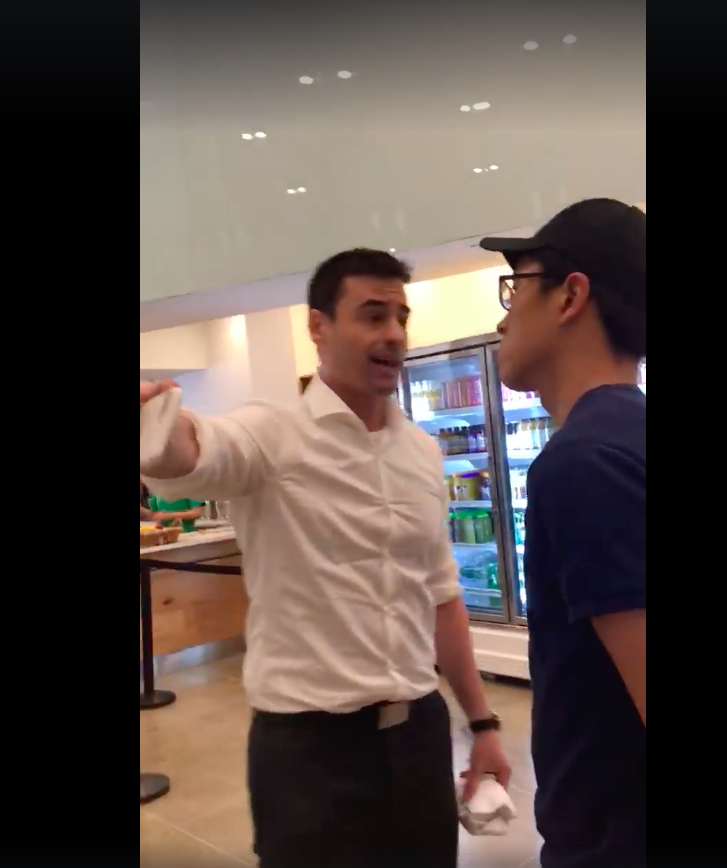 "If they have the balls to come here and live off my money...I pay for their welfare. I pay for their ability to be here. The least they can do is speak English," the man said.
He then looked at Serrano and Suazo and said, "Honey, I'm calling ICE. Maybe you shouldn't eat that sandwich. Today, take a break from the food."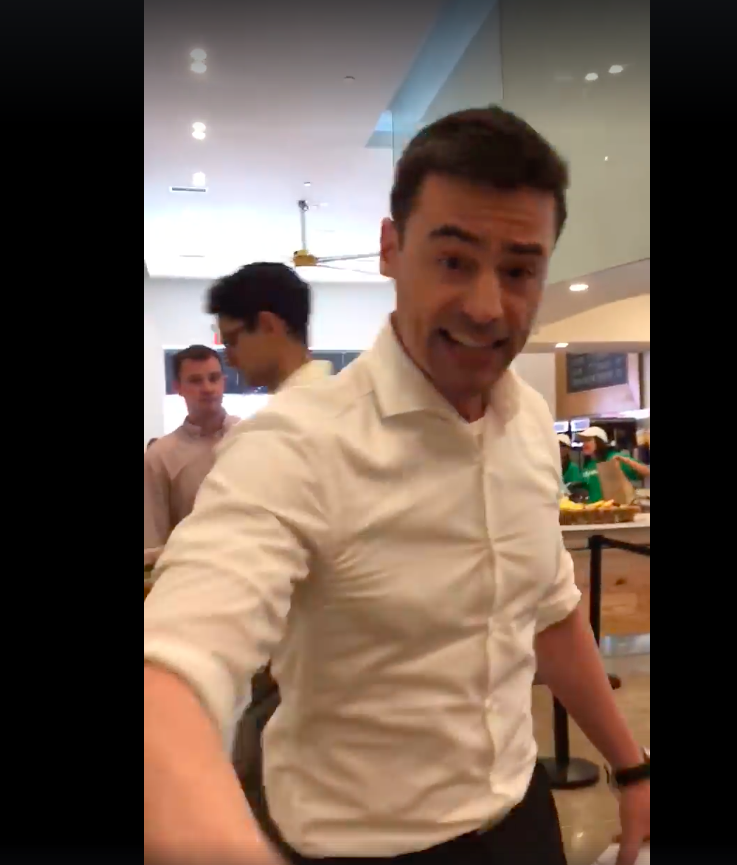 Serrano said that she told the man he was "ignorant" and that she was a US citizen who was born and raised in this country.
She said that after she stopped recording the video, she called 911 and told the operator that the man was being "hostile" and wouldn't leave. At that point, Serrano said the man threw his sandwich and water on the counter and left the restaurant. She said she told the 911 dispatcher that they didn't need a police officer anymore as the man had left.
Serrano, who is Puerto Rican and was born and raised in New York, said she was shocked that this happened. She said she didn't want to blame President Trump for incidents like this, but said that he had "made it okay" for racist people to show their racism.
"It's set the standard," she said.
Deena's husband, Edward Suazo, wrote in his Facebook post, "So my wife and her best friend Just experience what America is becoming!"
He added, "What a big man talking down to couple of women and a helpless employee. I wish someone tells me I can't speak in my native language ! First of all they wasn't talking to you !! Asshole!"
Referring to the man's remarks calling America "my country," Suazo wrote, "My country !! Haha 😆 I love the way people are just throwing that world around lately !! If you love this country this much ! Why don't you put on uniform and protect it !!"
A witness at the restaurant who did not wish to be identified confirmed Serrano's story to BuzzFeed News. The witness said that the man's "only issue" was that people "should not be speaking Spanish in America."
After activist Shaun King shared the video, an editor with A Plus, Isaac Saul, said the man was also seen amongst some Trump supporters at 2017 New York rally to protest Muslim American activist Linda Sarsour.
The "Cancel Sarsour" rally was organized by anti-Muslim activist Pamela Gellar and featured alt-right provocateur Milo Yiannopoulos.
In a video of the rally posted by Saul, the man — wearing a black coat — is seen yelling "you're a fake Jew" at a member of a group of Orthodox Jews who were there to support Sarsour.
In an A Plus report describing the confrontation at the time, Saul wrote that some of the Trump supporters confronted a Haredi rabbi who was part of the Neturei Karta International, "a group of Orthodox Jews who oppose Zionism and the state of Israel."
Saul reported that Trump supporters began chanting "fake Jews" and insulted and berated the rabbi and other Jewish members of the pro-Palestine group.
In the video, the man in the black jacket chanted "you are not a Jew" and said that the rabbi was "pretending to be Jewish." He then identified himself as a Jewish person and said that he had been to Israel twice. He also began chanting Milo Yiannopoulos's name.
Saul told BuzzFeed News on Wednesday that he was certain that the man caught berating the rabbi at last year's rally is the same man seen on video insulting the restaurant staff for speaking in Spanish.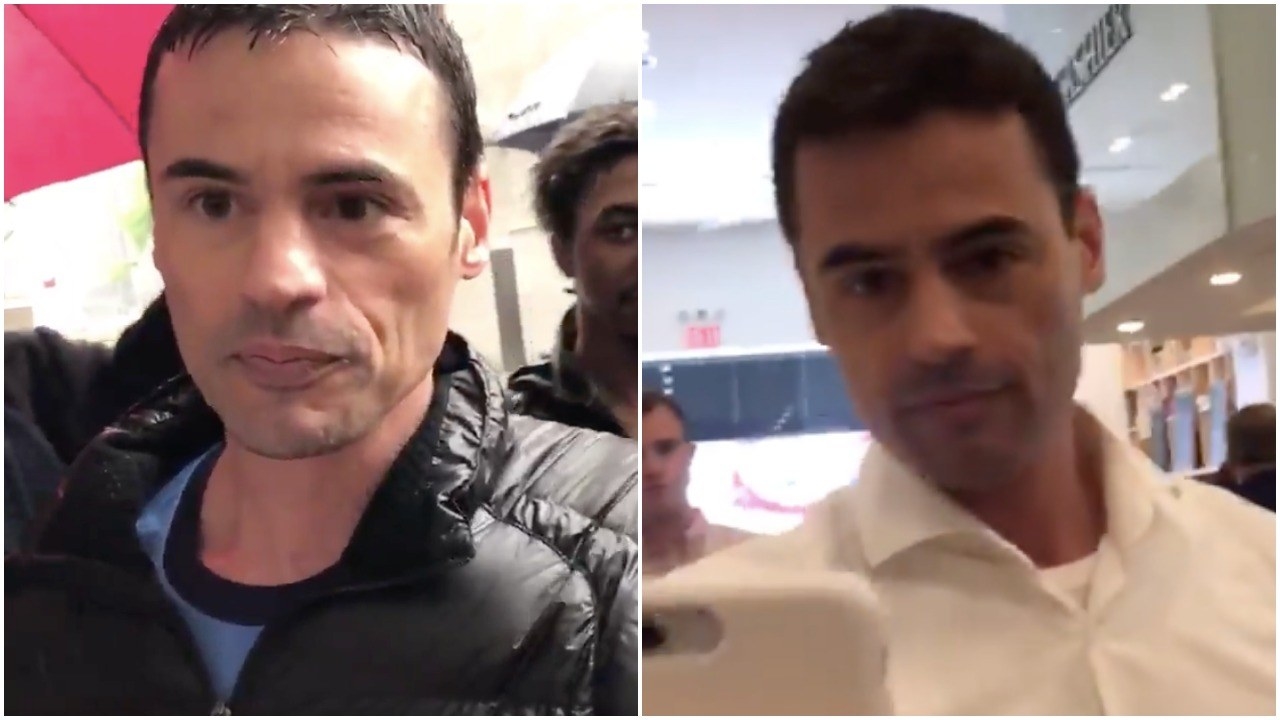 "Unless the man in the Manhattan restaurant has a twin brother who also frequents Midtown, I'd say I'm certain it's the same guy. He looks, sounds, and acts identically to the person I encountered at the anti-Sarsour protest, which I covered for A Plus," Saul said.
BuzzFeed News sent calls and emails to a person who was publicly identified as the man, but is not naming him because his identity could not be independently confirmed.