An Indianapolis Star cartoon about Christine Blasey Ford, who alleges that she was sexually assaulted by Supreme Court nominee Brett Kavanaugh when they were in their teens, provoked outrage on Monday. Many people threatened to cancel their subscriptions to the award-winning newspaper. The cartoon was published in Sunday's print edition of the paper and was also available on its website.
The cartoon — drawn by the newspaper's editorial cartoonist Gary Varvel — depicted Ford making ridiculous demands, including roses and a bowl of green M&M's — ahead of her testimony about the allegations before the Senate Judiciary Committee on Thursday.
The cartoon appeared to allude to the tense back-and-forth negotiations between Ford's lawyers and members of the committee about how the hearing will unfold, including who will question her and how many members of the media will be present.
Ford's lawyers have also demanded that Kavanaugh not be present during her testimony.
Many people felt the cartoon made light of sexual assault.
Some said it mocked sexual assault survivors and Ford's demands for a "fair trial."
"Things like this are why women don't report their assaults," one reader said.
Another reader accused the cartoonist of propagating rape culture.
Many slammed the cartoon as "tone-deaf," "offensive," and "misogynistic."
Several IndyStar readers said they were canceling their subscriptions.
Others said they had previously canceled their subscriptions because of Varvel's cartoons.
Readers called for Varvel to apologize, and some demanded that he be fired.
Readers noted that the IndyStar had played a pivotal role in covering the Larry Nassar sex abuse scandal and said that the cartoon "sullies" the paper's legacy.
"How does the same paper that broke [the story on] Larry Nassar's abuse also publish a misogynistic cartoon mocking a sexual abuse survivor?" the Woman's March Indiana account tweeted.
Many criticized the paper's decision to publish the cartoon.
The newspaper later responded to the outrage in a column by executive editor Ronnie Ramos, who said the cartoon "did not meet [their] high standards."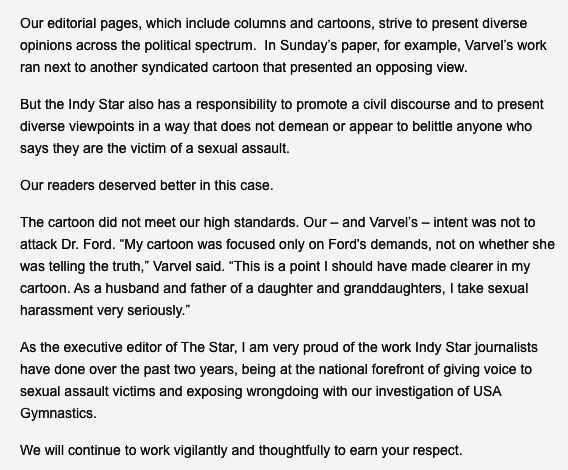 The column also included a response by Varvel who said that he takes "sexual harassment very seriously."
"My cartoon was focused only on Ford's demands, not on whether she was telling the truth," Varvel said. "This is a point I should have made clearer in my cartoon. As a husband and father of a daughter and granddaughters, I take sexual harassment very seriously."
And while most people thought the cartoon was offensive and "horrendously stupid..."
Some defended it as being "spot on."
One person said the cartoon only mocked Ford's "methods" and not sexual assault.