Four people were taken into custody Wednesday in Chicago after a Facebook Live video taken by a black woman appeared to show a white man being tied up, assaulted, and threatened as one of the assailants yelled, "Fuck Donald Trump, fuck white people."
After video of the attack spread on social media, many people — including several prominent members of the alt-right movement — began blaming Black Lives Matter for the attack, leading to the hashtag #BLMKidnapping trending on Twitter on Thursday.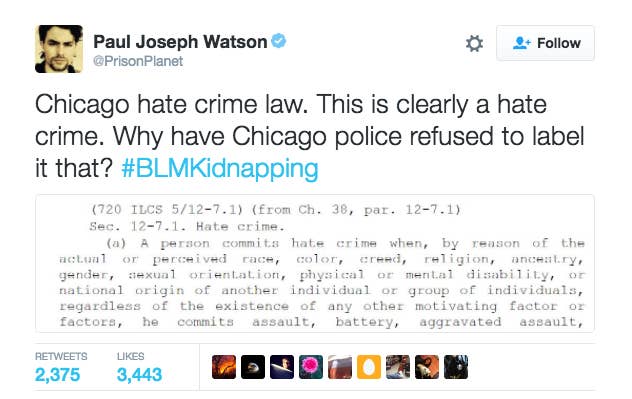 Mike Cernovich, a vocal alt-right member, wrote an article referring to the four suspects as "Black Lives Matter supporters," without offering any evidence of their affiliation with the movement.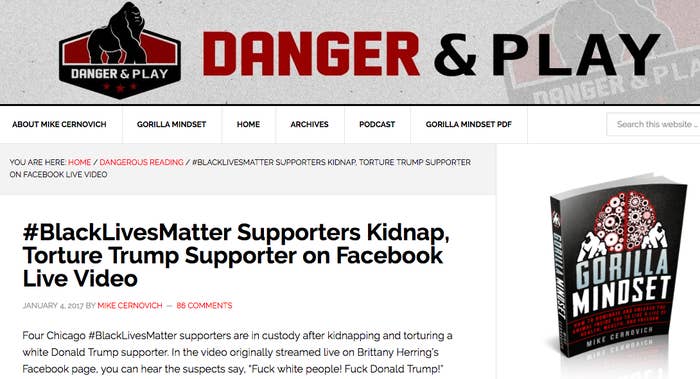 Cernovich also popularized the use of the #BLMKidnapping hashtag on Wednesday night.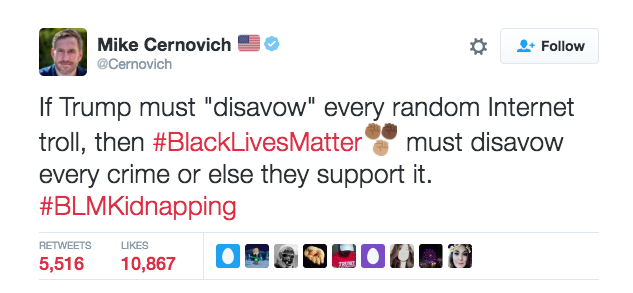 Conservative radio host Glenn Beck also accused BLM "for the beating of a disabled trump supporter" in a tweet to his over 1 million followers.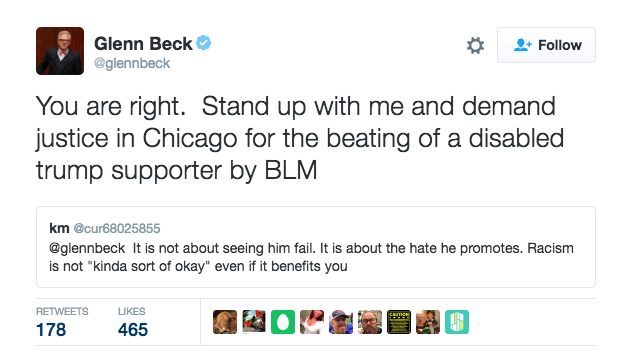 The Chicago Police Department told BuzzFeed News Thursday that they could not confirm if the kidnapping video was tied to any organization.
Despite the present lack of evidence tying the four unidentified suspects to the Black Lives Matter movement, white nationalists such as Richard Spencer continued to use the #BLMKidnapping hashtag.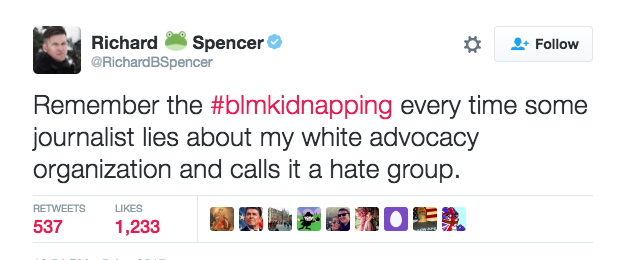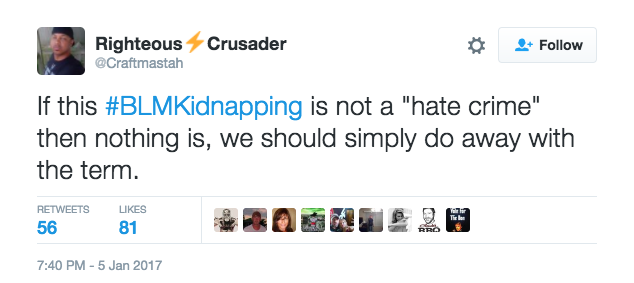 Other popular conservatives also contributed to the hashtag.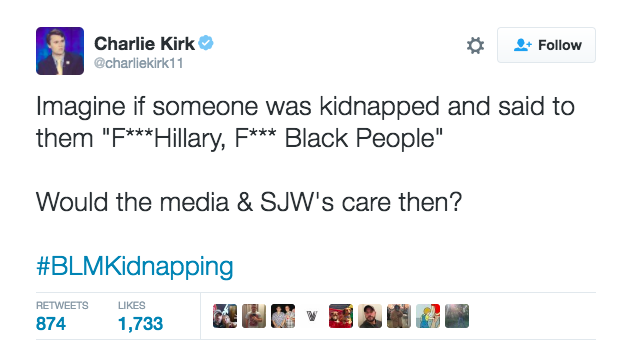 One user, who claimed to be a spokeswoman for "Black Americans For Trump" called Black Lives Matter "the new KKK."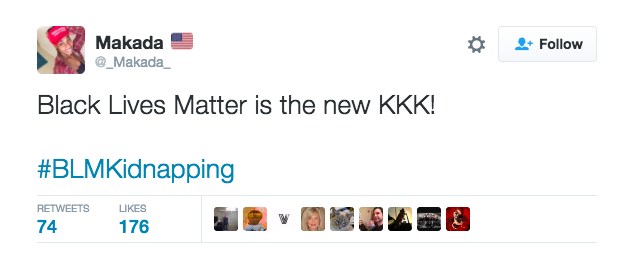 Others criticized the "Democrat response" to the incident, falsely claiming that the "rash of #TrumpHateCrimes have all been hoaxes."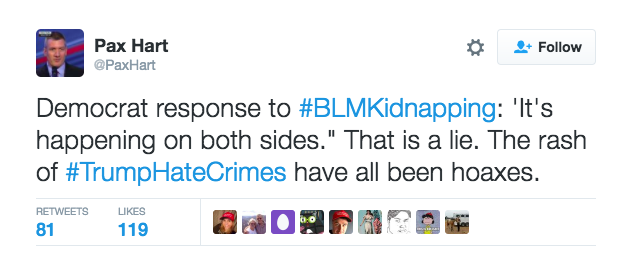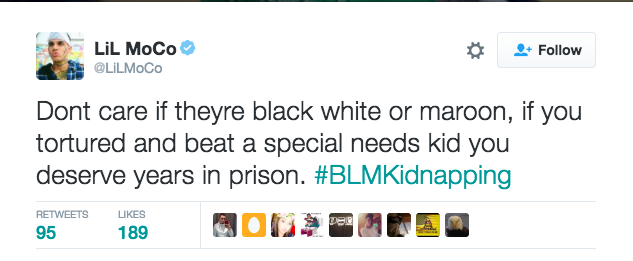 Black Lives Matter activists and supporters used the hashtag in an effort to counter claims that the four suspects were part of the movement.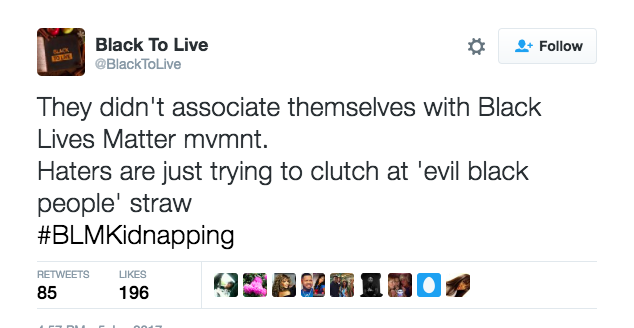 And Black Lives Matter Chicago issued a statement on its Facebook page — shared by the main Black Lives Matter account — saying it "is absolutely perplexing and twisted that people are associating this atrocity with this organization and movement."
Several BLM supporters condemned the attack and urged people not to affiliate it with the movement.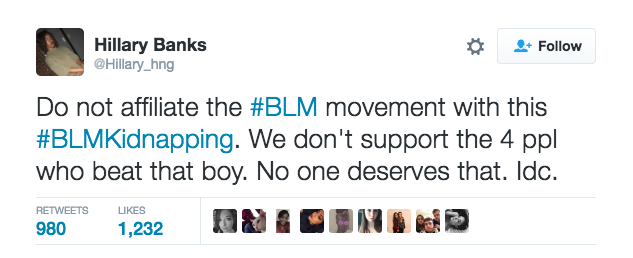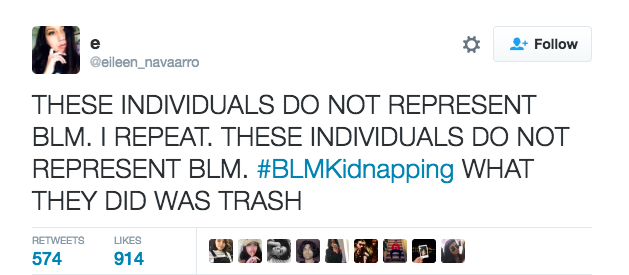 And BLM activist DeRay McKesson said that "the actions being branded by the far-right as the 'BLM Kidnapping' have nothing to do w/ the movement."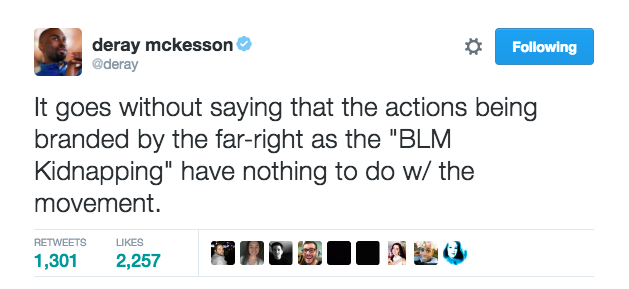 A tweet that appeared to be from McKesson's account, saying, "I didn't see anything wrong with the Chicago Facebook video" was widely shared by a troll account, before McKesson said the tweet was "not real" and "obviously photoshopped."
Others called the hashtag a "white supremacist tactic to implicate and punish ALL Black people."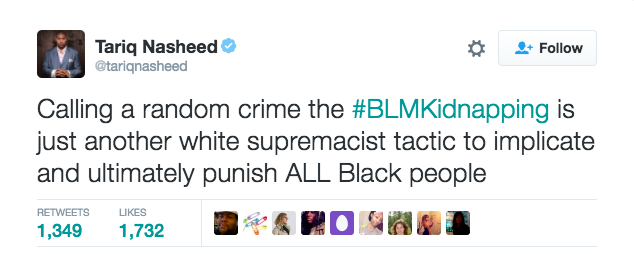 Some called the attack a hate crime, but said it was not because of BLM.