The revelation that Vice President Mike Pence never eats alone with a woman other than his wife has sparked an interesting and rather heated debate on social media.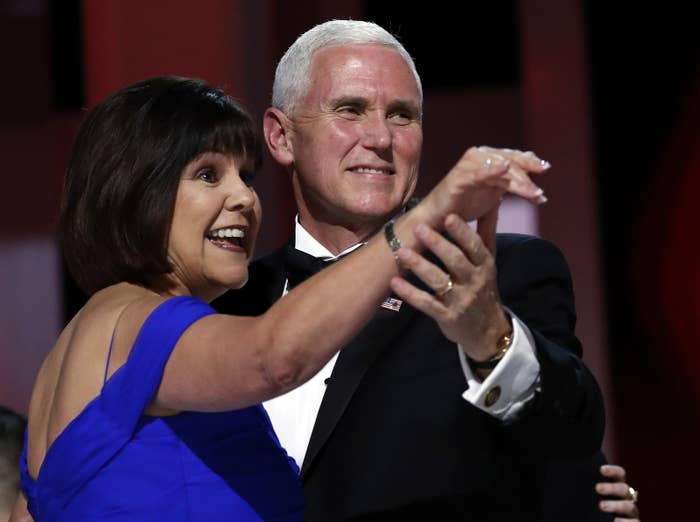 The dining revelation was defended by some as a personal choice made by the Pences, applauded by others as an example of relationship goals, and criticized by detractors as demeaning to women.
As writer Laura Turner explained in a Twitter thread, Pence was following an evangelical Christian practice known as "the Billy Graham Rule."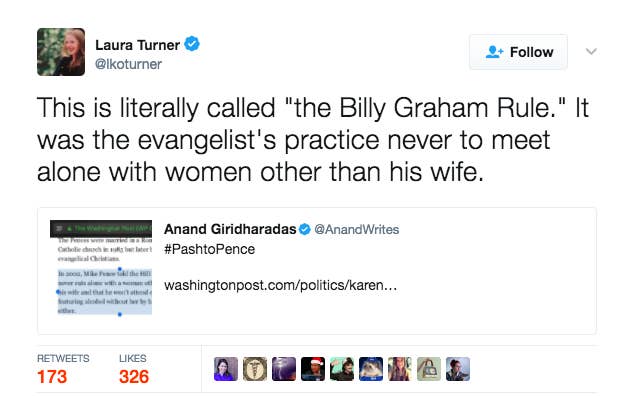 Turner acknowledged that the Billy Graham rule came "from a good place," but she criticized its modern-day interpretation, saying it was "dehumanizing" and reduced women "to sexual temptations."

People also argued that it was hypocritical of Pence to keep his distance from other women while choosing to remain on the Republican presidential ticket after last year's Access Hollywood tape emerged.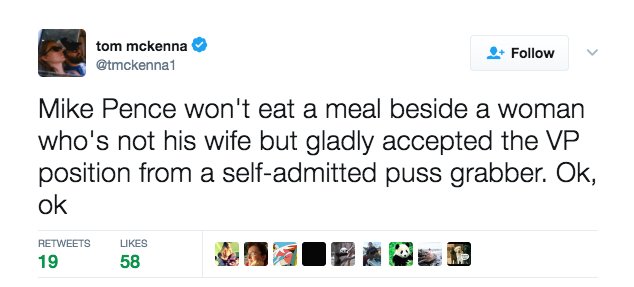 Evangelical blogger Rachel Held Evans said that the men who were defending Pence's adherence to the Billy Graham rule were the same ones who "shrug off Trump's bragging about sexual assault as NBD."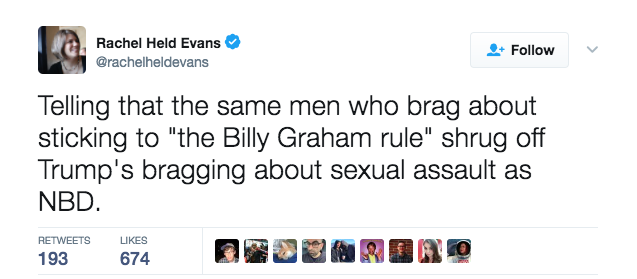 Some also noted that Pence's religious practice could potentially impact the hiring of women in the administration.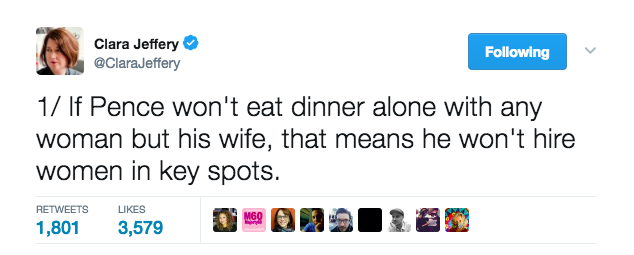 They wondered if Pence would dine with key figures in the White House such as Ivanka Trump and Kellyanne Conway.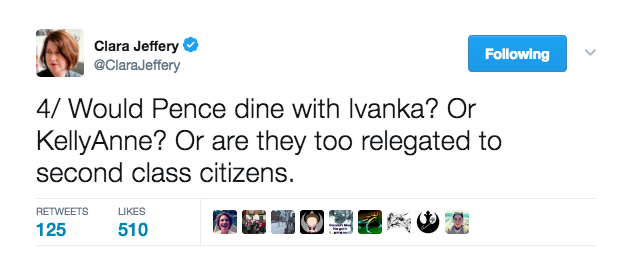 There were also some who interpreted Pence's adherence to his faith as hypocritical when compared with the administration's perceived anti-Muslim sentiment.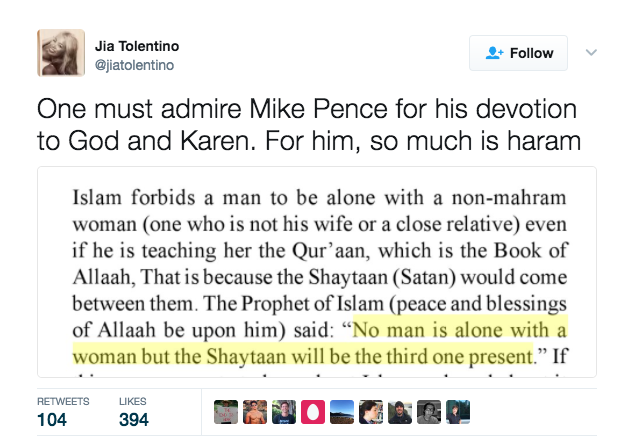 "People's personal choices connected to religious faith must not be criticized. Also, let's ban Muslims," said Atlantic writer Adam Serwer, formerly of BuzzFeed News.

Pence is "waaaay more Muslim than Obama ever was," another mocked.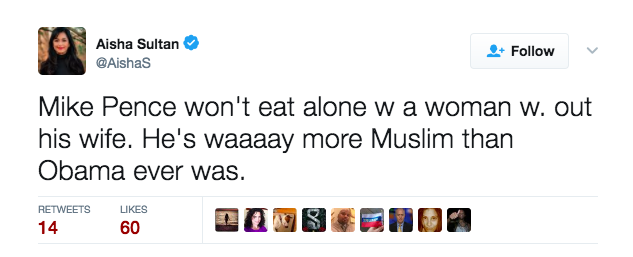 However, many people were quick to jump to Pence's defense, with some saying that he was being needlessly criticized for "being a decent husband."
This person said Pence shouldn't be attacked for "his loyalty to his wife."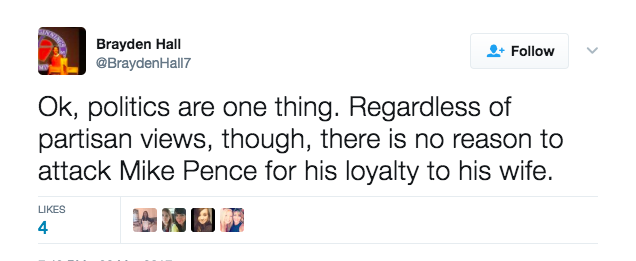 Another was shocked that critics were slamming Pence for wanting to "honor and respect his wife in an environment in which temptation is rampant."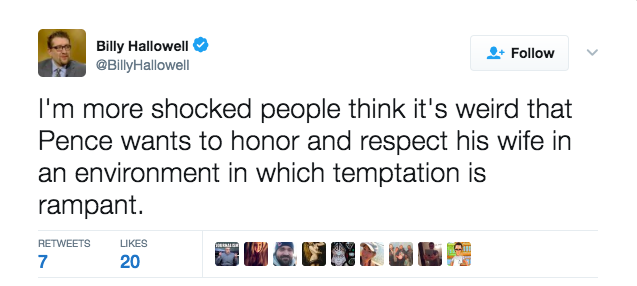 "If this was Obama, the people giving Pence shit for it would be saying 'relationship goals,'" this person said.

Others suggested it was not uncommon for politicians to want to avoid even the appearance of impropriety.

A tweet from Christian columnist Matt Walsh, who questioned why a married person would have any reason to eat alone with a member of the opposite sex, reignited the debate on Thursday.

Several suggested potential reasons why a married person would go out for a meal with a member of the opposite sex.
For "your job," broadcaster Soledad O'Brien said.
"It's 2017, and some men are literally incapable of conceiving of women as friends," one reporter said.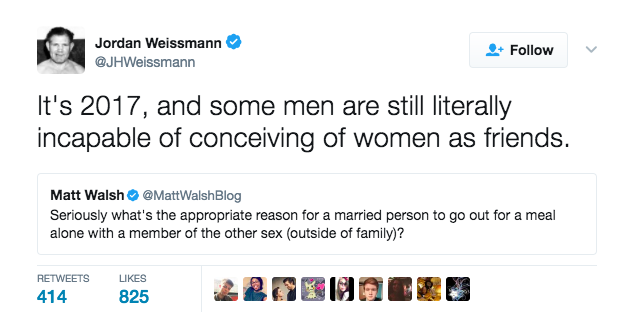 Walsh was also mocked for his opinion that a married person was "inviting an affair" by being good friends with someone of the opposite sex.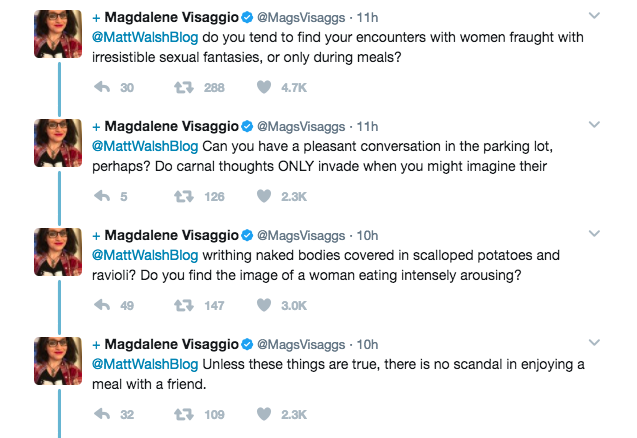 However, several conservatives were quick to defend Walsh.