The Parkland School Shooter's Brother Is Suing Authorities For Allegedly Torturing Him
Zachary Cruz's attorneys allege he was tortured because of what his brother did.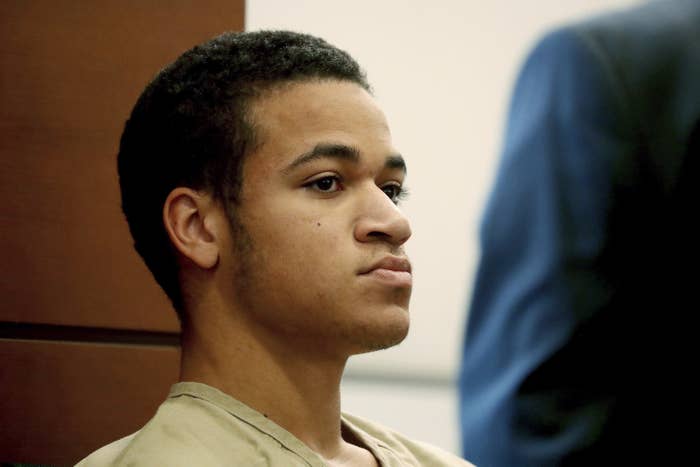 Zachary Cruz is suing authorities in Florida for allegedly torturing and intimidating him while in custody because he is the brother of Parkland school shooter Nikolas Cruz.
Attorneys for Zachary filed a federal lawsuit Thursday, accusing Broward County officials of violating the 18-year-old's constitutional rights "because he is related to a man who committed a most heinous act."

Nikolas Cruz killed 17 students and staff members after opening fire at Marjory Stoneman Douglas High School on Feb. 14.

The lawsuit claims that after Zachary was arrested in March for trespassing at the site of the school shooting, Broward County authorities "conspired to hold him in custody, reset his bond to an excessive $500,000, and then engaged in a campaign of intimidation and torture once he was in the Broward main jail facility."

The lawsuit names Judge Kim Theresa Mollica, State Attorney Michael Satz, Assistant State Attorney Sarahnell Murphy, and Broward County Sheriff's Capt. Sherea Green, along with three unidentified officials of the Broward County Sheriff's Office.
His attorneys have accused Judge Mollica of imposing a "grossly disproportional and unconstitutional" $500,000 bond. The attorneys alleged in a statement that jail officials then used sleep deprivation tactics against Zachary, including "the use of intimidating and harassing behavior by guards, the use of a restraint vest 24 hours per day, and the use of 24-hour intense lighting."
The attorneys said that Zachary then agreed to an "unconscionable" plea deal offered only to escape this "coercive" treatment.
As part of the plea deal, he is required to undergo mental health evaluation, remain a mile away from the Stoneman Douglas High School, is not permitted to set foot on any school campus where he is not enrolled, and is also forbidden from having any contact with his brother.
The plea deal, the lawsuit said, makes it difficult for Cruz to finish high school and cuts him off from his hometown and friends he made while attending Stoneman Douglas.
The lawsuit said Zachary was "an ordinary teenage boy" whose life has been "marred by both tragedy and stigma."
He was grappling with the death of his adoptive mother in 2017 when his older brother perpetrated the school shooting, the lawsuit said.
"In an instant, Cruz went from a child suffering a personal tragedy to the brother of a mass shooter, feared and reviled for the family he was born into," the lawsuit said.
Zachary was arrested again Tuesday for allegedly violating his probation by driving a car within 25 feet of another school in the area where he was not enrolled, and for driving without a valid driver's license. He was expected in court Thursday afternoon for a hearing related to the alleged probation violation.
Read the entire lawsuit here:
Download PDF