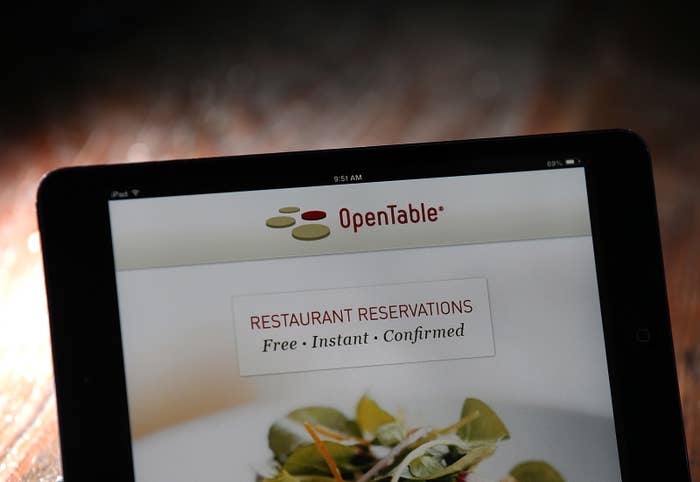 OpenTable, the country's leading online reservation service, fired an employee who made hundreds of fake reservations at restaurants that used OpenTable's rival service — Reserve — in an attempt to hurt the competition.
The OpenTable employee used Reserve to make around 300 fake reservations at 45 restaurants that led to hundreds of no-shows for those restaurants over a three-month period, Reserve's CEO Greg Hong and COO Michael Wesner told BuzzFeed News on Monday.
The no-shows were equivalent to 1,200 to 1,300 diners.
The OpenTable employee's actions were an attempt to "cast negative light on Reserve in a competitive landscape," Wesner said.
According to Eater Chicago, which first reported the story, the employee intended to use the no-shows in their sales pitches to show OpenTable was a better product than Reserve.
In emails provided to BuzzFeed News, OpenTable confirmed that the "rogue" employee had "acted alone" and was fired for making false reservations in Chicago restaurants over the last several months.
"We recently discovered a rogue OpenTable employee who made false reservations at 40-50 Chicago restaurants using a competitor's platform," OpenTable said in a March 2 email to its restaurant customers.
"This resulted in a few hundred no-shows over the last several months. While this only affected restaurants using that competing platform, we wanted to make you aware that we immediately terminated this employee because we have a zero-tolerance policy for any unethical behavior," the email said.
The former employee was not in a sales function and had no managerial duties, OpenTable said in a letter to the restaurant community on Monday. The employee was fired within 48 hours of being investigated, the company said.
"This goes against everything we stand for, our ethical culture and our operating principles here at OpenTable," the company said in an internal email. "Harming any restaurant's business is antithetical to who we are. We must endeavor to help ALL restaurants grow and thrive; even the ones that aren't our customers."
OpenTable said it would be "reaching out individually to Reserve's restaurants to make this right."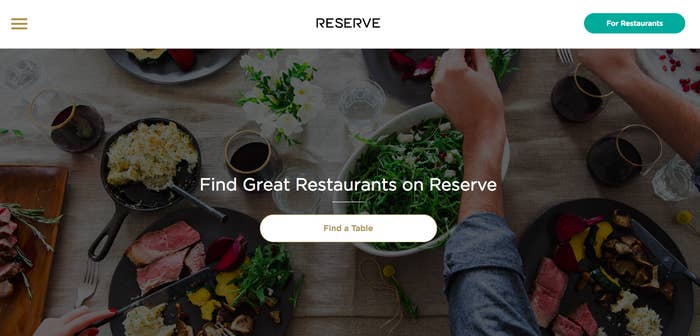 Reserve said it began an investigation after the company noticed anomalies in their data and after getting feedback from restaurant partners about several no-shows, Hong said.
During the investigation, Reserve discovered that an OpenTable employee was using different email addresses from a few different locations to make hundreds of fake reservations through Reserve. Many of these were bookings for large parties, Hong said.
The number of fake reservations peaked on Valentine's Day, hurting restaurants with no-shows on one of the busiest days of the year.
Reserve reached out to OpenTable on Feb. 21 to bring the issue to their attention. The employee was fired the next day, Hong said.
"We certainly take OpenTable at its word and appreciate their commitment to helping ensure this doesn't happen," Wesner said.
However, he added that he was disgusted and disappointed by the actions of OpenTable's employee, not only because the employee tried to hurt Reserve, but also because the actions impacted restaurant workers "who rely on tips and gratuity to sustain themselves and their families."
Wesner and Hong said that many of their restaurant partners who had switched from OpenTable to Reserve had expressed frustration with how "incredibly difficult" OpenTable made the situation.
"If you're the biggest guy on the block, you're supposed to lead by example," Peter de Castro, co-owner of Tavern on the Park, which was targeted by the scheme after it switched from OpenTable to Reserve, told Eater Chicago.
"Why would they stoop to the level of undermining the competition and hurting the restaurants that went to that competition?" de Castro said.