Update: March 3, 1:47 p.m. ET — The Georgia Department of Corrections formally postponed the scheduled execution of Kelly Gissendaner and the scheduled March 10 execution of Brian Terrell "out of an abundance of caution."
In a press release the DOC said both Gissendaner's and Terrell's executions were postponed while the drugs planned for use in last night's scheduled execution are analyzed.
The sentencing courts will issue new execution orders when the Department is prepared to proceed, the release said.
In a supplemental briefing to the Supreme Court on Tuesday, Gissendaner's lawyers detailed the confusion surrounding her scheduled execution.
Update: March 3, 7:45 a.m. ET – The execution was postponed due to concerns about the potency of the drug used, pentobarbital. One test said it was at an acceptable potency, but other tests found it was too cloudy, the AP reported.
Update: March 2, 11:10 p.m. ET — The execution of Kelly Gissendaner was postponed, reporters at the prison in Georgia tweeted. There has been no ruling from the Supreme Court on Gissendaner's request.
Update — March 2, 6:35 p.m. ET: The Parole Board denied Kelly Gissendaner's second request for clemency, and her lawyers have asked the Supreme Court to step in and stop tonight's scheduled execution.
"After carefully considering the second clemency application on behalf of Gissendaner, the Board has voted to let the decision of February 25," according to a statement from the Georgia Parole Board.
Meanwhile, Gissendaner's lawyers have appealed the Georgia Supreme Court's decision to deny her a stay of execution, asking the U.S. Supreme Court to hear her appeal and stay her execution in the meantime.
Earlier Monday, the Georgia Supreme Court ruled against a stay, 5—2.
Update at 7:10 p.m. - Georgia officials have opposed Gissendaner's U.S. Supreme Court request.
Update — March 2, 10:20 a.m. ET: Nearly 50,000 people have signed a petition urging Gov. Nathan Deal to stop Kelly Gissendaner's execution, scheduled for Monday.
Gissendaner, who was sentenced to death for her role in planning her husband's murder with her boyfriend, is scheduled to be executed Monday night after the State Board of Pardons and Paroles denied her clemency last week. Her execution, originally scheduled for Feb. 25, was delayed due to a winter storm.
Several clergy are urging the governor to stop her execution on the grounds that she had "profoundly transformed" in prison and had become a "theologian and pastoral figure to many."
More than 48,000 people had signed the petition as of Monday asking Deal to commute Gissendaner's sentence to life in prison.
Gissendaner's lawyers requested the Board of Pardons and Paroles on Monday for a 90-day stay of execution and to reconsider her clemency request on the grounds that the Board did not hear critical evidence that was missing from last week's hearing.
In an emergency request, the lawyers said the Board did not hear the testimony of many "vital witnesses" from the Department of Corrections.
They said that the DOC employees' perspective would "would have left no doubt that a grant of clemency is supported in this case."
According to the application, the witnesses did not come forward because of their role as DOC employees although the rules say "they are permitted to speak to counsel in capital clemency proceedings if desired." Gissendaner's lawyers said the reality of this rule was "less than clear."
They named DOC employees who would be able offer perspective on Gissendaner's behavior as an inmate and her rehabilitation.
Gissendaner's lawyers filed an appeal to the 11th Circuit Court of Appeals to stop her execution claiming that the state's use of a non-FDA-approved lethal injection drug violated her constitutional rights, NBC News reported.
After the court denied their request on Monday, her lawyers appealed to the U.S. Supreme Court.
Update — Feb. 25, 12:23 p.m. ET: Georgia postponed the execution of Kelly Gissendaner who was set die by lethal injection tonight.
The Department of Corrections announced that Gissendaner would be executed on Monday, March 2, 2015, at 7 p.m.
Update — Feb. 25, 2014 9:50 a.m.: The State Board of Pardons and Paroles denied clemency to Kelly Gissendaner.

Gissendaner, the only woman on Georgia's death row, is set to be executed today for her role in the 1997 murder of her husband.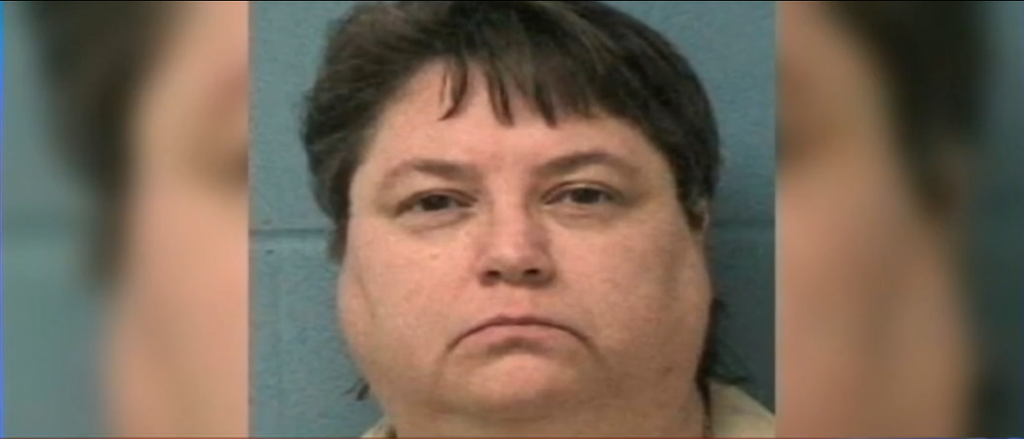 If executed, she will be the first woman put to death in the state since 1945.
The Supreme Court denied her appeal in October 2014, and she concluded all her direct appeal proceedings.
Gissendaner had a clemency hearing before the State Board of Pardons and Paroles on Tuesday.
In her clemency application, Gissendaner said she was "deeply remorseful" and accepted full responsibility for the role in her husband's murder.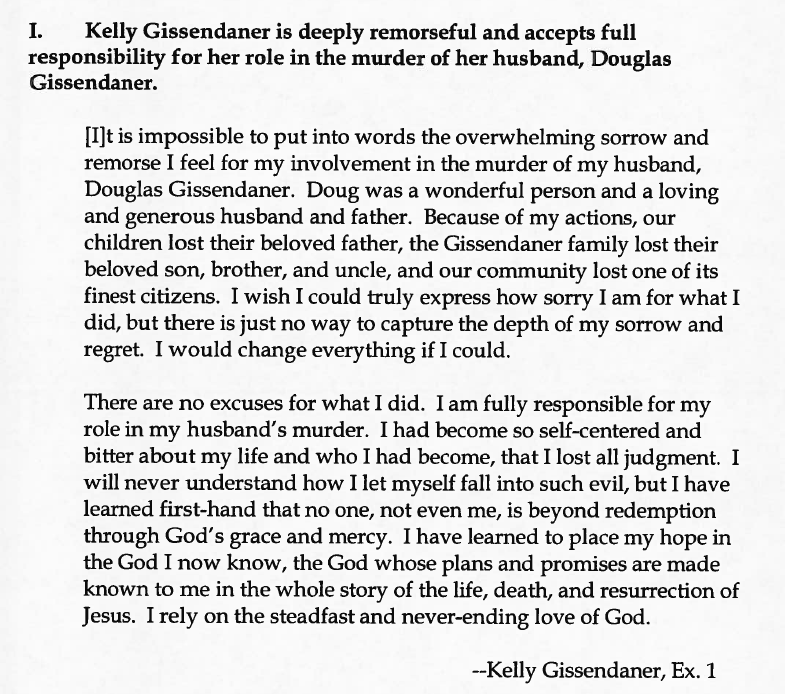 She also sought clemency on grounds of her "positive impact" within and outside the prison and that she had shown a "commitment to redemption through spiritual growth."
Her application said that her children, who were "irreparably harmed" by their father's murder would be further harmed by their mother's execution.
Her petition also said that she was the only one sentenced to death for her role in the murder despite the fact that her co-defendant was sentenced to life and was eligible to seek parole in eight years .
Gissendaner has requested her last meal to consist of two Whoppers with cheese, cornbread, side of buttermilk, two large orders of french fries, cherry vanilla ice cream, popcorn, salad with a cheese and buttermilk dressing, and lemonade.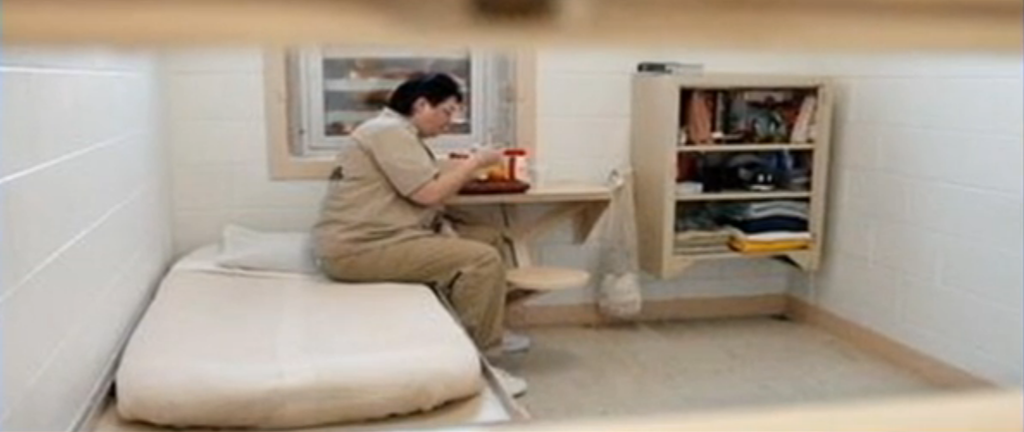 Gissendaner was sentenced to death in 1998 for plotting the death of her husband, Douglas Gissendaner, with her boyfriend.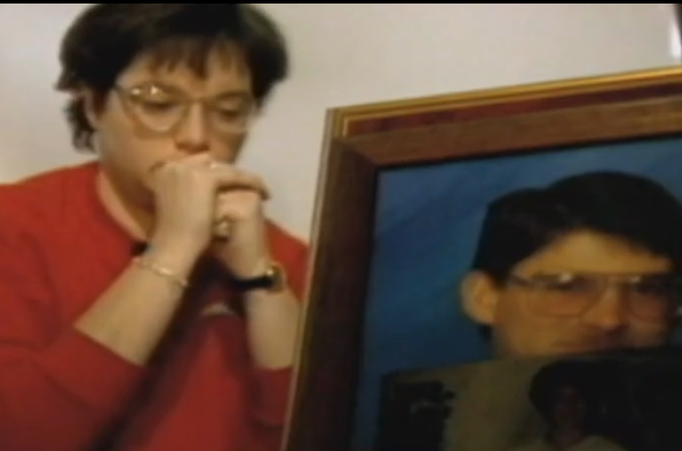 She was convicted of malice murder for coaxing her boyfriend, Gregory Owen, to kill Douglas for his insurance money and to get rid of him, according to court documents.
On Feb. 7, 1997, Gissendaner drove Owen to her house, gave him a nightstick and a hunting knife to kill her husband and then went to a nightclub with some friends. When Douglas arrived at his home, Owen ambushed him with the knife and drove him to a deserted location. There, Owen struck Douglas at the back of the head with the nightstick and then stabbed him repeatedly in the back and neck. He took Douglas' watch and wedding ring to make it look like a robbery, as per Gissandaner's instructions.
She later arrived at the woods to make sure her husband was dead. Owen then set fire to Douglas' car with a can of kerosene Gissendaner brought with her.
She reported her husband missing to the police the next day and appeared on television news asking for information on him. Douglas' body was found nearly two weeks after the murder and his remains were ravaged by animals.
Gissendaner was arrested on Feb. 25 after Owen confessed his involvement in the murder and implicated her.
Owen agreed to testify against Gissendaner and received a life sentence. Gissendaner refused to accept the state's offer of life with no parole for 25 years and insisted on her right to a jury trial. She was found guilty and sentenced to death.