Ricky Jackson will walk free on Friday after spending 39 years of his life in prison for a murder he didn't commit.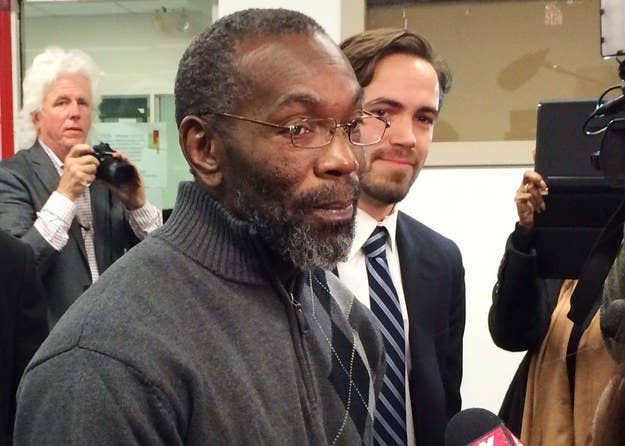 Jackson, 57, is the longest-held U.S. prisoner to be exonerated, Reuters reported.
A Cleveland judge dropped all charges against Jackson on Nov. 17 and he will be released on Friday, Nov. 20.
Jackson and two other men were convicted for the 1975 death of a money-order collector at a Cleveland grocery store after 12-year-old Eddie Vernon testified that he witnessed the killing. No other evidence linked the men to crime, but they were sentenced to death. Jackson's death sentence was later vacated and the death penalty was declared unconstitutional in Ohio in 1978.
On Tuesday, Cuyahoga County Prosecutor Timothy McGinty told Judge Richard McMonagle that the case against Jackson had fallen apart after Vernon recanted his testimony this week, The Cleveland Plain Dealer reported.
Vernon, now 53, told the prosecutor that he had never witnessed the crime as a child.
"Everything was a lie," he said. "They were all lies."
Prosecutors dismissed the case, saying the state "concedes the obvious."
"It's over," Jackson said while crying on the phone with a family member. "I'm coming home. I'm coming home."
Jackson thanked his attorneys from the Ohio Innocent Project, which had been seeking a new trial after the Cleveland Scene investigated the case in this 2011 story and questioned Vernon's testimony.
The Innocence Project filed a motion for a new trial after Vernon confessed to his pastor that he was on a school bus at the time of the killing.
This week, Vernon told prosecutors that he lied to authorities because he thought he was "doing the right thing."
Vernon testified that he was on a bus with other school children when the crime took place and all he heard were two pops that sounded like firecrackers. Based on what a friend told him, Vernon told authorities at the scene that Jackson and two brothers, Wiley and Ronnie Bridgeman, killed Harold Franks, the money-order collector.
"I told the officer, 'I know who did it," Vernon said.
He added that Cleveland police officers fed him information about the crime after he told them he saw it.
"All the information was fed to me," Vernon testified this week. "I don't have any knowledge about what happened at the scene of the crime."
Vernon said he hid the truth for years because detectives threatened to put his parents in prison for perjury if he said what actually happened.
Wiley Bridgeman is still in prison, while his brother Ronnie was released after serving more than 25 years. Their attorneys are expected to ask prosecutors to drop the case based on Vernon's recantation.
"I didn't expect this to happen,'' Jackson said. "I really didn't.''
He told a family member: "Be here to get me Friday, please. Let everybody know.''