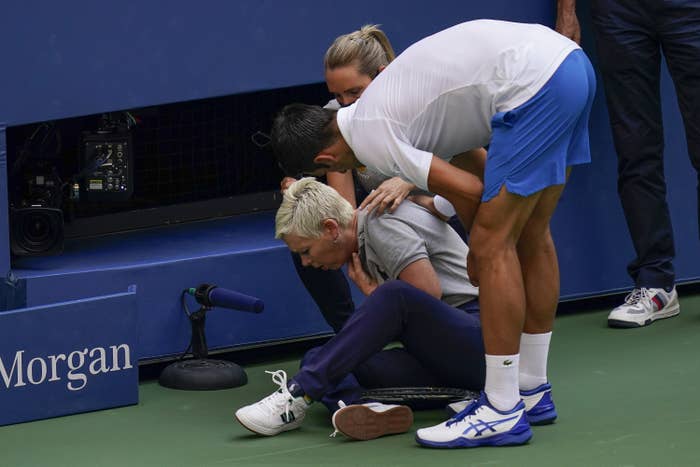 The world's No. 1 tennis player, Novak Djokovic, is out of the US Open after he accidentally struck a line judge with a tennis ball that he hit in frustration on Sunday in New York City.
The Serbian player was defaulted from his fourth-round match against Pablo Carreño Busta, losing his chance at winning his 18th Grand Slam title.
Djokovic, who had just lost his service game against Busta in the first set, appeared to be frustrated when he pulled out a ball from his pocket and smacked it behind with his racket.
The ball struck a line judge in the neck, and she fell to her knees, according to videos shared on social media.
Djokovic quickly walked over to check on her. The line judge reportedly left the court.
After a long discussion with officials, including the tournament referee, Djokovic was defaulted from the match, the Associated Press reported.
Djokovic later apologized for his behavior in an Instagram post, saying, "This whole situation has left me really sad and empty."
He said the tournament had told him the line judge was feeling okay after the incident.
"I'm extremely sorry to have caused her such stress. So unintended. So wrong," Djokovic wrote. "As for the disqualification, I need to go back within and work on my disappointment and turn this all into a lesson for my growth and evolution as a player and human being."
Djokovic's ouster from this year's US Open means that there are no remaining male players in the tournament who hold any Grand Slam singles titles, the AP reported.