Two people in California filed a lawsuit against Starbucks Wednesday for allegedly cheating customers by underfilling its lattes.
Siera Strumlauf and Benjamin Robles, the two California residents who filed the lawsuit, accused Starbucks of violating the state's consumer laws and of "negligent misrepresentation and fraud."
The class-action lawsuit, filed on behalf of purchasers of Starbucks lattes, says that contrary to what its menu represents, a tall is not 12 fluid ounces, a grande is not 16 fluid ounces, and a venti is not 20 fluid ounces.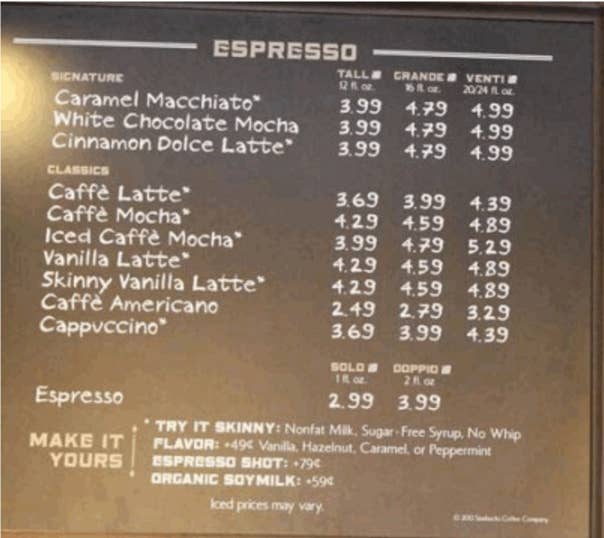 The lawsuit is on behalf of purchasers of "Starbucks Caffè Lattes, Flavored Lattes, Pumpkin Spice Lattes, Egg Nog Lattes, Skinny Lattes, Skinny Flavored Lattes, Vanilla Lattes, and Skinny Vanilla Lattes."
"Starbucks Lattes are approximately 25% underfilled," the lawsuit said.
"By underfilling its lattes, thereby shortchanging its customers, Starbucks has saved
countless millions of dollars in the cost of goods sold and was unjustly enriched by taking payment for more product than it delivers," the complaint said.
Strumlauf was a regular buyer of the grande-sized plain and vanilla-flavored latte at her local San Francisco Starbucks. The lawsuit said that she would have not purchased the grande lattes for approximately $3.95 had she known that they were not, in fact, 16 fluid ounces.
Robles too, who purchased a grande-sized plain Starbucks latte in January 2015, claimed in the complaint that he would have not bought it had he known that it was underfilled.
A Starbucks spokesperson told BuzzFeed News in a statement that the company was aware of the lawsuit and said it was "without merit."
"We are proud to serve our customers high-quality, handcrafted and customized beverages, and we inform customers of the likelihood of variations," the statement said.
A lawyer for the plaintiffs did not immediately respond to BuzzFeed News' request for comment.
Starbucks' standard recipe — which was created to save on the cost of milk — results in beverages that are "plainly underfilled," according to the complaint.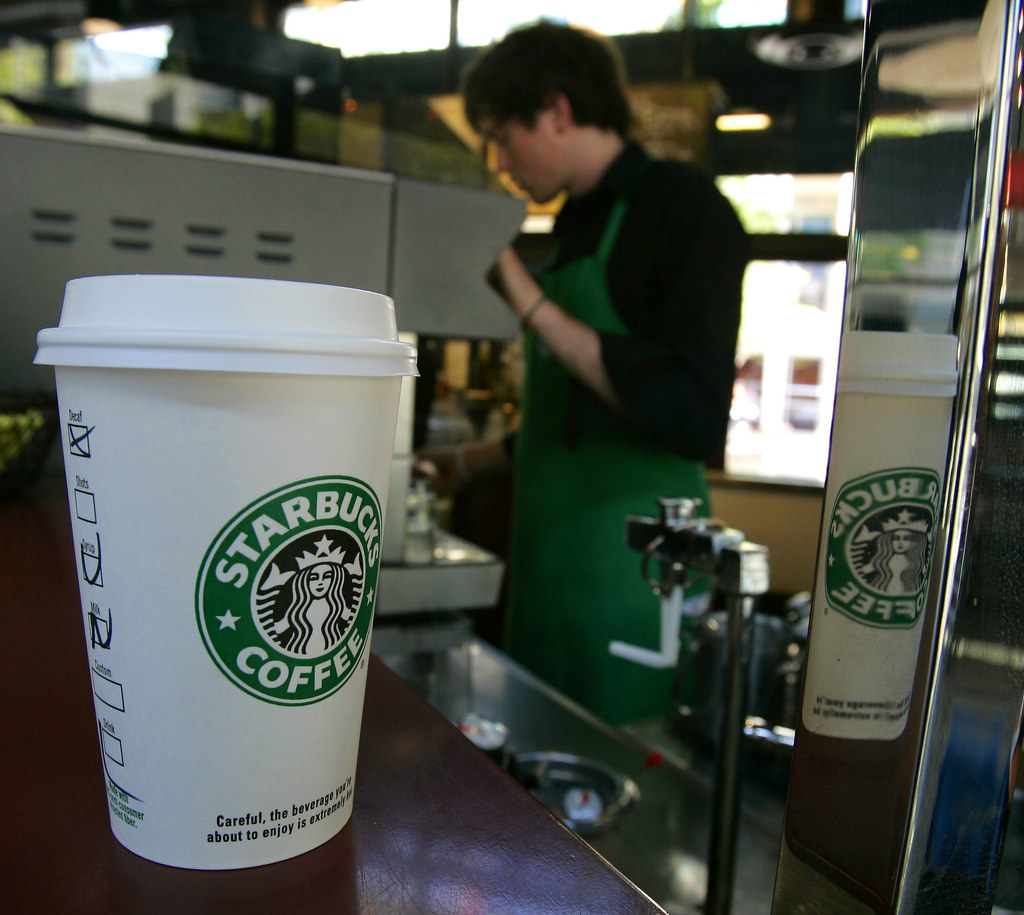 The complaint said that the etched "fill to" lines in the pitchers that Starbucks baristas fill with steamed milk — to correspond to to the size of the customer's order — are too low by several ounces. It also said that the serving cups used for Starbucks lattes are "simply too small to accommodate the fluid ounces" listed on its menu.
For example, the serving cup used for Grande beverages holds exactly 16 fluid ounces, when completely full. However, Starbucks' standardized recipe for its Grande Latte calls to fill the serving cup up to "1/4 inch below cup rim." Thus, when used in conjunction with its standardized recipes, Starbucks' serving cups do not permit 12 ounce, 16 ounce, and 20 ounce Lattes.
¯\_(ツ)_/¯