A woman whom two voters identified in an alleged election fraud scandal in a controversial North Carolina US House of Representatives race, denied to BuzzFeed News that she did anything improper, her first public comments since the issue made national headlines.
Lisa Britt, who also goes by Lisa Gray, told BuzzFeed News that she did not visit voters' houses to collect absentee ballots on behalf of the Republican candidate, Mark Harris, who currently leads his Democratic opponent, Dan McCready, by 905 votes.

Britt's comments come after Dwight Sheppard, a fire inspector in Bladen County, told a local television station last week that residents had informed him that Britt had collected their absentee ballots, and after Datesha Montgomery also told a local station that Britt had collected her unsealed absentee ballot. Both Sheppard and Montgomery filed affidavits with the North Carolina State Board of Elections saying improper voting practices took place, but do not name Britt in the statements.
Third parties are not allowed to collect absentee ballots under North Carolina law.
When reached by phone on Tuesday, Britt told BuzzFeed News, "I haven't done anything like that. I haven't collected any absentee ballots."
And data released by the state Board of Election and Ethics Enforcement on Tuesday show that Britt did not turn in any absentee ballots to officials.
The North Carolina Board of Elections is investigating the results of the 9th Congressional District election between Harris and McCready after allegations of "irregularities and fraudulent activities" relating to absentee by-mail ballots surfaced. The board could decide to hold a new election. The Bladen County district attorney said Tuesday it is also investigating, along with the federal government.
The man at the center of the controversy is McCrae Dowless, a political operative with a criminal past, who was contracted by a political consulting firm to get out the vote for Harris. Dowless has denied wrongdoing to the Charlotte Observer and didn't return requests for comment.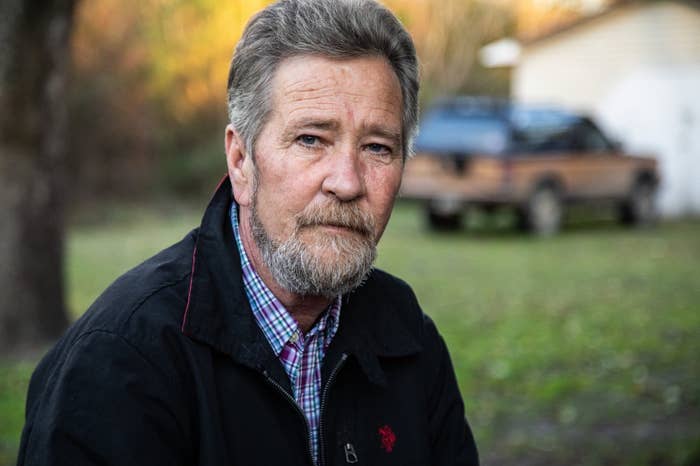 Dowless is alleged to have employed a team of people who visited voters likely to vote for Democrats and collected absentee ballots from them.
Some of the absentee ballots were then either allegedly falsified or never submitted, according to affidavits from several voters and election workers that were sent to the state election board by an attorney for the North Carolina Democratic Party.
The Washington Post reported on Monday that Jeff Smith, who owned the building where Dowless set up his operation, said he had dozens of workers who would "collect them and promise to turn them in."
The Bladen County Board of Elections on Monday released a log of in-person deliveries to the Bladen County Board of Elections of absentee ballot request forms from Aug. 22 through Oct. 30.
The log shows Dowless submitted requests for 592 absentee ballots out of more than 1,300 requests in that time frame. Two of the requests were "re-issued." A woman named Jessica Dowless submitted 185.
It is unclear how many of Dowless's requests were granted and how many ballots were returned or never cast.
Along with ballot submissions, the witnessing of absentee ballots being filled out is also in question in the race. Each absentee vote needs the signature of two witnesses.
Britt told BuzzFeed News she did witness absentee ballots being completed. "Yes, I witnessed them — what's wrong with that? It isn't illegal," she said, before hanging up.
Britt signed as a witness on 44 absentee ballot envelopes, along with a group of other witnesses, some of whom appear to be related to Dowless.
Copies of more than 160 absentee ballots flagged as having common signatures were provided to BuzzFeed News. They show that a handful of people served as witnesses on absentee ballots dozens of times — some having signed their name more than 40 times. This is unusual.
Britt's address on the absentee ballots is the same address as that of Sandra Dowless, who was also a witness on 10 absentee ballot envelopes. Sandra Dowless appears to be Britt's mother, according to their social media accounts, while McCrae Dowless is Britt's stepfather, Popular Information reported.
Sheppard, the voter who filed a complaint, told WECT that several residents of Bladen County told him that a woman — whom he believes was Britt — went door-to-door in Bladen County to collect absentee ballots from mostly black voters. He said Britt worked for Dowless.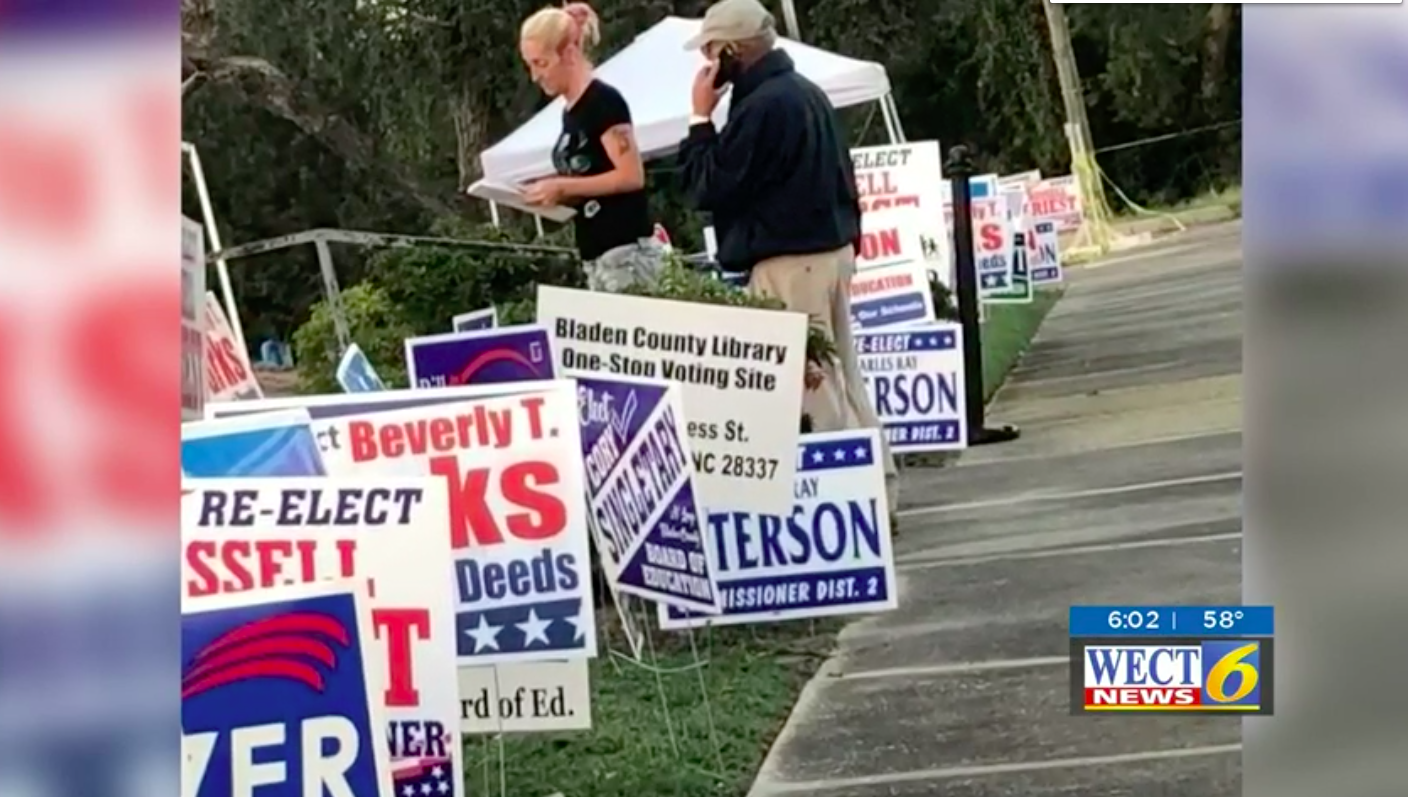 Montgomery, another voter who submitted an affidavit to the state election board, said that a "young whit [sic] woman" visited her on Oct. 12 and asked for her absentee ballot after telling her that she was collecting people's ballots in the area.
Montgomery filled out two names on the ballot, Hakeem Brown for sheriff and Vince Rozier for Board of Education, both of whom are Democrats.
The woman told Montgomery that the other names weren't important, and that she would finish the ballot for Montgomery, according to the affidavit. Montgomery said she signed the ballot, but it was not sealed when the woman took it from her.
"I signed it and I didn't seal it and she said she would seal it herself," Montgomery told WECT. "She told me she had to go to church and that she would come back later and show me that it was sealed. She never came back."
The ballot was never submitted, and Montgomery had to vote in person.
When WECT showed Montgomery a photo of Britt — provided to them by Sheppard — she said that Britt was the woman who collected her absentee ballot.

Sheppard also identified Britt as the woman who collected absentee ballots from residents after BuzzFeed News provided a photo of her.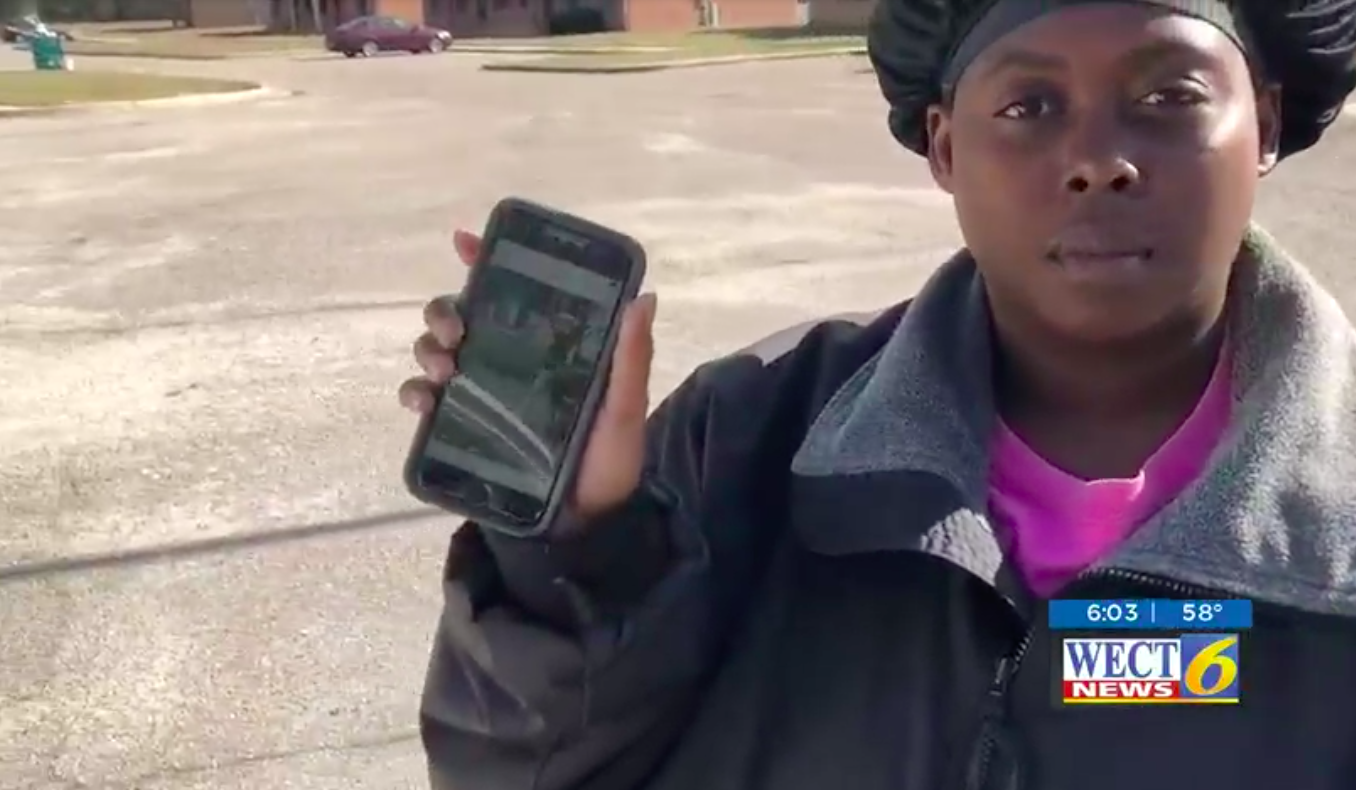 On her Facebook page, Britt shared a post by Mark Harris announcing that President Donald Trump was coming to Charlotte to campaign for him in August.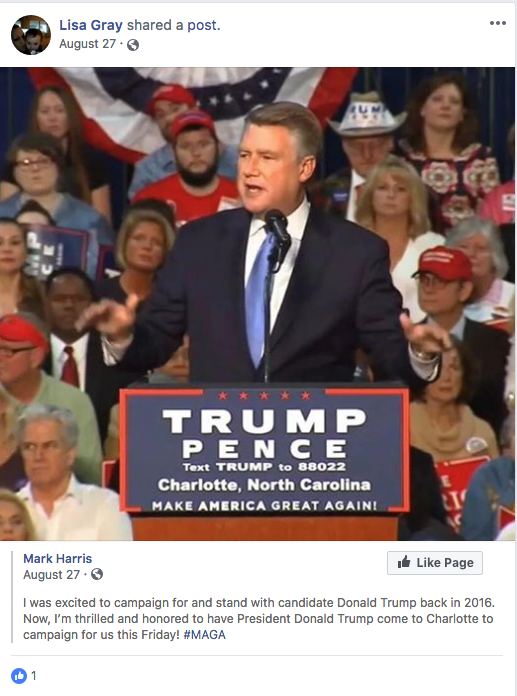 She shared another campaign-related Facebook post from Harris in August.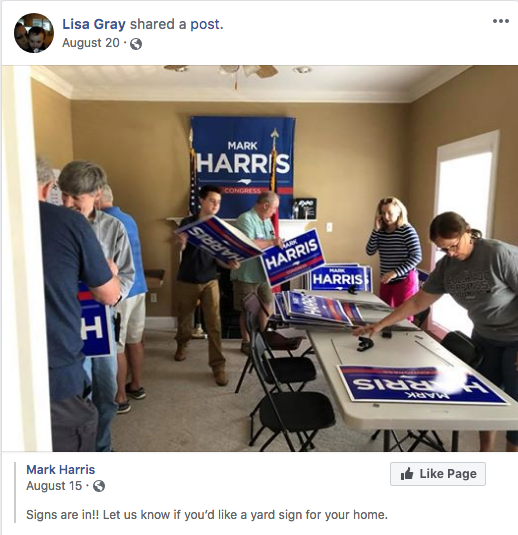 On Tuesday, Britt's mother, Sandra Dowless, appeared to acknowledge the attention the election and Bladen County was receiving on her Facebook page, sharing an eight-month-old Facebook post by another user which said, "Indeed: 'Folks gonna talk about this eeee-lection for years to come!'" along with a clip from an old movie. Sandra Dowless wrote "Bladen County" in her post.
Sandra Dowless did not respond to BuzzFeed News' request for comment.
The district attorney overseeing Bladen County said Tuesday that he was "deeply troubled" by the allegations and was coordinating with the US Attorney's Office for the Eastern District of North Carolina "should a prosecution be warranted."
"Sadly, there have been past incidents of alleged fraud involving absentee ballots in Bladen County," DA Jon David of North Carolina's 13th Prosecutorial District said in a statement, referring to alleged incidents and a subsequent investigation launched after the 2016 election cycle.
"During the pendency of this investigation new allegations have surfaced during the November 2018 election involving some of the same targets," David said.
A Republican congressman said Tuesday that he had chosen not to work with Dowless in 2016 after "personal concerns."
A spokesperson for House Republican Robert Pittenger of North Carolina's 9th Congressional District said, "Congressman Pittenger prefers that all the facts and outcome be known prior to speculating on the Bladen County issue. Congressman Pittenger chose not to work with Mr. Dowless in 2016 as he had personal concerns regarding his proposal."
Of all the absentee ballots that were sent out to voters in Bladen and Robeson counties, 1,680 were not returned to the state, according to the Statewide Elections Information Management System.
In Bladen County, a total of 483 absentee ballots did not come back from registered absentee voters. Of them, 34.6% were registered Democrats, 25% were Republicans, and 40.4% were unaffiliated. In terms of race demographics, 27.7% of all lost absentee ballots were registered by black voters, 69.4% by white voters, and less than 1.5% were Native American — the rest were not designated a race. Only 1.2% were from Latino voters — the rest were either not Latino or not designated).
There were 1,197 absentee ballots sent to Robeson County that did not make it back to the state to be counted; 68.7% of them were sent to Democrats voters, 6.5% to Republicans, and 24.7% to voters who were unaffiliated — 0.08% were Libertarian. By race, 42.1% of the ballots were sent to black voters, 30.8% to Native American voters, and 19.8% to white voters — 7.2% were either not designated or were Asian, other, or two more races. Latinos made up 2% of these ballots.
Additional reporting by Brianna Sacks, Mary Ann Georgantopoulos, Talal Ansari and Lam Thuy Vo.
CORRECTION
Dwight Sheppard said that residents told him Britt had collected their absentee ballots. Due to an editing error this story previously said Sheppard said Britt collected his absentee ballot.