The Parkland Shooter Vomited And Hyperventilated When A Witness Identified Him
Nikolas Cruz "began to heave and vomited clear fluid" when he stood up to face witnesses who identified him as the shooter, according to a police report of his arrest.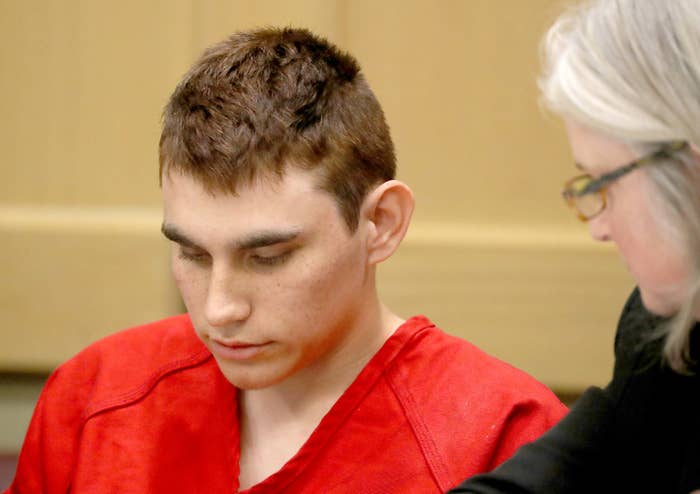 Nikolas Cruz, the 19-year-old man accused of murdering 17 people in a Florida high school shooting, vomited, heaved, and began to hyperventilate while facing a witness shortly after the shooting, a newly released police report said.
The report, released Thursday, was written by Officer Michael Leonard of the Coconut Creek Police Department, who was hailed as a hero for capturing Cruz after the teen opened fire at his former classmates and teachers at Marjory Stoneman Douglas High School on Feb. 14.
Cruz arrived at the school armed with a semi-automatic rifle and opened fire at around 2:30 p.m., killing 17 people, including students and teachers.
He then got rid of his rifle in a stairwell and managed to conceal himself in the the frantic crowd of students fleeing the school. He stopped at a Walmart and a McDonald's after leaving the school, according to officials.
Less than an hour after receiving the call about an active shooter at the school, Leonard said that he located a white man, matching the suspect's description, walking on a street a few miles away from the school.
Leonard said that the suspect wore a burgundy shirt, black jeans, military-style boots, a dark-colored ball cap and black framed eyeglasses. He also had what appeared to be a Junior ROTC logo on his shirt and what looked like an NYPD police patch on his cap, according to the report.
On exiting his police vehicle, Leonard said he aimed his gun at Cruz. The sound of the car door closing made Cruz turn around, after which Leonard began giving him "loud verbal commands."
Leonard said that Cruz "was calm and understood my commands." He complied by lying on the grass facedown, and gave Leonard his name.
Leonard said that he held Cruz at gunpoint until other officers arrived and arrested him.
While waiting for witnesses to show up and identify him, Cruz remained calm and laid in the grass, Leonard's report said. After about 15 to 20 minutes Cruz "began to move his head and eyes, looking in all directions," Leonard wrote, but calmed down after the officer told him he was going to be fine.
However, when Cruz was forced to stand up and face the witness or witnesses of the shooting, he "became weak and required help holding himself up," Leonard wrote.
Cruz also "began to heave and vomited clear fluid," according to the officer's report.
After the witness or witnesses confirmed he was the shooter, Cruz "began to hyperventilate," Leonard wrote. As a precaution, he was turned over to fire rescue officials.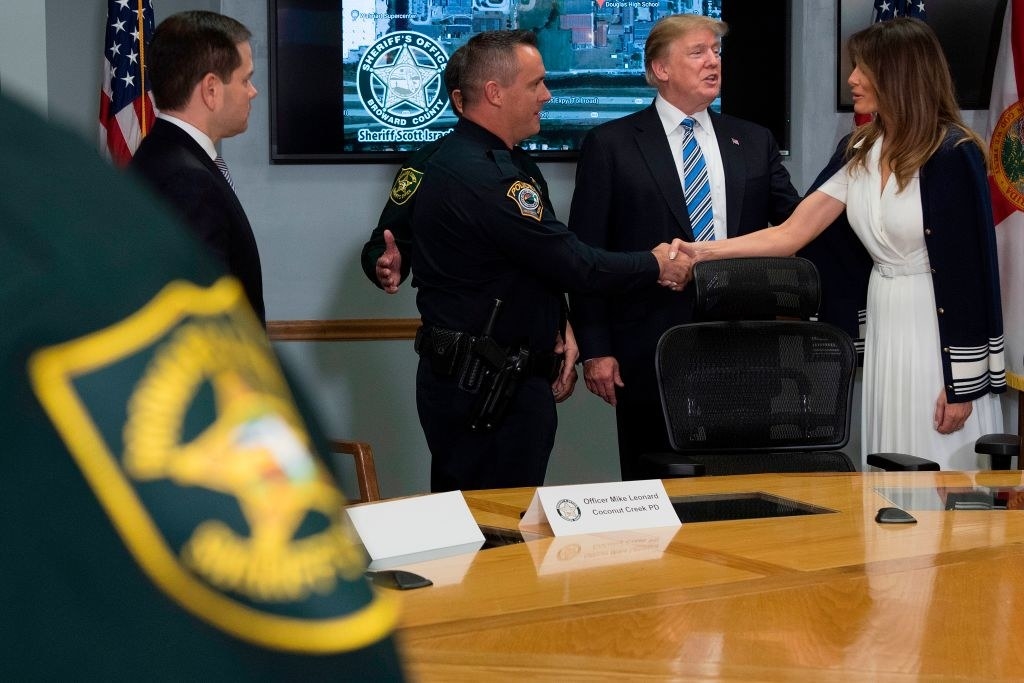 "It's hard to accept the title as a hero," Leonard told reporters after he was honored by the Broward County Commission for his actions. "When you come against evil like that, and you have children at home that are about that age, it's very close to my heart," the 17-year veteran of the police force said. "And it was difficult. But I'm so honored I was able to be a part of and do my part and take this killer into custody."

Cruz was charged with 17 counts of premeditated murder and 17 counts of attempted murder after he confessed to gunning down his former classmates and teachers.