On Monday night, the Courier-Journal, a local newspaper in Louisville, Kentucky, identified the United passenger who was dragged off an overbooked flight sparking massive outrage against the airline as David Dao.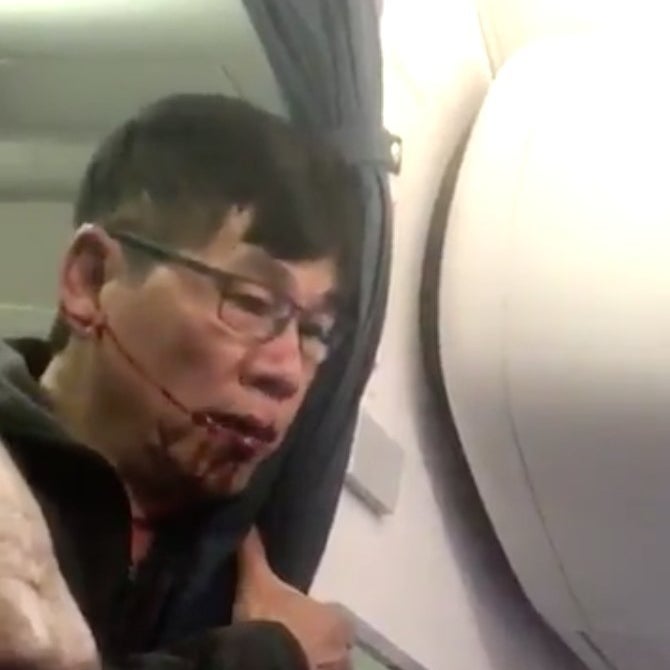 United is in the midst of a huge public relations crisis for its actions and response to the incident, in which Dao, a 69-year-old man, was dragged out of his seat by security officials on a Sunday flight from Chicago to Louisville after the airline overbooked and needed volunteers to disembark.
Several videos shared on social media showed security officials yanking Dao off his seat and dragging him away during which his face was injured and bleeding. He was also seen running back on the flight in a distressed manner.
On Tuesday morning, the Courier-Journal published a story about Dao's "troubled past" as a doctor in Kentucky.
The piece, by reporter Morgan Watkins, was widely criticized on social media as a "hit piece" and a smear campaign against Dao.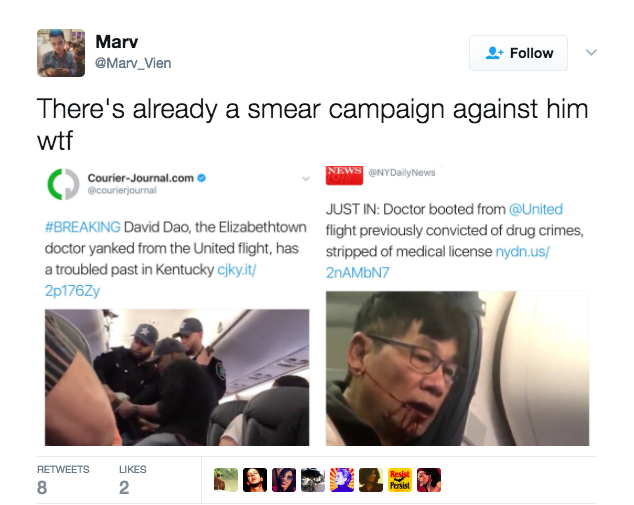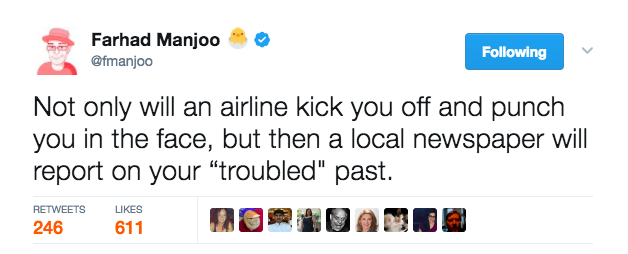 Some accused United of being responsible for the Courier-Journal's piece on Dao's history.

Joel Christopher, the executive editor of the Courier-Journal, told BuzzFeed News Tuesday that it was "absolutely not" fed information by United.
Christopher said the information about Dao and his past came from a "number of different sources that had knowledge of his identity and who requested that we not name them as they were not authorized to speak about" the incident.
Christopher said he could not reveal the unnamed sources.
He also addressed accusations that it was a smear piece on behalf of United.
"I just want to be really explicit that we were absolutely not fed information by United," he said. "We would never act as an agent for a corporation like United to protect its interests."
He also said United was not influencing the paper's coverage "by giving us information" that they're not sharing publicly. "We're not having any conversations with United that isn't appearing in our reporting," he said.
A United spokesperson told BuzzFeed News on Tuesday that it had not confirmed the passenger's identity.
"We have not confirmed any details about our customer, nor would we," the spokesperson said. "We will not be discussing any details about the customer."
A spokesperson for Edelman — United's PR agency — directed all questions to the airline.
Christopher said that, in hindsight, he was not surprised by the backlash to the piece but defended it, saying it was a case where "the national audience, without context, was jumping to an incorrect conclusion."
"This is an individual, who because of his past case, is known to people in the area," he said. "Referring to him without referring to [his past] would be highly unusual."
Christopher said that within the local context, the story — one of several in the Courier-Journal's coverage of the incident — made sense, but that a huge portion of the audience came from outside the local market.
"A national audience would not have the same background and context," he said.
Other media outlets reporting on the doctor's "troubled past" were also criticized for "doing PR" for United.