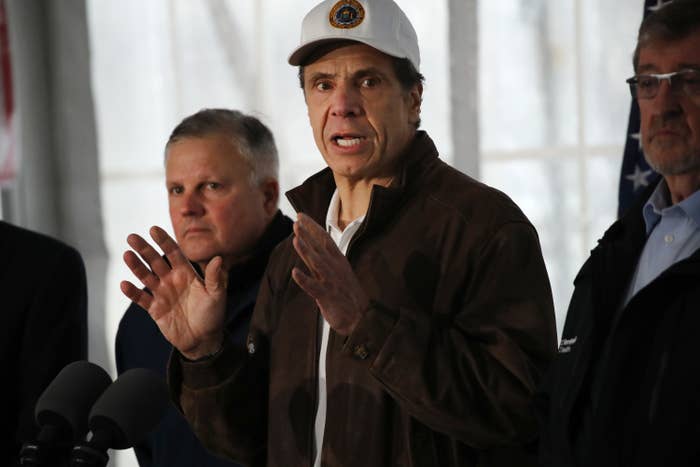 The journalists at BuzzFeed News are proud to bring you trustworthy and relevant reporting about the coronavirus. To help keep this news free, become a member and sign up for our newsletter Outbreak Today.

New York Gov. Andrew Cuomo is ordering 100% of the state's nonessential workers to stay at home as the positive coronavirus cases in the state total more than 7,000. The order will come into effect Sunday evening.

Cuomo announced Friday he will sign an executive order that all nonessential businesses will have to work from home, except essential services, including grocery stores, pharmacies, and others. Food delivery services and public transportation will continue to operate, he said.
The governor said these are legal provisions that will be enforced. Businesses that do not comply will face a civil fine and mandatory closures. There will be no civil fines for individuals who violate the order at this time, he said.
The governor insisted this was not a "shelter in place," a term he said is only used for an active shooter situation. He urged New Yorkers to "remain indoors to the greatest extent."
"Essential services have to continue to function," Cuomo said. "Grocery stores need food. Pharmacies need drugs. Your internet has to continue to work. The water has to turn on when you turn the faucet."
"And when I talk about the most drastic action we can take, this is the most drastic action we can take," he said.
The order has different provisions for vulnerable and nonvulnerable populations.

Seniors over 70 years old, immunocompromised people, and those with underlying illnesses must remain indoors, wear masks in the company of others, and not visit households with multiple people.
They are allowed to go outside for solitary exercise but must stay at least 6 feet away from others.
Nonvulnerable populations are ordered to cancel all nonessential gatherings, including parties and other social events. People should only practice noncontact outdoor activities and limit their use of public transportation to only when it's absolutely necessary, the order says.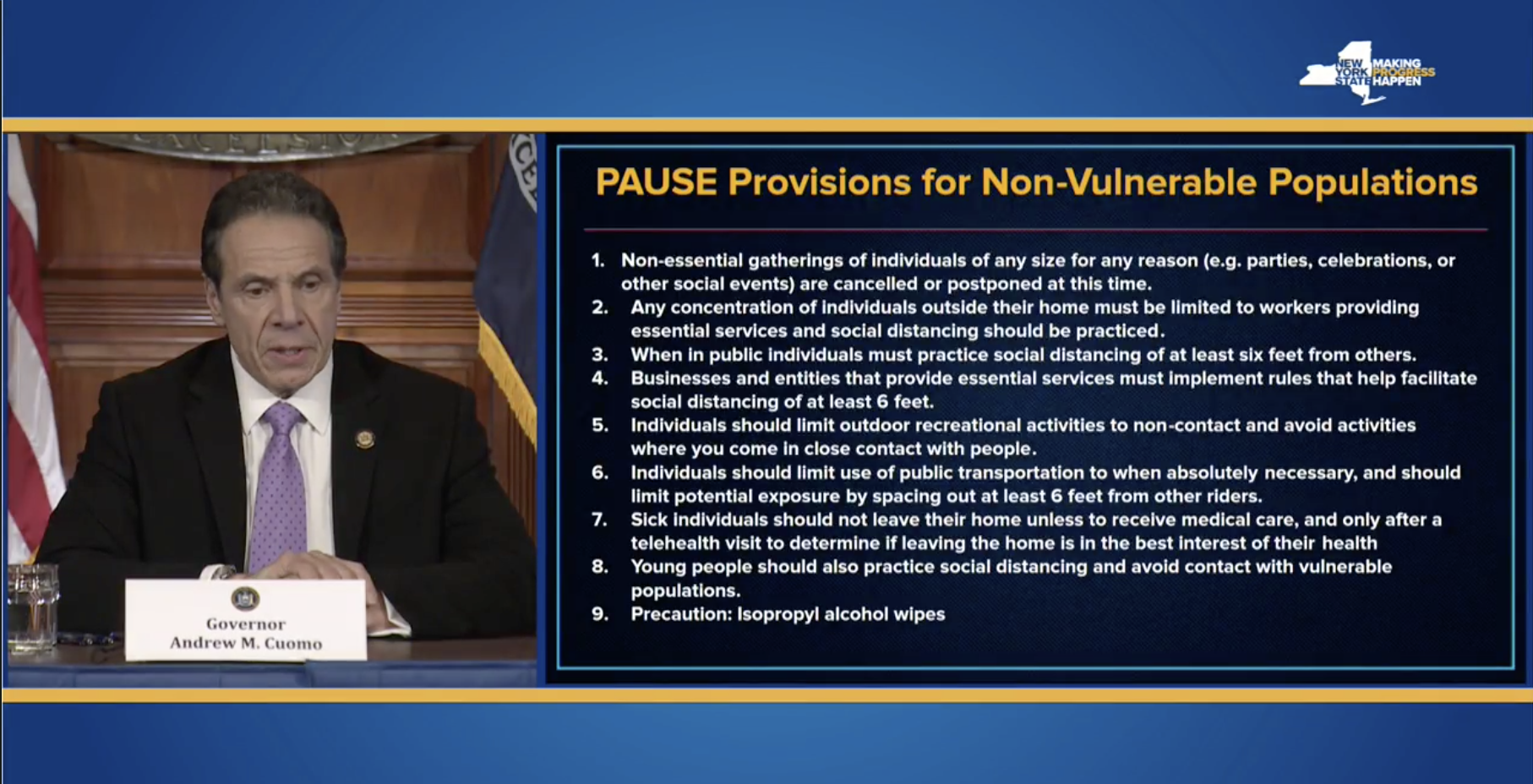 The governor also ordered a 90-day moratorium on evictions of all residential and commercial tenants.

Cuomo acknowledged that the order's provisions will "cause disruptions."
"They will cause businesses to close. They will cause much unhappiness. I understand that," he said. "If someone is unhappy, if somebody wants to blame someone, or complain about someone, blame me."
Cuomo's order comes a day after California ordered the state's nearly 40 million people to stay home. The two states' orders impact a combined total of approximately 59 million people in the US.