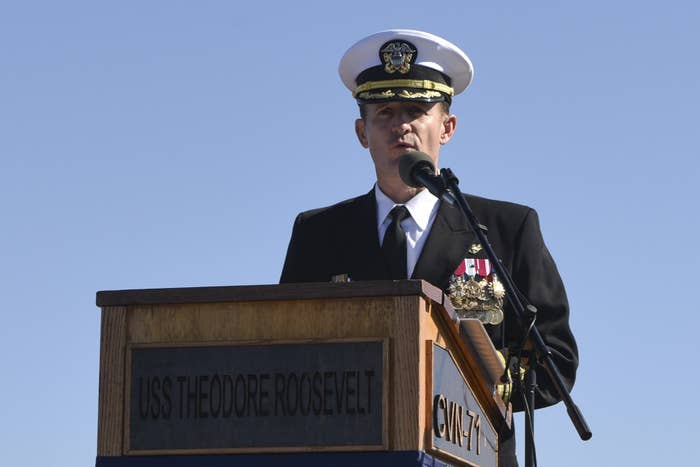 The journalists at BuzzFeed News are proud to bring you trustworthy and relevant reporting about the coronavirus. To help keep this news free, become a member and sign up for our newsletter, Outbreak Today.
Captain Brett Crozier received a resounding farewell from sailors aboard the USS Theodore Roosevelt aircraft carrier after the US Navy fired him for voicing concerns for his crew amid an outbreak of COVID-19, the disease caused by the coronavirus, on his ship.

Crozier was relieved of command Thursday after he wrote a letter to Navy officials — subsequently leaked and published in the San Francisco Chronicle – pleading for resources to isolate his crew members off the warship that is docked in Guam following a COVID-19 outbreak less than a week ago.
"Keeping over 4,000 young men and women on board the TR is an unnecessary risk and breaks faith with those Sailors entrusted to our care," Crozier wrote in the letter.
The US Navy dismissed him as the ship's commander Thursday, saying that his letter was sent outside the chain of command over unclassified email and that his actions made people believe that the Navy was not doing enough to protect sailors. However, Crozier will keep his rank and remain in the Navy.
Several videos posted on social media Friday showed a large crowd of sailors cheering, clapping, and chanting "Captain Crozier!" as he walked alone down the gangway of the USS Theodore Roosevelt on Thursday.
"Farwell Sir it's been a pleasure #WEARETRSTRONG #MYCO #TR," Michael Washington wrote in a Facebook post sharing one video.
More than 86,000 people have signed a Change.org petition demanding Crozier be reinstated as the commanding officer of the USS Theodore Roosevelt.
"He is a hero who should be rewarded," the petition said.
"The whole ship came out to say goodbye to Captain Crozier," Maddie Blanco, who shared another video, wrote on Facebook.
In his four-page letter, Crozier had warned the Navy that the lack of space on the warship meant that most of the crew who remained aboard could not follow the official guidelines for 14-day quarantines and social distancing after the outbreak.
"The spread of the disease is ongoing and accelerating," Crozier wrote.

He urgently requested for "compliant quarantine rooms" in Guam for his crew so they could be isolated.
"This will require a political solution but it is the right thing to do," Crozier wrote. "We are not at war. Sailors do not need to die. If we do not act now, we are failing to properly take care of our most trusted asset — our Sailors."
In a press conference Thursday, acting Navy Secretary Thomas Modly said that while Crozier "was absolutely correct" in raising concerns in his letter, it was "the way in which he did this" that led to the decision to terminate him.

He said that Crozier sent his letter outside the chain of command and over "non- secure, unclassified email" even as the Navy was "fully responding" to his concerns.
"Worse, the Captain's actions made his Sailors, their families, and many in the public believe that his letter was the only reason help from our larger Navy family was forthcoming, which was hardly the case," Modly said.
He said he had lost his confidence in Crozier's ability to lead the warship during the COVID-19 outbreak.

"The responsibility for this decision rests with me," Modly said. "I expect no congratulations for it, and it gives me no pleasure in making it. CAPT Crozier is an honorable man, who despite this uncharacteristic lapse of judgment, has dedicated himself throughout a lifetime of incredible service to our nation."

Modly also addressed the Theodore Roosevelt crew, acknowledging their love and affection for their captain.
"I am entirely convinced that your Commanding Officer loves you, and that he had you at the center of his heart and mind in every decision that he has made," Modly said. "I also know that you have great affection, and love, for him as well. But it is my responsibility to ensure that his love and concern for you is matched, if not exceeded by, his sober and professional judgement under pressure."