Seven people were injured in a shooting on the South Carolina coast that was captured live on Facebook by a witness early on Sunday.

A large crowd had gathered at Myrtle Beach on Saturday night prior to the shooting, police spokesperson Lt. Joey Crosby told BuzzFeed News.

A fight broke out between two people, during which one of them took out a handgun and shot the other person, Crosby said.

A security guard who witnessed the incident shot the suspect. The suspect then carjacked a vehicle, but police officers located the car and detained him.

Seven people, including the suspect, were taken to hospital with injuries that were not life-threatening, Crosby said.

The security guard suffered a superficial leg wound and was treated at the scene.

Crosby said the suspect has been detained and will be served with an arrest warrant once he is "medically cleared." His identity will also be released at that time.

Police said they had the Facebook Live video of the shooting, and considered it a piece of evidence.

The video, shot by Bubba Hinson, had over 3 million views by Monday. Hinson began recording the video before the shooting, describing a large crowd that was "blocking the whole road."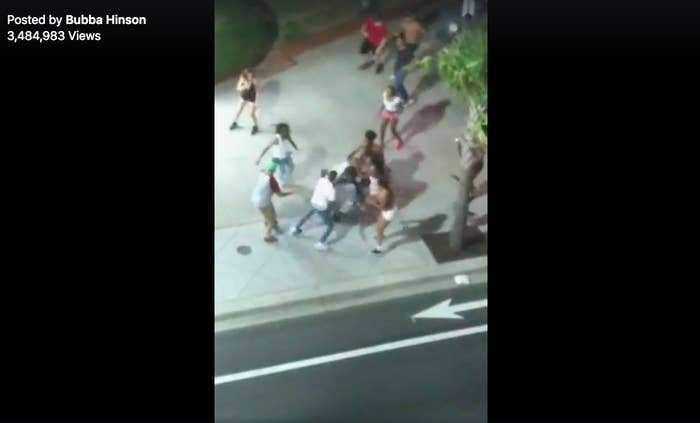 His video showed the fight breaking out, after which the suspect was seen pulling out his gun and firing multiple shots as people screamed and fled the scene. The security officer was also seen shooting at the suspect.

The video showed the suspect carjacking a white vehicle and fleeing the scene, as individuals were seen lying on the ground.

Videos of violence — including rapes, murders, suicides, child abuse, and attempted suicides — show up at an alarming frequency on Facebook. A BuzzFeed News analysis found at least 45 instances of violence have been broadcast via Facebook Live since it debuted in December 2015. On average, that's two such videos per month, making violence a pressing problem for this Facebook feature.

Mark Zuckerberg announced in May that Facebook would hire an additional 3,000 people to review and better respond to violent content.