After the Supreme Court's historic ruling in favor of same-sex marriage in the U.S., the Mormon church dismissed the court's ruling in a statement declaring that "marriage is a union between a man and a woman ordained by God."
The statement read:
"The Church of Jesus Christ of Latter-day Saints acknowledges that following today's ruling by the Supreme Court, same-sex marriages are now legal in the United States. The Court's decision does not alter the Lord's doctrine that marriage is a union between a man and a woman ordained by God. While showing respect for those who think differently, the Church will continue to teach and promote marriage between a man and a woman as a central part of our doctrine and practice."
The church's statement featured this photo of a heterosexual couple and their child walking outside the Supreme Court, presumably to illustrate its definition of marriage and family.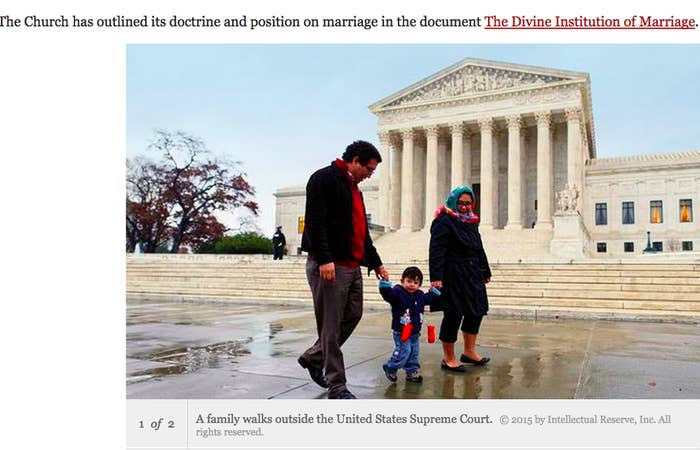 What the church probably didn't know is that the woman in the photo, Sylvia Cabus, is a member of Mormons Building Bridges — a group dedicated "to conveying love and acceptance to all who identify as LGBTQI and those who experience same-sex attraction."
In a message on the group's Facebook page, Cabus wrote that the picture was taken for a photo shoot last fall of multicultural families to showcase diversity in the Church of Jesus Christ of Latter-day Saints.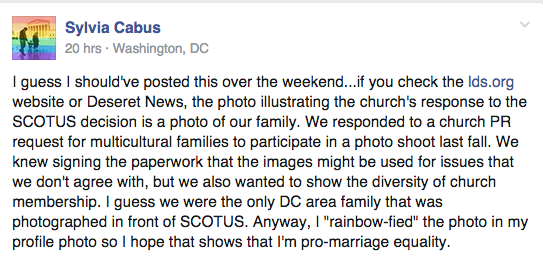 Cabus said she "rainbow-fied" the same photo for her Facebook profile photo "so I hope that shows that I'm pro–marriage equality."
Cabus — who converted to Mormonism in 1997, and whose husband is Muslim — told BuzzFeed News that her family took part in the photo shoot calling for interfaith and multicultural families to show that the LDS membership is "much more diverse than what is normally shown in the mainstream media."
She said that she was told the photos were intended for a religious freedom website that the church supports, but was made aware that they could be used for any purpose.
When the SCOTUS decision came out, Cabus said she was thrilled, but soon started receiving a flurry of links and screenshots showing her family photo displayed in the statement on the Mormon church's position on marriage equality.
Cabus said she was OK with the photo being used because she has been public about her support for marriage equality as a Mormon.
"I felt that now that our photo was in a wider public sphere that I wanted to make my own personal position clear," Cabus said. "So I 'rainbow-fied' our photo on Facebook to show my support for marriage equality."
Cabus, who has marched in pride parades, said she is very open about her liberal political beliefs and feminist activism, and had not experienced any negative repercussions from the Mormon church.
While she was heartened by all the positive reactions she got to her "rainbow" photo, Cabus said, "My response to the Church's decision is sadness and acceptance, and without any surprise."
​
BuzzFeed News is awaiting comment from the Mormon church.