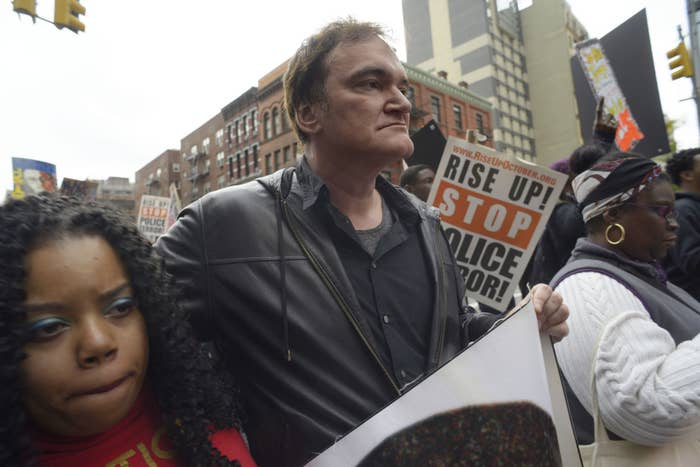 Police unions in Los Angeles, Philadelphia and New Jersey joined New York City's in calling for a boycott of Quentin Tarantino's movies after the Oscar-winning director referred to police officers as murderers during an anti-police brutality protest in New York on Oct. 24.
Before hundreds of protesters who were part of the Rise Up October demonstration to stop "police terror," Tarantino said, "I am here because I am a human being with a conscience. And when I see murder, I cannot stand by and I have to call the murdered the murdered and the murderers the murderers."
The Django Unchained director's comments at the rally came four days after an NYPD officer, Randolph Holder, was fatally shot in the head while chasing a suspect.
Calling Tarantino a "cop-hater," the Patrolmen's Benevolent Association (PBA), New York City's police union, called for a boycott of the director's movies. Tarantino's new movie, The Hateful Eight, is releasing on Christmas Day.
"It's no surprise that someone who makes a living glorifying crime and violence is a cop-hater, too," PBA president Pat Lynch said in a statement. "New Yorkers need to send a message to this purveyor of degeneracy that he has no business coming to our city to peddle his slanderous 'Cop Fiction.'"
The PBA's call for a boycott was supported by the Los Angeles Police Protective League, which described Tarantino's comments about the police as "inflammatory and hateful rhetoric."
"Film director Quentin Tarantino took irresponsibility to a new and completely unacceptable level this past weekend by referring to police as murderers during an anti-police march in New York," the LA union said in a statement. "Hateful rhetoric dehumanizes police and encourages attacks on us."

The Philadelphia Fraternal Order of Police also voted to boycott his films, saying, "Mr. Tarantino has made a good living through his films, projecting into society at large violence and respect for criminals; he it turns out also hates cops."
The three unions were then joined by the New Jersey State PBA which issued a statement saying, "Quentin Tarantino needs to understand that as a public figure his voice is one that people listen to...This is not a movie, this is real life where police officers lives are impacted by his words."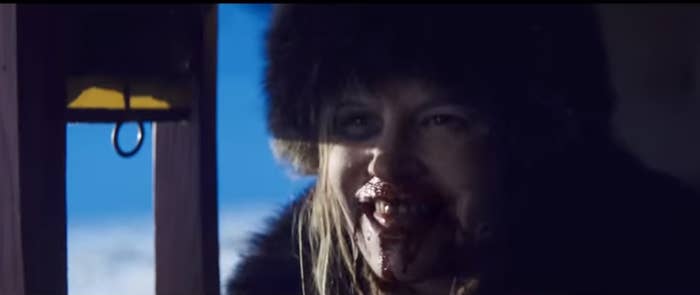 On Friday, the director's father, Tony Tarantino, criticized his son's comments about the police, saying he was "dead wrong" in calling police officers murderers.
In a statement released by the PBA, Tony Tarantino said, "I love my son and have great respect for him as an artist but he is dead wrong in calling police officers, particularly in New York City where I grew up, murderers."
He said his son took part in the anti-cop protests because he was "blinded" from reality and facts by his "passion."
"I wish he would take a hard, dispassionate look at the facts before jumping to conclusions and making these kinds of hurtful mistakes that dishonor an honorable profession," Tony Tarantino said, adding that they had several family members who had served in the NYPD and LAPD. "Cops are not murderers, they are heroes."
In an email to BuzzFeed News, Tony Tarantino said that while he does not support the boycott of his son's films, he agreed that the filmmaker should publicly apologize to all law enforcement officers for participating in the anti-police brutality protests and for his comments.
His representative said that Tony Tarantino had two upcoming movies which showed law enforcement "in a very good light."
Carl Dix, co-initiator of Rise Up October, called the police threats against Tarantino "a mafia-style protection racket."
"Only the payoff being demanded is toeing a political line, not cash. 'Don't dare criticize police who kill people, or we'll make it impossible for you to work in our towns,'" Dix said adding, "We will have Tarantino's back!"
A representative for Tarantino did not immediately respond to BuzzFeed News's request for comment.