Update: 1:23 a.m. ET: Missouri has executed Walter Timothy Storey, the Associated Press reported.
Storey received a lethal injection at 12:01 a.m. and was pronounced dead at 12:10 a.m.
The execution was Missouri's first of 2015 after the state put to death a record 10 inmates last year.
Update: 7:08 p.m. - U.S. Supreme Court denies stay of execution on a 5-4 vote.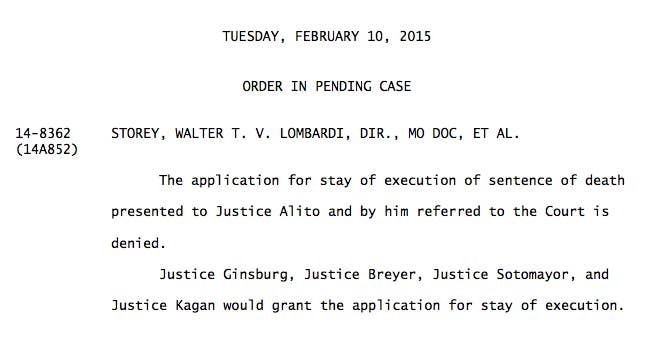 Walter Storey, 47, is set to be executed at 12:01 a.m. Wednesday for the 1990 murder of his neighbor. His death would be the state's first execution in 2015.
Storey's attorney, Jennifer Herndon, appealed to the U.S. Supreme Court and the Missouri Supreme Court on Tuesday to halt his execution over concerns of the state's secretive method of obtaining and using lethal injection drugs.
Storey is one of several other Missouri death row inmates who filed a lawsuit against the state in 2012 alleging its execution protocol violated the Eighth Amendment ban on cruel and unusual punishment. The case is pending before the 8th Circuit Court of Appeals.
Herndon argued that Missouri's use of the compounded drug of pentobarbital made by an unregulated pharmacy, combined with the use of midazolam — a controversial sedative used in problematic executions and under scrutiny by the Supreme Court — violates his Eighth Amendment claim.
Citing the use of pentobarbital in problematic executions in Oklahoma, Ohio, and South Dakota, Storey's lawyers have argued that the state intends to execute him "with an unregulated compounded drug, from an undisclosed supplier, with unknown ingredients, and through unknown processes," which creates a "substantial
risk of serious, unnecessary and substantial harm and mental anguish."
Storey's attorneys also contend that Missouri's execution protocol does not mention the state's use of midazolam, a controversial sedative used in problematic executions in Oklahoma, Arizona, and Ohio. Last month, the U.S. Supreme Court halted the next three executions in Oklahoma until a legal challenge involving the state's use of midazolam is resolved.
Citing the Oklahoma lawsuit, his lawyers stated that Missouri injected inmates with midazolam "in amounts far exceeding the medical dose required for sedation."
Arguing against Storey's appeal to stop his execution, the state said that it has carried out a dozen "rapid and painless" executions using pentobarbital and that it was "implausible to allege" that Missouri's use of the drug was "sure or very likely to cause serious illness and needless suffering."
The state also argued that the stay grant in the Oklahoma case was not applicable to Storey because unlike that state's lethal injection process, midazolam is not part of Missouri's protocol, as it is offered to inmates as a "pre-execution sedative."
In two friend-of-the-court briefs filed at the U.S. Supreme Court, the Ethics Bureau at Yale and 10 current or former Missouri lawmakers weighed in to support Storey's request for a stay of execution.
Storey was sentenced to death three separate times for the 1990 murder of Jill Frey, a special education teacher in Missouri.
Frey, 36, lived across the hall from Storey and his mother in St. Charles. On the day of the Frey's death, Storey received a divorce petition from his estranged wife. He responded by drinking a large amount of alcohol. When he ran out, he decided to rob Frey to buy more beers, according to court documents.
He entered her apartment through the balcony and killed her by beating and stabbing her with a knife. Storey then stole her purse and car. The next day he returned to cover up the killing by wiping down the apartment, scrubbing Frey's fingernails, disposed of clothes and other incriminating evidence.
Storey was first convicted and sentenced to death in 1990, after which the Missouri Supreme Court tossed the sentence over concerns of ineffective counsel and errors by a prosecutor in the attorney general's office.
Storey was tried and sentenced to death again in 1997, but that was also overturned due to an error by the judge. He was sentenced to death in 1999.
BuzzFeed Legal Editor Chris Geidner contributed to this report.