Minnesota police officer Jeronimo Yanez was charged with second-degree manslaughter for the fatal shooting of Philando Castile during a traffic stop in July, prosecutors announced Wednesday.

"Based upon our thorough and exhaustive review of the facts, I have come to the conclusion that there simply was no justification for the use of deadly force by Officer Yanez in this case," Ramsey County Attorney John Choi said. "No reasonable officer who knew, saw, and heard what Officer Yanez did at the time would have used deadly force under these circumstances."

Choi filed a criminal complaint on Wednesday charging Yanez with second-degree manslaughter and two felony counts of intentional discharge of a dangerous weapon that "endangered the safety of Castile's girlfriend, Diamond Reynolds, and her four-year-old daughter who were present in Castile's car during the incident."

On July 6, Yanez pulled over Castile for a broken brake light. After a minute, he pulled out his firearm and shot Castile seven times, killing him.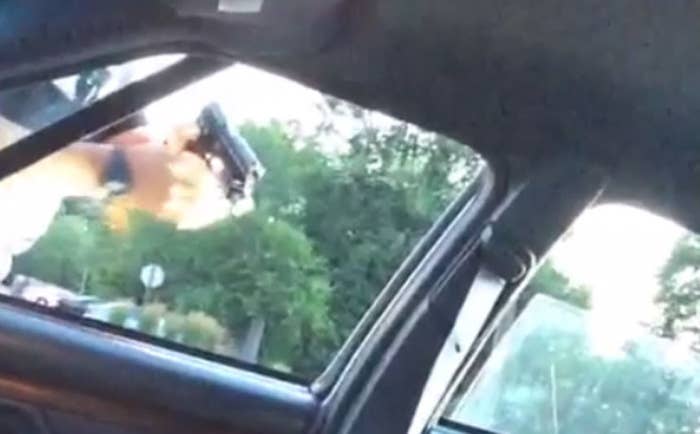 Reynolds used Facebook to live stream the graphic aftermath of the shooting, showing Castile — a 32-year-old beloved nutrition worker at a public school — lying in the car with his blood-soaked shirt.

Body camera footage and audio captured the entire encounter, Choi said. During the exchange of words with Yanez, Castile "volunteered in good faith" that he had a firearm.
When Yanez repeatedly asked him not to pull out the firearm, Castile and Reynolds both assured him that he wasn't reaching for his gun. However, Yanez pulled out his gun and fired seven shots in rapid succession, Choi said.

"Castile never removed or tried to remove his gun from his front right pocket," Choi said. "There was no criminal intent exhibited by him through this encounter. He was respectful and compliant. He did not exhibit any intent or reasons to shoot the officer."
Yanez is scheduled to appear in court on Friday.

Castile's mother, Valerie Castile, told reporters that her family was pleased with Choi's decision.
"We are here in solidarity to support that decision," she said, while also calling for peace.

"I'm just glad that we have come to this chapter," she said. "It's a beginning to a different chapter and we all hope and pray that the right thing is done in this issue."
Here's what happened in the minutes preceding the shooting, based on squad car audio and video of the shooting, according to the criminal complaint.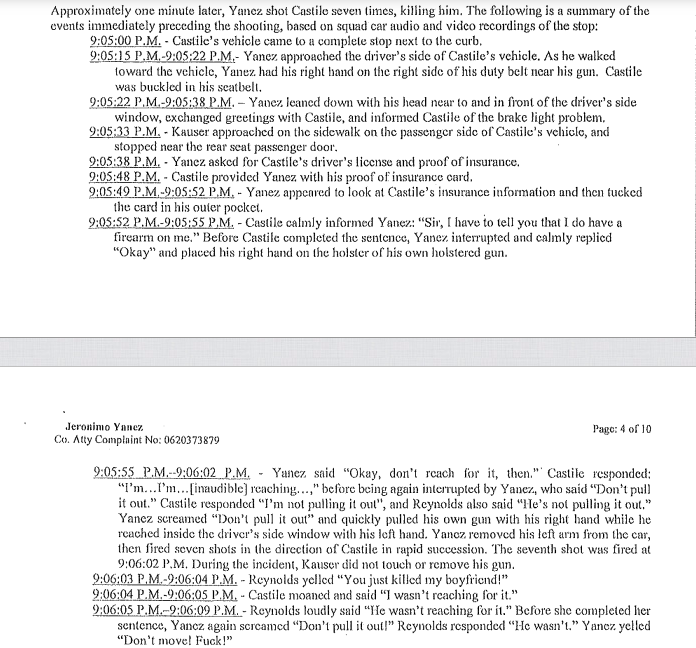 According to the criminal complaint, Yanez told his partner, Officer Joseph Kauser, that he wanted to pull over Castile's car because its occupants, including Reynolds and her 4-year-old daughter, "just look like the people that were involved in a robbery."
He also said that Castile looked "more like one of our suspects just because of the wide set nose."
Yanez also noted that Castile's vehicle had a non-working brake light. After Yanez queried Castile's license plate number, the results showed that the vehicle was registered to Castile and there were no warrants for his arrest.
Yanez pulled Castile over and after greeting each other, Castile complied with Yanez's instructions and produced his insurance card. He then "calmly informed" Yanez, "Sir, I do have to tell you, I have a firearm on me."
Yanez said "OK" and placed his hand on his holster before telling Castile, "OK, don't reach for it then."
Before letting Castile finish his response, Yanez repeated, "Don't pull it out."
Both Castile and Reynolds reassured Yanez that Castile was not pulling his gun out. Yanez then screamed, "Don't pull it out," and pulled his own gun out. He then fired seven shots in Castile's direction.
Reynolds yelled, "You just killed my boyfriend," as Castile moaned, "I wasn't reaching for it."