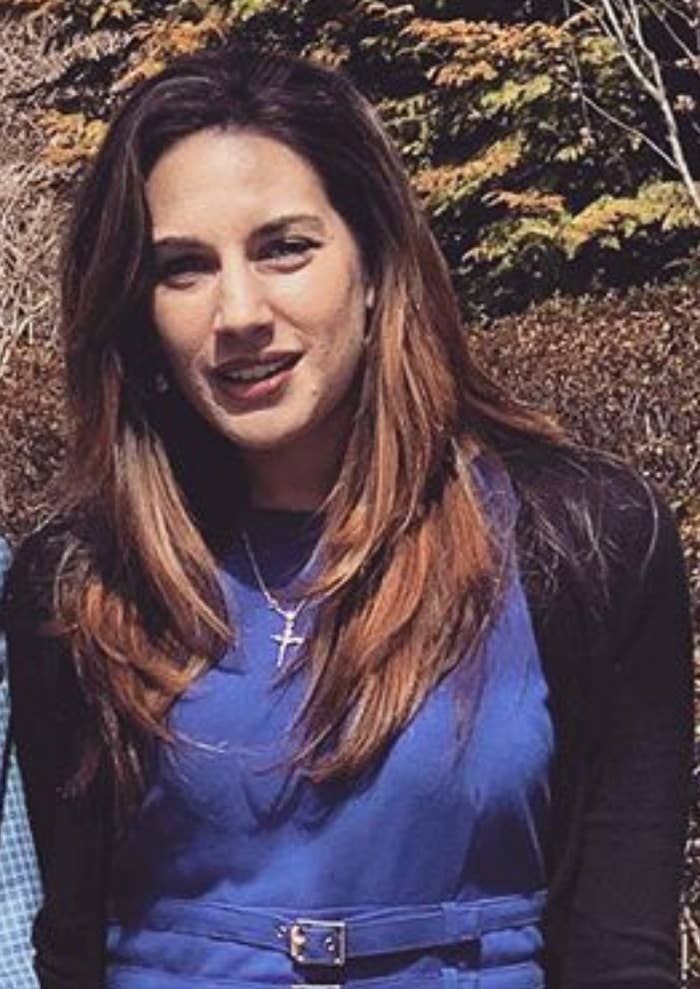 About two and half years ago, Lauren Miranda, a middle school teacher in New York, was getting ready at her home when she decided to take a topless selfie and send it to her then-boyfriend, who was a teacher in the same school district.
This January, Miranda, 25, was called to the principal's office at Bellport Middle School on Long Island, where she had been a math teacher since 2015.
Before going to the meeting, a colleague told Miranda that there was a rumor her naked photo had been obtained by a teenage student. Miranda was certain it wasn't hers because she had never sent anything like that to a student.
But during the meeting in the principal's office — where there were mostly men — one of the male school administrators brought up Miranda's topless selfie on his computer screen and showed it to her.
"Is that you?" he asked, according to Miranda's attorney, John Ray.
The officials confronted Miranda about the selfie and accused her of disseminating the photo to students.

They "attempted really hard to humiliate her, berate her, and get her to resign," Ray told BuzzFeed News on Thursday. She did not resign.

Within a few days of the Jan. 11 meeting, Miranda was suspended with pay. Last week, she was fired by the South Country Central School District.
The superintendent told her that she was no longer a "role model" for the students she was teaching because her breasts were seen in the selfie, Ray told BuzzFeed News.
Miranda now intends to sue the school district and its administrators for $3 million, accusing them of unlawful gender discrimination.
"If a man had a taken such a topless photo, nobody would say anything," Ray said.
None of the male teachers or school officials who walked around shirtless in the school gym or swimming pool were reprimanded or fired for being topless, he added.
"Some men's outdated mindset is to impose sexuality upon a beautiful picture," Ray said. "The superintendent never got the memo that men and women are equal."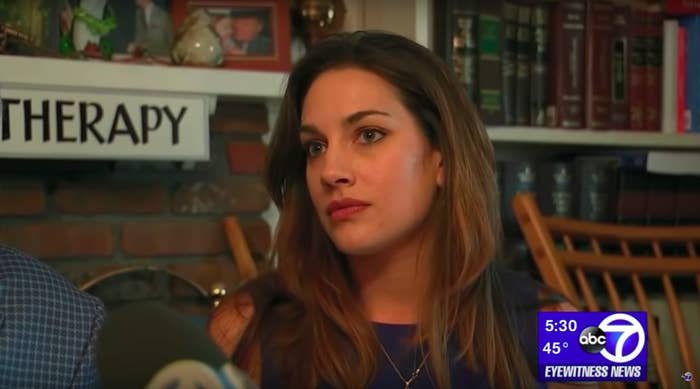 Ray filed a notice of claim to the school district last week, which is usually done before filing a lawsuit against a government entity, giving them a chance to respond. Ray said he intended to file the formal complaint in federal court in New York soon after the district responds.

The superintendent, Joseph Giani, declined to comment on the case, saying Thursday, "The district does not comment on active litigation."
In a letter Giani sent Miranda in February explaining why he had recommended firing her, he wrote, "you caused, allowed, or otherwise made it possible for a nude and/or inappropriate photograph of yourself to be distributed" to students in the district, and said that she had failed to take "adequate precautionary measures" to prevent her photo from becoming accessible to students.
Giani's letter — provided to BuzzFeed News by Miranda's attorney — also listed one of the reasons for her termination as "you transmitted to a colleague a nude and/or inappropriate photo of yourself."
Miranda was viewed as an "exemplary" teacher by the district before the incident, Ray said, adding that Giani had indicated to her that she would be getting tenure in June.
A 2018 performance evaluation from the school district that was provided to BuzzFeed News showed that Miranda had received the highest ratings in almost all categories, including the level of respect between her and her students.
In a court filing last week, Miranda accused the school district officials of objectifying women and viewing the appearance of their upper bodies as "inherently lascivious, and/or perverse and/or inherently offensive and shameful and prurient, by reason of the fact that they are women."

Miranda told BuzzFeed News on Thursday that she does not regret taking the topless selfie.
"I don't know why I took the picture, but when I look at it now, it's so pure. It's me in my natural element," Miranda said. "That's me."
Miranda's attorney, Ray, provided her selfie to BuzzFeed News and other outlets, saying that she was "not ashamed of it."
"To hide it would suggest that she was ashamed of it which is exactly the position the school district wanted to put her in."

"We have no problem with the photo being out there," he said.
In a statement to BuzzFeed News on Friday, Miranda said that sharing her selfie and her body with the world "is scary."
"This selfie started out as something so innocent and so personal. It is something that has become so packed with emotion and trauma that I am trying to navigate," Miranda said. "Sharing it, the selfie — my body, with the world is scary."
She said that having her story shared so publicly "has made it that much more real and emotional."

"As if I'm going though it all over again but instead with an audience," the statement said. "I think any woman, even man, can empathize with me here. I am proud of it, but I will admit, I do feel all the more vulnerable. Having to feel this way is outrageous and unfair, although it is my reality. It is the result of how society has sexualized my body."
She said that she had made the choice to stand up for what was right and that she shared a "personal image of my body to show how I have been stigmatized as a woman."

"So, here. I shared this image with caution. I am a human. I am a woman," her statement said.
Miranda said that instead of thoroughly investigating how her selfie was obtained by a student, the school district discriminated against her because she was a woman and she had breasts.
"My upper torso is no more offensive than a man's," she said.
Miranda recalled the superintendent telling her, "How can I put you in front of a classroom full of boys where they can pull out their phones and look at this image of you?"
She said that the superintendent "pitied her."
"He said he feels sorry for me," Miranda said. "What is there to feel sorry for? That I'm a woman?"
Miranda said that while she was concerned about how an old selfie sent privately only to a male teacher was obtained by a student, she did not know how it got out and did not want to point fingers at anyone.
She claimed the school officials knew that she had not sent the selfie to a student.
"I didn't send this to a kid," she said. "That's absolutely ridiculous."
Miranda said she wanted to focus on the bigger picture of what her lawsuit means for gender equality and celebrating women's bodies.
"Men constantly sexualize our bodies. They really blame women for being women. They make us out to be sexual deviants, instead of seeing us as appreciating the beauty of ourselves," Miranda said.

She said that the superintendent could not dictate that she wasn't a role model for students.
"I am a role model," she said. "I'm standing up for what I believe in."