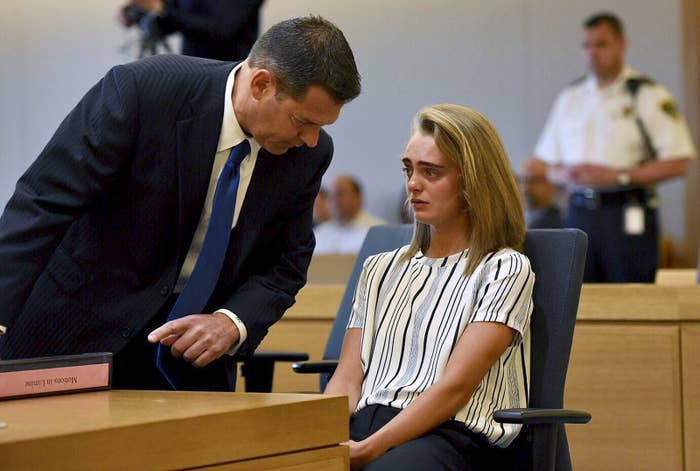 Michelle Carter wanted attention so much that she used her 18-year-old boyfriend as "a pawn in her sick game of life and death," prosecutors said of the 20-year-old Massachusetts woman who is accused of urging boyfriend Conrad Roy — through text messages — to kill himself.
Carter, who was 17 when Roy died, was craving attention and sympathy and used Roy's death to get noticed among friends as the "grieving girlfriend," Bristol Assistant District Attorney Maryclare Flynn said during opening arguments.

Roy killed himself on July 12, 2014, by inhaling carbon monoxide produced by a water pump in his truck. The teen — who had a history of mental illness and had previously attempted suicide — got out of the truck because he was "scared," but Carter texted him to "get back in," according to the thousands of text messages the two exchanged during the course of their relationship.

Carter even pretended that Roy had killed himself two days before his suicide, Flynn said.
During what Flynn called a "dry run," Carter texted her friends that Roy had gone missing, despite talking and texting with Roy at the same time.
She told her friends then that it was her fault that he had killed himself with carbon monoxide, Flynn said. Carter even lied to her friends about being in touch with Roy's mother during this time.

"She begins to get the attention she craved for," Flynn said in Taunton District Court. "So she has to make it happen — she has to make him kill himself so that she's not seen as a liar. She has to be the grieving girlfriend to get the sympathy and attention she craves."
Carter is charged with involuntary manslaughter. On Monday, she waived her right to a jury trial, leaving her fate to be decided by a judge.

BuzzFeed News' reporting of Tuesday's opening arguments is based on a livestream of the trial and on reporters tweeting from the courtroom.
Prosecutors argued that Carter showed "wanton and reckless conduct" by pressuring Roy to kill himself, and instructing him how to do it, which meets the standard for involuntary manslaughter.

Carter's defense team argued that Roy's suicide was his own choice and that he was "on the path to take his own life" over many years. Her lawyer, Joseph Cataldo, said that Carter was dealing with her own mental health issues at the time of Roy's death and that she was taking antidepressants when he died.
Carter and Roy, who began dating around 2011 and lived in different towns, communicated mostly through text messages and phone calls, according to court documents. They met each other only two or three times during the relationship.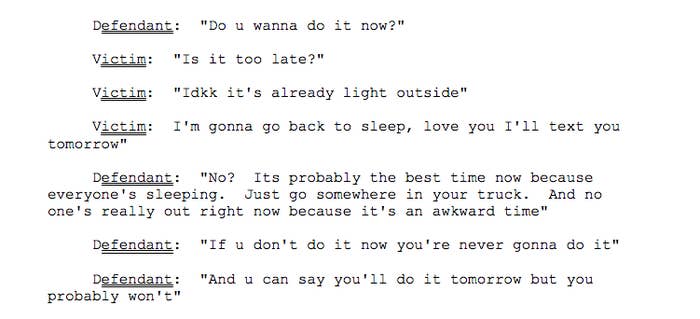 Carter asked Roy when he was going to kill himself more than 40 times, Flynn said.

"She reasoned him out of his reservations... She mocked him when he chose to delay his death," she said.

Carter "talked him out of his doubts point by point" and assured him that his family would understand why he killed himself, Flynn told the court.

Flynn read out some of Carter's messages to Roy in the days leading to his suicide:

"All you have to do is turn on the generator and you will be free and happy."
"People who commit suicide don't think this much. They just do it."

"You'd better not be bullshitting me and just pretending."

"Tonight is the night, it's now or never."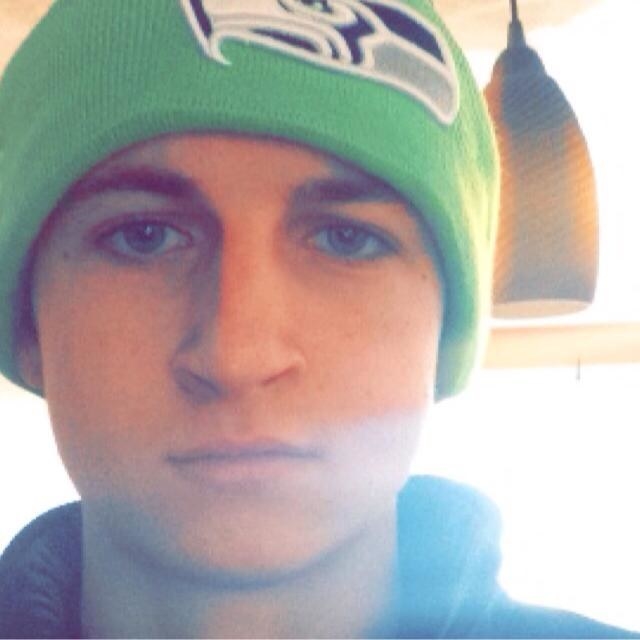 On the night he died, Roy drove his truck into the parking lot of a Kmart. At one point, he got out of the truck, scared about what he was planning to do, Flynn said. During phone calls and messages with Carter, she "fucking told" him to get back in, Flynn said, citing Carter's text message to a friend after Roy's death.

"I am not going to sleep until you are in the car with the generator on," one of her text messages to Carter said.

After ordering him to get back in the car, she listened for 20 minutes "as he cried out in pain and died," Flynn told the court. She did not call the police or his family for help, Flynn said.

Carter then texted "multiple people" that he had died. To another friend she texted, "I'm not wearing a bra," Flynn said. She also texted Roy's 14-year-old sister asking her if she knew where her brother was.

For weeks after his death, Carter sent text messages of concern, consolation, and love to Roy's family, his mother, Lynn Roy, testified in court on Tuesday.

Carter also posted about his suicide on Facebook and the "floodgates of support for her opened," Flynn said. "She became important — the grieving girlfriend."

After planning a fundraising baseball game to honor Roy, Carter wrote on Facebook, "Lol I'm famous," Flynn said.

"There's no doubt Roy had issues and in October 2012 attempted to take his own life," Flynn said. "This time was very different. He had someone berating him, beating him down, telling him he had no good life, he had no future."

"In 2012, when a friend found out he was taking pills, they called police. In 2014 [Carter] never called anyone for help. She told him to fucking get back in the car and listened to him as he died.

"Her behavior was wanton and reckless and as a result Conrad Roy is dead," Flynn said.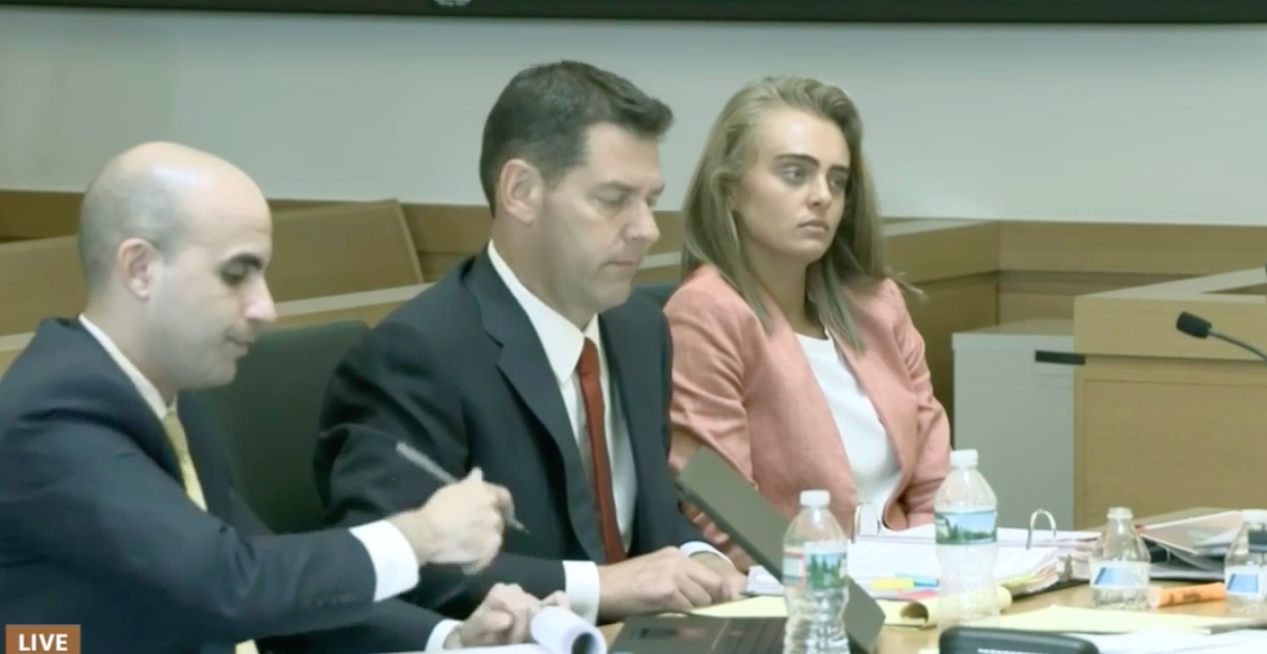 In his opening arguments, Cataldo, Carter's lawyer, argued that Roy's death was a "suicide, not a homicide."

Cataldo said that before Roy met Carter, he had a long history of "suicidality and suicidal ideation."

He said that Carter was not present when Roy killed himself and that she had not physically seen him for over a year. He said that she had tried to "convince him out of taking his own life" for years and cited text messages that showed Carter asking Roy to seek professional help "together."

"But she faced nothing but resistance from Conrad Roy," Cataldo said.
He said that Google searches from Roy's computer — including "committing suicide makes you happy" — showed that he was "suicidal and wanted to end his own life."

"Conrad Roy even acknowledged that Michelle Carter doesn't have influence over him," he said. "He was on this path to take his own life for years," Cataldo said, citing several of Roy's attempts to take his own life before July 2014.

Cataldo also pointed to Carter's own "mental health issues" at the time of Roy's death. He said that Carter was "going through her own struggles" and that she was "cutting" and suicidal.

Carter told a counselor that she was "struggling" and felt "overwhelmed" because she had "a boyfriend who had no support," according to Cataldo.

He said that at the time of Roy's suicide, Carter was taking antidepressants — SSRIs — which had side effects including irrational thinking, irritability, becoming frustrated, and lashing out.

"This was a 17-year-old dealing with her own mental health issues," he said.

When Roy was in his truck, he didn't call 911 or his mother, Cataldo said. He called Carter because "she was his support."

In a text, Roy thanked Carter for being the one person who understands him, Cataldo said. "Because everybody just wants him to live and he doesn't want to live. He thanked her for understanding what he thinks."

Cataldo said that in Roy's own words, he "dragged her" into this and that she was 30 miles away when he killed himself.

"This was a suicide," Cataldo said. "A sad and tragic suicide. But it was not a homicide."