Exactly a month before he killed himself on July 12, 2014, Conrad Roy recorded a video where he talked about his struggles with social anxiety and depression — and expressed his desire to overcome them.
"I have a lot going for me," the 18-year-old said in the video that was recorded on June 12 of that year. "I just have to get the cobwebs out."
The video, which was entered into evidence at the Taunton District Court in Massachusetts, was released on Thursday — the same day a state police sergeant testified about several text messages his girlfriend, Michelle Carter, sent him strongly urging him to kill himself.
Roy, who had a history of mental illness, had previously attempted suicide, but was saved by a friend who called for help. He killed himself by inhaling carbon monoxide from a water pump in his truck.
Carter, then 17, is now on trial for aggressively texting Roy about killing himself. She is charged with involuntary manslaughter, which could carry up to 20 years in prison if a judge finds her guilty.
Before his death, Roy got out of the truck because he was "scared," but Carter texted him to "get back in," according to the thousands of text messages the two exchanged during the course of their nearly three-year relationship.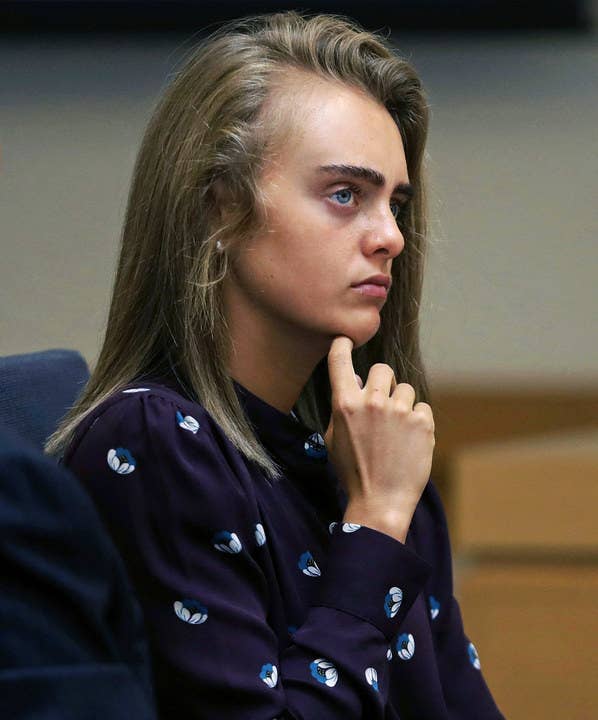 Prosecutors on Thursday called Sgt. Michael Bates to testify about several text messages that showed Carter persistently asking Roy when he was going to kill himself, and appearing frustrated with him when he expressed hesitation. Bates forensically examined phone records and computers and extracted the texts.
Carter asked Roy when he was going to kill himself more than 40 times over the course of their relationship, according to prosecutors.
Here are some of the text messages they exchanged in July 2014, as presented in court on Thursday.
Carter: "Well are you gonna do it tonight or not?"
Roy: "Yeah."
Carter: "Well, it's getting late. Let me know when. I don't want to fall asleep. You have to do it soon though if you don't want anyone to find you in the morning."

Carter: "Are you gonna do it tonight?
Roy: "I'm gonna try."
Carter: "How hard are you gonna try?"
Roy: "Hard."

Roy: "How was ur day?"
Carter: "When are you doing it?"

Roy: "What if the suffocation doesn't work?"
Carter: "Well how bad do you want it? Because if you want it bad, you should succeed."

Carter: "I thought you really wanted to die but apparently you don't. I feel played and just stupid."

Carter: "I still don't think ur gonna do this so you have to prove me wrong."

Carter: "I'm tired of you not taking this seriously, like if you aren't really gonna do it then stop pretending that you are."

Carter: "Hang yourself, jump off a building, stab yourself. IDK there's lots of ways."
Prosecutors also discussed the video that Roy made.
In the video, released in two parts by MassLive.com, Roy called himself "no good trash," but also talked about accepting himself "as an individual."
"What I am doing is looking at myself so negatively, looking at myself... this minuscule little particle on the face of this earth, this no-good trash, will never be successful, never have a life, never have kids, never learn. But I have lot to offer someone," Roy said in the video.
"I'm introverted, I'm nice and caring ... there's some benefits. I'm a nice kid. But its come to a point where I'm just … too nice."
He talked about trying to overcome his social anxiety and accepting himself for who he was.
"You don't have to be this amazing, like, thought-out superhero like the Incredible Hulk, Superman ... the people that are portrayed in the media like 'perfect,' when they're not perfect ... nobody's perfect," he said. "You just have to accept yourself as an individual. The hardest thing for me is to be comfortable in my own skin."
The video — which portrayed Roy as an anguished teen struggling to choose between fighting his demons and giving in to them — is crucial to the prosecution's argument that Carter was responsible for pushing him to kill himself.
"There's no doubt Roy had issues and in October 2012 attempted to take his own life," Bristol Assistant District Attorney Maryclare Flynn said during opening arguments. "This time was very different. He had someone berating him, beating him down, telling him he had no good life, he had no future."
Carter's lawyers argue that Roy's suicide was his own choice and that he was "on the path to take his own life" over many years.
He also talked about trying to accomplish "a sense of self-pride."
"Yes I can develop as a person. Be more fluent, articulate, passionate about who I am. Or I can just go home, sit in my basement, and just do nothing about it. Just sit in my sorrows, weep and cry over something that is in the past.
"Or I can just take it day-by-day, step-by-step. I mean it's going to be difficult to accomplish, but I need to, for personal growth, accomplish this sense of self-pride in myself. Because depression or social anxiety, it means you don't like yourself. The sooner I like myself, the better I'm going to be."
He then listed some of his recent accomplishments, including earning his captain's license and getting a job to captain a tourist boat.
"I do have a lot going for me," he said. "I'm fucking captain ... that's a huge accomplishment to be a captain."
"I just have to get the cobwebs out," he said. "Turn the gears."
Read our coverage from day one, two, and three of the trial here: