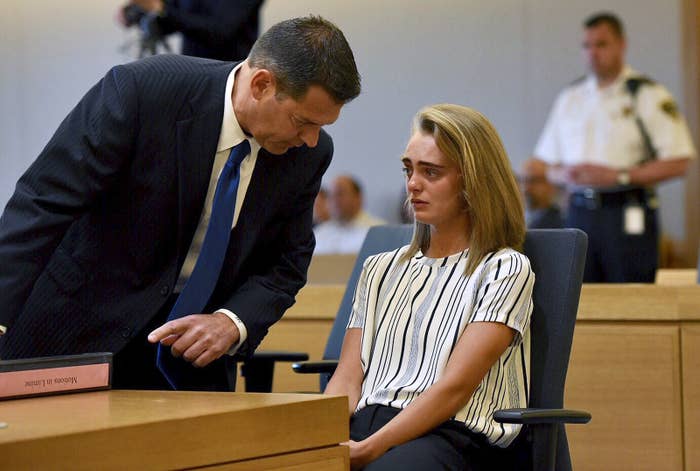 "This is a suicide. What we are dealing with is a suicide, not a homicide."

This is how attorney Joseph Cataldo began his closing arguments defending his client, 20-year-old Michelle Carter, on Tuesday.

Carter is charged with involuntary manslaughter for sending her 18-year-old boyfriend, Conrad Roy, text messages urging him to kill himself in 2014. The felony carries up to 20 years in prison if she's found guilty by Judge Lawrence Moniz. Carter waived her right to a jury trial, leaving her fate to be decided by Moniz. After closing arguments on Tuesday, Moniz said he would announce the verdict in open court, but did not specify a day.
The case, which is centered around an almost entirely digital relationship between two troubled teenagers from small towns in Massachusetts, has captivated the nation because of its highly unusual circumstances.

In 2011, Carter and Roy, who met only two or three times in person, developed what has been described as a "toxic" relationship through thousands of text messages, Facebook chats, and phone calls.

Roy, who struggled with social anxiety and depression, had attempted suicide in 2012, but was saved after he called a friend.

On July 12, 2014, Roy called Carter when he was alone in his pickup truck in a parking lot. They spoke on the phone for more than 40 minutes and then spoke a second time. That was the last time Roy spoke to anyone.

His body was found in his truck on July 13, 2014. He had killed himself by inhaling carbon monoxide produced by a water pump.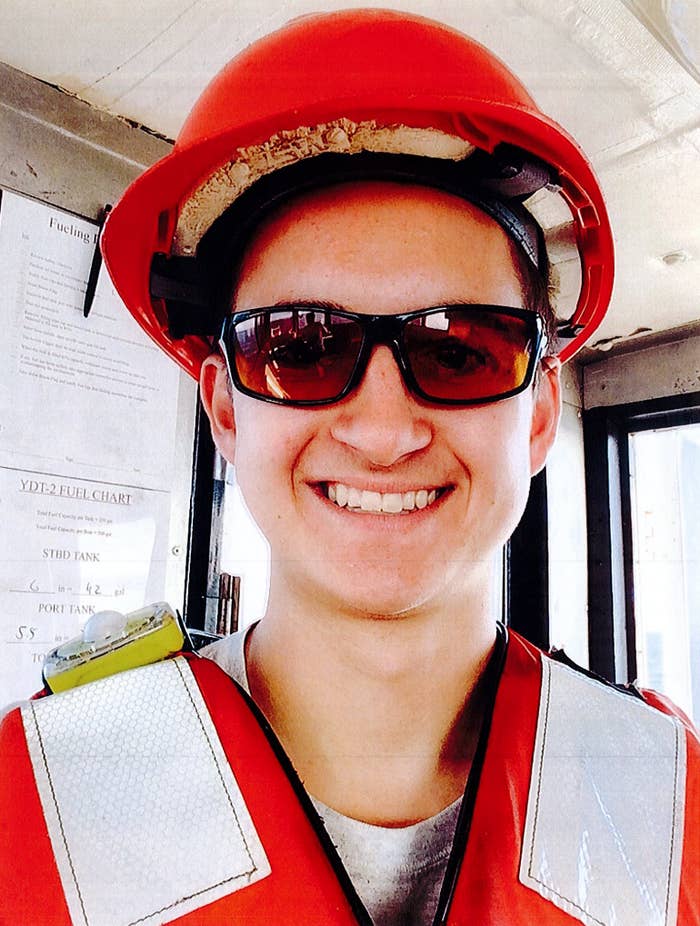 In the days after his death, Carter sent the following text messages to one of her closest friends, Samatha Boardman, telling her that she was on the phone with Roy when he died, and that she "could have stopped him":
Sam, his death is my fault like honestly I could have stopped him. I was on the phone with him and he got out of the [truck] because it was working and he got scared and I fucking told him to get back in Sam because I knew he would do it all over again the next day and I couldn't have him live the way he was living anymore I couldn't do it I wouldn't let him.

I do blame myself, it's my fault. I was talking to him while he killed himself. I heard him cry in pain. I should of known I should of done something.
I helped ease him into it and told him it was okay, I was talking to him on the phone when he did it I could have easily stopped him or called the police but I didn't.
Sam, [the police] read my messages with him I'm done. His family will hate me and I can go to jail.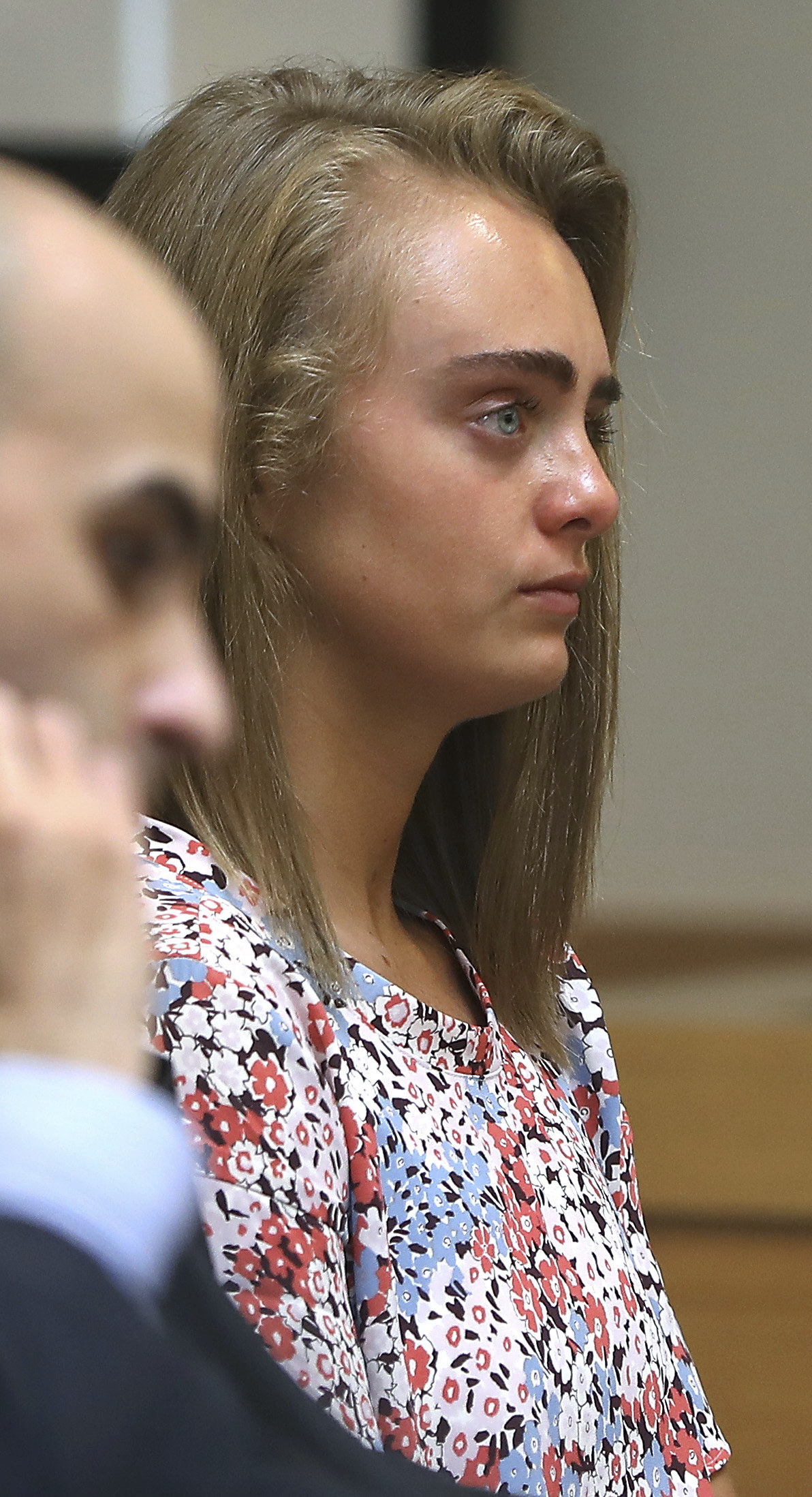 She also texted other friends that she was on the phone with Roy when he killed himself. "I heard him die," she told a friend.

"She stayed on the phone, after telling an 18-year-old boy to get back in the truck after he didn't want to, and she listened to him cry on the phone. She listened to his last words. She listened to his last breath. She listened to him die," Assistant District Attorney Katie Rayburn said in her closing arguments on Tuesday.

"By her own admission, she caused his death," Rayburn told the court. "Her actions were careless. She knew the consequences of him getting back in the car. She knew he would die."
In the 10 days leading up to his death, Carter constantly sent text messages to Roy, encouraging him to kill himself, berating him when he delayed it, and counseling him to overcome his doubts about doing it.

Prosecutors said that she asked Roy when he was going to kill himself more than 40 times during this period.

Here are some of their text messages during this period:
CONRAD: How was your day?

CARTER: When are you doing it?


CARTER: You can't keep pushing it off though. That's all you keep doing.
CARTER: What time are you gonna do it because I can't stay up past 12:00. Remember?
CARTER: You can't think about it. You just have to do it. You said you were gonna do it. Like I don't get why you aren't?

CONRAD: I don't get it either. I don't know.

CARTER: So I guess you aren't going to do it then. All that for nothing. I'm just confused. Like you were so ready and determined.

CONRAD: I am gonna eventually. I really don't know what I'm waiting for but I have everything lined up.

CARTER: No you're not Conrad. Last night was it. You kept pushing it off and you say you'll do it, but you never do. It's always gonna be that way if you don't take action. You're just making it harder on yourself by pushing it off. You just have to do it. Are you doing it now?"
CONRAD: Like why am I so hesitant lately? Like two weeks ago I was willing to try everything and now I'm worse, really bad, and I'm LOL not following through. It's eating me inside.

CARTER: You're so hesitant because you keep overthinking it and keep pushing it off. You just need to do it, Conrad. The more you push it off, the more it will eat at you. You're ready and prepared. All you have to do is turn the generator on and you will be free and happy. No more pushing it off. No more waiting.

CONRAD: You're right.

CARTER: If you want it as bad as you say you do it's time to do it today.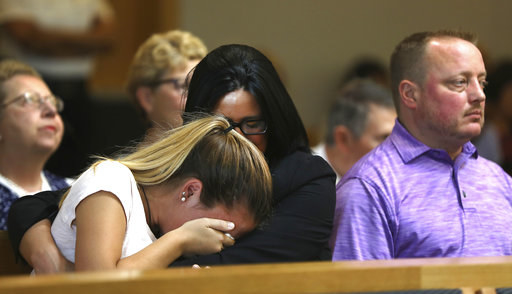 Prosecutors said that Carter used Roy as a "pawn in her sick game of life and death." They said she used his death to play the role of a "grieving girlfriend" to gain the attention and sympathy that she so "desperately" craved from her peers.

"She knew that [Roy] had grown to care for her and depend on her. And she used this to manipulate him and others. She's doing it to get attention," Rayburn said in Tuesday's closing arguments.

She said that Carter even asked Roy to make his last tweet a "shoutout" to her and to tag her in it before killing himself.

"It's all about her," Rayburn said.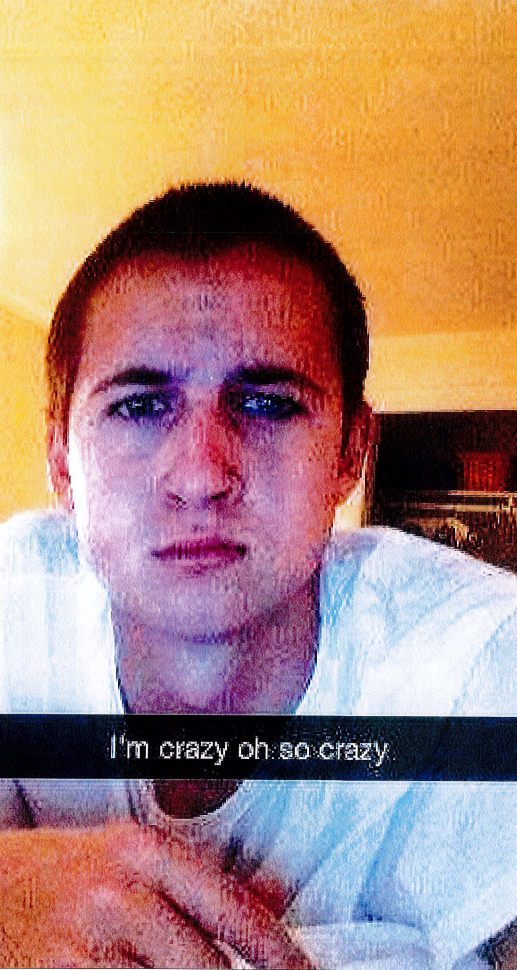 Carter's lawyer, Cataldo, maintained that it was Roy's own choice to take his own life.

"Conrad Roy caused his own death. It was brought about by his own physical actions, his own intentions, his own thought processes," Cataldo said in his closing statements.

He cited a text message Roy sent Carter, where he told her he was "selfish" for "dragging" her into it.

Carter's defense has acknowledged that Carter encouraged Roy to kill himself. However, they placed the blame on Roy for not "telling her to stop texting him" or "blocking her call."

"He continues to use her for his support to carry out his plan [to kill himself]," Cataldo said.

He also blamed Roy's "constant wearing down on Michelle Carter for over a year and a half of 'I want to take my own life.'"
He said that Roy was suicidal "long before" Carter came into his life. And when she did, "he brought her into this with all of her baggage," Cataldo said, referring to what he described as Carter's mental health issues, problems of cutting herself, and eating disorders.

"This is somebody who wanted to eventually take his own life. It was his decision," Cataldo said.

However, Rayburn argued that while Carter was dealing with suicidal tendencies, a video he recorded one month before his death, showed that he was "working through it" and that "he was hopeful."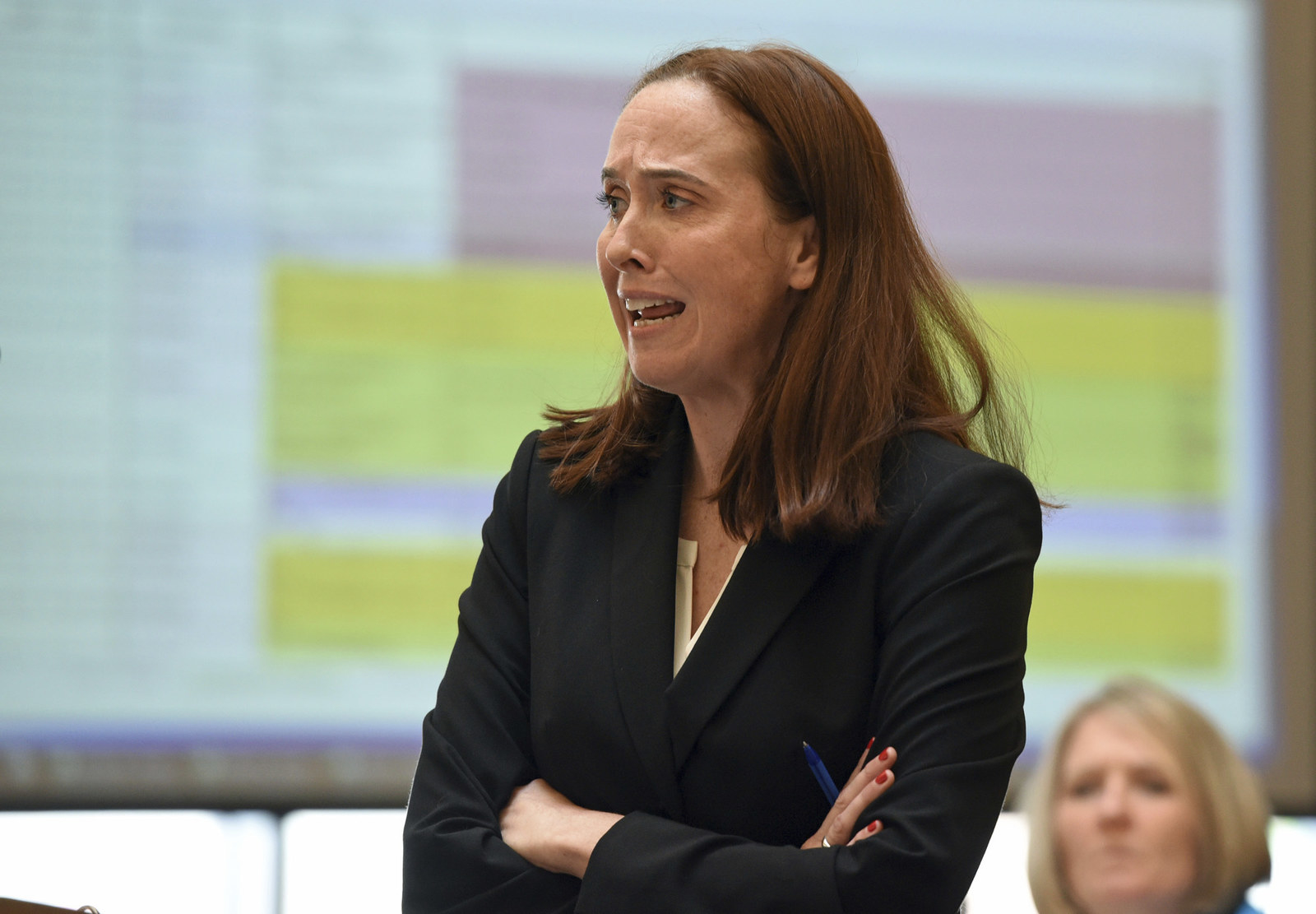 "He wanted to live for his family," Rayburn said. "He wanted to work through this. He wanted to live another day."
"Who are we to say he would have eventually killed himself?" she asked.

Carter's lawyers on Monday called a controversial psychiatrist, Dr. Peter Breggin, to testify that Carter was "involuntarily intoxicated" by antidepressants when she encouraged Roy to kill himself.

Breggin, whose testimony has been excluded or dismissed in several past cases, testified that Carter became "grandiose" and "delusional" due to antidepressants and she thought "she was doing a good thing" by helping Roy kill himself.

Breggin, who is critical of his own field and is opposed to prescribing psychiatric drugs to patients, described Carter in glowing terms during his testimony, calling her a "helper."

"She was pretty much the most loved person everyone knew," Breggin said. "She still is."

Rayburn argued that Breggin's "bias is blinding" in the case and criticized his lack of evidence for concluding that Carter was "delusional" and in a state of "psychosis" when she urged Roy to kill himself.

Carter's lawyers also argued that as she was 30 miles away when Roy killed himself, she did not and could not "inflict serious bodily harm" on him, which is required to meet the standard of involuntary manslaughter.

However, Rayburn said that the "court has never required actual presence to commit a crime."

"It's a new day and age," Rayburn said. "People fall in love via text and the internet. People bully via text and the internet. And you can encourage someone to die via text, and you can commit a crime via text.

"She was in his ear, she was in his mind, she was on the phone, and she told him to get back in the car," Rayburn said. "And she did it for attention."