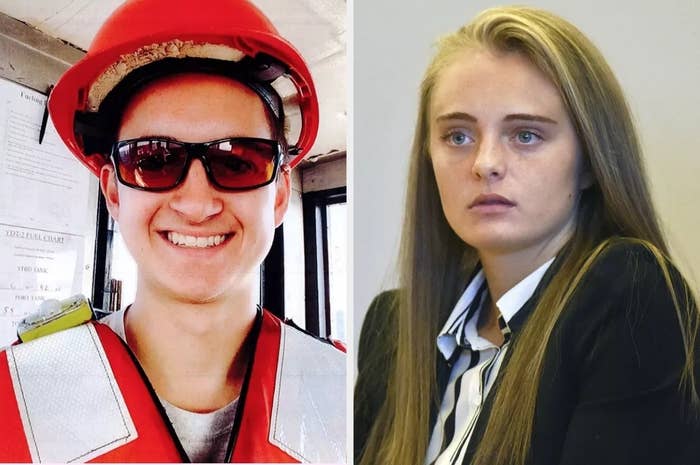 BOSTON — Lawyers for Michelle Carter, the 22-year-old Massachusetts woman who was convicted for urging her boyfriend — through text messages — to kill himself, argued Thursday that she should be acquitted because her guilty verdict relied heavily on a single text that served as an "uncorroborated confession."

When Carter was 17, she sent her 18-year-old boyfriend Conrad Roy a series of texts over two weeks encouraging him to kill himself. Roy — who had a history of mental illness and had previously made attempts on his own life — killed himself July 12, 2014, by inhaling carbon monoxide produced by a water pump in his truck parked outside a Fairhaven Kmart.
During this time, Carter was 50 miles away in her Plainville home but spoke to him twice over the phone.
A Massachusetts judge found Carter guilty of involuntary manslaughter last June and sentenced her to 15 months in prison, but she remains free until her state appeals are exhausted.
Her lawyers appealed to the state's highest court Thursday to have her conviction vacated based on various arguments involving the lack of physical evidence in the trial and the legal complexities of criminalizing suicide cases based on words alone.
But it was a single text message from the tens of thousands of texts sent by the two troubled teens that formed the crux of Thursday's hearing before the seven justices of the Massachusetts Supreme Judicial Court.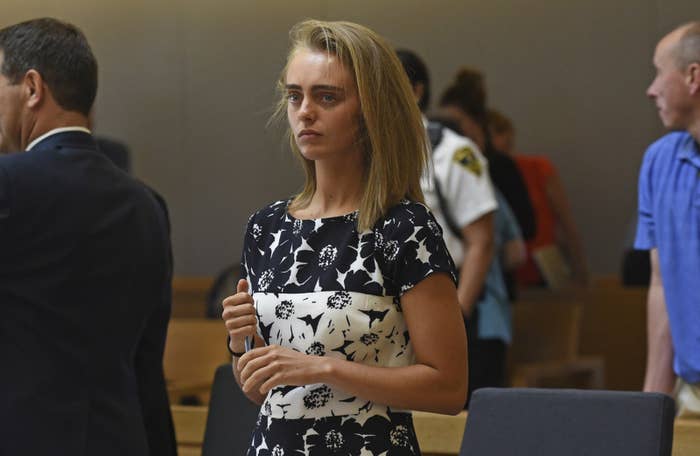 Carter's lawyers argued that the trial judge, Lawrence Moniz, had hinged his verdict on a single "rambling" and "incoherent" text message that Carter sent her friend Samantha Boardman more than two months after Roy killed himself.
In her September 2014 text to Boardman, Carter claimed that during a phone call with Roy, he exited his truck after he got "scared" that his plan to kill himself was "working."
Carter told Boardman that she "fucking told him to get back in" the truck and proceed with his plan to kill himself.
"Sam his death is my fault like honestly I could have stopped him I was on the phone with him and he got out of the car because it was working and he got scared and I fucking told him to get back in," Carter's text said.
"Sam because I knew he would do it all over again the next day and I couldnt have him live the way he was living anymore I couldnt do it I wouldnt let him," a part of the lengthy text said.
In his verdict, Moniz said that when Carter realized Roy had exited the truck, she instructed him to get back into the truck despite knowing that it was "becoming a toxic environment inconsistent with human life" and despite being aware of Roy's "ambiguities, his fears, his concerns."
"This court finds that instructing Mr. Roy to get back in the truck constituted wanton and reckless conduct by Miss Carter, creating a situation where there is a high degree of likelihood that substantial harm will result to Mr. Roy," Moniz said.
However, it was not her instruction to get back in the truck that formed the basis of Moniz's decision to convict her, but her failure to call for help to prevent his death after telling him to get back in. Moniz also held her accountable for not telling him to get out of the truck, noting that Roy had "successfully abandoned" his previous suicide attempts.
During Thursday's appeal hearing, Carter's lawyer, Daniel Marx, argued that there was no way to know what Carter or Roy had said to each other during their last two phone calls before Roy's death. He said it was "complete speculation" that Roy got out of his truck, that Carter told him to get back in, or that he would have even listened to her had she said that.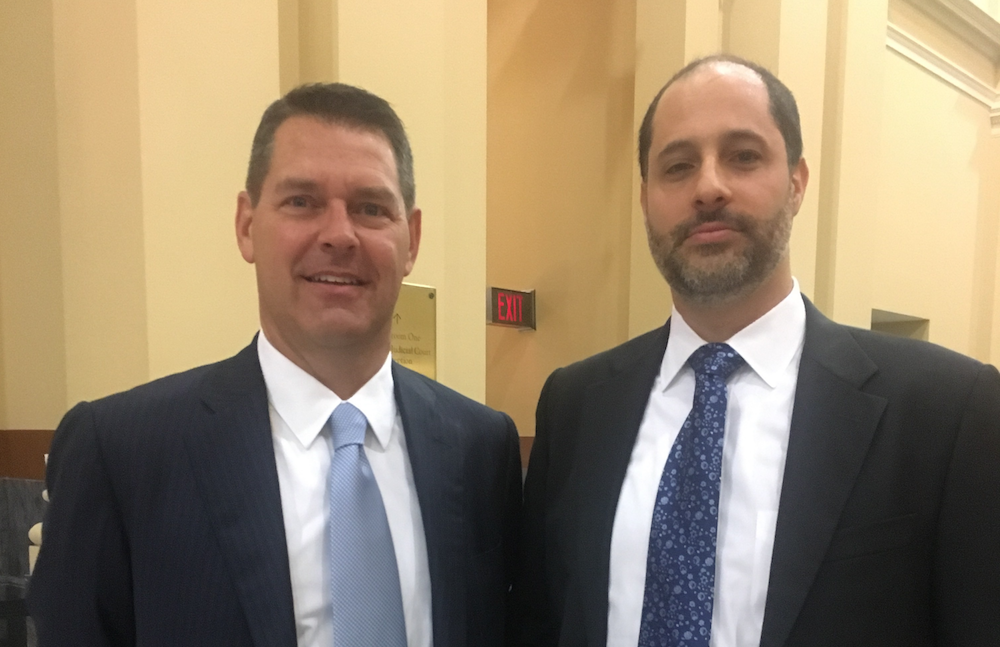 Her lawyers also cited a state and federal law that says people — especially those whose credibility is questioned— cannot be convicted based on "uncorroborated confessions." They argued that even if what Carter told Boardman was true, prosecutors had failed to prove that Roy's life would have been saved had Carter called 911 for help after she told him to get back in his truck.

During the hearing, the justices asked Marx why Carter's own text message saying she told him to get back in the truck could not be considered as evidence that it actually happened.

Her lawyers countered that Carter was a troubled 17-year-old who was rambling to a friend because she was upset that her boyfriend had killed himself.

During the trial, prosecutors portrayed Carter as a "consummate liar" who would make up any story to get attention, Marx told reporters after the hearing. And yet, Marx said, prosecutors fought to convict her by assuming that a single comment she made — "buried in paragraphs of incoherent ramblings about her feelings" — was the truth.
In their brief to the court, prosecutors argued that Carter's claim that she told Roy to get back in the truck was "consistent with digital and physical evidence" and with their documented interactions.
The justices — who have 130 days to decide whether to affirm or vacate Carter's conviction — also grappled with how involuntary manslaughter could be interpreted in Massachusetts, which is one of the few states without an assisted suicide law.
They also wrestled with how to interpret the "youthful offender statute" that Carter was convicted under. Carter's lawyers argued that under the youthful offender statute, she would have been required to physically "inflict" serious bodily harm to Roy in order to be convicted for his suicide.

One justice questioned if it was involuntary manslaughter to provide a family member dying of pancreatic cancer with sleeping pills to kill themselves. Another justice provoked laughs when she wondered if she could be convicted under the youthful offender statute if she paid Marx $3,000 to push one of the other justices off a cliff.
Carter's lawyers said that she was the first person ever convicted anywhere in "such unusual circumstances." They argued that no state had interpreted its common law or its assisted suicide statute to criminalize words alone and that no one had ever been convicted for encouraging suicide where the defendant was neither physically present nor provided the means.
"If we had an assisted suicide law, Michelle Carter would never have even been prosecuted for this crime," Marx told reporters after the hearing. "At most, she may have helped him along that path [of suicide] but she certainly did not kill him."