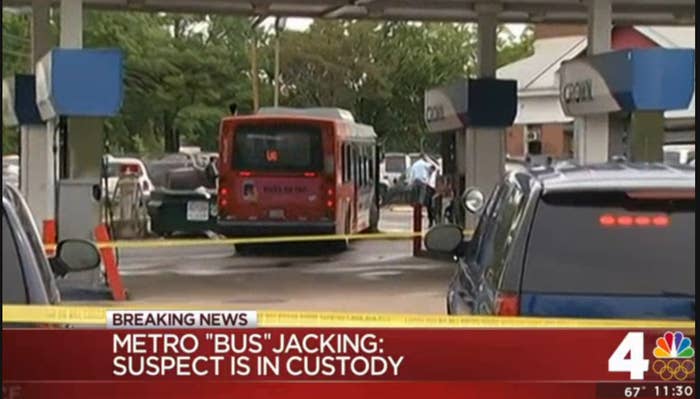 A man is in custody after he allegedly hijacked a Metrobus in northeast D.C. on Tuesday and then fatally struck a someone with it, police said.
The suspect, an adult male, attacked the driver, stole the bus, and hit a male pedestrian who was killed, Metropolitan Police Chief Cathy Lanier said. Police did not identify the pedestrian but said he was an adult male.
The suspect was armed but police did not give details on the weapon. The bus driver and the alleged hijacker were injured and taken to the hospital.
At 10:30 a.m. the suspect entered the bus and stood near the driver, Lanier said. At the next stop, the suspect attacked the driver. All the passengers fled, according to Lanier.
The bus driver managed to free himself and got off the bus. The suspect pulled out a weapon, shut the door and stole the bus — driving it to a corner gas station where he went over a curb and struck the pedestrian, police said.
The bus stopped at the gas station, and within minutes police arrived and took the suspect in custody, Lanier said.
"The suspect appeared to be very distraught and violent and was resisting officers when taken off the bus," she said.
Lanier said the "bizarre incident" lasted less than three minutes. She said it was "very uncharacteristic for someone to take a bus and attack a bus driver."
The entire incident was captured on video, Lanier said.