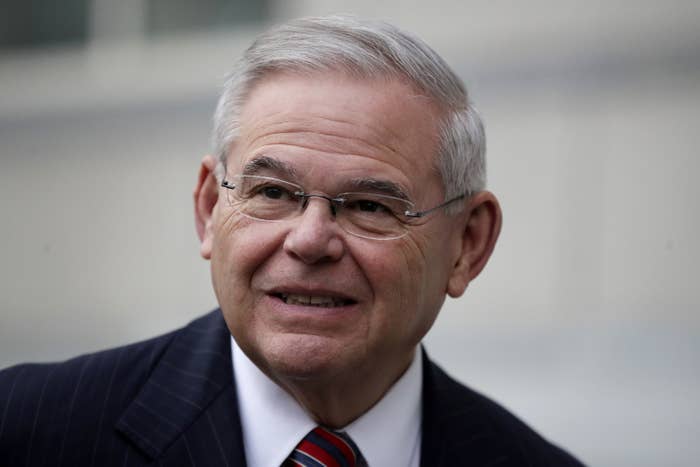 A judge on Thursday declared a mistrial in the case of Sen. Bob Menendez, a New Jersey Democrat who was charged with accepting gifts from a wealthy friend and donor in exchange for political influence, after a jury could not reach a unanimous verdict.
U.S. District Court Judge William H. Walls made the decision to declare a mistrial after jurors said they remained deadlocked on all counts against the senator and and his co-defendant, Salomon Melgen, following four days of deliberations.
The judge told jurors after meeting with them and lawyers behind closed doors "that further deliberations would be futile and that there is no alternative but to declare a mistrial."
Jurors had earlier indicated that they were unable to reach a unanimous decision on Monday, but Walls urged them to resume deliberations.
In a note to the judge on Thursday, the jury said, "We have each tried to look at this case from different viewpoints, but still feel strongly in our positions, nor are we willing to move away from our strong convictions."
Prosecutors sought a partial verdict, but Walls called it a "futile exercise," and said that it would lead down a "slippery slope of coercion," according to reporters present in the courtroom.
The jury began deliberations more than a week ago after closing arguments in which Menendez's attorney, Abbe Lowell, said his client's "deep and abiding" friendship with Florida eye doctor Melgen "destroys every single one of the charges" against both men, the Washington Post reported.

Menendez, who was indicted more than two years ago, is the first sitting US senator to face federal bribery charges in 36 years. Both Menendez and Melgen long denied all charges against them.

After the verdict, an emotional Menendez and his lawyer slammed the FBI and the federal government for, they said, wasting millions of dollars of taxpayers' money on a trial that Menendez said was "not a fair fight."

"The way this case started was wrong; the way it was investigated was wrong; the way it was prosecuted was wrong; and the way it was tried was wrong as well," Menendez said. "I've made my share of mistakes but my mistakes were never a crime."

He profusely thanked Sen. Cory Booker and Sen. Lindsey Graham for testifying about his character during the trial.
"This is what happens when you put a real 25-year-friendship on trial," Lowell said after the verdict.
But Menendez may not be entirely in the clear quite yet. In a statement after the mistrial was declared, Senate Majority Leader Mitch McConnell said Menendez's trial "shed light" on "potential violations of the Senate's Code of Conduct."
"Because of the seriousness of these charges, I am calling on the Senate Ethics committee to immediately investigate Senator Menendez's actions which led to his indictment," he said.
It wasn't immediately clear whether the Senate Ethics committee would agree to McConnell's request and begin an investigation into Menendez, but it is unlikely that such an inquiry would result in any public action. The committee almost never launches investigations into senators and, when it does, it rarely releases any information on them. In fact, the last time the committee announced action against a sitting senator was in 2011, when ti recommended that the Justice Department and the Federal Election Commission take up its probe into then-Sen. John Ensign, who was in the midst of a scandal.
The committee has only put out two public releases since then, one in 2012 announcing it had admonished two people connected to the Ensign scandal, including former Sen. Tom Coburn, and another in 2014 announcing the hiring of a new staff member. The committee does put out annual reports, but they do not contain any information on the cases they have looked at, or even the names of those accused — just the number of allegations and how many were dropped or worked on. In 2016, the committee said it had received 63 allegations, it took a preliminary look at 5 of them and then dropped three of those.

Prosecutors argued that Menendez misused his office in a "bribery scheme" by accepting lavish gifts from Melgen, including flights on the doctor's private jet and a stay at a luxury hotel in Paris.
Menendez failed to report any of the flights, potentially violating federal law, in what his lawyer has described as an unintentional oversight. After media reports revealed details of his trips, the senator repaid Melgen $58,000.

Melgen was also a campaign donor for Menendez, giving thousands of dollars towards his re-election.

In exchange for these gifts, prosecutors alleged that Menendez aided Melgen in personal matters and business affairs, such as contacting an ambassador to help the doctor get travel visas for his foreign girlfriends, intervening with the US Department of Health and Human Services to help Melgen settle an $8.9-million Medicare payment dispute, and lobbying State Department officials to help Melgen resolve a contractual dispute with the government of the Dominican Republic.

After the verdict, Melgen's attorney, Kirk Ogrosky, said that his client had "begged" the FBI for help when he called them five years ago after seeing "nasty, scandalous" reports about him and Menendez. Ogrosky said that Melgen offered the FBI to come in and talk to them but they never interviewed him.

"I don't think anyone who listened to the evidence could conclude anything other than Dr. Melgen is innocent," Ogrosky said, adding that his client and Menendez remain "very, very close" friends.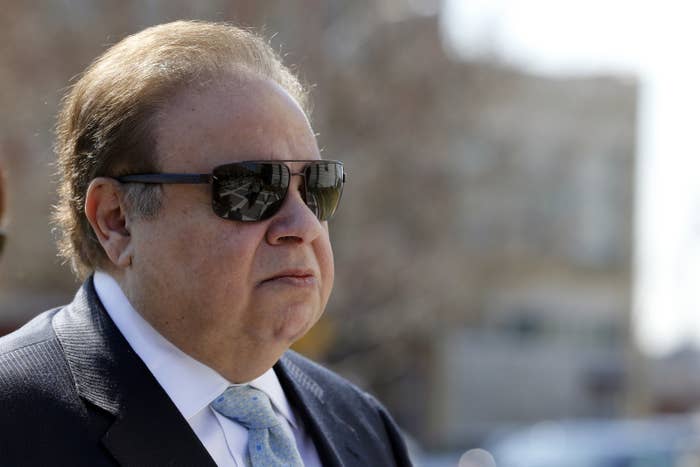 "Menendez went to bat for Dr. Melgen to the highest levels of our federal government for many years … because Dr. Melgen gave Senator Menendez access to a life that reads like a travel brochure for the rich and famous," federal prosecutor Peter Koski said in his opening statement when the trial began in early September.

"This is what bribery looks like," Koski said.

Menendez's attorney, Lowell, argued that the relationship was not corruption, but a long and close friendship between the two men that led to gifts flowing both ways. "Acting out of friendship is not a crime," he said in his opening arguments.

During closing arguments on Monday, Lowell reiterated that the two men were longtime friends whose families were very close. "This case is not about what was done, it's about why it was done," he said. "Friendship explains that."

However, prosecutors argued that the defense was using friendship as a smokescreen for corruption carried out by a "greedy doctor" and a "corrupt politician."

"Don't let the defendants use their friendship as a camouflage for their bribery," federal prosecutor J.P. Cooney told the jury in his closing arguments last week, according to CNN. Menendez, he said, "should be accountable to the citizens he represents — not to a wealthy doctor who lavished him with luxury trips and jaw-dropping campaign checks."

Lowell persistently pointed to what he said was the government's lack of evidence proving a corrupt agreement existed between the two men. "There was no real evidence of a corrupt bribery agreement, because one never happened," he told jurors Monday, according to Politico. "There was no documents, no emails, no phone calls, no nothing," Lowell said, adding that prosecutors even "invented witnesses."