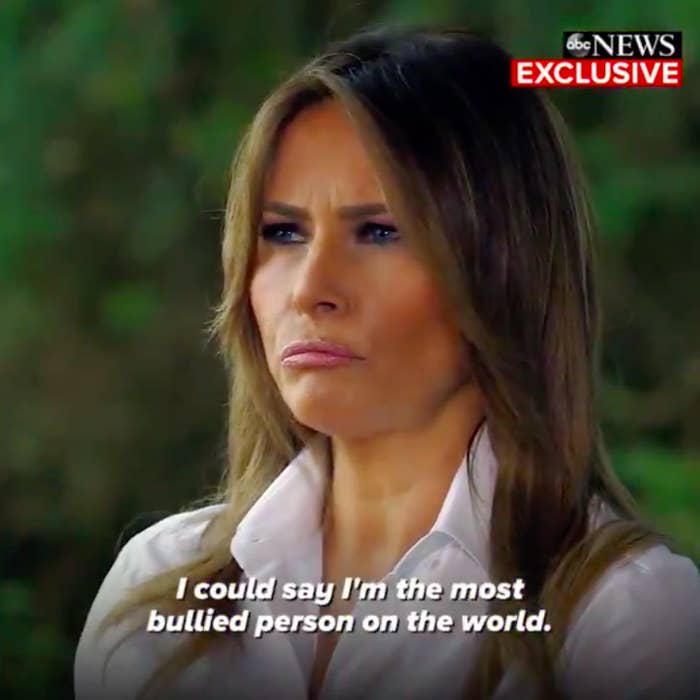 Melania Trump said she is "the most bullied person" in the world.
In an interview with ABC News that was recorded during her recent trip to Africa, the first lady said that being bullied herself was what motivated her to start her "Be Best" anti-bullying initiative.
When ABC News correspondent Tom Llamas asked her what had happened to her personally that made her want to tackle the issue of online bullying, she said, "I could say I'm the most bullied person on the world."
When pressed by Llamas, she added, "One of them ... if you really see what people are saying about me."
"That is why my Be Best initiative is focusing on social media and online behavior," she said. "We need to educate the children of social, emotional behavior so when they grow up and know how to deal with those issues."

The first lady has most notably been criticized for her choice in clothing. During her trip to Africa, she was slammed for wearing a white pith helmet, which is seen as a symbol of colonial rule. She also became the subject of a meme in June when she wore a jacket that said "I REALLY DON'T CARE, DO U?" while boarding a plane to Texas to visit immigrant children separated from their parents as a result of her husband's policy.
She addressed the criticism for wearing the pith helmet in Africa, saying, "I wish people would focus on what I do, not what I wear."
The first lady's intention to take on online bullying as a cause has always raised questions, given her husband's penchant for using Twitter to attack his "haters" and opponents.
President Trump has tweeted personal attacks on several women, often deriding their looks and intellect. For instance, he has called MSNBC's Morning Joe cohost Mika Brzezinski "dumb as a rock," "crazy and very dumb," "very insecure," and "neurotic and not very bright" and has said that she was "bleeding badly from a face-lift" and that she had "a mental breakdown while talking about me."
Most recently the president attacked the women — including those who said they were sexual assault survivors — who yelled at Sen. Jeff Flake for voting yes on Brett Kavanaugh. He called them "very rude elevator screamers" and said they were "paid professionals."