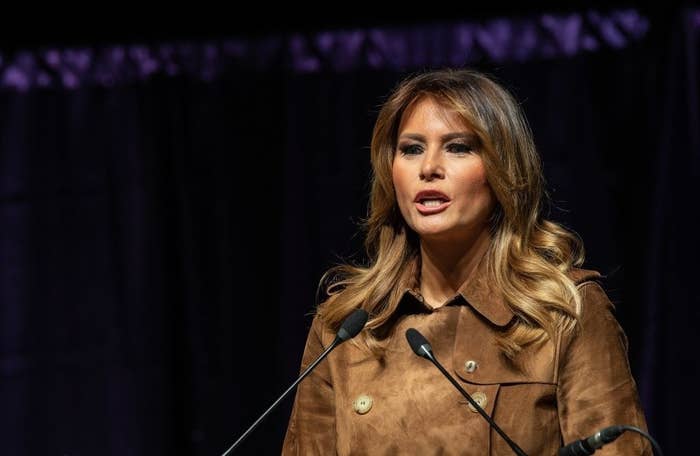 First lady Melania Trump was met with loud boos from an audience of mostly middle and high school students at an event in Baltimore on Tuesday.
Trump was addressing students at the B'More Youth Summit on Opioid Awareness at the University of Maryland, Baltimore County (UMBC). The event was part of her "Be Best" initiative on issues affecting children, including bullying and the dangers of opioid use.
The first lady was met with boos when she walked onstage after her introduction. The audience remained noisy through most of her five-minute speech.
She was once again booed loudly when she finished her speech and walked offstage, according to reporters at the event and a live video (around the 5:30 mark).
A CNN reporter who covers the first lady said that this was the first time she had heard her being booed at a solo event.
President Donald Trump came under fire earlier this year for a racist tirade against Baltimore in which he called it "a disgusting, rat and rodent infested mess" where "no human being would want to live."

He also criticized Rep. Elijah Cummings, who represented a large portion of the city prior to his death last month. This prompted the Baltimore Sun editorial board to refer to the president as "vermin" in a scorching editorial.
The president has himself been booed at recent events, including an MLB World Series game in Washington, DC, and a UFC match in New York City.
His son, Donald Trump Jr., was also recently booed offstage by right-wing activists and the president's supporters at a book signing event on the UCLA campus.
The White House did not immediately respond to a request for comment on Tuesday's incident.
MSNBC reporter, Annie Karni, reported that the first lady acknowledged the boos when asked about the event.
"We live in a democracy and everyone is entitled to their opinion," Karni reported Melania as saying. "I remain committed to educating children on the dangers and deadly consequences of drug abuse."
The event involving the first lady was presented by the Drug Enforcement Administration and the Mark Wahlberg Youth Foundation. Neither organization immediately responded to a request for comment.

Many of the high school and middle school students also engaged with protesters outside the event, according to Nate Stewart, a UMBC student and chair of the UMBC chapter of Young Democratic Socialists of America (YDSA) which organized the protest.
Stewart told BuzzFeed News that many of the students who were lined up to attend Melania Trump's event joined in a "Fuck Trump" chant that was initiated by the UMBC protesters standing outside.
"[The students] repeated the 'Fuck Trump' chant quite a bit," Stewart said. "I was bit worried about them because that's a very aggressive chant and there were cops and Secret Service folks around." But he added that no one reprimanded them.
"What really made me proud was after that after we had stopped chanting for a bit, [the students] kept up the chanting," Stewart said.

He said he did not know that the students were going to boo Melania Trump at the event.

"But we got a feeling they would be pretty rowdy... rowdy in a way we like of course," Stewart said. "I'd like to think we played a small part in invigorating these and encouraging them to stand up to authority."
Stewart said that the UMBC YDSA was there to protest the "hypocrisy of having Melania Trump as a representative of the White House to speak about the opioid crisis, when we believe that the crisis was perpetuated by the same White House."
He said that their quarrel wasn't against Melania Trump as an individual.
"She's just some like rich lady," he said. "Our quarrel is more with the policies and the administration she represents."
He also said that the protest, was in part, driven by the fact that there was "a bit of bad blood between the Trumps and Baltimore."
"When people start talking like that about our community, it's hard to just ignore it," he said.
UPDATE
This post has been updated to clarify that the event was held at the University of Maryland, Baltimore County.